LOS ANGELES — Performer Robert Black is marking both his milestone 25th anniversary in adult as well as his 60th birthday in July this year.
Black made his adult debut in 1998 with Brush Creek Media's "Leather Indulgence" and quickly earned a sterling rep with BDSM and leather titles for Zeus Studios, for whom he was named "1999 Zeusboy." He soon picked up industry accolades, among them the 1999 Grabby Award for "Best Solo Scene."
He went on to headline numerous titles for Can-Am, Catalina Video, Falcon Studios, Hot House Video, Nasty Daddy, Raging Stallion Studios and more. Today, Black remains active in adult and has branched out into content creation and podcasting, including the "Sexual Heroes" interview series.
He spoke to XBIZ World for last summer's cover story, "Queer as Folx: How Producers, Creators Feed Demand for Inclusive Fetish Content."
Many of his movies are considered favorites in the genre due to his "lived experience," Black explained.
"It's in our culture, [BDSM/fetish] is more acceptable to talk about," he told XBIZ. "Even if fetish is not your scene, it's certainly on your radar. You know, we have Pride, and then we have Leather Pride events all around the world now. Within every gay event there's usually a contingent of leathermen. There is still some stigma; some people are still afraid to walk into a leather bar. But the leather community, my community, is mainstream now. I think the industry sees that. They see where the eyes are going."
"The most 'acting' I ever did was in regular sex films," he added. "I wasn't necessarily into my partner or the sex we were having; it was acting. But if you see me in a BDSM movie, that's me. And you can trust the authenticity, even if it's not exactly your thing."
Follow Robert Black online and find his premium social media links here.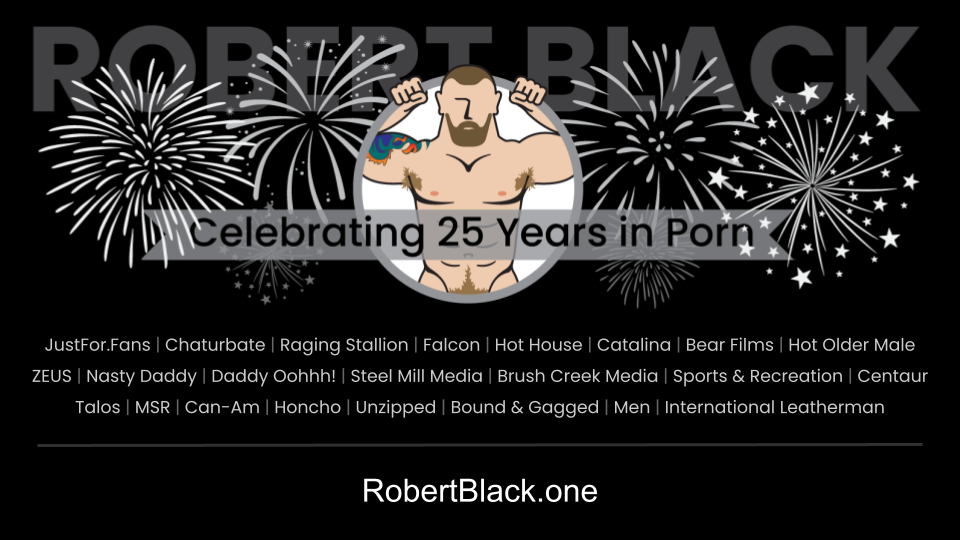 https://www.xbiz.com/news/271066/robert-black-celebrates-milestone-25th-anniversary-in-adult

XBIZ.com – Movies & Stars
2023-01-07 00:51:58