It's a tale as old as Tinseltown. A Hollywood newbie from the American heartland attends a glitzy event. She's surrounded by stunning women, head-turners all — but she's got the "it" factor." A talent scout singles her out and makes her an offer she can't refuse. And why should she? After all, there's no business like show business.
This literally happened to Melissa Stratton. In 2022, after barely a year of camming on Chaturbate, she was invited to attend the first-ever X3 Expo at the historic Hollywood Palladium.
"I had done a few live expos, but X3 was on another level," Stratton tells XBIZ during an interview at legendary showbiz eatery the Smoke House in Burbank. She orders the Sinatra Special — Frank was a regular at this classic joint across from the Warner's lot. Appropriately enough, she is dressed like Ava Gardner, bringing a bit of Old Hollywood cosplay for the occasion.
"All the top Chaturbate broadcasters were at their big central booth, everybody had their webcams out," Stratton describes. "I was livestreaming to my fans, and suddenly one of the producers for MindGeek walked up to me and said, 'You're gorgeous — if you ever want to do a scene, let me know. We'd love to do it, in whatever way would make you comfortable.' And then he walked away."
For a few brief seconds, surrounded by the hubbub and din of dozens of cam models doing their thing, Stratton was taken aback with doubts and questions.
"I was like, 'Wait. Porn? Would I want to do that?'" She laughs. "But after being stunned for about 30 seconds I just went, 'Ooooooh, that would actually be a great opportunity. I'm already basically doing it solo.' I literally ran back over to him. 'Let me give you my number! I want to talk about this.' And we did. We had a couple of conference calls picking talent, where and what I would want the scene to be like, etc. I ended up shooting three scenes for them, back to back. And the rest is history."
Stratton still vividly recalls everything about that January weekend in Los Angeles.
"I remember locking eyes with Kira Noir and thinking, 'Oh my God, I want to be just like her,'" she recalls. "Not only is she amazing, but I love her career path! I'll just never forget looking around all these beautiful performers at the Palladium and being like, 'I really want to be like this, this is where I want to be.'"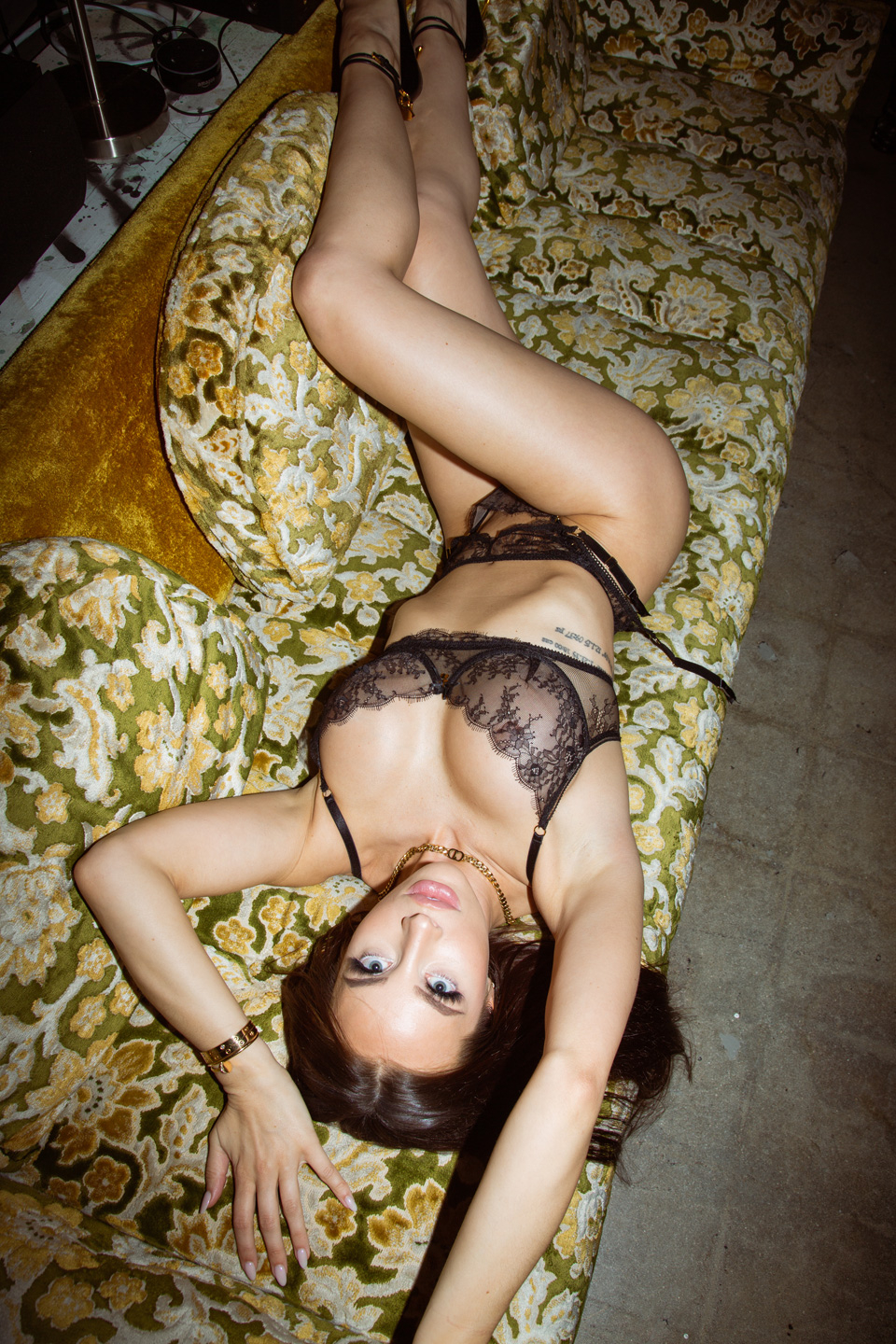 A Creative Finds Her Groove
It took Stratton until her early 30s to find her way into the adult industry and the career she now proudly calls her own.
"I love that a lot of the performers are photographers, artists," she notes. "A lot of us are creatives who require a lot of attention, and this is how we fulfill that need. This deepest exposure of ourselves generates a lot of attention, and I found that resonated with me. Because I wouldn't really consider myself highly sexual per se, but something about this industry is very fulfilling for me."
Stratton describes her upbringing as "very conservative," which she has counterbalanced by bucking tradition. Shooting porn, she explains, has been incredibly healing for her in terms of taking back the power over her sexuality.
"I never saw myself as sexual growing up," Stratton shares. "I didn't realize that women could orgasm until I was 18 because I never touched myself. I had never been taught that and any sex-ed class I was ever given was focused on a man's perspective. And so I'm playing catch up at 33 years old, coming into the industry and learning. And I'm still behind!"
Like a disproportionate number of adult performers, Stratton has a Mormon background.
"I went to high school and college in Utah," she says. "I'm an Air Force brat, so I moved all around, but I spent some really formative years in Salt Lake City. It's one culture. It's a one-note kind of upbringing. There is a lot of pressure, particularly for women. Everyone's doing the same thing and everyone's watching each other to make sure they're doing the same thing. 'Having the same standards' is what they would say."
Stratton is quick to add that she harbors no resentment over growing up Mormon, in a culture where girls are expected to internalize conservative, even old-fashioned values.
"I feel like it gave me a lot of skills," she notes. "Self-reliance. Being self-sufficient. From something as specific as having a 72-hour supply of food and water at all times, to generally thinking 'I'm planning, I'm thinking ahead, I'm taking care of myself.' I didn't realize until later that that spilled over into a lot of other aspects of my life."
Still, even playfully dressed up to match the old-school glamour of the Smoke House, Stratton brushes off the idea that she seems quite "put together."
"I get that a lot," she laughs, a little embarrassed. "Which makes me laugh, because behind the scenes, I feel like I'm a hot mess. I had a photo shoot for hours today, and then I had a collab and I came straight from there. I got my dress at Target — I'm not that put together!"
In her teens, Stratton began to feel that strict Mormonism no longer served a purpose in her life and that she "had to be done with it." Her parents were actually supportive.
"I was in high school and when I told them, they answered, 'Yeah, we get it.' It was almost like telling my parents I was gay. They were like, 'Yeah, we know!'" She laughs.
Stratton's youthful rebellion began with smoking cigarettes, having the occasional drink on the weekends — and coffee, caffeine being peculiarly verboten among the LDS faithful.
"When you're taught something is so wrong your whole life, a lot of us just kind of snap and we're like, 'Fuck it, I gotta try it," she says.
Meanwhile, Stratton also started to notice the effect her looks had on others.
"I did get a lot of attention as I got older," she says. "I was in my early 20s when I started noticing that guys were looking at me and treating me differently. I think in a weird way that gave me a little bit of confidence to kind of be more sexual."
Stratton explains that she has always been "a little bit of a closet freak."
"I've always been in a relationship and I'm really wild and crazy with that one person," she reveals. "I don't sleep with a lot of people or do a lot of one-night stands. That wasn't really my thing. But once I had somebody I really loved and trusted, I was like 'All right! Fuck me upside down!'"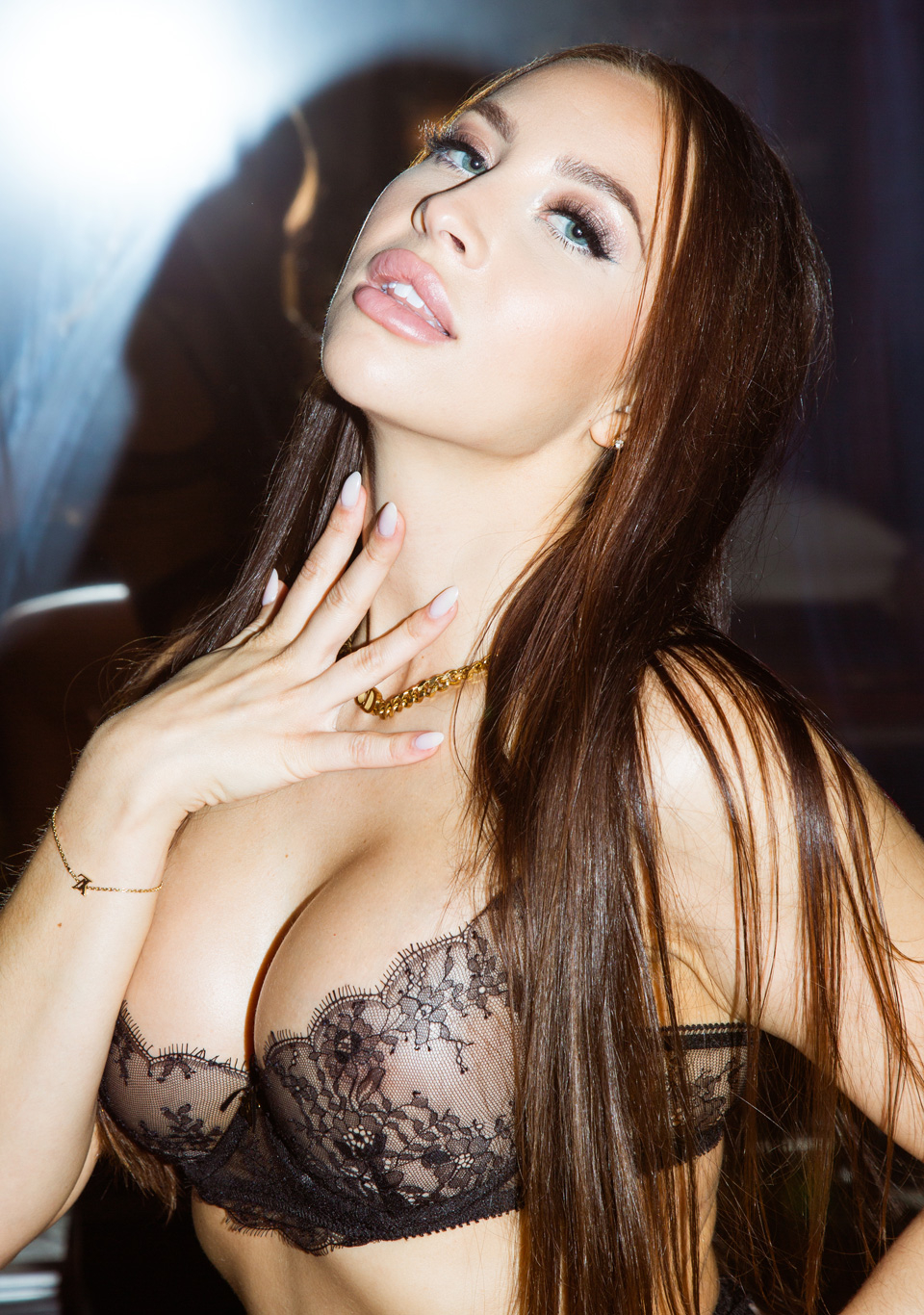 Leading With AI
Although she wasn't a prude and had experienced her share of adventurous sex, Stratton says, camming still felt like an all-new experience.
"When I started, I wouldn't even show my face," she says. "I was so worried that I was going to get recognized, or that someone was going to tell my parents. I mean, I'd been out of the house forever. Why would I care about what my parents see? But I did."
She opted for a somewhat generic username: Kitty Baby Camgirl. In fact, @KittyBaby_Cam is still her Twitter handle, which she still hasn't gotten around to changing, for sentimental and practical reasons.
"I think I was building my confidence at the time," she reflects. "It wasn't out of shame. I was letting people get to know me during those cam sessions. Fear of putting myself out there on the internet was more my concern. And that quickly went away when I realized that this is what I love to do."
The camming gig quickly became Stratton's main way of supporting herself financially, helping satisfy her need for self-reliance. Six months in, she quit her graphic design business and plunged in full-time.
"I had to just jump all-in. I don't believe you're allowed to be one foot in, one foot out when something is giving back so much to you. I was like, 'All right, this is a sign that I need to stop everything and do this.'"
From the start, Stratton recognized that for her, one of the most rewarding aspects of camming was connecting with her fans.
"The positive feedback I constantly get from the fans makes me want to do more and more," she says. "There's a fan of mine that I've been friends with since probably my second month of camming, and I'll never let go of him. He's such a friend to me now. Things like that make me incredibly grateful — that people find me interesting enough to either spend money on, or spend part of their day watching."
Yet Stratton has also sometimes struggled with her self-perception and ability to feel worthy of her fans' attention.
"I spent the first big chunk of change that I made from camming on plastic surgery," she admits. "And it changed the game for me with confidence. It changed my audience, because some people liked this kind of 'natural girl,' so I got a lot of flack for it. But everyone that I lost because of it, I gained tenfold because I felt like the changes fit my frame a little better. I'm all for changing what you want to change about yourself to give you confidence."
If you're going put your body out there, she adds, "It has to be your favorite thing about you."
"If I look in a mirror and I start nitpicking everything I hate about myself, I can't do a good job that day," she explains. "So I have to hype myself up, I have to remind myself how beautiful I am, I have to look at old pictures of photo shoots I love. You've got to bring that positivity, that self-love, because people are so attracted to confidence and charisma. If you don't have it, you've got to work on it."
Stratton still pays close attention to her fans' needs and wants. She says her most consistent fan base is young-to-middle-aged professionals, many in demanding careers, who need an outlet.
"I have a few people specifically that like to call me just to talk because they're so busy, and they travel a lot," she says. "They don't line up dates. They don't meet a lot of people, so this is how they want to spend their time. They just want some attention. And I love that. I feel like I have a lot in common with those people."
To cater to fans who might need someone to talk to when she is not available, in May Stratton launched the beta version of an innovative "artificial intelligence companion," dubbed Melissa AI.
"Much of my career has been playing catch-up to everyone else that started during COVID — getting to know companies and performers and everything," she explains. "So I needed something that was leading instead of following, and I hadn't heard of anyone else doing an adult AI companion yet."
Melissa AI not only helped Stratton feel like she was leading instead of following, but it also met a need among her fan base. While Melissa Stratton may not be available all the time, she notes, an AI companion is. And a lot of her fans just need someone to talk to.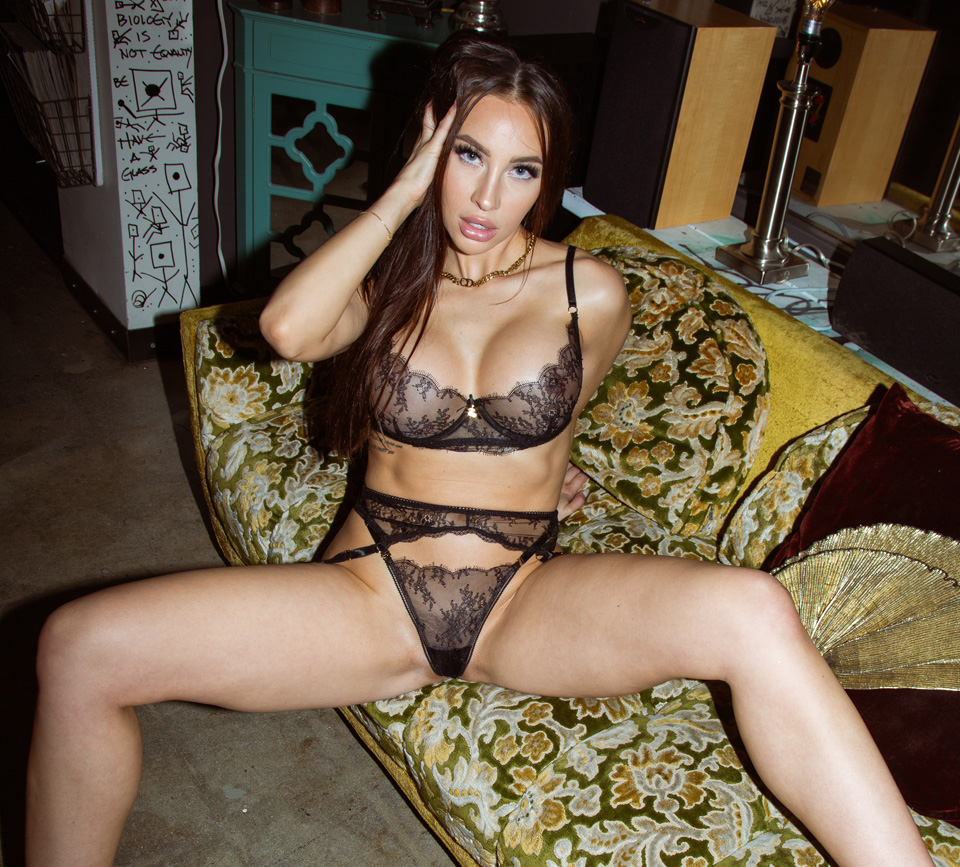 "I was like, 'Yes, absolutely. Let's do it.' So a company approached me to build it for me. They weren't sure they wanted to be involved in adult, but wanted to see how it went. And they've been blown away by how people are engaging with this already."
Stratton's optimism about the new technology is contagious as she demonstrates on her phone how a language model has learned to produce a nearly flawless audio version of her.
"Everything has been new to me since I started in this industry," she says, with a smile. "Putting yourself out there, working with new companies, working with new people, seeing yourself on different websites —it's all scary to me. The AI companion is just part of the journey. I see so much potential in this."
Stratton also feels grateful to Chaturbate for continuing to support her by bringing her to events and highlighting her in the company's marketing, even after her transition to pro shoots.
"It's such a blessing to have such a good crew over there," she says.
And the future?
"I don't know necessarily what my exit strategy is yet, but I definitely knew I wanted to diversify early on," Stratton says, wrapping up the dinner before heading to the Sunset Strip to support director Mike Quasar's punk band The Cocks at their Whisky-a-Go-Go appearance. "I didn't want it to just be camming. I didn't want it to just be shooting scenes. I also want to give my fans whatever they want. I definitely run my brand like a business."
And wherever Stratton has taken them, the fans have followed.
"I would say 90% of them loved it when I started doing professional porn. And there were a few that really didn't and they wrote to me, 'Oh, you changed — you're not that sweet, innocent girl.' They thought they had something no one else had," she concludes. "But I'm for the people. You can't own me."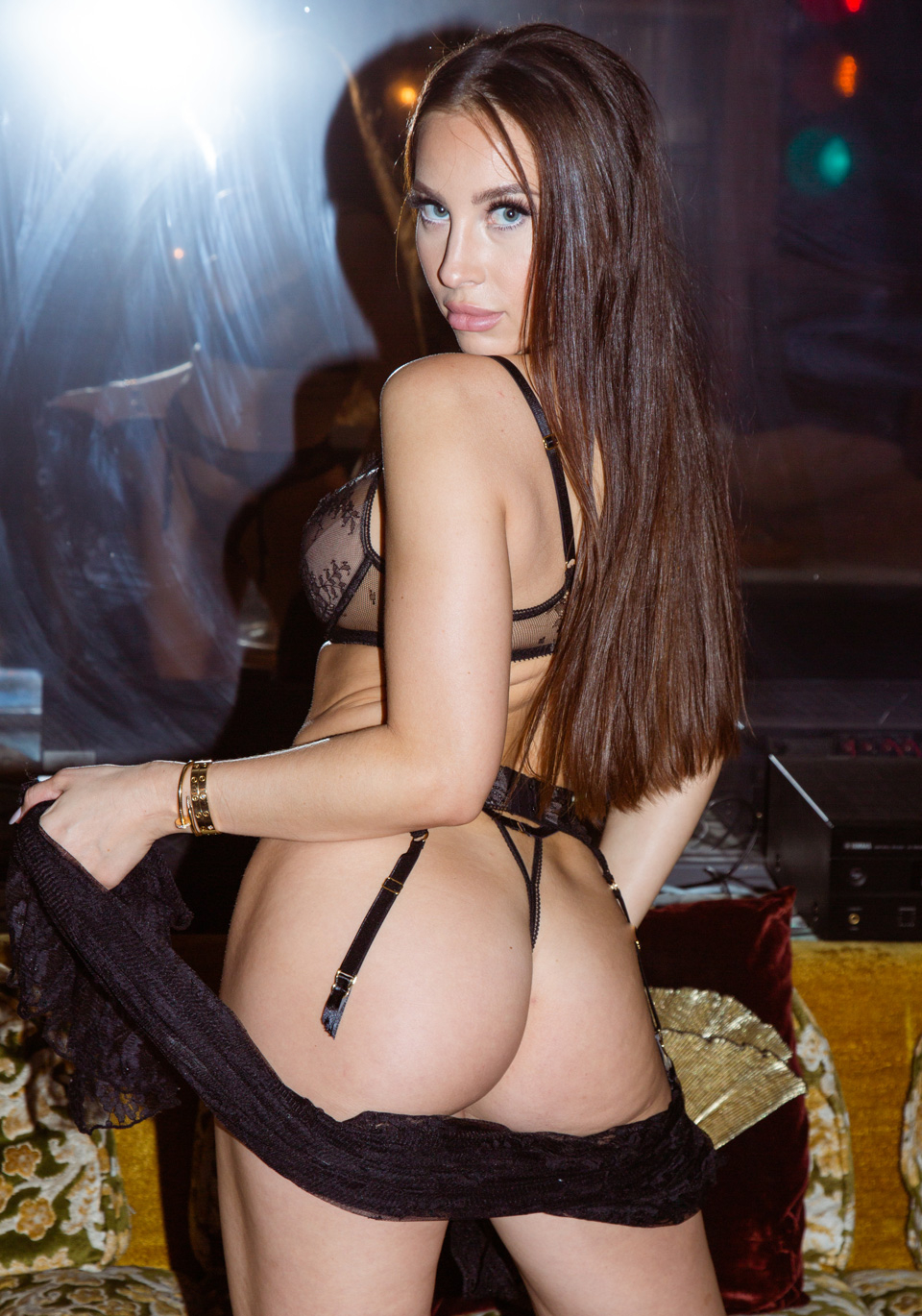 All photos by Darkstripe.
https://www.xbiz.com/news/275318/ready-for-her-close-up-melissa-stratton-juggles-studio-work-camming-ai-ventures

XBIZ.com – Movies & Stars
2023-07-10 22:30:00