PALM SPRINGS, Calif. — Veteran performer and Luxxxe Studios founder JD Daniels is on pins and needles as he preps for the release of "Friends in Heat," the first series from his nascent label. "We're trying to create an entire experience around this project," he tells XBIZ. "We want to give you the full Hollywood treatment. I can't wait for everyone to see it."
A teaser trailer was released earlier this week that centers on Luxxxe exclusive and brand ambassador Justin Yurmouth.
"Friends in Heat" is described as an erotic soap opera "filled with scandalous, suspenseful, steamy surprises that will have fans wanting more," teased a rep.
The first episode, titled "A Blast From the Past" and costarring Brian Bonds, is slated for release this spring under the direction of veteran director Jasun Mark in collaboration with director of photography Anthony Duran and photographer Mark Hersh. 
The series also features Matteo Nevaeh, Aaron Trainer and Jake Waters, among others.
Yurmouth and Bonds play sexy friends whose simmering passion powers the "Will they or won't they?" storyline. "It becomes very realistic, very intense and passionate, and leads to an explosive situation at the end," teased Daniels. "There is a spark, a flame, as they decide to explore each other's desires and see how far they can take things within the boundary of their friendship."
Daniels praised Duran as "wonderfully supportive" for helping him build his creative team and for bringing Mark aboard. Yurmouth, who has quickly become the face of Luxxxe, first connected with Daniels at a pre-pandemic industry networking event organized by JustFor.fans.
"Justin is a helluva wonderful man, very dedicated. He was quite a character at this party, cracking jokes and being a real funnyman," Daniels recalls. "I fell in love with his personality and we just stayed in touch. He's intensely hot, very sexual. And he has a great sense of humor. So I presented this idea of coming aboard as an exclusive and he jumped on it. He's been with us since the beginning."
When it was time to cast the co-lead for "Friends in Heat," Daniels fondly recalled a cracklingly erotic self-produced clip on JustFor.fans featuring Yurmouth, Mason Lear and Bonds.
"I knew Justin wanted to work with Brian again. I mean, you could tell the chemistry was already there from that clip," said Daniels. "And Brian hasn't been cast in a lot of lead roles. He really ran with it. I'm so proud of them both. I think audiences are really going to enjoy seeing them work together and follow along as their story develops."
He describes Luxxxe as "a brand with a touch of class, a real luxury brand, as the name suggests," and "Friends in Heat" has been carefully designed to convey this aesthetic. "The whole series conveys glamour, some bitchiness, some aggressiveness. The kind of style you don't always get in gay adult films."
A notably prolific performer, Daniels has taken his career in a new direction with the launch of his studio, which coincided with his 2021 Raven's Eden Award for "Performer of the Decade."
The inaugural laurel was shared with Zario Travezz and Daniels remains proud of the recognition.
"The fact that two men of color won that award is incredibly meaningful to me," he shares. "That kind of recognition doesn't come along very often. It tells me that I had an impact on my fans. And now I want to carry the torch forward."
He notes that numerous obstacles on the road to getting his company off the ground only strengthened his resolve. "The pandemic set everything back," he said. "But with Justin and so many other incredible, creative people coming aboard, who knows how far this can go?"
Visit Luxxxe Studios on Twitter for the teaser trailer to "Friends in Heat."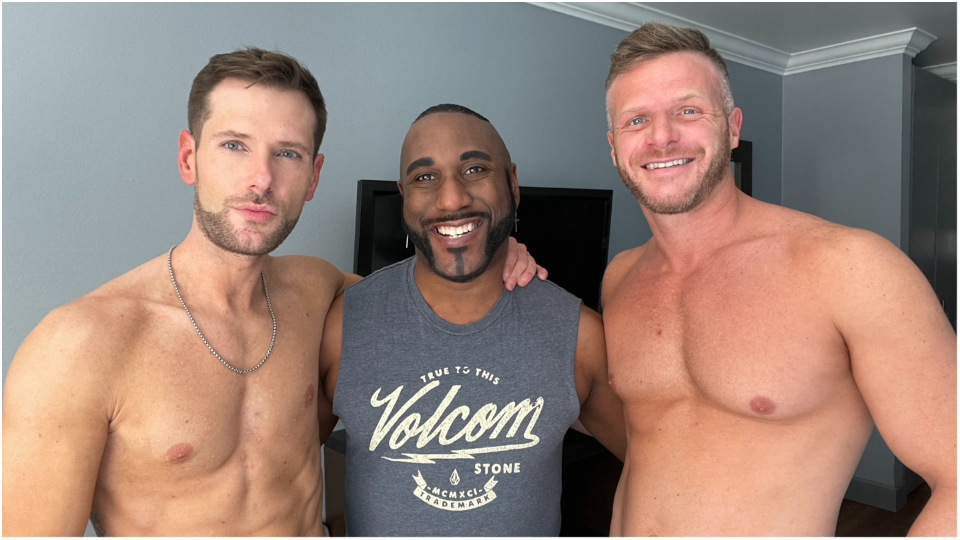 (L-R): Yurmouth, Daniels, Bonds


https://www.xbiz.com/news/271809/luxxxe-studios-readies-inaugural-launch

XBIZ.com – Movies & Stars
2023-02-18 15:00:00