Few male performers have exploded onto the scene with the white-hot flash of a lightning bolt like Lucas Entertainment exclusive Kosta Viking. The newly crowned XBIZ Europa Awards winner as Gay Performer of the Year already has a Best Newcomer trophy from the Grabby Awards on his mantelpiece — and a sizzling career as a content creator.
Lean and muscular, with curly blond locks like spun gold, Viking grew up in southern Italy, 20 minutes from Naples, and studied for a fine arts degree in music and theater. He has channeled his talent for performance into a burgeoning rep for virtually devouring his scene partners alive, and his intense passion has earned him a spot in the pantheon of Europas winners, which over the past two years has inducted fellow Lucas Entertainment exclusives Allen King and Ruslan Angelo.
Performer and Lucas Entertainment founder Michael Lucas was at his home in Puerto Vallarta — playfully dubbed "Chez Lucas" — when he sent an email to Viking about filming for the studio. Then he headed to the beach, where in a fortuitous moment he was approached by Viking himself.
"We met on the beach and chatted. He said he wanted to do porn with us and we had a production coming up," recalled Lucas. "Obviously, he's very, very friendly. He's sweet. And he has a classic beauty, a very natural body, no steroids, and a huge, uncut dick. He's as good bottoming as he is topping."
Lucas was impressed with Viking's innate ability to include the camera in his scene work.
"Kosta was very natural from day one and didn't need much direction," said Lucas. "You know, I've been in this business for 25 years. I've seen models come and go. Very often in the business, with models who are very pleasant and down-to-earth, I worry that once they become popular, their attitude will change. That hasn't happened with Kosta. He's very easy to be around."
Now, Kosta shares the story of his career and future aspirations, in this exclusive XBIZ interview.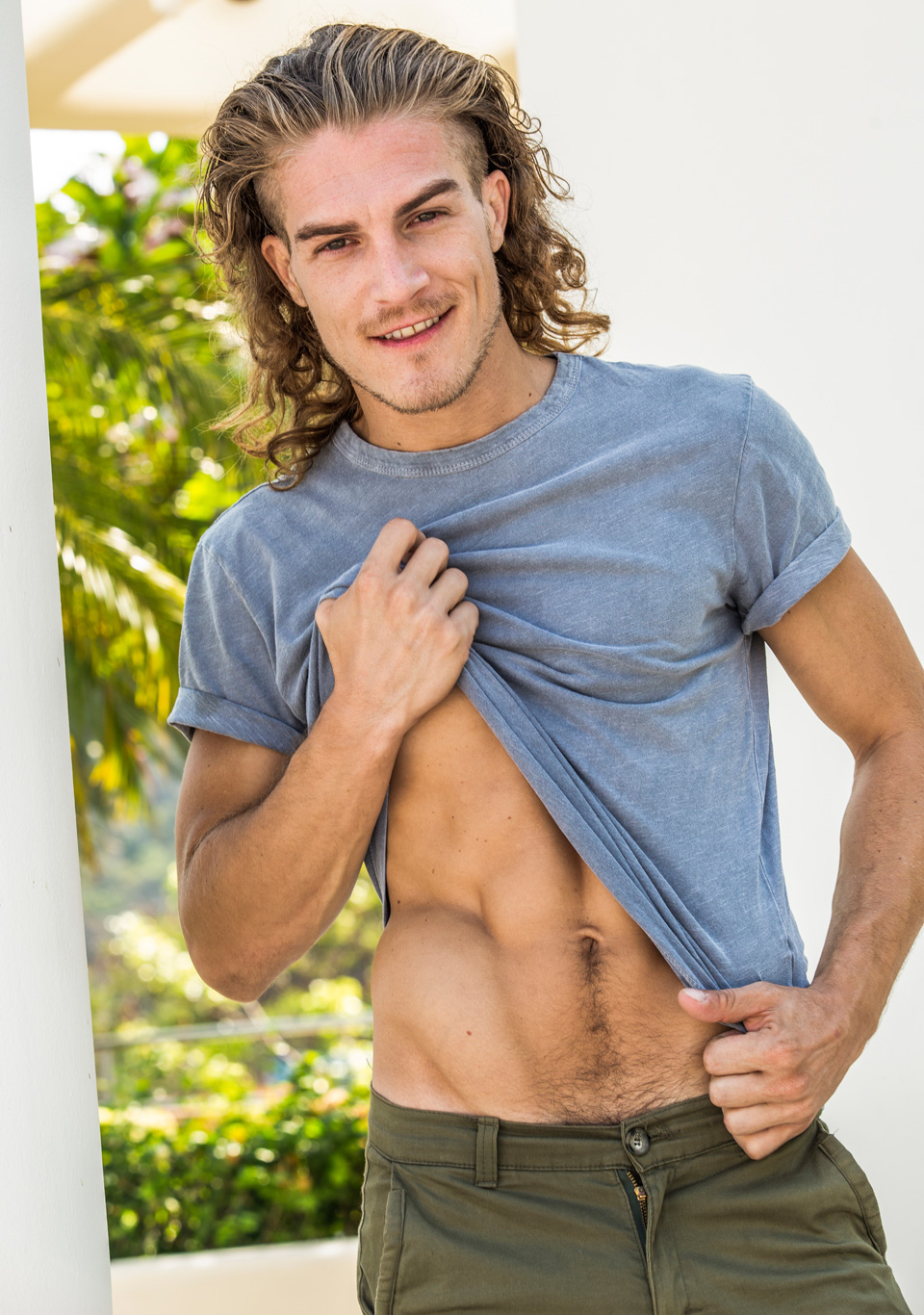 ADAMS: That is such a great story, about you and Michael Lucas happening to be on the same beach in Puerto Vallarta at the same time when he had already reached out to you.
VIKING: I was casually traveling throughout the world, having sex and just enjoying life. When I was in Mexico, I started an OnlyFans and I met some of the actors of Lucas Entertainment. I was offered a contract and the rest is history. When I met Michael, I had been in Puerto Vallarta not more than a month. It was quite the random chance when he messaged me and my boyfriend at the time we were there. And, of course, we knew about Lucas Entertainment. I guess you could say Michael has a good eye.
ADAMS: Growing up in Italy, what kind of access to adult content did you have?
VIKING: I watched porn from the time we had a computer in the house. My favorite porn was MachoFucker.com and I loved it because it was just straight-up hardcore fucking. Big cocks, rough sex, no acting — just fucking. Also, hitchhiker porn always was a great close second.
ADAMS: You're also known for your self-produced content. Do you have a preference between clips and studio shoots?
VIKING: I like studio shoots because they allow me to just be a performer. They take care of the dates, the scene partners and the editing. I love making adult content but I don't always want to organize and do the business side.
ADAMS: It's unusual for a relative newcomer to win Performer of the Year. How does receiving XBIZ Europa Awards recognition feel to you?
VIKING: Winning the award makes me very happy, and not only because it feels good to be recognized. I love having sex and I love making content. So the fact that people enjoy it to the point of giving me an award is quite fulfilling.
ADAMS: One of your first scenes with Lucas Entertainment was an incredible threesome with Allen King; people really started to take notice of you after that. What are some other favorites?
VIKING: I have a scene with Isaac X that I particularly enjoyed. We had such great chemistry and it was shot so well in an upstairs pool. That's when my job is truly enjoyable: a great look, and a sexy scene partner where I don't even have to act. Tomas Brand was so enjoyable to work with and our scene speaks for itself. In general, I try to have fun with all my co-stars.
ADAMS: Is the "Kosta Viking" persona different from how you are in your daily life?
VIKING: As always, my "Kosta Viking" personality is out there and all about all kinds of sex. And while that is a part of me, my true self loves a relaxing night at home watching movies, even if sex is always on my mind.
ADAMS: Do you have any goals for what you want to accomplish in your career? Or are you taking it one day at a time?
VIKING: A little bit of both. I would like to continue in the industry for as long as it makes me happy. Accomplishments are not something I think about as long as I have followers and make great content. So I guess I would have to say that taking each day as it comes is kind of who I am.
Follow Kosta Viking's premium social media links here.
Images courtesy LucasEntertainment.com.
https://www.xbiz.com/news/269787/kosta-viking-xbiz-europas-gay-performer-of-the-year-takes-the-throne

XBIZ.com – Movies & Stars
2022-11-09 23:30:00