It's March 2023 and the historic Avalon nightclub in the heart of Hollywood is teeming with everyone who's anyone in the tight-knit adult trans community. They are all here, from the stars to the movers and the shakers, to honor the best of the best as the Trans Erotica Awards (TEAs) celebrates its 15th anniversary. As is customary for the yearly event, everyone is wearing full glitz. We're talking sequins galore, shiny fabrics, feathers, the whole deal. Also, skin — a whole lot of skin. It's the ultimate see-and-be-seen event for trans divas, the late-in-awards-season culmination of accolades for their work the previous year.
And then there's Emma Rose. She's wearing an off-white pantsuit, shirtless torso peeking out through the jacket. She's baring only a suggestion of cleavage, but all eyes are on her.
"Impeccable" is the go-to word to describe the blonde stunner who has taken the adult industry by storm since her debut in 2020. Smart, gorgeous and approachable, with contagious positive vibes, Rose quickly rose through the echelons of studio work, indie content and social media exposure to win every major trans award in 2023, like the XBIZ Award for Trans Performer of the Year and the TEA for Best Hardcore Performer, which she shared with Ariel Demure.
"We're two poor white trash individuals from southern Florida and we're very grateful to be here tonight," Demure told the TEAs crowd while Rose beamed in her flawlessly tailored glory. Without missing a beat, Rose used her turn at the podium to urge more representation and visibility for "Black T-girls, the category of trans women who're the most endangered in our community."
It was a signature Emma Rose moment. Poised, radiant, seizing a moment that others could have used for self-glorification to support fellow members of the community she is vocally proud to represent.
While in Los Angeles for shoots, Rose found time in her impossibly busy schedule to meet up with XBIZ at a charming European courtyard cafe in the middle of — natch — Beverly Hills' Beverly Hilliest area. Yup, even among the realest Real Housewives crowd in head-to-toe Balenciaga, the XBIZ 2023 Trans Performer of the Year in her most casual fit has the power to turn heads.
That's not really so surprising, though. Rose has been razzlin' and dazzlin' em ever since she started shooting in 2020.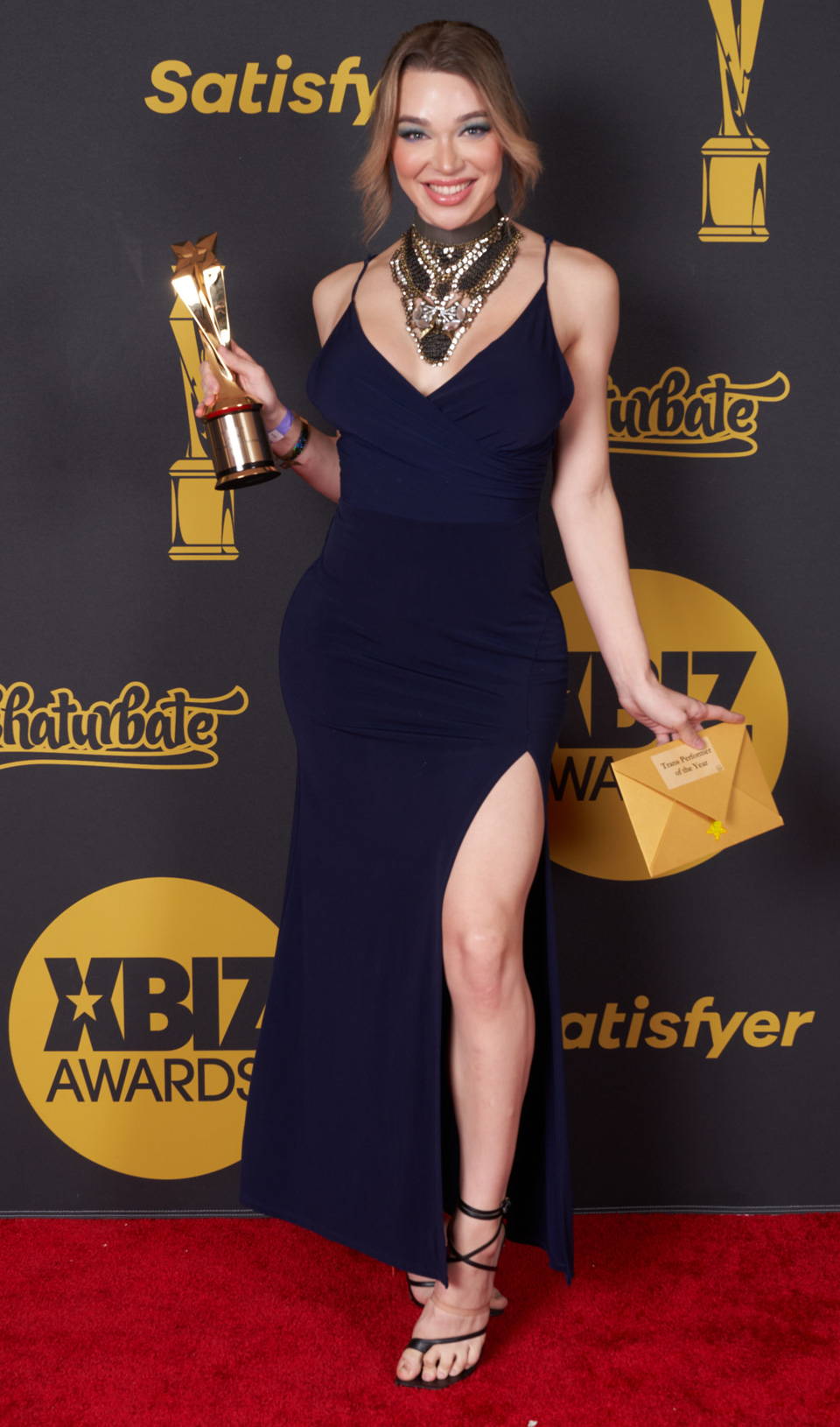 A Stellar Rise
"My very first scene was with Pure-TS' ChristianXXX that January, right before COVID hit," Rose explains. "And then I shot for Grooby and Evil Angel in March — and everything shut down."
Rose was still living in her home state of Florida at the time, but decided to head west during that uncertain May. Of course, before porn beckoned, she had mapped out a rather different lifestyle.
"I have a marketing degree, and I was going to move to New York and work in sales because I was tired of living in Florida," she reveals. "I hated the weather. But after those first few shoots, so many of the directors were like, 'Oh, we want to shoot you when things get back to normal.' So that made up my mind and then I just made the whole jump, sold everything and came here."
"Here" means a brief stint as a porn hopeful in the Valley, albeit a less-than-fruitful one at first.
"I didn't work for like two months while I was living here, but then after July, when production started again, I started working nonstop, usually with Gender X and TransAngels. I also had a contract in 2021 for nine months with TransAngels."
Then it was off to the races and no looking back, ramping up toward her recent blitz of top award wins. Quite a whirlwind for a laid-back Florida farm kid whose favorite description for a place or hang is "chill" and who once dreamed of becoming a doctor.
"My very first year in college, I was biomedical because I wanted to go into medicine," she explains. "But then I failed chemistry, twice, so I said, 'Okay, maybe I shouldn't be a doctor.' And so I lived in Fort Lauderdale, and that's when I really got into entertainment. Then I went to South Florida, and it was amazing."
When she returned to Tampa after the summer, Rose changed her major to marketing with a concentration in brand management.
"That's when 'Emma Rose' was starting to be born," she says, "especially because I was dancing. I started realizing then that building a brand for yourself was something that I really, really loved. But it wasn't until porn that I was like, 'Okay, this is exactly what I want to do with entertainment.'"
Rose's discovery of her passion for entertainment and branding coincided with her transition.
"I still went through a lot of things when I transitioned back in 2017," she says. "When I started, I still had to live a full year as a female, and then I was able to get on hormones. It was a different time. The 2010s was probably actually way easier to live as a trans woman because no one was looking at us — no one knew about trans people. No one was keeping an eye out, it wasn't in the conversation. 2017 was actually a really nice time to be trans."
Rose offers this by way of contrast with the highly politicized discourse around trans issues in 2023.
"There was debate about gay rights and gay marriage and everything in 2015, and literally as soon as that died down, now it's like the trans movement. And it's such a really big push, but also naturally the big push was always going to have a very big pushback."
As someone who managed to go through her transition before the current blitz of restrictive anti-trans legislation in Florida, Rose says she feels lucky.
"The only thing that I don't have changed is my birth certificate. All my other documents, my ID and my Social Security, are changed. That's the only thing I need to do, and I'm rushing to get all my paperwork done because they're getting drag outlawed, and the gender markers and everything. And it definitely is really stressful."
Natural Entertainer
At the very beginning of her transition, Rose says, she was out as trans in the clubs in Florida where she was dancing, one of her passions.
"But then, about a year and a half in, I wasn't — when I was dancing, I was hiding everything, I was tucking with tape. So I remember one time I was at a club dancing and my tape pops, and I was so stressed. And I ran off the stage and packed all my things and ran out the door. Because I was so scared I was going to get my ass beat."
Looking back, she says she is grateful that she was "passable."
"I had a whole system when I was going to change outfits, so no one would see, and making sure everything was hidden. But some people kind of knew, and they started to get aggressive."
Now, with her award-winning porn career as a marketing asset, Rose really hopes she can be booked on the lucrative feature dancing circuit.
"I think that I could dance in any club, not just trans clubs, because I want to do it as Emma Rose," she says. "I feel like it's going to be very different nowadays — I think that me being trans wouldn't be as big of a deal as it was when I was at the clubs before in the 2010s."
Now happily settled in Las Vegas, Rose says she enjoys traveling for work — in style, Beverly Hills bb! — but also having a cozy home base to return to.
"In Vegas, I feel just super chill," she says with her effortless laugh that peppers the whole interview. "That's why I love it! I grew up on a farm, and I love being away from people. In Vegas, if you take the Strip out of the question, the city is so chill. It's nice. There's so much hiking and the circles of people are really tight. Everyone's friendly with each other. I can talk to people who are downtown who like punk rock or any of that, and there would never be an issue with me being trans or me being with my trans friends."
Though the gay community in Vegas is much smaller than in other major cities, Rose says she enjoys its small-town feel.
"There's three bars, and the area called the Froot Loop," she laughs again. "It's like south of Sahara, and south of the Strip, between the airport and Sahara. It's Free Zone, QuadZ and Piranha. It's like the gayborhood and it's super chill. There's all types of people."
Rose appreciates that the Nevada capital of leisure has always welcomed entertainers, and that entertainers have traditionally been open-minded about queer folks. She says she has noticed, among male talent, more openness to working with trans women.
"Definitely now, there's the big push for acceptance with new actors coming in and trying it for the first time," she says. "I was talking with a model with a major agency who wanted to shoot with me. I have to say it's just nice to have these guys not be scared for their career. Because five years ago, you'd be blacklisted for shooting with a trans girl. And now, even if there is some backlash in certain communities, for the most part it's not seen as a bad thing where a director is not going not hire you later because of that."
Even a couple of years ago, in 2021, when Ramon Nomar did a scene with Aubrey Kate it was considered major news. Today it wouldn't be a big deal.
"Yeah, it's been changing so much," Rose says. "I just got an offer from a big studio that's starting to shoot a new trans line and they've never shot it before. So I've been in talks with them and I'm really excited."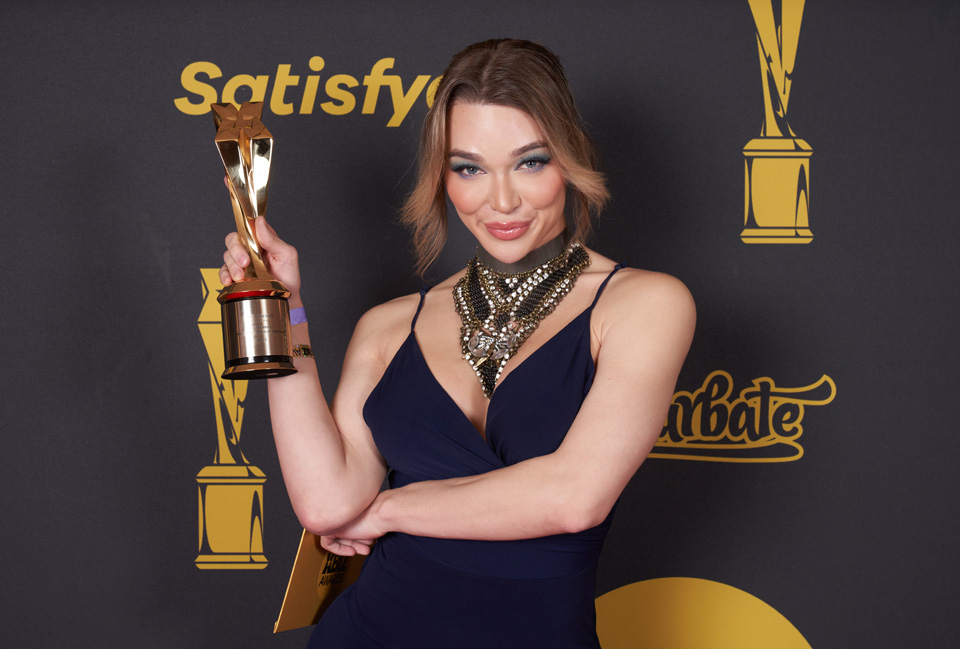 'Trans Sells!'
Rose has also been courted by major agencies looking for someone exactly like her to be their first trans model. The offers poured in immediately after a celebrated awards speech earlier this year, when she stood her ground calling out managers, studios and agencies who had previously told her that there was "no market" for models such as herself.
"Trans sells!" became Rose's savvy battle cry. That marketing degree, it turns out, came in handy.
"The next day," she says with a clever smile, "I started getting calls from agents to talk about representation."
At first, Rose was still salty about their previous snubs.
"But then there were so many things happening — especially after winning all those awards for top performer of the year, like the XBIZ and TEAs," she recalls. "So I decided to return their calls."
Rose says the possibility should be exciting both for her and for any forward-thinking agency.
"Especially shooting for studios, having the backing of an agency would be so important for my career, but also I could be helping them navigate working with other trans models. Instead of looking at numbers or algorithms, with me on board they can at least ask somebody who's in the community, who also can openly talk with a lot of other trans girls as well.
"It would be a big step in the right direction," she adds.
It often takes someone like Emma Rose to come in and change things, and then things change for everybody. After all, four or five years ago, agencies were reluctant to sign people with large tattoos — until they weren't. Today nobody bats an eyelid when Joanna Angel is announced as a Spiegler Girl.
"Companies, they need to see results," Rose notes, the no-nonsense Florida marketing student always eyeing the bottom line when discussions get too theoretical. "I understand why it can be so scary to take that step. But once they do, and they see, 'Okay, it still sells, it sells good — it actually sells more,' then there's no issue after that."
That business mentality, in fact, is a big part of the reason why Rose is where she is. She has shown the industry ample evidence of having the drive, curiosity and follow-through that separates top-tier performers from average ones. In 2022 especially, Rose went into work overdrive.
"Directors would hit me up and say, 'Are you available in two days?' And I'm like, 'Absolutely!' Every time. I would make it work — I would fly in, a lot of times the same night just to get the opportunities. Directors like Chris Streams, Ricky Greenwood and Bree Mills, they made the biggest difference in my career that year. Chris shot me in the Maddie May showcase. Ricky got me in with Dorcel and started shooting me with bigger projects. And then Bree and Transfixed, I shot with so many times last year, just amazing scenes that are very high-quality instead of just gonzo."
Rose also made time for what she calls "working on the exposure," which in her case means maintaining and growing her social media presence — she's currently focusing on TikTok — cultivating her OnlyFans fan base and also appearing on podcasts, usually two per month.
"I love doing podcasts — I am a talker," she laughs. "I just did 'No Jumper' and 'Pillow Talk' in Toronto. I posted that I was shooting with TransAngels in Montreal and they were like, 'Hey, you're in Canada, you want to stop by?' So I changed my flight and I flew there — and the Daily Mail picked up something I said and published it the next day!"
Entertaining and educating hosts and listeners as a guest has inspired Rose to start planning her own podcast.
"I really just want to start having a lot of the trans girls and hearing what they want to say," she explains. "But I don't want it to be messy, because I don't want to put that image out there. I want the Emma Rose brand to always be prestigious."
That brand awareness informs everything Rose does, as well as her plans for the future.
"I feel, especially coming from where I grew up — I grew up on a farm — there's a lot of trans girls that don't have direction in our community. And I'm really happy that girls like Domino Presley and Morgan Bailey and all of these really pioneering trans girls really took me under their wing and taught me everything that I know."
"My biggest goal right now," she concludes, "is that I don't want to just be a star. I want to be a role model that other girls can look up to and think, 'Wow, she's doing it right.'"
https://www.xbiz.com/news/273520/emma-rose-reflects-on-trans-performer-of-the-year-win-career-highlights

XBIZ.com – Movies & Stars
2023-05-12 22:30:00