Last January, only days before Casey Calvert's triumphant night at the 2023 XBIZ Awards — she took home trophies for Feature Director of the Year and Best Screenplay, while the Lust Cinema productions she directed won Feature of the Year and All-Girl Movie of the Year — she was in a conference room at Hollywood's Kimpton Beverly Hotel, being roasted by some of the industry's most established directors.
Many of the bantering veterans had met Calvert a decade earlier, in 2012, when the new college graduate and lifestyle kinkster left Florida for a shot at Los Angeles porn stardom. Back then, the petite brunette was part of a crowded cohort of hopefuls that included future powerhouses like Mia Malkova, A.J. Applegate, Adriana Chechik and Ana Foxxx. Most were attempting to reach the rarefied echelons where top performers like Asa Akira, Lisa Ann, Bonnie Rotten or rising talents like Riley Reid and Remy Lacroix resided, but Calvert was also subtly eyeing the careers of successful performer-directors like Joanna Angel and Dana Vespoli.
Ten years later, here she was, being ribbed by grizzled industry roastmasters like Mike Quasar, Will Ryder, Axel Braun and Jonni Darkko. Calvert took it and dished it — all the while performing her best "good girl" smile. After all, a few good-natured jabs were not likely to faze a self-described "pain slut" who is one of the industry's top BDSM connoisseurs.
"I am one of the boys," Calvert says a few weeks later, over tea at the historic Huntington Library and Gardens in San Marino, California, as she reflects on that perfect week of career-affirming events — the panels, delivering an XBIZ Visionary Keynote address, the magical night at the awards. "Among my fellow directors, I want to be one of the boys. I don't want to be a delicate princess female director up on a pedestal. That's not what I am."
Put a pin in that. Who Casey Calvert is in 2023, after reaching the apex of her chosen profession, is a topic to which we will return several times throughout this interview.
"I was roasting them as hard as I felt like I got roasted," she adds, speaking with empathy and camaraderie about the "old guard" auteurs joshing her, and about the other panelists, pioneering director Jacky St. James and newcomer Bloomer Yang. "And sitting next to Darkko, I get it. He does not understand the kind of movies I make. Because he's the kind of old-school director that makes exactly what he wants to make. And when it comes down to it, I'm not any different. I make exactly" — she emphasizes that word — "what I want to make. So who am I to judge?"
What about Quasar's notorious complaints about being merely a cog in a soul-crushing corporate machine?
After a characteristically thoughtful pause, Calvert offers: "I don't know how much of that is this persona of 'Mike Quasar' he's crafted. But what I do know is that every time I've made a feature with him, he has cared about what we're doing. For sure. And he has given me direction and wanted to see certain things, certain emotions in performance like any other director."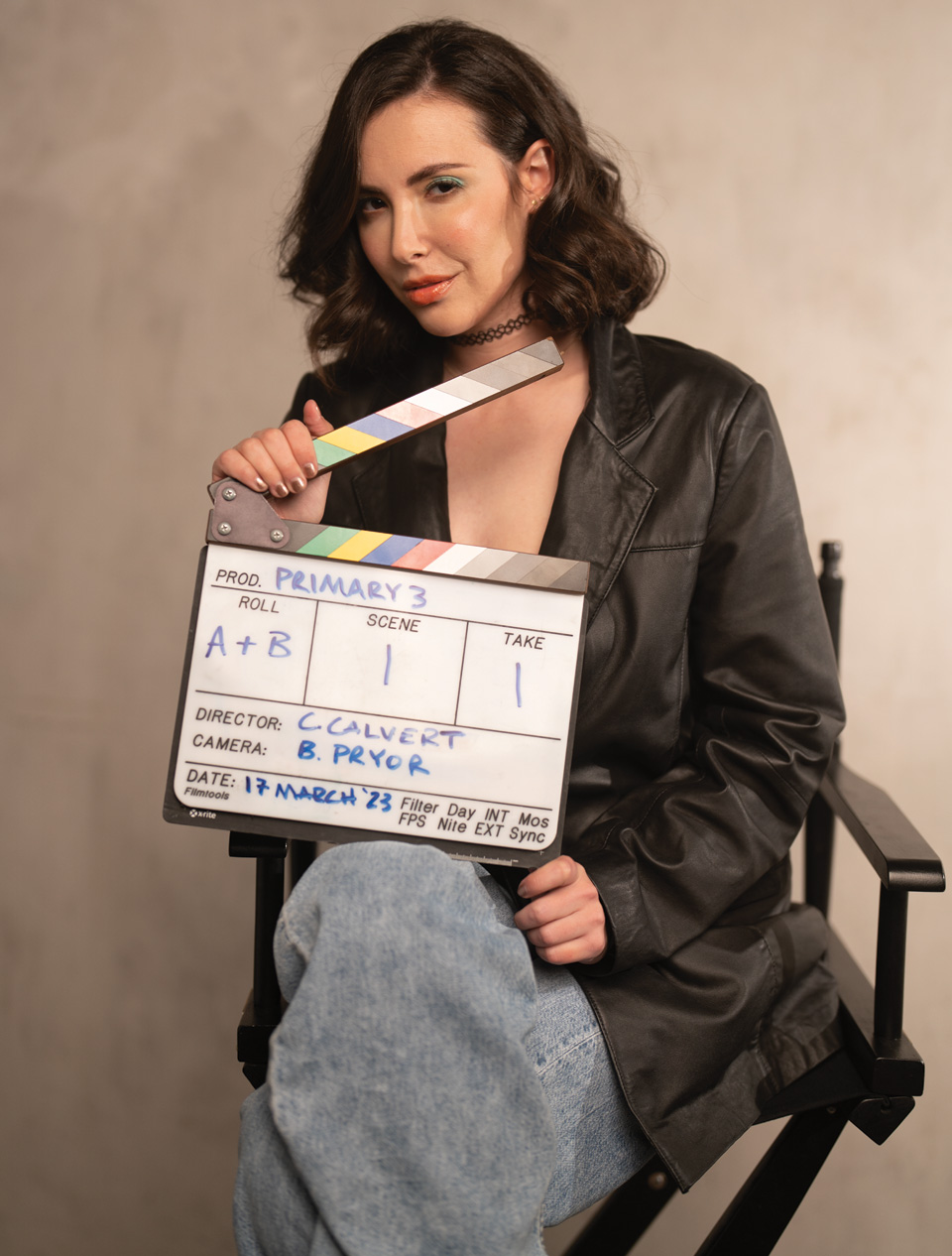 Stories and Emotions
Stories and emotions loom large for Calvert. Indeed, they are her fundamental raw material, and a key part of what makes her one of the most inventive pornography directors in recent years. Mainstream adult productions may have shrunk from the spendthrift excesses of the pre-tube-site era — no "Pirates 3: Stagnetti Strikes Back" is forthcoming anytime soon — but Calvert has long set her sights on a different ambition. She has been carving a niche for herself by applying her understated creativity to infusing porn with the aesthetics of award-winning indie films or prestigious streaming serials.
It helps that she has found a like-minded backer in European powerhouse Lust Cinema, one of Swedish-Spanish filmmaker, entrepreneur and public figure Erika Lust's enterprises. Since signing on as an exclusive contract director for Lust Cinema, Calvert has become the studio's leading producer of U.S.-based content. Lust wanted a foothold in the American market and access to the world-famous star system of porn valley, and got all that plus an acclaimed indie auteur in the bargain — not to mention several gold statuettes this year.
Calvert's production contract with Lust is only one of her commitments, however, in a schedule that would daunt most other mortals.
"Let's make a list of my jobs," she suggests. "I have my job with Lust — directing, writing, producing. That's No. 1. I also still do scenes for other companies as a performer — No. 2. I also do custom videos for my clients, No. 3, which I consider to be a separate business from OnlyFans and 'content creation.' That's four. Plus, you know, trying to be a person and sleep and have a life!"
OnlyFans is where Calvert makes most of her money right now, she says. Most of those custom videos are solo, but she occasionally shoots content with other people. "What the kids call 'a collab,'" she laughs.
There is also the issue of ethical overlaps between all these gigs.
"It's tricky because I feel like there's a weird power dynamic in me being a director asking someone to shoot content with me," she says. "I haven't quite figured out how to reconcile that, so I really only do those with people who are already my peers."
Those peers include members of "The Casey Calvert Players," the core group of performers Calvert often has in mind when writing parts in her screenplays. The name started out as a joke, but then stuck. The informal troupe includes Maya Woulfe, Victoria Voxxx, Cam Damage, Brooklyn Gray, Charlotte Sartre, Lilly Bell, Kira Noir, Alice White, Derrick Pierce and several other faces familiar to fans of her movies and shorts.
Although the production values of her Lust movies are top-of-the-line for porn, and even aim for the standards of Netflix or Sundance-bound post-mumblecore — production schedules and budgets willing — Calvert has found that her attentiveness to those elements does not necessarily translate into OnlyFans success.
"That's not what those fans want," she explains. Like other creators, Calvert has found that when it comes to a platform like OnlyFans, the stuff she shoots by herself on her cell phone earns as much or more than more elaborate videos. "I used to put a lot more production value into my content and I stopped because it wasn't worth it," she adds. "Those fans want it to feel real in an at-home, amateur kind of way and not real in a cinematic movie kind of way. They really want it to feel like you're just a girl at home doing your thing."
In Calvert's case, that could require a fair amount of acting, since doing her actual thing often involves such non-sexy scenarios as poring over scene breakdowns and complicated storyboards on long Zoom calls with her Barcelona-based production team. She admits laughingly that she does sometimes share those moments with her OnlyFans subscribers.
Whatever her formula, it seems to work. "I make more money on OnlyFans than I do from any other place I make money, including the features," says the perennial overachiever. "OnlyFans pays the bills. Directing movies keeps me sane. If I quit my job directing, I would make more money because I'd have more time to put into making content. And then I'd go insane. It would be really bad for my mental health."
A middle ground between the Lust features and the grind-it OnlyFans content is Calvert's job No. 3: the customs. She has been a pioneer, having created custom videos for almost as long as she has been performing professionally. In fact, her assiduous attention to detail has made her customs so widely known that they were featured in Jon Ronson's immensely popular 2017 podcast about the porn industry, "The Butterfly Effect." Calvert described to Ronson the time someone paid her to defile and destroy a valuable stamp collection, a yarn that for many has become emblematic of bespoke fetish content.
"I've been doing OnlyFans since 2017, but I've been doing customs since 2013," Calvert explains. "Those are more fun to me than just shooting content, because I am making one specific person really, really happy. The idea of making this just for this one person, and I know they're going to love it, and I know enough about this person through talking with them that I know exactly what they want to see. The challenge of trying to craft them the perfect three minutes, I find that to be really fun. And I also have some amazing custom clients that I've had for almost 10 years."
The process appeals to another unmistakable aspect of Calvert's personality, one tied into her personal long-term journey into kink and erotic self-expression and exploration. A recent Pornhub podcast with Asa Akira dubbed Calvert "one of the strongest submissive porn performers to ever exist."
She loves rules, systems, puzzles, any complicated challenge. She loves being the best at them, and being praised for it. Unsurprisingly, she excelled in school. Calvert is always studying — the situation, you, herself — and finding the right way to put the pieces together, or to exit the labyrinth, or to grip the right rocks on the wall to get to the top. No matter how many tries it takes.
"The custom clients I have had for a very long time order essentially the same fetish packaged in different ways," she elucidates. "At this point, with all of them, I'm so familiar with what they want and what they like and what they don't like that it's fun for me to figure out how to make something that hits, like presses their buttons, while being slightly different from the last video I made for them."
"Fun" and "fascinating" are her two go-to reaction adjectives when her brain is tickled.
"I have one client who sends very, very long emails with feedback," she continues. "And it's been really helpful. He's been my client for about six years, and he used to give me lots and lots of feedback. And since I've learned from my feedback and kind of dialed it in, I get less feedback now.
"Because I really know what he wants," she adds, deploying the signature Calvert version of the Mona Lisa smile. "And he's great. They're all great."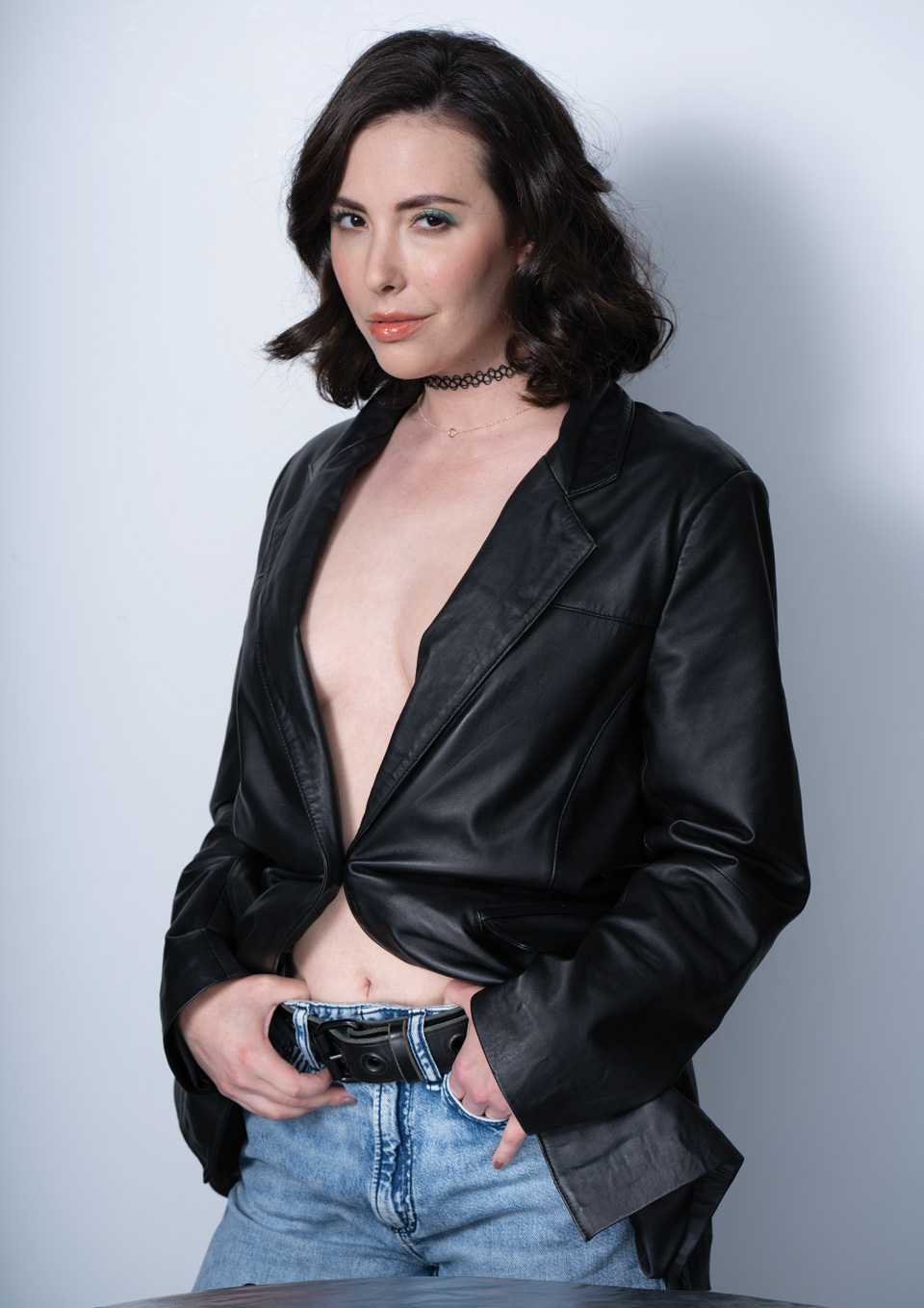 Smart Is Hotter
Smart people like Casey Calvert. She charmed the shrewdest agent in the industry, Mark Spiegler, in a matter of minutes, first over email — she's an excellent writer, naturally — and then in person during her first LA trip.
"Casey came to me years ago, fresh out of college, where she graduated summa cum laude with a degree in film production," Spiegler tells XBIZ, replying immediately and clearly glad to share his thoughts about one of his dearest clients. "At that time, she was in the bondage lifestyle, and I remember that her original goal was to work for Kink."
After an initial visit to California to meet the agent, Calvert packed up her Florida life and moved west.
"At that time, she was a model. She's really pretty," Spiegler reminisces, summing up the obvious. "She modeled her way through college, to pay for college. I've always said, a hot girl is hot, but a smart girl is even hotter."
Once she got to Los Angeles, Spiegler adds, "she did everything, you know, boy/girl, girl/girl, gangbangs, and she did get to work for Kink early on, because she loved that."
But after a while, the savvy industry veteran noticed something else.
"You could tell that she was watching what everybody was doing," he says. "Beyond other talent — what everybody was doing on set. Then she also had the chance to produce some mainstream projects, and later she got seriously into directing in the porn industry, and I think she's been great at it."
Spiegler's assessment of Calvert as auteur: "Besides being a good technical director, I think she really puts everything into each project. I don't think she would make something she didn't believe in. She writes and directs her stuff, she has her own coterie of people that work as a crew for her all the time. And they all seem to be happy. The talent working for her as a director also seem to be happy.
"The only downside I see," he adds, putting his agent hat back on, "is that she's too busy directing now to work as much as talent!"
Smart people in non-adult showbiz are also impressed by Calvert: she consulted and/or line-produced on two of the most high-profile mainstream projects about porn in recent years, Sean Baker's "Red Rocket" and Ninja Thyberg's "Pleasure." Turns out, there's a job No. 5 she forgot to list: a long-standing commitment to perform and, more importantly, write, direct and produce for mainstream.
"This is the way it is in my brain: I have four porn-related full-time jobs that all pay me various amounts of money. Then every ounce of free time I have, I try to fill it with job No. 5, which is me developing," she crosses her fingers for good luck, "a mainstream career."
Calvert often mentions Sean Baker as a role model. Baker is acclaimed for intimate, impeccably crafted character studies mixing actors and untrained "real people," and for perfecting a kind of lo-fi filmmaking in modern classics like "Tangerine."
"I love Sean's movies," she says, something that is evident from watching any of her Lust projects. "I love his style of filmmaking. Spending time with him, I really learned to listen to people. To sit at a restaurant and look at people, and listen to people, and absorb what people are doing, and what they're saying and how they interact with each other. Nothing gets more real than that. It's about the little things. Like, it's about the way the guy who's sitting behind us holds his cell phone. And how that can be so interesting and create something on screen. You think one would just pick up the phone, do whatever, but different people do it in different ways. What does that say about a person?"
The Sean Baker method of mixing trained and untrained performers is actually a perfect fit for porn's assorted levels of talent and interest, something Calvert picked up on and transferred to her sets.
"That's the idea," she confirms. "Let people be people, and trust people to be people. A huge part of making your movie is in casting, something else I learned from Sean." Calvert's open calls for video auditions from adult performers are much buzzed-about around those in the industry jonesing for acting parts.
"Bree Mills says this all the time, and she's so right: there's so many talented actors in this industry, we just have to let them shine," Calvert asserts. "And now that I've been directing for a couple of years, I completely agree with that. People in this industry are legitimately talented."
Calvert shares that recently she held auditions for a mainstream project she is directing, where she considered both adult performers and mainstream actors for parts. "Even the worst adult audition was better than the best mainstream audition," she says. "People in adult are on camera all the time. You can't be a performer in this industry and care about how you look on camera, or coming across as ugly or unflattering, or else you don't last very long. Because some picture of you making a stupid face or sneezing or being in an unflattering position is going to end up on the internet. And even if you care at the beginning, after a while you're going to stop caring."
Adult performers, she continues, "are really comfortable being vulnerable on camera — and that's a huge part of acting. Anyone can learn to memorize the lines. But being comfortable and feeling safe having emotions on camera, people in adult get to go do that four times a week, every time they go shoot a scene."
Calvert cites as an example Brooklyn Gray, a trained dancer, singer and actor who went to a performing arts high school.
"There are so many talented musicians in this industry," she adds. "Visual artists, people who cosplay and make their own costumes — there are so many talented people in this industry that it's awesome. It's very intimidating. I'm like, what do I do? They can do all of these things."
But what Calvert does is actually crucial: she has worked hard at crafting a creative niche where she can give her fellow performers the space to do what they do best.
"I do the thing on the other side of the camera. As much as I do love acting, and love being on camera and creating a character and all of that stuff, I do feel like perhaps my talent is on the other side of the camera."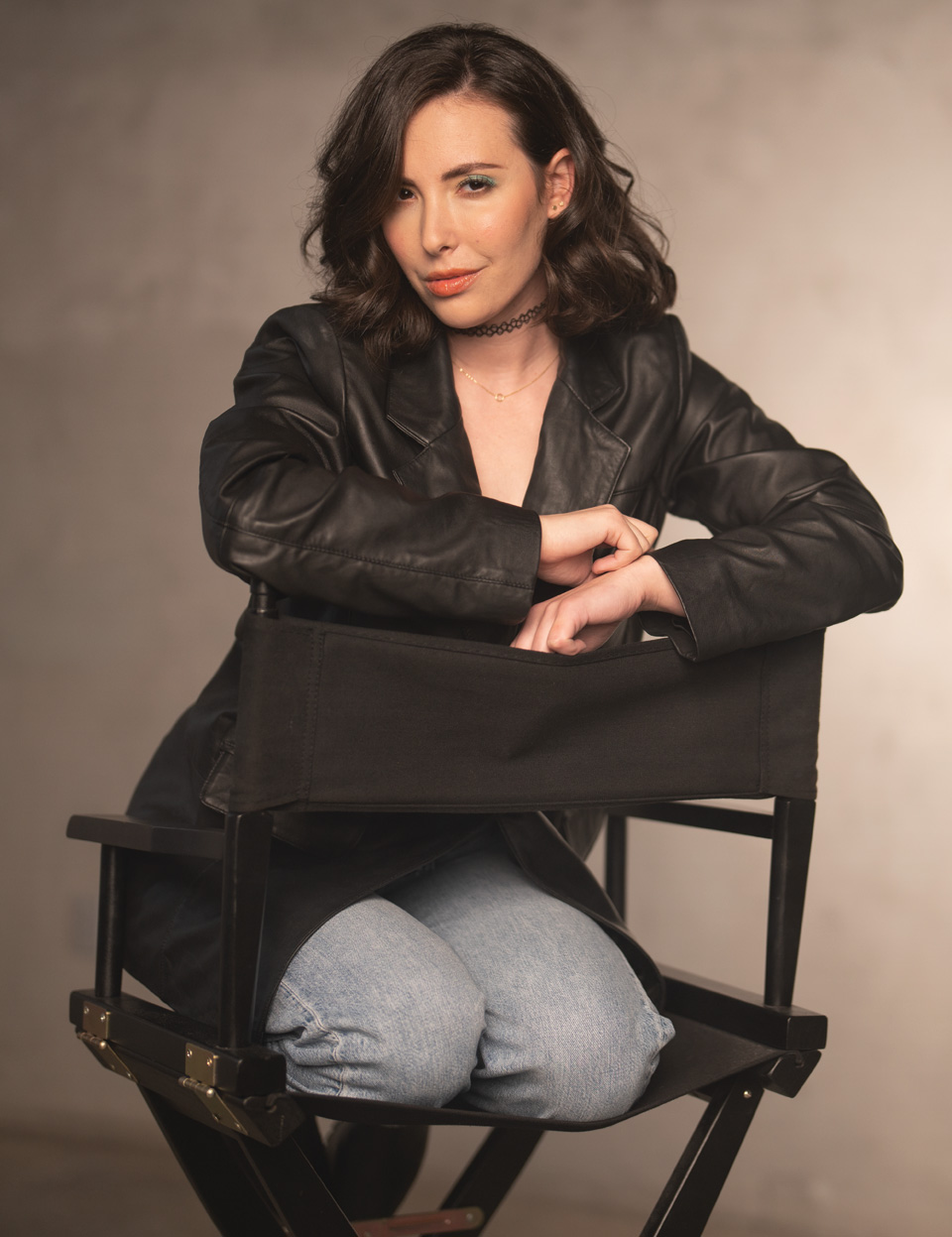 A Safe and Accessible Movie Experience
After an acclaimed career as a dependable, very much in-demand performer in a variety of genres and styles, Calvert honed her adult directing skills through a 2019-2020 stint as a director for Adult Time's Girlsway, and occasionally other Adult Time properties. This culminated in a one-of-kind project, a crazy pandemic-era, remotely filmed tour de force lesbian extravaganza: "Cougar Queen," a parody of the then-topical "Tiger King" documentary phenomenon.
"Casey was our main director during that time," says Adult Time Chief Creative Officer Bree Mills, who handpicked Calvert for a steady stream of Girlsway scenes.
"We had tapped Casey because we wanted to help her develop her ambitions as a director and bring a strong female perspective/voice to the brand," Mills tells XBIZ. "Having her tackle the 'Cougar Queen' feature was the next logical extension of that development and, since the pandemic had all but shut down traditional production at that point, we felt it added an extra opportunity to grow and be creative together by tackling how to shoot it remotely. I hope the experience helped Casey on her path towards what she has ultimately achieved in the years since."
In January 2021, Calvert signed an exclusive contract with Lust Cinema, for which she had been shooting non-exclusively since 2019, a gig she secured when she traveled to Barcelona as a performer for the Erika Lust-directed "The Intern: A Summer of Lust." The string of productions under that banner defined what is now known as a distinguishable "Casey Calvert style," and helped pave the way for her awards sweeps in January, and the standing ovation she received in salute from her industry peers at the historic Hollywood Palladium.
The titles themselves are concise and evocative, a kind of signature: the two seasons and counting of "Primary" (2020-ongoing), "Homesick" (2020), "Grace" (2020), "Rose" (2021), "Spark" (2021), the featurettes "Scorpio Season" and "Apricity" (2021-2022) and last year's crowning "Sorrow Bay" and "Going Up."
One of the things she learned as a performer is to be respectful to the standards and practices of the industry, to play the game while changing it.
"I'm not opposed to some revolutionizing of the industry," she says, "but when it comes down to it we're still selling a product. A movie is a product and it still has to make some money or you have to have some sort of angel investor who doesn't care about making money. I feel like those are your two choices. Same as in the mainstream business."
Calvert feels fortunate that Lust, while being very much interested in making money, allows her the luxury of not having to churn out clickbait scenes.
"I don't direct 10 days a month," she says. "I am incredibly lucky that Lust doesn't do scenes, they don't release at that rate, or else I'd have to shoot them. I feel like I get to put as much work into my movies as I do because I'm not busy shooting 10 days a month."
Responding to the quality of her output, talent is now clamoring for a chance to be in the next Casey Calvert production.
"After I won at XBIZ, so many people reached out about auditioning and about being in movies," she explains. "There are so many people who auditioned who I'd love to put in a movie. I wish I could."
She can't put them all in season three of "Primary," Calvert's showcase feature this year, because they aren't quite right for that world, or because it's a waste of their time.
"I'm not going to ask Seth Gamble to come in as a day player, but I will say that I've found most of my go-to actors by asking them to come in and do non-sex day parts," she explains. "It gives them a chance to be on my set and see what we do, and I get to see them in action. It works out really well."
Calvert sees this as part of a positive trend that includes fellow helmers like Ricky Greenwood, Seth Gamble, Kayden Kross and Bree Mills.
"People are more and more writing feature parts for performers," she says. "They have a mental list of people that they want to work with and they write the parts for them. The difference between doing this in porn and doing this in mainstream is that the overall size of the talent pool is so different. I feel like in mainstream it's perfectly reasonable to be like, 'Oh yeah, these five guys could be amazing in this role.' In porn there's five guys total," she laughs. "Especially for the male parts, there's very few very few guys who want to be on set acting."
Calvert's American productions for Lust fit within the general parameters set up by Erika Lust in her own European productions and her general branding and philosophy. But they are also their own distinctive body of work, which is bringing other viewers into the Lust fold.
"A lot of people tell me they found about my movies via me, and a lot of people have also found them through Erika and her press interventions," Calvert reveals. "Many of them are 'movie people.' That's the best way I can describe it. What they like is the story, they like that it's cinematic. These viewers often don't like what you would consider to be like crazy gonzo performance sex; that's not their thing. They like it really soft and really sensual. And they like it to be a story, and feeling like they're watching 'a movie.'"
A gay woman she dated not long ago — Calvert is partnered and polyamorous — told her she "watches Erika's porn and CrashPad and Four Chambers and like the other kind of adjacent companies, but never watched anything that you or I would consider to be mainstream porn and has zero interest in watching anything you and I would consider mainstream."
Based on feedback, the typical fan of her work for Lust "is a woman, but often a woman as part of a couple. I'm thinking of a particular couple, who are members of my OnlyFans and love to talk about my movies, want to hear about directing and they want to hear behind-the-scenes stuff. They want to break down the movies and talk about symbolism, which is really fun."
Couples have told her they see projects like "Primary" as "safe to watch, because it's not as much 'porn' as it is 'a movie.' And they also know that it isn't all of a sudden going to get derogatory towards women, or something else that's going to make someone uncomfortable. They see it as a safe and accessible movie experience, rather than like a traditional pornographic experience."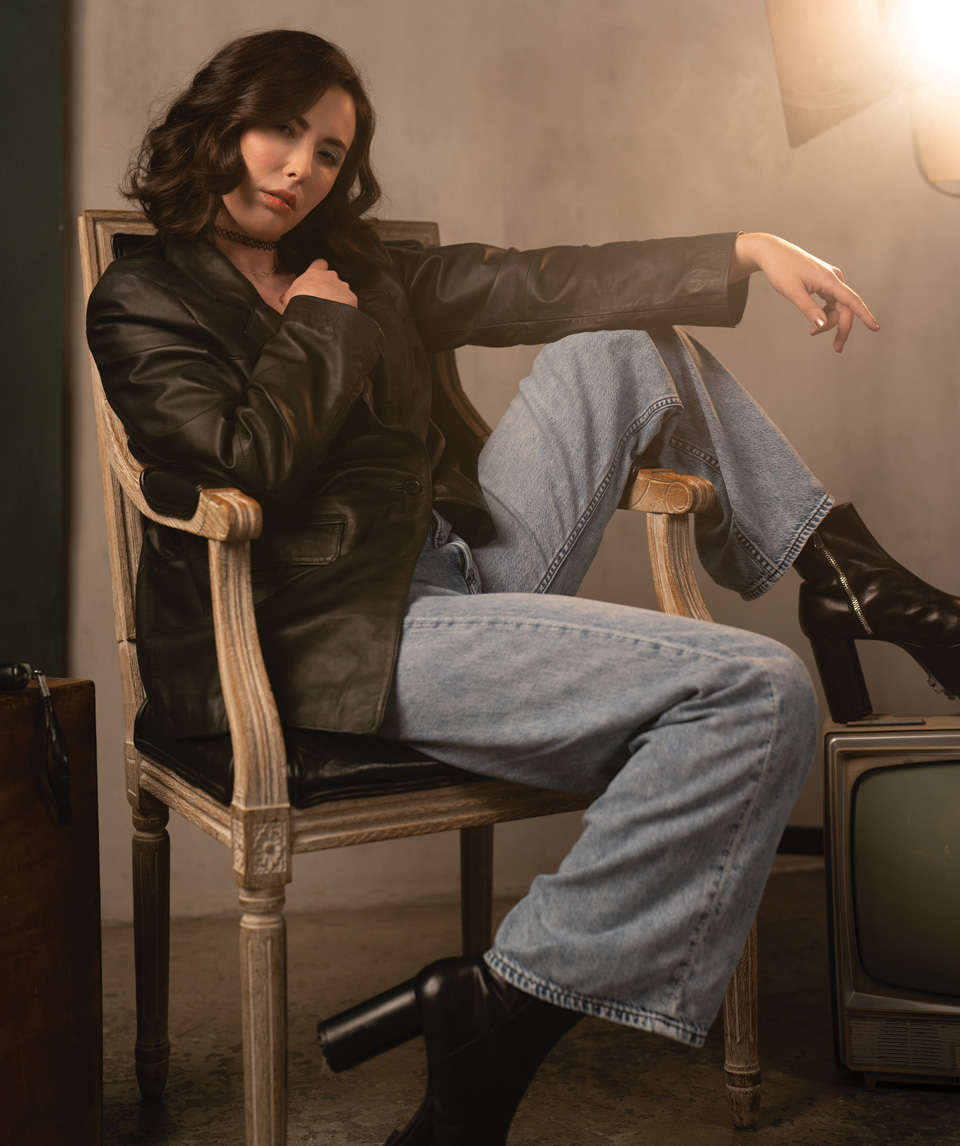 Casey Suffering for Her Art
If you look at Casey Calvert's IMDB page, you'll find that it begins with a 2011 title called, with ironic soothsaying, "Casey Suffering for Art."
"Oh God," she laughs, "that's hilarious. It was a BDSM bullwhip scene I shot in Florida before officially joining the industry in 2012. There's a picture of me after the scene that Spiegler has saved and loves to show to people."
Calvert's performing career is a study in versatility — Calvert both suffering for her art and having a blast at it, as she climbed the treacherous wall of a decade-long career in pornography. But in an industry often based on putting people in boxes, versatility can also be a branding challenge. Before her big night at the latest XBIZ Awards, more than one insider had referred to Calvert as "overlooked," "underrated" or "unsung," poisoned bonbons of praise in this industry.
Some see in Calvert what Hollywood calls "attainable beauty" — "She is totally striking to me," enthused an industry insider accustomed to seeing a lot of talent photos, after looking at Calvert's cover shoot. "Like the girl next door but then, damn!" Others see a raven-haired stunner — she has a hyperloyal international Jewish fan base that loves that she shares their background and has always been open about it — or the ultimate pain slut, or a soft-spoken submissive, or the intimidating smartest person in the room, or any number of male fantasies, or a lover of women, or — more and more — someone who relishes their own fluidity.
The industry quickly realized she was a hard-working striver, and a solid asset for a myriad of projects. She began her climb in 2012, peeking from the back of the box for "Stuffin' Young Muffins #9." In 2013 and 2014 she shot nonstop with a whiplash-inducing schedule that included "I Know That Girl," "The Training of O" (classy bondage), "Lesbian Ghost Stories" (her queerness never hidden, from the get-go), dominating the cover of "Bound by Desire — Act 2," months after her debut and being nominated for a best scene award in 2014 taboo title "Homecoming." She took part in the infamous "Public Disgrace" series and got her fill of Kink shoots. By 2015-16, she could headline both "Anal Acrobats" and "Sensual Moments 4." Talk about versatility.
Knowing about her background, one could theorize that 2016's "Jewish American Princess" was typecasting, but at the same time she was also fully convincing as Sister Casey in "Mormon Girls." That same year, she garnered her only XBIZ nom for Female Performer of the Year, but the award went to Dani Daniels, a stellar performer with a much more defined screen persona.
At the same time, Calvert was starting to make forays into mainstream, leveraging her fearless attitude toward onscreen sex and kink to her advantage. She secured a leading role in "Submission," a Showtime series created by Paul Fishbein and Jacky St. James, greenlit during the "50 Shades of Gray" craze of the 2010s.
"Casey was always one of those exceptional talents that I sought out hiring whenever possible," St. James tells XBIZ. "She remains someone whose talent as an actor, performer and director remains in a league of its own."
Two years later, under her civilian name — which she reserves for behind-the-camera mainstream opportunities — she co-wrote and co-produced an indie feature, "Diminuendo," where "Casey Calvert" played a small part.
Speaking about her versatility, Calvert acknowledges the existential dilemma.
"I feel that's the cool thing about me," she offers, reflectively. "And that's also my downfall. I do all these different things, and all these different things are part of my brand, and it would be so much easier if I just had one thing."
She mentions varied counterparts, including Erika Lust, Abella Danger, Arabelle Raphael, Angela White, Charlotte Sartre or even "The Great Next Thing of 2023," Kazumi.
"You look at Kazumi, and she's got her thing, everyone knows her thing! She's really doing it. I've never met her and I know really nothing about her — but I know what 'her thing' is, and she's doing this thing really successfully."
The end result? "I float around in a lot of different worlds," she says. "And often don't know where I fit in. Or how to market myself, or how to brand what I'm doing."
She points at the vintage California art wallpaper on the walls of the cafe of the history-filled Huntington Library, where she likes to go to decompress.
"I'm pretty sure I could tell you the history of that wallpaper, and I have a somewhat similar wallpaper from what I believe is the same artist in my house," she notes, referring to a delightful Craftsman home she has been lovingly and meticulously restoring. "It's not that I know about and care a lot about things like early 20th century Southern California architecture. It's that I have accidentally branded myself as someone who does all these different things — and any marketing person would tell you that that's a terrible idea."
That was a bigger issue as a performer or public persona. As a filmmaker, however, she feels that the picture may be coming more and more into focus.
"You try many things until you find the thing that sticks and the world or the audience or whatever, they will tell you what it is they want to see from you," Calvert says, choosing her words carefully. "From me, at least within the adult space, they want me as a queer director.
"That's what it is," she confirms, now without vacillation. "That's what people seem to be attaching themselves to — me as someone who is queer, someone who leans androgynous and is a director."
Somewhere in the Middle
Building on the progress that Bree Mills of Adult Time has already made toward mainstreaming queer spaces in porn, and the pioneering work of Shine Louise Houston and Jiz Lee with Pink and White, Calvert says she is ready to embrace a re-evaluation — and re-valuation — of what that may mean.
"The idea of queer porn, I feel like right now it's very similarly branded to what people say is 'porn for women,' this idea that it's soft, and it's pretty and it's romantic, and it's the only thing that women want to see," she says, calling the latter stereotype "so stupid."
"I think that the word 'queer' as a marketing term is in the same boat," she adds. "And that's not what I want to make as a queer director who is female-presenting, right now."
Redefining yourself so radically ten years into a porn career is gutsy, but Calvert is fearless about her vision, and this very much includes gender and sexuality.
"It's really tricky," she admits. "It's not about not wanting to be a girl. It's easier to make money if you're a girl. Just is. The end. And to me, it's not about not wanting to be a girl. She/her pronouns feel completely comfortable to me. It's something about not feeling like 'a woman.' Who says gender is 'woman' and 'man'? If my sexuality is a spectrum, why is my gender not a spectrum?"
Comfortable at this point with saying that she is "somewhere in the middle," Calvert gets more specific. "I don't really feel comfortable in Honey Birdette lingerie anymore. I don't really feel comfortable in heels anymore. I don't feel comfy in glam makeup and fake lashes and all of these traditional porno gender markers. When I say, 'I am a queer director,' it's about me wearing a suit to the XBIZ Awards. And me taking pictures in baggy T-shirts for Instagram, and my hair being short — I'm probably going to cut it shorter soon. The only reason why it's this long right now is because I'm trying to maintain continuity for the mainstream short I'm making, 'A Thousand Away From a Million,' and the moment I'm finished shooting, it's probably getting real short."
Calvert doesn't feel alone in this attitude, pointing at Brooklyn Gray, Cam Damage, Alice White, Kris Scott, Nikki Hearts, Jean Hollywood, Tommy King and Marz Rein as others in the industry who are challenging outdated industry notions of the gender binary.
"Marz recently tweeted, 'I'm done pretending to be a girl for porn,'" Calvert points out. "I was super butch before porn. I grew my hair out for porn — for modeling, really. I started being much more feminine to make money. I don't mind making a custom video where I'm like, 'Look at me. I'm a girl.' It doesn't bother me. It doesn't make me feel uncomfortable at all. Either I'm going to be myself, or I need to come up with some other persona that is farther away from myself, but I'm in a weird gray area right now.
"Right now I just want to make movies, and I want them to have all different kinds of stories in them, including queer stories. But not exclusively queer stories. It doesn't have to be exclusively about queer people. It's not like people in heterosexual relationships aren't interesting to me. It's all interesting to me. I just want to provide an opportunity for all of it. But porn likes to put things in little boxes — algorithms, A/B testing, whatever is the catchiest, biggest, craziest thing that gets the clicks. The bigger the tits, the bigger the ass or the smaller the tits or largest amount of dicks. And that's what I don't want to make."
To Calvert, as long as she continues being fortunate enough to not have to stay in those boxes, then it is queer.
"Because queer," she adds, "can be anything."
By the time the commercial porn industry took shape, in the 1970s and 1980s, that kind of queerness had disappeared from the available boxes. This is a story Calvert knows well, having been one of the executive producers of the remarkable documentary "X-Rated: The Greatest Adult Movies of All Time." A lover of film classics, Calvert is aware that before World War II, Hollywood was depicting that same version of queerness on a regular basis. Greta Garbo, Marlene Dietrich, even Katherine Hepburn — shoutout to 1936's "Sylvia Scarlett" — were offering people a decidedly more expansive view of gender and sexuality than in the decades that followed.
"The issue is not about queerness being or not being sexualized," she adds. "I love being sexualized. That feels great, it feels awesome. I like that kind of validation. I can't imagine that ever changing. The issue is me being sexualized in the way I want to be, and creating a space for myself to be sexualized and to sexualize others who want to be sexualized in that kind of space in that way, but also doing more than just sexualizing them.
"My movies," she clarifies, "are about showing them as real people."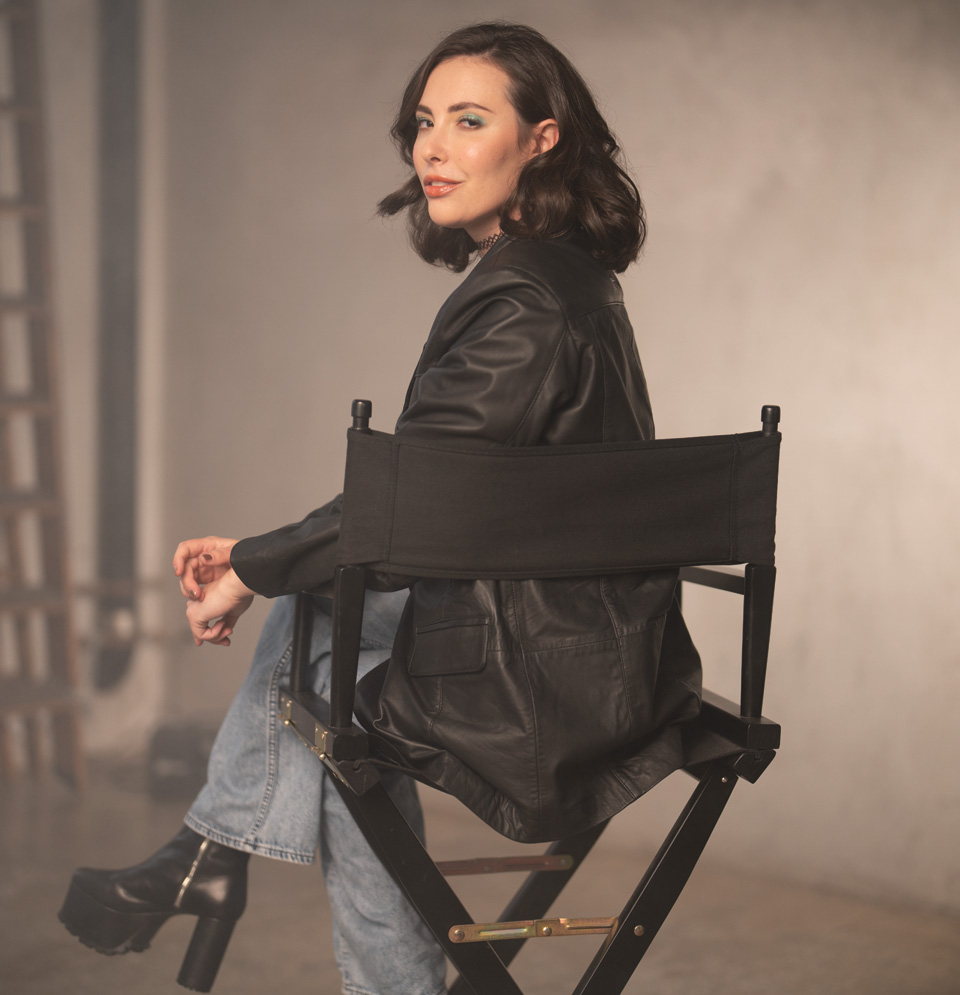 Just Getting Started
Throughout our interview, Calvert's references to "my movies" blur the line between her porn work and her ongoing attempts to climb the much steeper wall of a mainstream career.
During the pandemic, Calvert wrote a feature-length script that she shared with friends, associates, connections and mentors. The protagonist shares a lot of traits with Calvert: she left Florida for a porn career, enjoys rock climbing as both sport and therapy, and has to deal with grief and prejudice. She intends it as a genuine look at the stories and emotions around someone who works in the porn industry. A lived-in corrective, if you will, to other attempts to depict the lives of sex workers, made by outsiders with often confusing agendas. If it gets made, Calvert hopes someone else will play the lead.
"What I don't love is directing myself," she explains. "Doing both is wearing too many hats at the same time."
At the moment, however, she finds herself playing that character in the related, almost-finished short, "A Thousand Away from a Million," which she hopes to use as a proof-of-concept/calling card for the feature script.
"I needed to star in it," she says. "I couldn't find someone to play this character. This character was too much of me that it didn't make sense. So, I am in every scene. And I'm like, looking at the monitor trying to frame up shots, sitting on set, hoping we got it. And it was really hard, and I don't ever need to direct myself again like that. It was a great learning experience, and it was the right choice for me to star in it. No one else could have done it in the way that I did it, in the way that I wanted it."
Calvert wrote "A Thousand Away from a Million" — co-starring Alice White, one of the Casey Calvert Players — when her Instagram account got unceremoniously deleted.
"The short is about social media, and social media deplatforming, and getting old in this industry that wants you to be 18 forever," she says. "It's about feeling like you're not allowed to exist anywhere. You're not allowed to exist on social media, but I'm too old to exist in this industry that wants everyone to look like they're a teenager and be really successful on TikTok, when I can't fucking figure out TikTok. It's like all of that.
"It is actually way more about the industry than the feature script, which is more about a person who works in the industry," she notes. "I find people in mainstream really like things about the adult industry. People are fascinated by it. They want to understand who we are and what we do and why we do it, in a way that it's really easy to sell something that's about it."
Calvert also continues trying to get the proverbial foot in the mainstream door the same way she conquered adult — going in front of the camera to get on set and sponging up knowledge and connections in hopes of being allowed to create.
She recently did an audition for ABC cop drama "The Rookie," though she didn't get it. Last summer, Spiegler helped her book a part in "Pet Shop Boys," a New York movie co-starring Willem Dafoe and Peter Sarsgaard, which netted her a coveted SAG card.
"I learned so much about shooting on film, and I also did a sex scene, which I don't mind. If being naked on camera is the way to help me get more mainstream experience, I'm happy to do that, because I do feel like the best place to learn about stuff is by being on set. I don't care. Obviously, I don't care," she confesses, with a broad smile.
Mainstream folk are very curious when they learn of her day jobs.
"People want to ask questions," she explains, "and as long as those questions are respectful, I'm happy to educate people. A lot of them, weirdly enough, want to know if we kiss when we do scenes — maybe because of 'Pretty Woman.'"
Calvert knows that what makes her so approachable to civilians is that she has never been what you would call "porny."
"I think there's some sort of privilege in it," she admits. "I can go to the 'Red Rocket' premiere party and people will ask what I did on the film, and I can tell them, and then they're very interested, but no one treats me differently. I can pass in a mainstream space, and there's huge privilege in that. I think it's something interesting."
As the interview wraps up, Calvert walks us out of the cafe and into an unusual rainy day that makes the lush foliage of the Huntington Gardens both verdant and muted, the kind of palette that would not look out of place in a Casey Calvert picture.
"I feel like I'm just getting started," Calvert offers, when asked for a final reflection about the deserved shower of recognition she is enjoying after, as her early short predicted, first suffering for her art.
"I had the critical success of this past January but it doesn't change anything for me. It doesn't change my mission, it doesn't change my values, it doesn't change my goals. It's just really nice to be recognized and have people see what I'm doing, but it doesn't change anything in the long run, other than that I have trophies on a shelf and it's measurable."
The awards, she concludes, "are a really cool marker of measurable success. Someone with real authority said, 'Good job, good work.'"
https://www.xbiz.com/news/272666/director-of-the-year-casey-calvert-shakes-up-filmmaking-embraces-evolution

XBIZ.com – Movies & Stars
2023-04-07 21:30:00