HOLLYWOOD, Calif. — Not even a torrential downpour could dampen the festivities at Day Two of the X3 Expo, as throngs of eager fans braved the rain on Saturday to pack the historic Hollywood Palladium to capacity. Inside, dozens of the adult world's hottest creators, top studios and cutting-edge sex tech companies put their best feet forward in a sexy celebration at the world's largest creator expo.
"You can blame me — I bring the rain everywhere I go," joked Romi Rain, decked out in red near the main stage. "I'm just so glad it's so packed in here. I love meeting the fans so much."
For the second day in row, throngs of fans dutifully lined up for a chance to meet Angela White at the Brazzers booth. Expertly managed by the star's staff, the line made its way to the sought-after White, whose focus could not be interrupted even for a single minute.
The now legendary "Angela line" was once again the centerpiece of the Brazzers booth. "The goal is always to have a big presence with strong names," a studio rep told XBIZ, "and giving the fans the best experience, and making them all feel special. The booth needs to represent our top brand very well."
XBIZ 2023 Awards show co-host Joanna Angel said, "Everybody knows I've been coming to conventions for 20 years, but this is my first time signing at the Brazzers booth. I myself have run booths over the years, and I can say this is the most absolutely wonderful experience I've ever had — I feel I'm in the Bentley of booths!"
Noting how well Brazzers treats its talent, Angel added, "It's a true honor to be here having such a great time."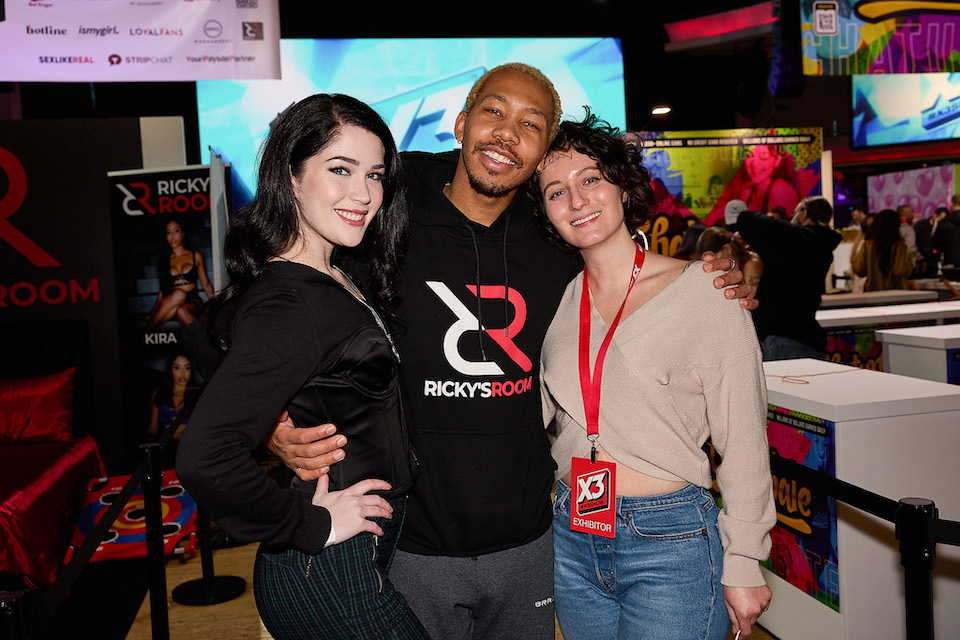 Signing next to the veteran alt model, Demi Sutra described the Brazzers booth this way: "So excellent, so vibrant! I'm selling hats, I'm giving hugs, I'm signing t-shirts, I'm karate chopping! I absolutely love it. I'm so grateful and excited that all the fans came out to see me, even in the rain." Sutra also emphasized that she felt "really protected" at the booth and gave props to the security personnel, whom she called "incredible."
Brazzers' one-and-only "library girl," Kendra Sunderland, also called the signing location "the most amazing booth ever." 
"I love being here," Sunderland enthused. "We have the hottest girls here and the best vibes and even a nice neon sign. I really love meeting the fans, taking pictures with them and signing autographs for them because I know they appreciate it so much."
Amping up the energy for everyone, MILF dynamo Alexis Fawx declared, "I am having such a great fucking time here at the Brazzers booth! It's super crowded — we have the longest line and it's amazing." Fawx also expressed her appreciation and gratitude for her fans, "who came here, with all the rain. They made it absolutely the best day ever."
Popular influencer TruKait, also signing at the Brazzers booth, deemed the experience "incredible," telling XBIZ, "There's no better feeling than meeting my fans, seeing them in person and giving them physical hugs. It warms my heart and reminds me how lucky I am."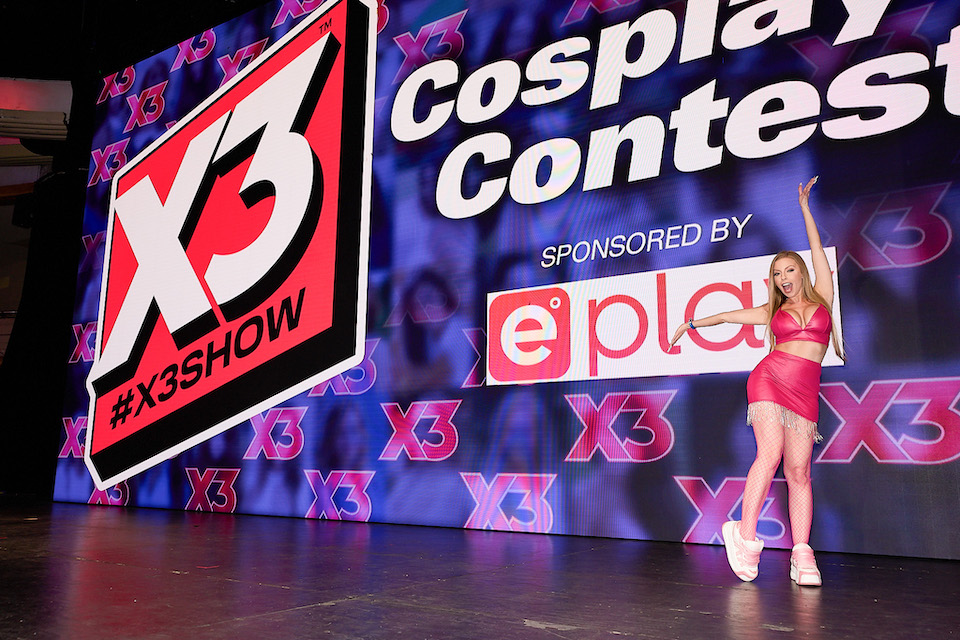 Nearby, the massive screen atop the grand stage of the Hollywood Palladium lit up with the words, "Cosplay Contest, sponsored by ePlay," as popular MILF performer and YouTube star Britney Amber arrived in a pink skirt and top to pump up the crowd as host of the competition. Her bubbly greeting of "Hello, X3! I am so, so excited to see all these costumes — how about you guys?" was greeted with enthusiastic cheers.
First up was none other than award-winning cam model Emily Bloom, in highly detailed regalia portraying Aloy, the hunter-warrior protagonist of "Horizon Zero Dawn." Between the hide top, fur pelt and layered threads, there was no mistaking the character, especially for fans of the franchise.
"I'm Emily and this is Aloy! I made her myself and it took me about 30 hours," Bloom revealed. "I'm really proud of her."
Ducking low and stalking forward, Bloom nailed the character's stealthy approach when sneaking up on animal-like machine foes in the game. Cosplay, after all, is just as much about embodying a beloved character's whole vibe as it is about reproducing their look.
An admiring Amber said, "The first thing I noticed is this character is an archer. I'm an archer myself so I saw that first and foremost. You made this entire costume yourself? That's amazing. I really want to know why you chose this specific costume to build."
"Aloy is probably my favorite video game character," Bloom replied. "I played through Horizon Zero Dawn last year. Honestly, Aloy is such a badass. And while I was playing on Twitch, my fans were saying, 'Well you kind of look like her, you should cosplay her.'"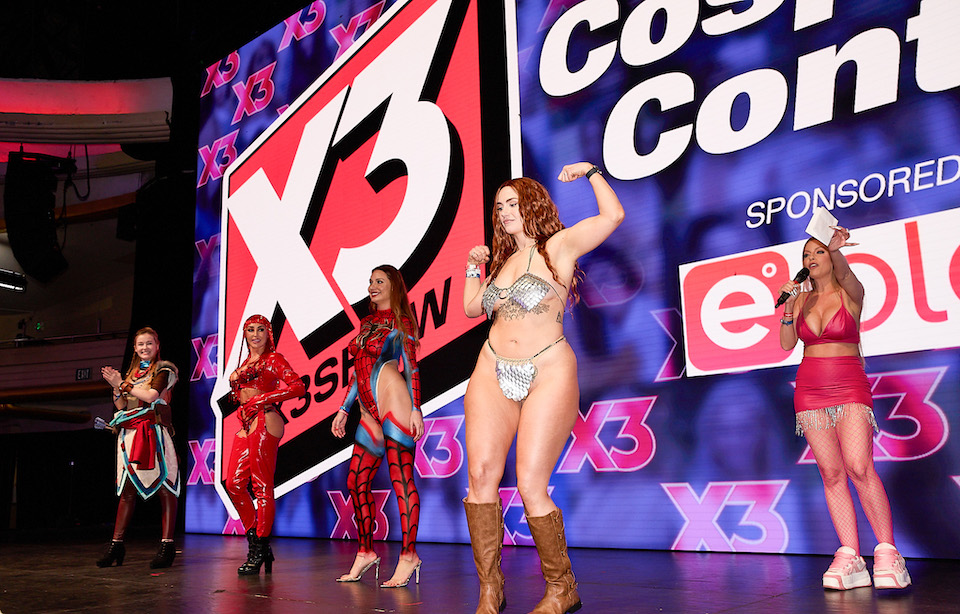 Next up was an Addams Family trio, leading Amber to note how much the hit Netflix show "Wednesday" has seized the public imagination with its Edgar Allan Poe-meets-Harry Potter themes. Then came a buxom incarnation of Pokemon trainer Misty, a green and disgusted Disgust from "Inside Out" and a body-painted Spiderwoman in the form of Marina Valmont, who warned, "My Spidey senses are tingling!" much to the audience's delight.
A red-winged Zerella Skies proclaimed herself the "throat dragon" needing to be slayed, followed by a crimson latex-garbed Christiana Cinn channeling Elektra from "Daredevil." A Jason costume donned by Chrissy LeBlanc was an instant crowd favorite, as it was entirely covered in pearls, even the mask itself.
"Did you make that yourself?" Amber asked. 
LeBlanc held her bloodied machete high and affirmed, "Yes, it took me around 25-30 hours." 
"Wow, it's worth it, it's beautiful," responded Amber, clearly impressed. "What inspired you to make it?" 
LeBlanc offered, "I love Halloween and I love to cosplay all October, so I've thought of doing Jason, one of the more classic villains, for a while."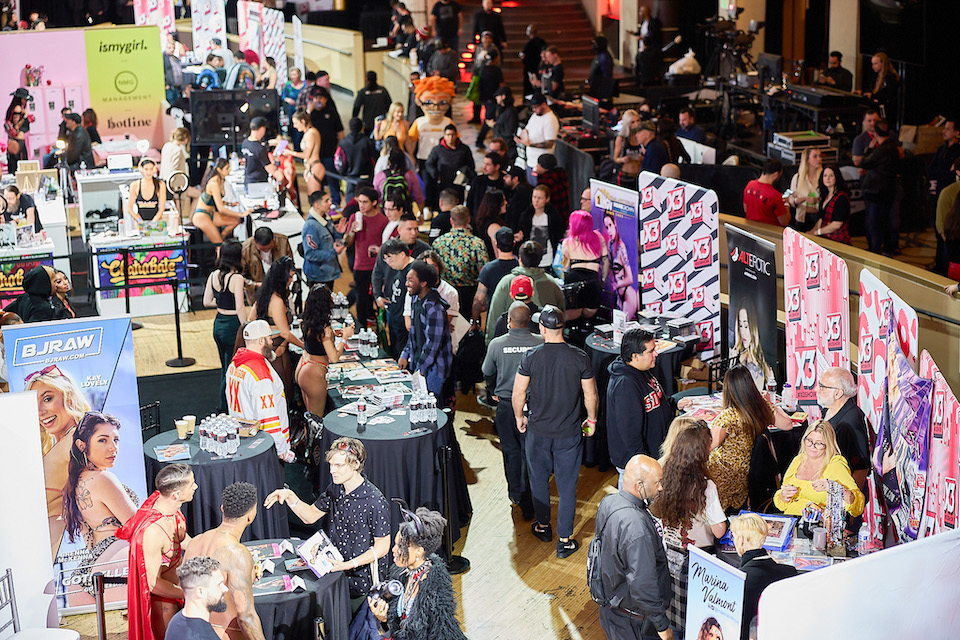 Then came powerlifter, cosplayer and performer Siri Dahl, scantily clad in the signature chain mail bikini of Red Sonja, the sword-and-sorcery heroine from the '70s and '80s. All that was missing was a sharp broadsword. Well, and her lover Conan the Barbarian. But Dahl's real-life lover, the man affectionately referred to as "Tripod," was in the audience and shouted at the top of his lungs, "That's my fucking wife!" as Dahl strode out to much hollering and clapping from the audience. Several men clapped him on the back and cheered his good fortune. Dahl revealed that she had the costume professionally made to fit her made-for-barbarian-cosplay dimensions.
Amber then brought everyone out on stage together so the audience could demonstrate enthusiasm for each contestant, until at last it came down to Bloom's Aloy and Dahl's Red Sonja as the final matchup. Ultimately, Dahl narrowly edged out her fellow warrior-woman to win the competition. 
"Let's give it up for our cosplayers!" Amber called out, and the crowd went wild.
After the contest, Amber told XBIZ the show gave her a chance to reconnect with many fans from the expo's debut installment. "I got to see so many fans again that I saw last year at X3," she said. "I'm glad so many fans enjoyed it so much that they decided to come back again this year! I sold so many signed photos and DVDs, strokers, t-shirts and so much more."
Over in the screening room, Model Media debuted the teaser for its new sci-fi feature, "S.I. — Sexual Intelligence," starring a literally-electrifying Maddy May and Codey Steele. The Max Landers-directed, Cronenberg-style thriller offered shades of such disparate classics as "Tron," "Weird Science" and even "Ghostbusters."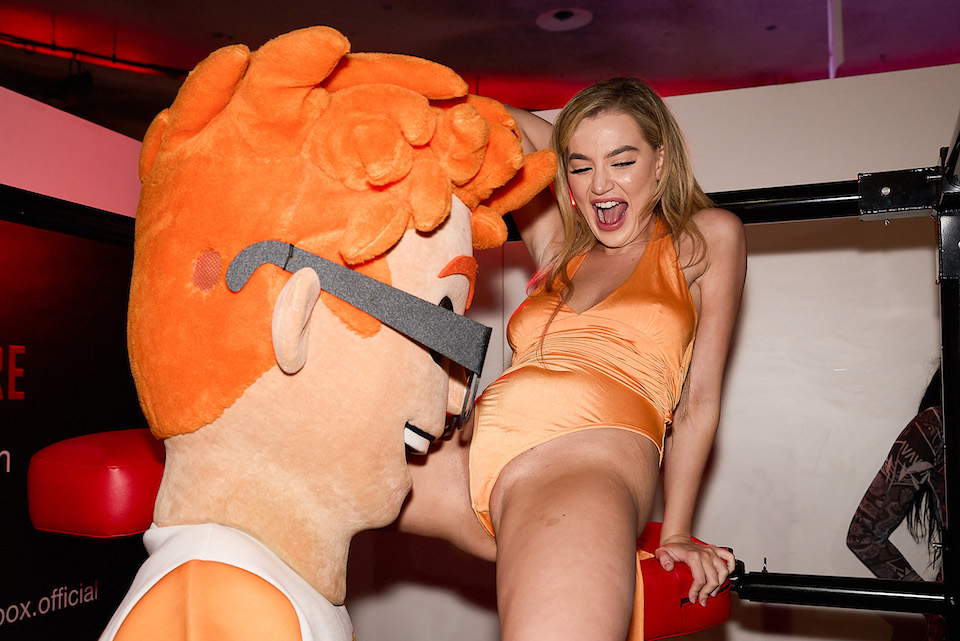 At the colorful Cam4 booth, featuring an array of scantily clad male and female torsos gyrating to the show floor's non-stop jams, ambassador Laura Desiree told XBIZ that the platform had arranged for a lineup of "the sexiest cam influencers in the game today to come and meet the fans."
"I don't care what you're into — boys, girls, anybody — we've got it all," the statuesque, blonde all-around entertainer explained. "This is the most inclusive camming platform that exists today. We've got gay male porn stars Skyy Knox, Cole Connor, our newest male talent Jeff Cutts, aka 'Jeff Uncutt,' the incredibly trans superstar Kelly Pierce, Alana Evans and, of course, myself. If you like to see random acts of go-go explosion, you gotta be here!"
Around the corner, posing for photos with adoring fans at the Elevated X exhibit, Jewelz Blu was decked out in her signature blue-hued fashion, this time with a revealing lingerie outfit that perfectly matched her azure hair. 
"X3 is going absolutely amazing, I'm having so much fun!" she said. "I feel like the whole vibe is laid back and everyone has been so nice. We're hitting all the bases here and I love seeing the fans."
At the booth for performer mental health services organization Pineapple Support, Operations and Logistics Chair Kellie Marsh enthused about the chance to interact with such a diverse crowd.
"It's absolutely amazing," she said. "What a great cross-section of people here, and what great business being done getting the Pineapple Support word out, letting them know who we are and what we're doing."
"I love meeting new performers," she added, "getting out there and actually meeting the people who've used our services."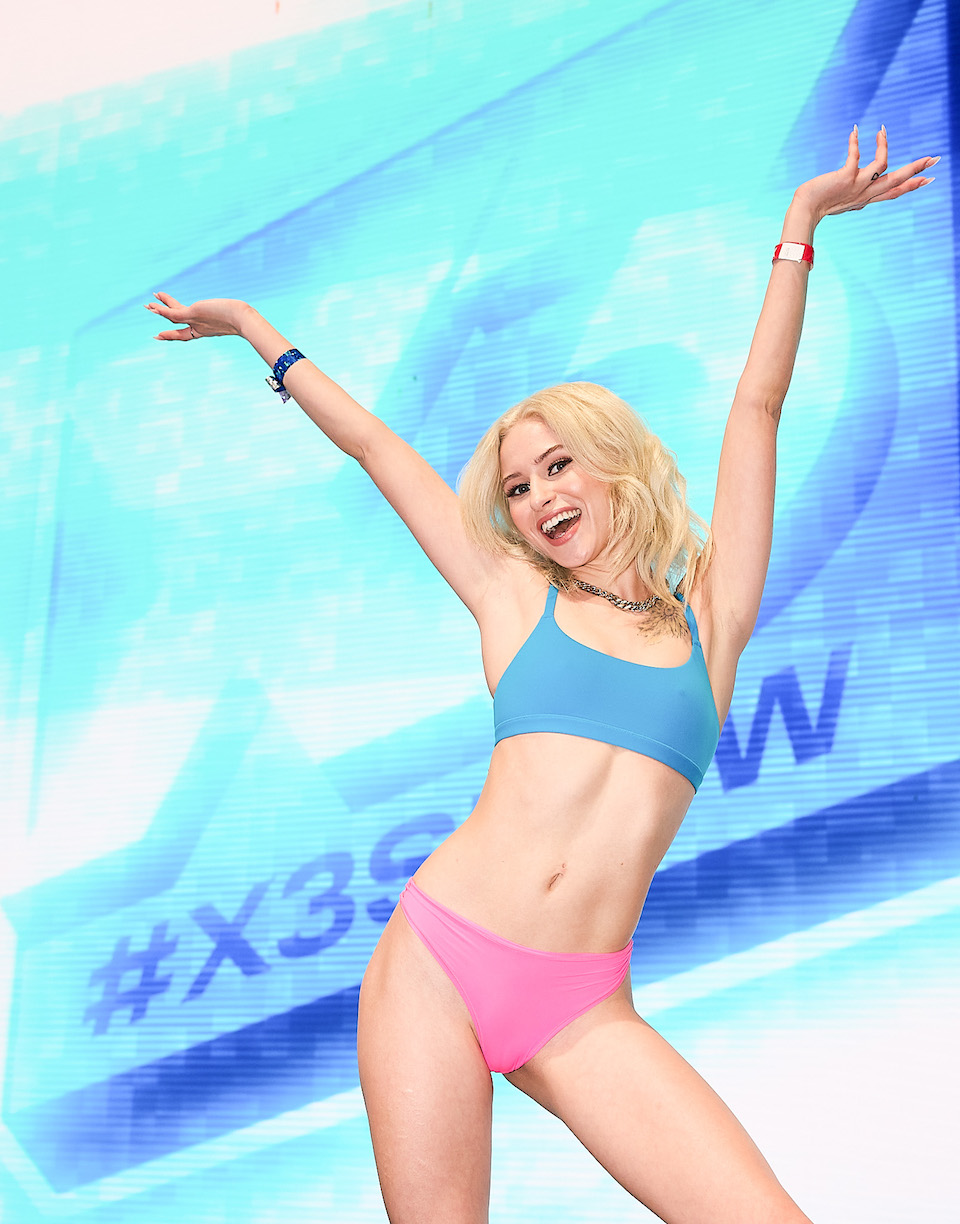 Maitland Ward — the reigning XBIZ Best Lead Acting performer and current XBIZ Awards nominee, with multiple wins ever since she made the leap from mainstream stardom into an unprecedented adult career — was the subject of the final "X3 Icons" interview.
Ward's "Drift" co-star, Seth Gamble, conducted the interview on the X3 Expo stage with the beloved actress, known to audiences worldwide for the soap opera "The Bold and the Beautiful," Disney sitcom "Boy Meets World" and feature film "White Chicks." Ward retold the story of how she took the industry by storm with a series of groundbreaking features helmed by Kayden Kross for the Vixen Media Group imprint Deeper, for which she is an exclusive contract star.
Ward also shared insights on the autobiographical short "Fame," on which she recently made her directorial debut with Vixen Media Group, as well as her best-selling memoir "Rated X: How Porn Liberated Me from Hollywood." Ward revealed that she is working on a fiction follow-up to her memoir.
On a lighter note, Gamble quizzed Ward about her favorite superpower — "time travel" — and her favorite movie, which turned out to be the Billy Bob Thornton cult comedy, "Bad Santa."
At the Carnal Media booth, recently-signed studio exclusive Adam Snow held court, vocally relishing the opportunity to interact with all sides of the industry.
"Meeting all the beautiful women here is pretty great," he said. "I don't get a lot of women in my business."
A special announcement from the X3 Expo stage proclaimed the unveiling of a brand-new Grooby brand ambassador. A constellation of the studio's top stars, such as Tori Easton, Ariel Demure, Jade Venus, Paradise, Nikki Sequoia, Keith Eros and Nicky Z, took to the stage with Grooby's beloved Kristel Penn to announce that Zariah Aura was the new ambassador for 2023.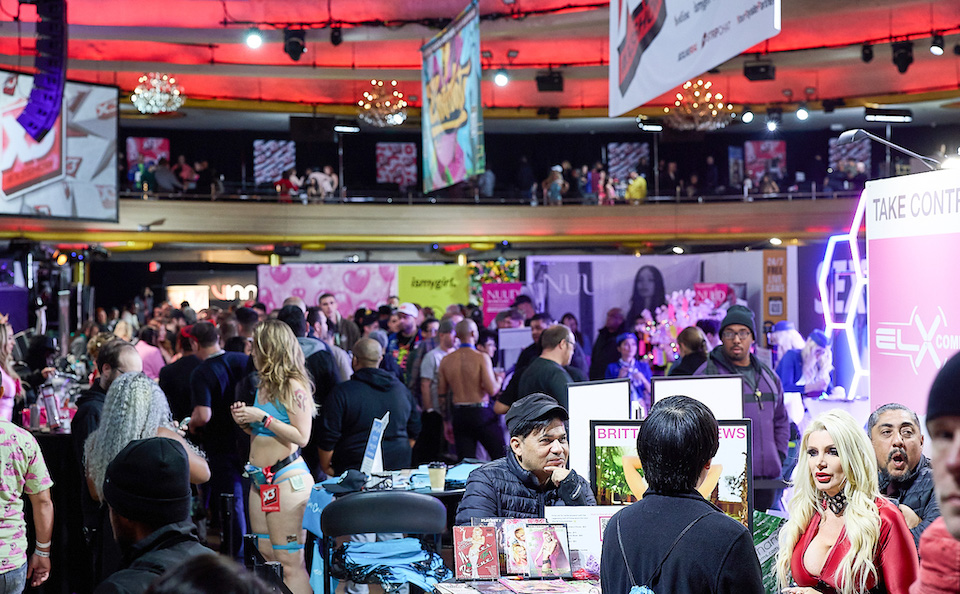 "X3 was such a great opportunity for our LA fans to meet our Grooby girls and guys in person," Penn told XBIZ. "I was so honored to be able to announce Zariah on stage — I'm really looking forward to seeing her continue to flourish in the year ahead."
Back up front, comfy sofas, a big rug and stools transformed the grand stage into a gamer's living room hangout, with the four Nintendo Switch controllers stacked atop the central coffee table promising the fun to come. It was time for the inaugural X3 Mario Kart Championship, hosted by ePlay streamer Quincy, decked out in Peach cosplay threads.
After some initial tweaking and testing of the controllers by the crew, to ensure they were within range of the Switch, Quincy grabbed the mic and hailed the audience, welcoming onstage the four contestants: Siri Dahl, Scarlit Scandal, Chrissy LeBlanc and AstroDomina.
Charged up by the familiar music of one of the most popular gaming franchises of all time and the delight of watching four popular creators whoop with excitement, curse their misfortune when getting hit by a flying red shell or cheer their rising rankings in the Grand Prix four-race tourney, the audience loudly exclaimed their support for their favorite personalities playing as Link, Mario, Luigi and Bowser.
Despite unlikely protestations prior to the game that she was "terrible" at Mario Kart, Siri Dahl — the very same woman who had just won the cosplay contest hours before, as Red Sonja — once again emerged triumphant, claiming the crown and cementing her reign as geek queen extraordinaire. Quincy and Dahl celebrated with a brief bit of leg-locking on stage, before everyone came together for a group photo. 
"That was stressful, but so fun!" Scandal said.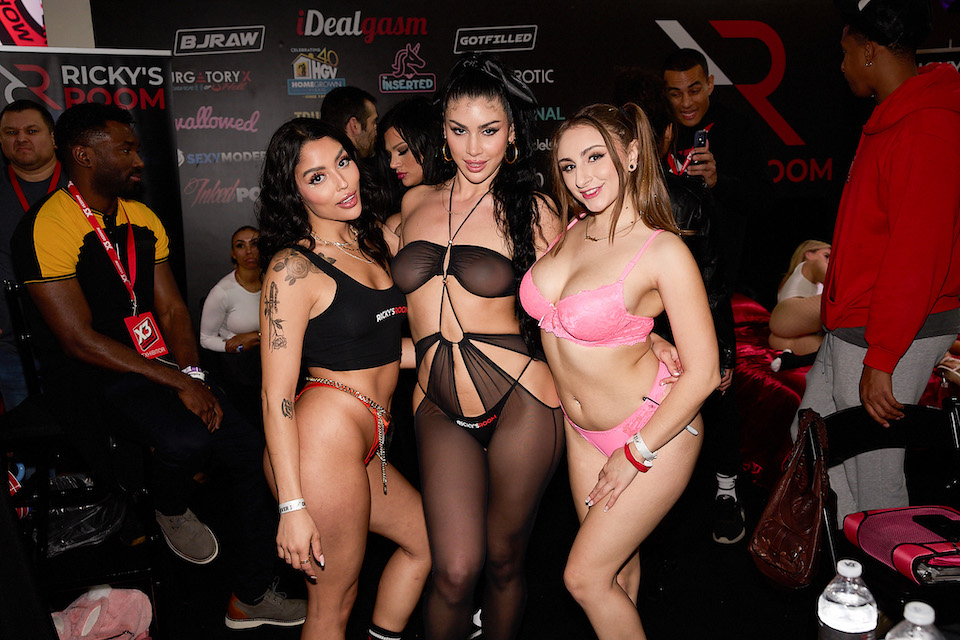 X3 Expo Day Two's other screening was Lust Cinema's "Going Up," Casey Calvert's multi-character dramedy about the opening performance of a play when everything is going very wrong. Calvert introduced the Best Feature-nominated title — on which she is also a contender for Best Director and Best Screenplay — by pointing out that even if she removed all the explicit sex scenes, the film would still be too long for the screening slot.
Thus, the audience was treated to a non-sex version of episodes 2, 3 and 4 of "Going Up," which impressed everyone with its storytelling, acting, jazz-infused soundtrack and extensive use of Steadicam shots, unprecedented for an adult title.
Erika Lust, founder and creative director of Erica Lust Films and Lust Cinema, in town from Barcelona to participate in several XBIZ Week events, welcomed Calvert and several cast members including Seth Gamble, Maya Woulfe and Charlotte Sartre, to field audience questions and talk about the background of the film.
"I'm very happy to be here in Los Angeles! Thank you, X3 Expo, for the screening," Lust said.
Ready to shed light on all things FanWire, a creators' service and content-sharing app with a full suite of time-saving AI automation to connect with fans, were brand ambassador Caitlyn Brooks and talent liaison Stella D.
Sporting her signature pink-hued threads, Brooks said, "I'm excited to be at such a well-organized and fun fan event as X3, representing Fanwire. This is the only service where I can keep my brand fully run by me, and have it make my work easier. Fanwire ensures I'm getting my time back, leaving me more time for amazing things like X3."
Stella concurred, chiming in, "Our main goal is to give models their time back and fans what they want: running your own account and keeping your brand authentically you."
For Scarlett Sage, the 2021 XBIZ Girl/Girl Performer of the Year whose comeback has brought her back to the world of boy/girl scenes for the first time in years, X3 Expo was an opportunity to reintroduce herself to the fans. 
"Another incredible year of X3," Sage declared. "I'm so grateful to be a part of it, and I am looking forward to seeing old and new fans here. Cannot wait to see what X3 2024 will be like if the show keeps getting bigger!"
Jennifer White and Misty Stone camped out in front of the main stage to sign autographs and talk shop with their myriad admirers. Both stars raved about getting up-close and personal with their audiences.
"ALL THE FUCKING FANS!" Stone shouted when asked about her favorite part of the weekend, garnering an appreciative cheer. "It's so fucking awesome!"
"Meeting the fans and joking around with them is always fun," White added.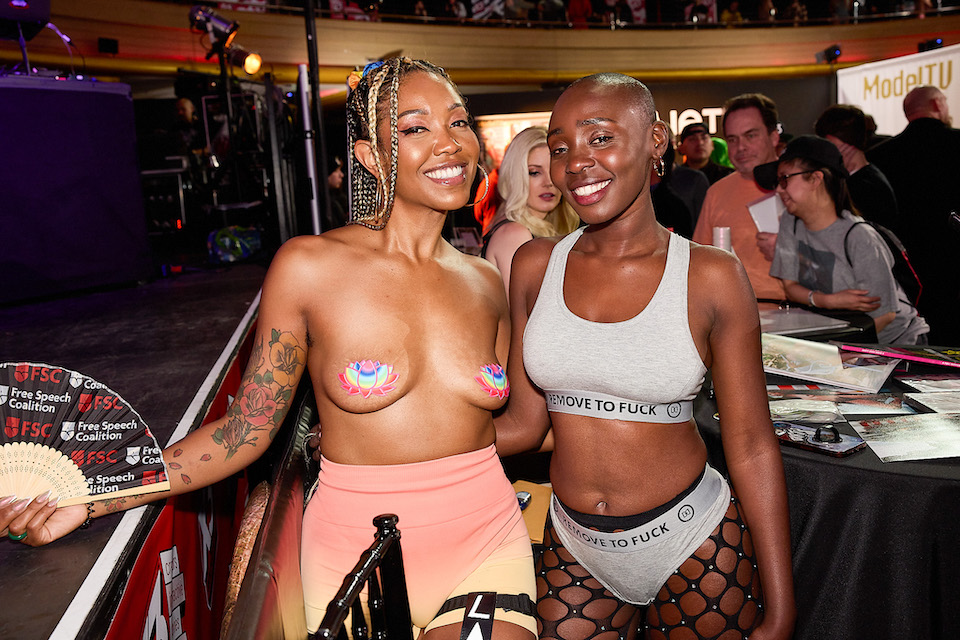 A few feet away, with merch and photos arrayed before her on a raised, black velvet-topped table, stood Slimthick Vic. She enthused, "This is my first X3! I love the environment and I'm having such a great time meeting fans."
At the Alpha Studio Group booth, performer Chris Jensen kept things cool as he eyed the passing throngs.
"People-watching is great," he said. "Getting to watch all the fans light up when they see the stars they love — and get off to — is really fun."
The agency booths kept popping with distinctive backdrops and a plethora of signed talent. Over at the East Coast Talent booth, agent Damien Slayter touted the presence of models Kimmy Kimm, Maddie Collins, Scarlett Hampton and MILF Performer of the Year nominee Reagan Foxx, as well as some of the agency's newer talent, like Summer Vixen, Britt Blair and Jennie Rose.
"I'm definitely glad that XBIZ is arranging for agencies to have booths here," Slayter said. "It helps to have this extra option for signing, and also that the individual content creators have their own tables. Also, agencies can help coordinate and organize major talent appearances."
Foxx added, "This is my first time here and I'm having a great time. We're all together and the music is kick-ass."
East Coast Talent's breakout male talent, Lucky Fate, told XBIZ that although he had been to other fan shows, this was definitely the most times he'd signed autographs at a booth. "Having my own banner is nice, because most of the talent is girls, so having my banner among them really helps fans recognize me," he noted.
Fate, who stars in Ricky Greenwood's Best Feature contender "Grinders," was happy that "a lot of cool guys just came by and wanted to talk about skateboarding," since 'Grinders' is part of his banner and brand. "It's really fun to have that, and being able to interact with fans and talk about stuff that I love, like skateboarding."
As the booth activity at X3 Expo was wrapping up, a hype-man DJ took the stage to prepare the audience for the closer musical appearance, pumping the bass on an eclectic mix of pop and hip-hop, culminating with an amped-up version of Sir Mix-a-Lot's "Baby Got Back" — in this context a fitting tribute to the gyrations of the likes of Alexis Fawx and Kylie Gunner at the Brazzers booth.
Legendary hip-hop and soul singer CeeLo Green, in a pink tracksuit, then emerged from backstage — where, he revealed, he had already been partaking of a healthy amount of Patron tequila — to lead a DJ set that combined party favorites, singalong favorites and even several full vocal renditions of his hits and deeper cuts.
The set was eclectic and wide-ranging, getting the audience hyped with a string of tunes serving CeeLo's "Closet Freak" intermingled with Rick James' "Super Freak," a sped-up "Soul Makossa," samples of INXS' "Need You Tonight," the Fifth Dimension's "Let the Sunshine In," Michael Jackson's "Don't Stop Till You Get Enough" and much more.
Throughout, the pink tracksuit-clad imp of partyhood bopped along getting the non-stop party going, blinged-out Mercedes Benz necklace bouncing on his characteristically rotund silhouette.
Eventually, CeeLo took his jacket off, revealing a black tank top, and continued taking shots of Patron onstage.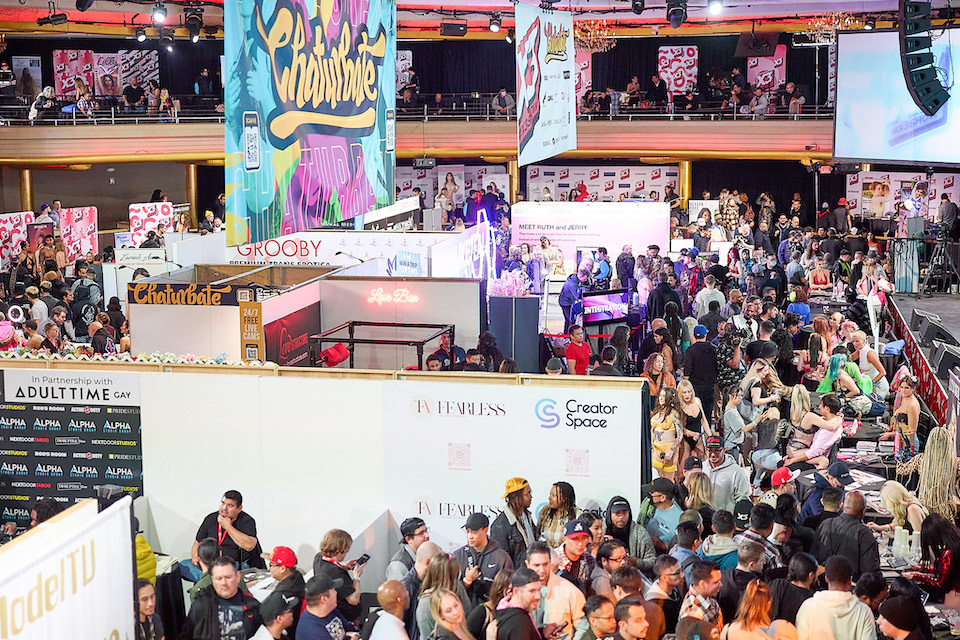 "We gotta celebrate life! Happy New Year, you sexy motherfuckers," he harangued the crowd. "I'm sweating because we've been drinking tequila all night, motherfuckers! My name is CeeLo Green and I'll be the adult entertainer for the evening."
The ruckus intensified. Some lingerie-clad models abandoned their booths and jumped onstage to surround the former Goody Mob leader, twerking against and behind him to the tunes of LMFAO (ft. Lil Jon)'s "Shots," the 2 Live Crew's "Me So Horny," Tone Loc's "Wild Thing" and the original version of the Pussycat Dolls' "Don't Cha" — which Green originally wrote for himself, as he told the crowd.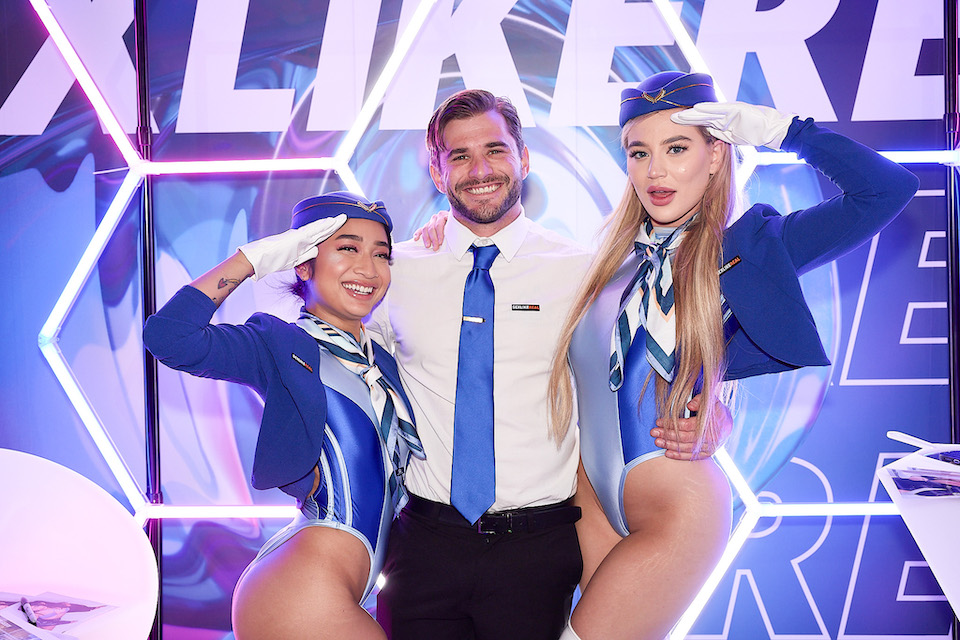 As X3 Expo reached an apotheosis of total abandon, the strains of Khia's gloriously unsubtle "My neck, my back, lick my pussy and my crack" gave way to the grand finale, which the DJ had already teased via snippets: CeeLo's revamped live renditions of his two biggest hits, Gnarls Barkley's "Crazy" and the song that directs a major expletive at a lover, or just haters in general, but which this family-friendly publication can only refer to as "Forget You."
And with that performance, the X3 Expo came to a close. Now, on to adult's biggest night — Sunday's 2023 XBIZ Awards, hosted by Joanna Angel and Small Hands.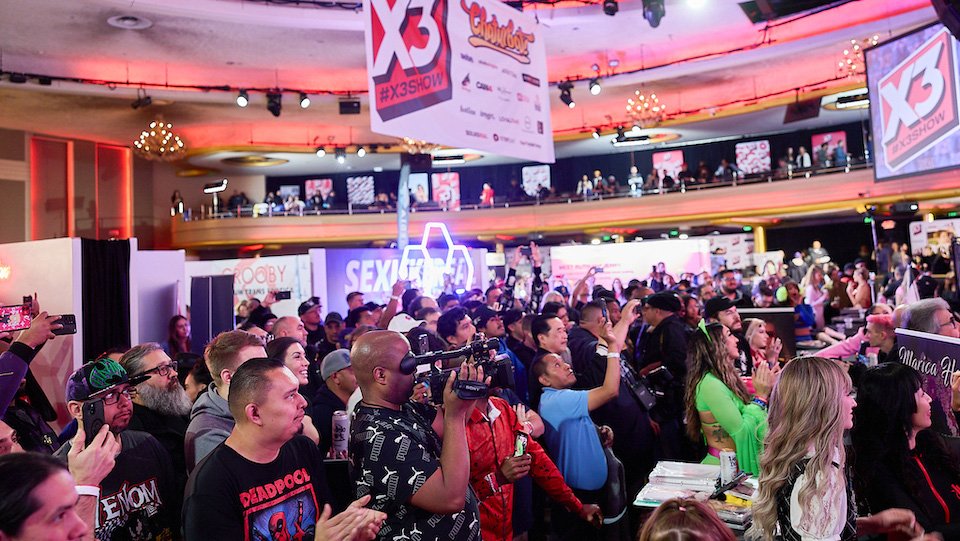 https://www.xbiz.com/news/271209/day-2-of-x3-expo-draws-capacity-attendance

XBIZ.com – Movies & Stars
2023-01-16 02:46:13