Feature Running Time:  1 hour and 26 minutes
Date of Production: 2022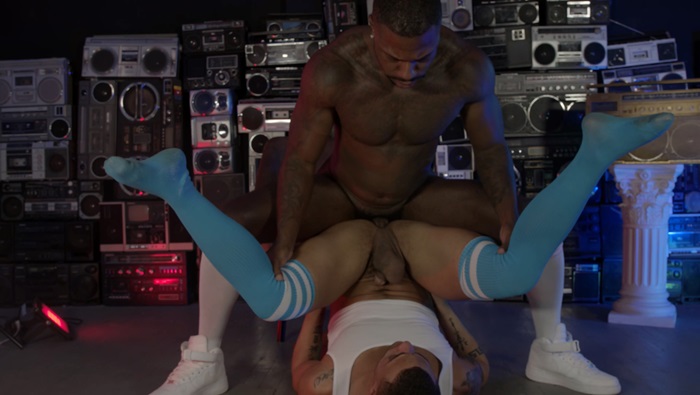 Genre: All Sex; Fetish; Bareback
Condoms: No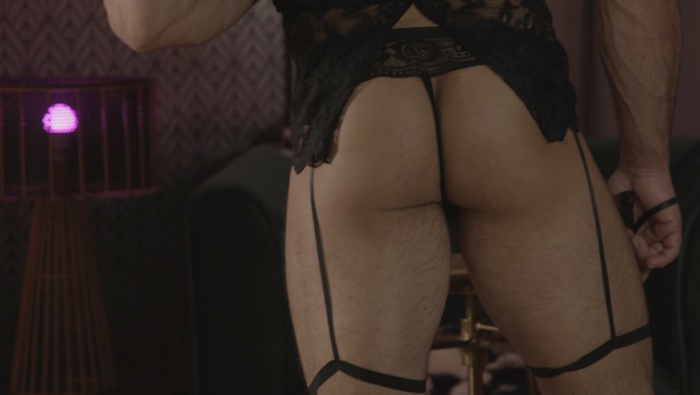 Audio/Video:  Shot in 4K Ultra HD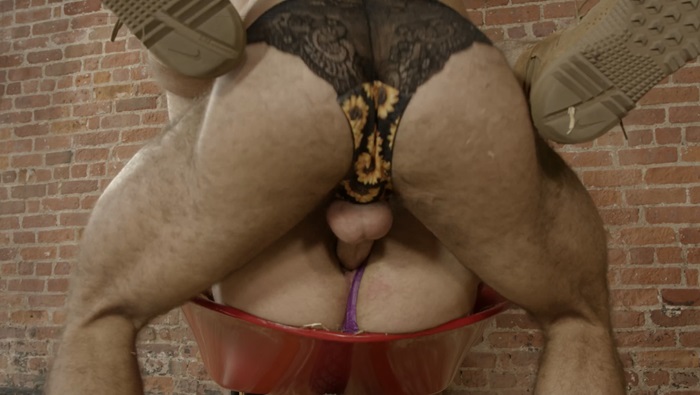 Director: Marc MacNamara
Cast: Reign, Diego Sans, Amone Bane, Beaux Banks, Blaze Austin, Collin Simpson, Damien Stone, Eric Charming
Bonus Scenes: No
Extras: Multiple Chapters; Slideshow; Website Information
Overview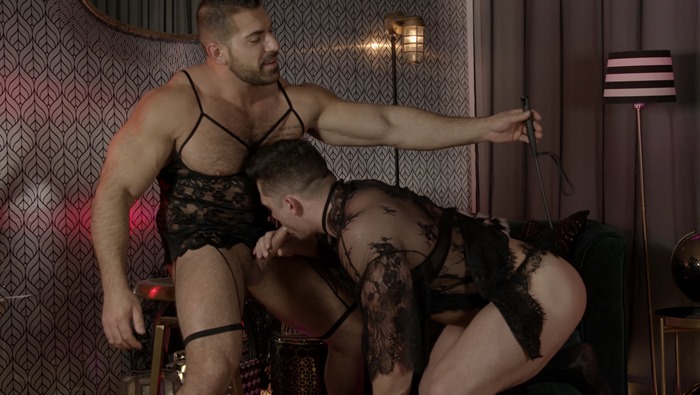 Director Marc MacNamara plays with images of male sexuality, flipping it on its head in his highly stylized flick Sweet Meat. This is a dick flick I highly recommend. Hard-bodied hot bods shatter our perceptions of masculinity, fucking in colorful heels, hose, thongs and lace, adding a steamy heat to this already hot movie. Featuring Falcon/NakedSword exclusive Reign with his horny buds Beau Banks, Diego Sans, Blaze Austin, Eric Charming, Mr. Amone Bane, Damien Stone and Collin Simpson, this ball-banging bareback bonanza will have you doing a double-take at the hard dicks plowing lace-covered man asses. This movie is as visually stimulating as it is satisfying.
Scene 1: Beaux Banks and Reign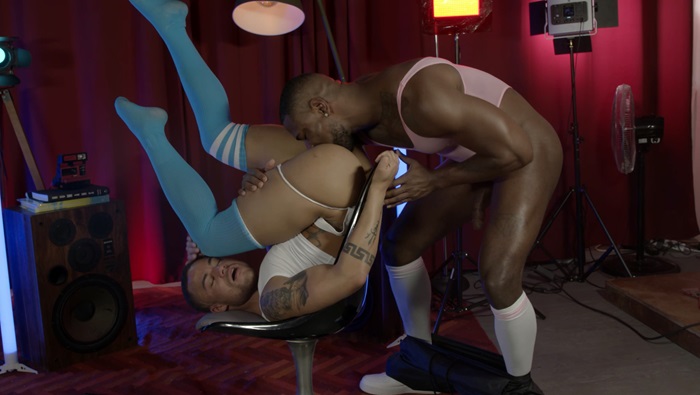 Beaux and Reign waste no time getting to know each other. The guys help each other out of their top clothes, revealing the feminine garments underneath. Beau bends over and wraps his lips around Reign's already hard cock. He strokes and sucks Reign's meat. Reign beats Beaus' tongue with his throbbing dick. Reign pulls Beau's thong off to the side and fingers his ass. "Open that hole," Reign says. Beau bends over in standing doggy and gives Reign a taste of his ass before positioning himself in a piledriver on a chair, spreading his ass hole open for Reign's greedy tongue. Reign rims Beau's hole and soaks it with his spit.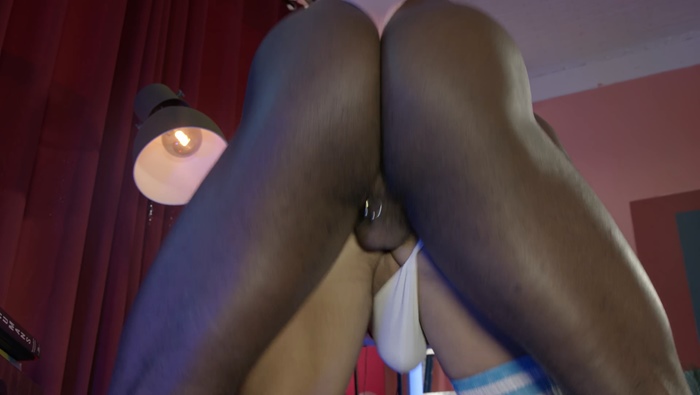 Beau bends over in standing doggy to host Reign's cock deep in his ass. Reign rams Beau's thong-clad man ass. We get a hot shot of Beau's ass getting stuffed from behind by Reign's deep thrusts. After a hard round of standing doggy, Beau leads Reign into a reverse cowgirl round.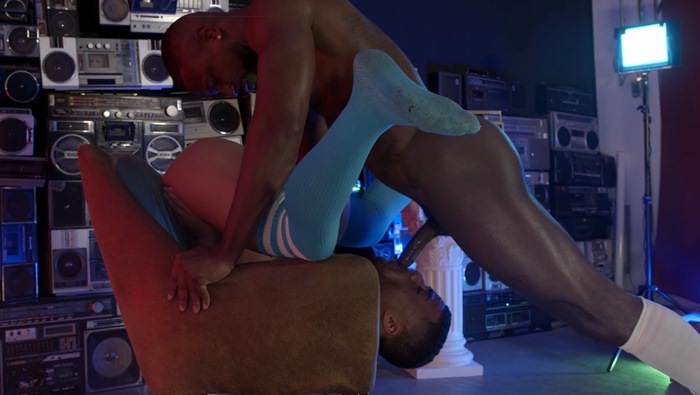 Beau sits on Reign's dick and bounces up and down on it, making it disappear deep in his ass. The flexible Beau flips over for a hot pile driving fuck session that stretches his ass hole open. Reign pulls out and fucks Beau's throat in 69 over the chair, choking him with cock. Reign sucks Beau's balls while Beau strokes his cock and cums and then Reign pops all over Beau's chest with sweet cum.  
Scene 2: Blaze Austin and Diego Sans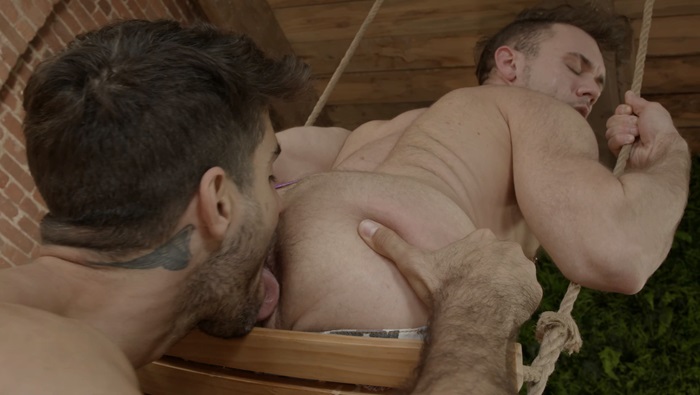 Diego and Blaze show off their high heels and lacy lingerie in the scene opener. Diego calls Blaze over as the two admire each other's sexy bodies. Diego pulls down Blaze's shorts, giving us a hot view of his tight man ass in a purple thong. Diego is irresistible in his lace and sunflower panties. Blaze sits him on a swing and takes his cock out and sucks it. "Taste so good," Blaze moans. Diego thrusts his cock deep down Blaze's hungry throat, making him spit all over it.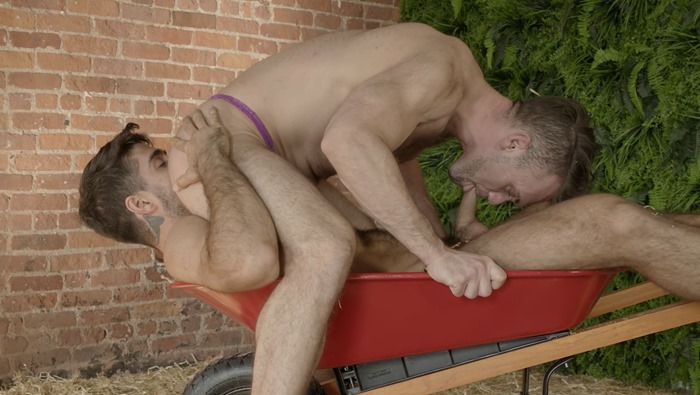 Blaze swallows Diego's balls then deep throats his cock, choking on it.
Diego wants to taste Blaze's hole. He sits him on the swing and pulls Blaze's purple g-string aside and tongue fucks his tight manhole getting it nice and loose and ready for his cock.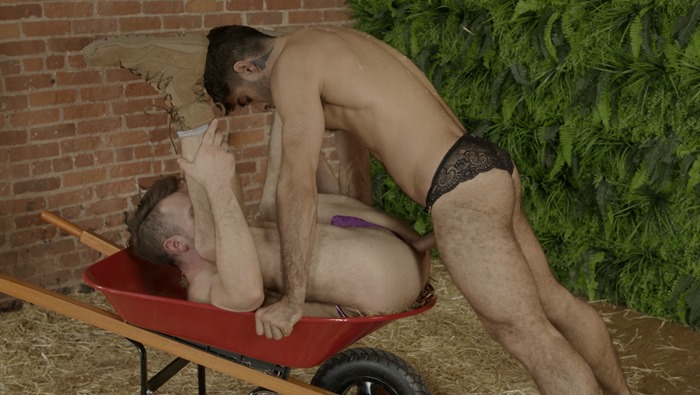 Diego stands up in his heels and penetrates Blaze's ass in standing doggy as Blaze sits on the swing. "Use that hole," Blaze tells him. Blaze enjoys getting fucked in his panties. "Pound it," he moans. Diego pulls out and feeds Blaze's mouth in a sloppy 69 sesh in a wheelbarrow. Diego spreads Blaze's manhole open and rims it while Blaze deep throats his cock. Diego drills Blaze in mish in the wheelbarrow, pulling his g-string aside and then stuffing and stretching his ass hole. "Give me that dick," Blaze begs. "Give me that sweet hole," Diego drills in ball banging action. Diego pumps then pops, pulling out and shooting streams of hot cum all over Blaze's stomach, face and in his gaping mouth. Diego helps Blaze stroke off until he blows his load on his hairy stomach.
Scene 3: Eric Charming and Amone Bane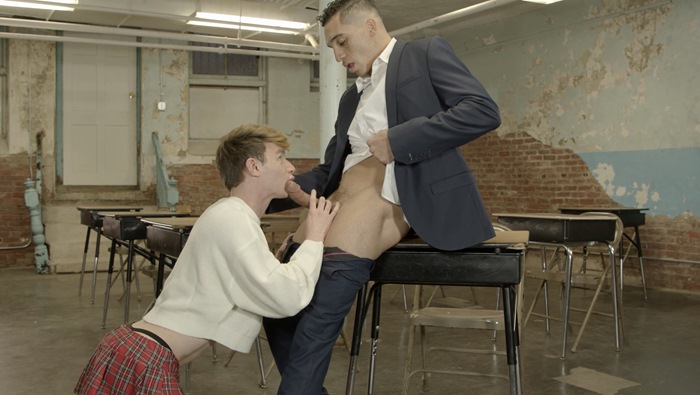 "Welcome to detention," Amone tells Eric, who is dressed in a skirt and g-string. Eric has been bad and Amone is here to discipline him for his bad behavior. Amone kisses Eric then tells him to suck his dick. Eric is eager to do anything to get out of detention. He drops to his knees and mouths Amone's cock. "This is what happens to bad little boys," Amone scolds Eric. "Suck that dick," he orders him. "You're gonna learn your lesson today." Eric uses Amone's cock to beat his tongue and face and then he deep throats it. This is a lesson in cock sucking that Eric won't soon forget.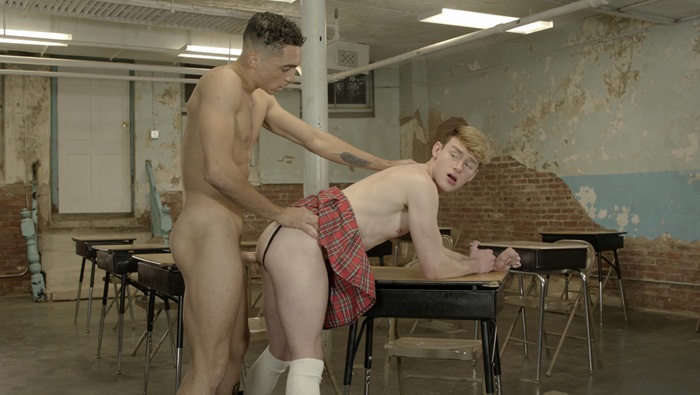 Amone introduces his wet tongue to Eric's tight hole. Eric kneels over a desk in standing doggy while Amone tongue fucks and fingers Eric's bad little hole. With Eric's tight hole lube with spit, Amone opens it up with his hard cock in standing doggy. He thrusts deeper and deeper into Eric's man cave, prying his hole open. Eric is being a good boy at taking Amone's big dick deep in his ass. "You feel so fucking good," Amone moans. He takes Eric over to his desk to spoon fuck his ass. "How does it feel to be a teacher's pet," Amone asks him while pumping his ass. It's time to munch on the bad boy's ass hole. Eric climbs on top of Amone in 69 position for an ass rimming.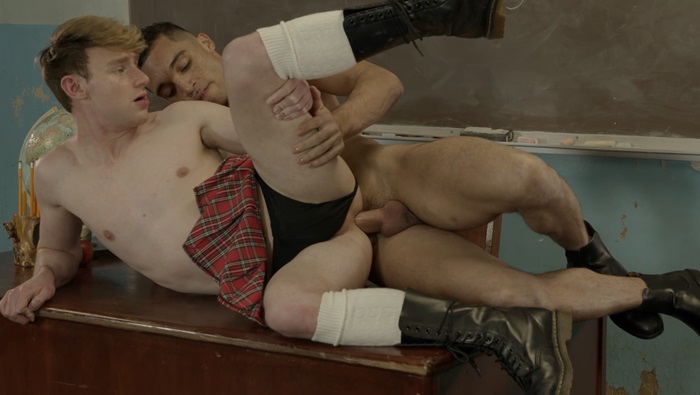 He sucks Amone's hard cock right out of his ass, tasting his own juices. Amone has one more test for Eric in detention. He lies him on his back on the desk for a final exam in mish. Amone pounds Eric's ass hole. Eric wants nothing more than to be used by his detention dictator. Eric cums all over himself while Amone drills him deep. Now that Amone has fully explored Eric's ass, he pulls out and blows his load in Eric's mouth. "That completes your detention," Amone says.
Scene 4: Collin Simpson and Damien Stone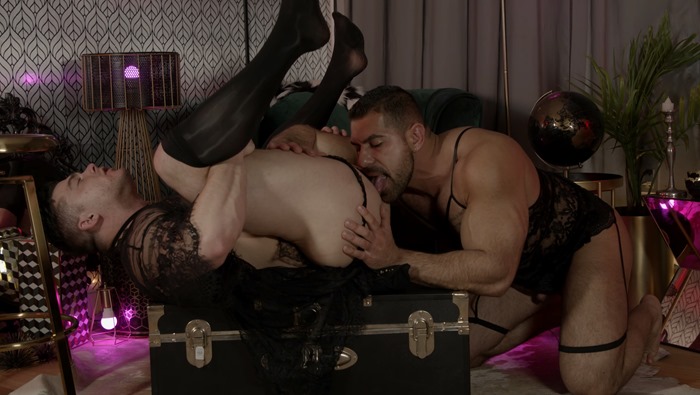 Collin and Damien have the hottest scene opener of the flick. They show off their hard bodies dressed in lacey lingerie, panties, hose and heels. Damien's cock is already hard and Collin wraps his lips around it bent over on all fours. Damien uses his whip on Collin's ass hole, rubbing it back and forth and spanking his cheeks. Collin lies on his back with his legs spread open, delivering his tight little hole to Damien's tongue. Damien rims Collin's ass, spitting on his hole and playing with it with his finger. Collin's hole is a toy for Damien's tongue as he rims him.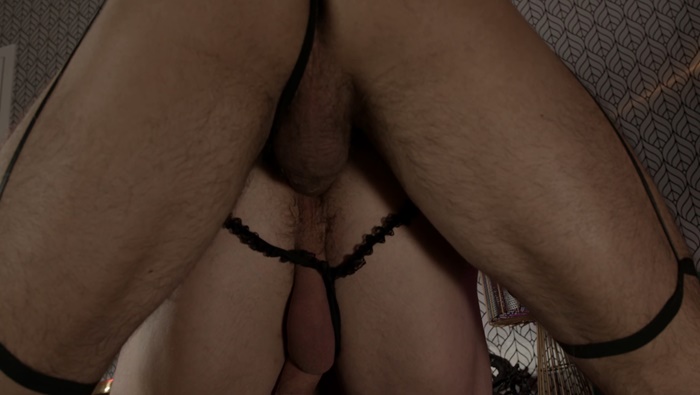 With Collin in mish, Damien penetrates his ass hole, stretching his hairy hole open. Damien uses Collin's hole for his pleasure, stuffing his cock all the way deep in Collin's ass. Damien takes Collin in a sizzling hot standing doggy fuck up the ass that gives us a hot shot of Collin's hairy ass being pried open by Damien's dick. This is one of the hottest scenes of the flick. Damien gets a taste of Collin's cock next, sucking it and squeezing his balls.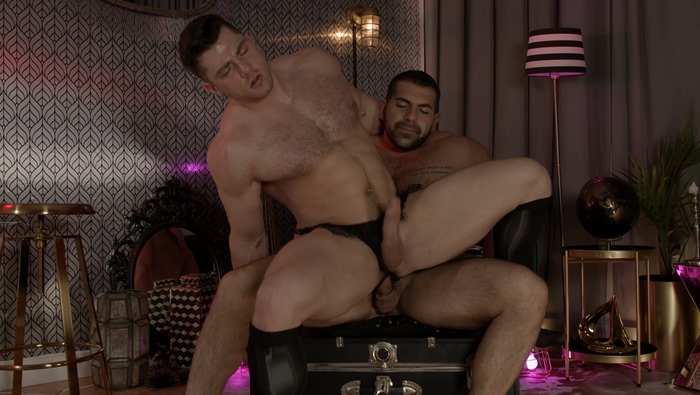 Collin rides Damien's throbbing cock in reverse cowgirl, jerking himself off while he bounces up and down on Damien's meat. "Take that cock deep in your ass," Damien tells Collin. Collin soon bursts in a blast of cum that lands on Damien. Collin climbs off Damien's cock and then Damien shoots his load in an explosion of ecstasy.
Final Thoughts:
Nothing is hotter than watching a hard-bodied, hairy man's ass dressed in lace panties get pounded by a throbbing cock. In director Marc MacNamara's visually stunning and satisfying flick, Sweet Meat, our images of male sexuality are tossed out the window as the flick's studs fuck each other balls deep dressed in colorful feminine clothes. I highly recommend this movie. With the stereotypes flipped, these guys focus on man-on-man satisfaction in ball-banging action. With their hairy manholes covered in lace, these hard-bodied boys are a turn-on to watch as they fuck their way out of confining stereotypes.
https://xcritic.com/review/sweet-meat/

Gay Porn Reviews | xCritic

John Boy

2022-04-30 19:54:52″