Feature Running Time:
Disc 1: Ride or Die – Raw Deal: 2 hours and 33 minutes
Disc 2: Ride or Die – Hard Time: 1 hour 47 minutes
Date of Production: April 1, 2022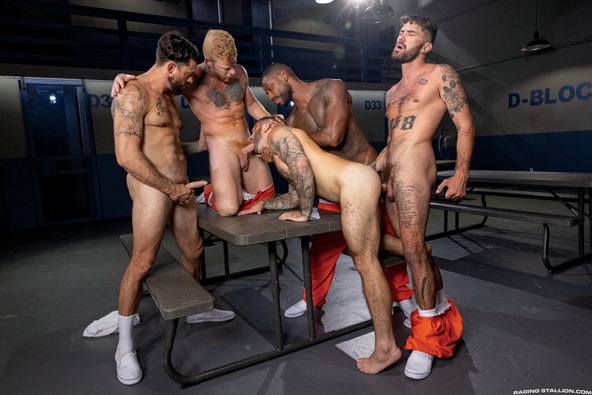 Genre: Gay; Feature; Bareback; Big Budget
Condoms: No
Audio/Video:  Shot in 4K Ultra HD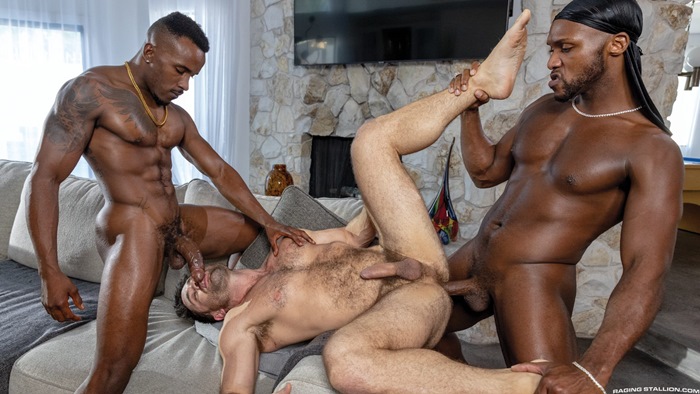 Director: Tony Dimarco
Written By: Ben Rush
Cast of Ride or Die – Raw Deal: Starring Exclusives: Beau Butler, Cole Connor, Drew Valentino, Max Konnor, and Andre Donovan. Also Starring: Chris Damned, Travis Connor, Dillon Diaz, Grayson Lange, and Phoenix Fellington.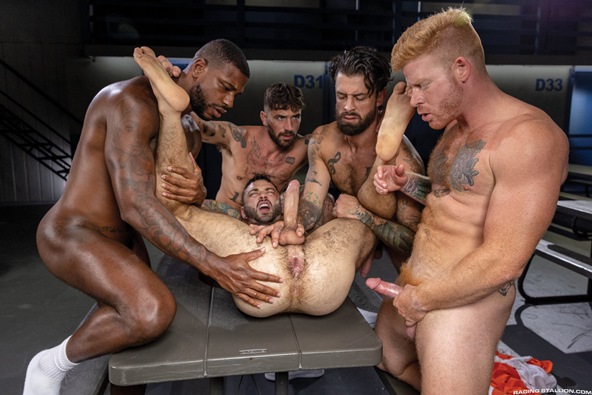 Cast of Ride or Die – Hard Time: Starring Exclusives: Reign, Cole Connor, Drew Valentino, Also Starring:
Chris Damned, Bennett Anthony, Alpha Wolfe, Drew Sebastian, Pierce Paris, and Dillon Diaz.
Bonus Footage: Yes
Extras: Multiple Chapters; Slideshow; Website Information
Overview: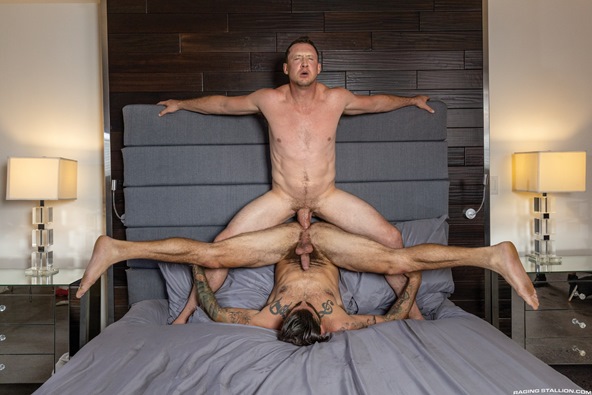 Raging Stallion's two-disc blockbuster, Ride or Die, features some of the industry's hottest hunks in a sordid tale of sex trafficking, revenge, and dick justice in prison. This mega production is my Xcritic Pick. The man musk is palpable in scenes of bareback rough fucks, hairy manholes, and gagging blowbangs in the prison commons. The stellar writing and directing weave a tight storyline and the desert gangbang, in the end, offers a resolving twist. Dick justice abounds when the crooked warden's own officers spit roast his ass over the hood of the police car. This flick is a must-see and a must-have for the gay porn collector.
Episode 1: When the Going Gets Rough: Chris Damned and Travis Connor
The warden traffics Chris for the pleasure of the District Attorney, Travis. Chris is delivered to Travis' posh penthouse for a night of rough sex. The horny DA can't wait to wrap his lips around Chris' prison cock, dropping to his knees and sucking it. "Shut the fuck up and suck that dick," Chris tells Travis. The DA likes it rough. Chris sits his musky ass on Travis' face in 69 position, ordering the DA to eat it. Hungry for man ass himself, Chris spreads Travis' cheeks open in mish and rims his hole.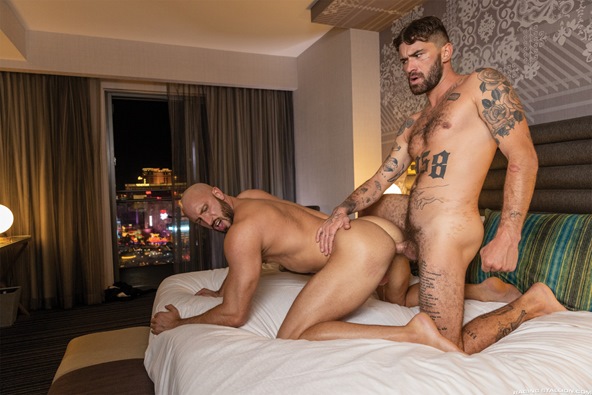 It's time for Chris to exact his revenge on the dirty DA who put him behind bars by finger fucking his hole and then fucking it doggy style. Chris's thrusts go balls deep, stuffing and splitting Travis' hole open. The DA pops all over himself. It's not long after that Chris pops, blasting Travis' hairy chest with jizz. When Travis calls Chris a prison bitch, Chris snaps and punches the DA over and over. Dillon, one of the officers, calls the warden, warning him that there's a problem.
Episode 2: Breeding Ground: Cole Conner and Dillon Diaz
Chris is brought to Cole, the warden, in the prison interrogation room where the warden unloads. Cole has had enough. He orders Chris to the prison's solitary wing where the inmates are sure to pound his ass hole loose. When Dillon tells Cole there's no room in solitary, Cole responds with, "maybe you'll be happy with my cock in your mouth."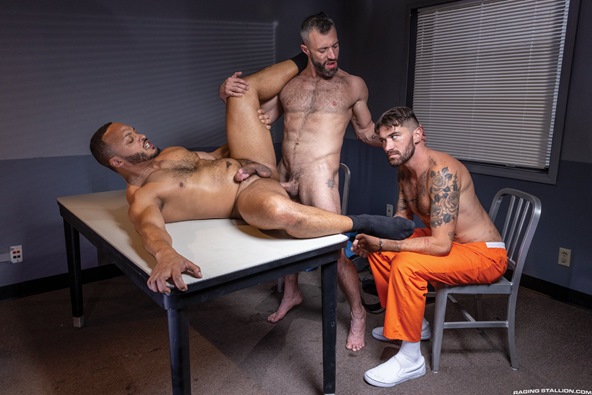 The corrupt warden skull fucks Dillon in full view of Chris and Dillon spits all over the warden's dick. "Eyes up, Chris," Cole says, making him watch the cock feast. The warden bends Dillon over the interrogation desk and fucks his tight hole in standing doggy.  Cole owns Dillon's ass, thrusting in and out and spitting on it. The wayward warden climbs on the desk and squat thrusts Dillon's ass in doggy for Chris's viewing pleasure.  He fucks Dillon in mish until Dillon blows his load. That's when Cole pulls out and creams Dillon's balls with cum. Cole makes Chris lick up all the spunk.
Episode 3: Protect and Service: Drew Valentino and Beau Butler
The warden walks the common area with his officers, plotting to have Chris's ass fucked hard tonight. A fight breaks out, and Drew is at the center of it. Drew's cellmate and lover, Beau, is worried about Drew getting into fights, so Drew calms him down by face fucking him.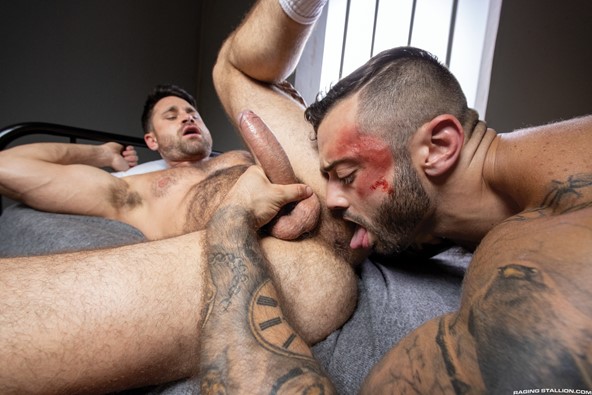 Drew licks the man musk from Beau's hairy armpits and then skull fucks Beau some more. Drew tongue fucks Beau's hole and then he drills it doggy style on their prison bed. Beau takes Drew's dick deep in the ass in mish and explodes in cum as Drew bangs him harder and faster. Drew pops in Beau's mouth and then the two kiss and swap cum just as an officer barges in and takes Drew to solitary confinement.
Episode 4: Sexual Politics: Max Konnor and Grayson Lange
Governor Konnor gets an update from Grayson on all the happenings at the Rider's Correctional Facility. Max rewards him by fucking his mouth. "Get that dick in your throat," Max tells him. "Suck that fucking dick like a little slut," Max says. Grayson moves into doggy position on the chair and the Governor rims his tight ass.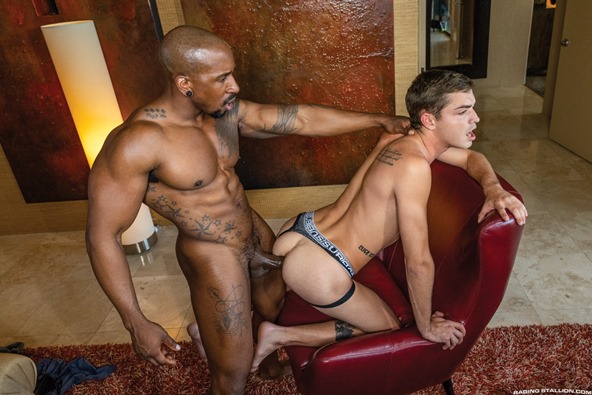 Grayson gets a big cock reward up the ass for keeping Governor Konnor up on everything happening in prison. They move from the chair to the bed where Grayson lies on his stomach to take more of Max's cock. Grayson takes it balls deep in downward doggy and shoots threads of cum after getting pounded in mish. He begs for Max's nut and gets fed sperm.
Episode 5: Bad Rap: Phoenix Fellington, Beau Butler, and Andre Donovan
The warden delivers Beau's tight manhole for money. The high-rolling rapper Andre wants prime ass to fuck. Strip for me," Andre tells Beau. With Beau on his knees, Andre and Phoenix force-feed him their superstar cocks, crowding his mouth and feasting on his hairy ass.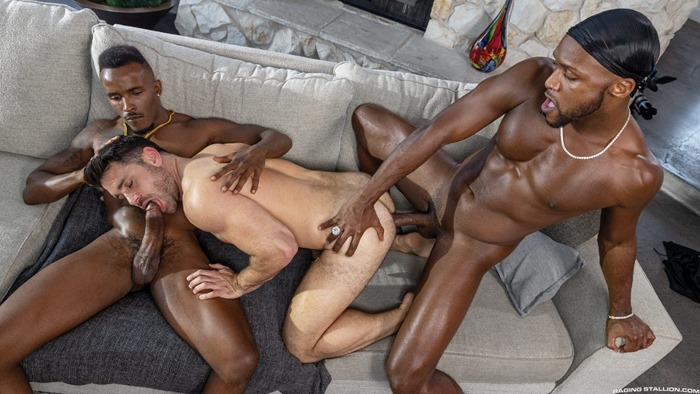 Beau is put in a doggy-style spit roast with Phoenix fucking his ass and Andre fucking his mouth. "Ride this fucking dick," Andre demands. Beau goes on a reverse cowboy and then a cowboy ride, bouncing on Andre's dick. Phoenix sucks Andre's cock right out of Beau's ass and then he gives Beau a hard doggy pounding and soon pops all over him. Andre drills Beau's ass making him cum, and then he blows his load all over Beau's ass.
Ride or Die Disc 2: Hard Time
Episode 6: The Gang's All Here: Bennett Anthony, Chris Damned, Alpha Wolfe, Reign & Drew Valentino
The warden gets intel that someone on the inside at Rider's is leaking information. It might be Alpha Wolfe. This is a leak that must be plugged. That next day, Dillion delivers Drew to the common area where a gang of guys pins him down in standing doggy and gang fuck him. The warden watches the action from a distance. The gang of prisoners play round robin in Drew's ass doggy style, bent on making Drew a prison bitch.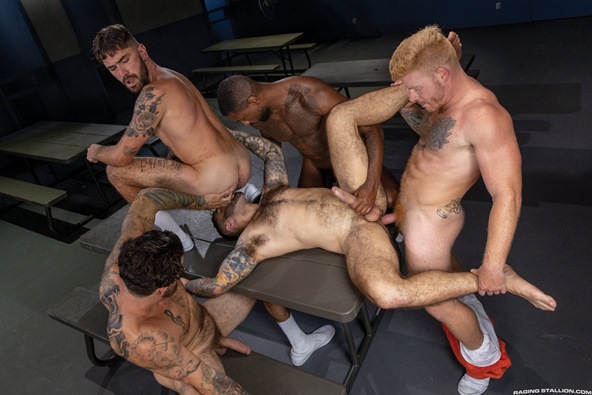 Drew is forced to his knees and choked in a four-cock blow bang. "Give me that pussy, boy," Bennett says right before fucking Drew in mish on the bench. Chris sits his hairy ass on Drew's face as the prison gang takes turns in Drew's ass. They blow their loads all over him and throw him to the ground, kicking and beating him.
Episode 7: Slippery When Wet: Drew Sebastian & Alpha Wolfe
The warden orders officer Sebastian to plug the leak that is Alpha Wolfe. Officer Sebastian knows exactly what must be done. "You know what they say about loose lips," Officer Sebastian tells Alpha Wolfe. "Keep your mouth shut," he tells Alpha. Sebastian face fucks him against the shower wall.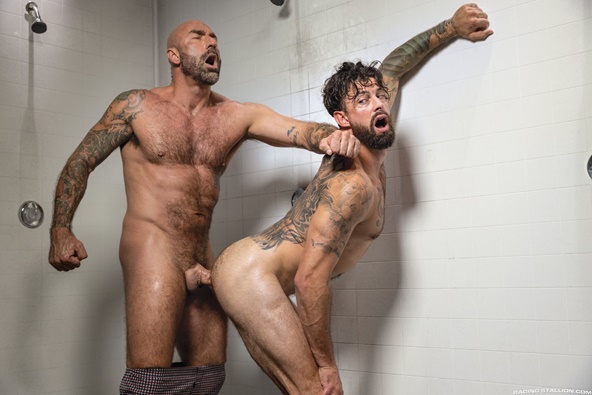 Alpha chokes on Officer Sebastian's big cock, spitting up all over it. "Put your tongue in my big musky hole," Officer Sebastian demands. Now, it's time to plug Alpha's ass. "Put your head down and keep your mouth shut," Officer Sebastian tells Alpha while ramming his tight hole in standing doggy against the shower wall. He pile drives Alpha's ass balls deep in downward doggy on the wet floor. Alpha rides in reverse cowboy until he cums. Officer Sebastian coats Alpha's beard in cum, finishing the job.
Episode 8: Wide Open: Pierce Paris & Alpha Wolfe
The warden continues his dangerous sex trafficking game, sending Alpha Wolfe to Pierce Paris for sex. "Cole knows I like to fuck guys like you," Pierce tells Alpha. "You smell like cheap prison soap," he says. Pierce forces Alpha into doggy position on the bed. "Spread your ass," he yells. He finger fucks Alpha's hairy manhole, and then he stuffs a big black dildo in Alpha's crack. Pierce likes to fuck prison boys like Alpha hard and rough.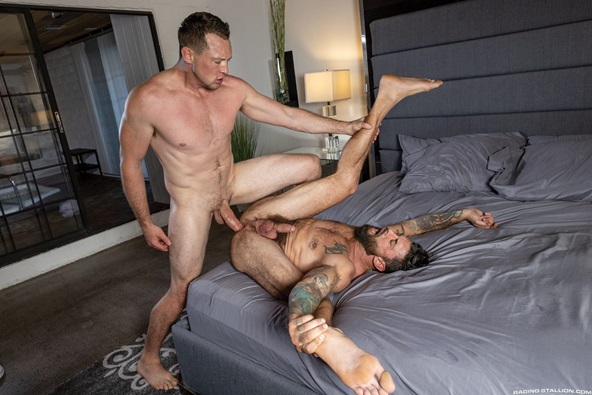 After skull fucking Alpha, Pierce penetrates him in hot squat thrusting action. Pierce is getting his money's worth from the warden's latest prison bitch. Balls-deep doggy and leg-up mish keeps Alpha's hole open for pleasure. Alpha pops first, cumming all over his hairy stomach followed by Pierce's big pop shot down Alpha's throat. Alpha goes back to Rider's with cum smeared all over his beard.
Episode 9: Rock Bottom: Drew Sebastian, Dillon Diaz, Cole Connor & Reign
With an undercover FBI agent planted at Rider's, Governor Konnor has all the evidence he needs to put the warden away. Max and his FBI agents surprise Cole at the facility, walking in on him getting his cock sucked by Officer Sebastian. "I know everything," Max tells Cole. "The sex trafficking, the drugs, should I go on?" Max asks. Reign has been doubling as the Governor's undercover agent. "Cuff him," the Governor orders.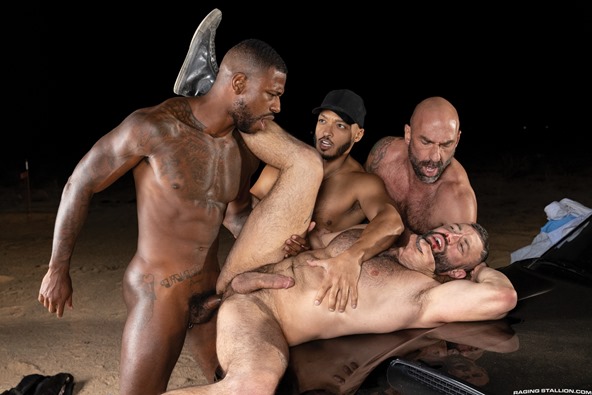 The officers drive Cole to the middle of the desert with the Governor and Grayson, Cole's stepson, following. "It's time for justice, the old-fashioned way," Max tells Cole. They watch as officers Sebastian, and Dillon initiate dick justice on the crooked warden. They force him to his knees and stuff his throat full of their hard cocks. Cole gags and then is pinned in standing doggy over the hood of the car where Sebastian drills his manhole open. Dillon takes his turn pounding the warden's ass in a role reversal as payback. Reign joins the dick justice system, punishing the warden with a deep penetrating round of doggy. The officers ruin Cole's hole in rounds of mish on the hood. The cops pop on Cole's cock, on his stomach, and in his mouth, leaving him coated in cum. Grayson finishes the job by thrusting a police baton in Cole's ass.
With the warden now behind bars, the tables have turned. Dillon oversees Rider's now. As one final blow to the disgraced Cole, Dillon watches Chris ink a painful tattoo on Cole's arm, torturing him.
Final Thoughts:
Raging Stallion's mega-blockbuster, Ride or Die, is my Xcritic Pick, featuring some of the hottest hunks in the gay porn biz. The flick boasts nine dick-throbbing scenes over two discs that delve into the underworld of sex-trafficking male prisoners at the hands of a greedy warden. The Governor is on to the warden's acts and with the help of a man on the inside, springs a trap to put the warden away. This bareback bonanza is a turn-on from scene to scene with tight shots of hairy manholes being pried open by prison pricks and a gangbang in the desert. Stellar writing, directing, acting, and production send this flick to the front of the pack.
https://xcritic.com/review/ride-or-die-raw-deal-hard-time/

Gay Porn Reviews | xCritic

John Boy

2022-11-17 17:38:40″