Feature Running Time:  2 hours
Date of Production: 2021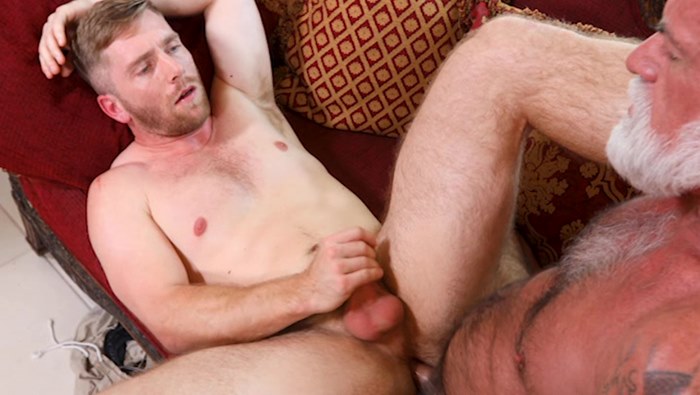 Genre: Bareback; Daddies; Feature
Condoms: No
Audio/Video:  Shot in 4K Ultra HD
Director: Gio Caruso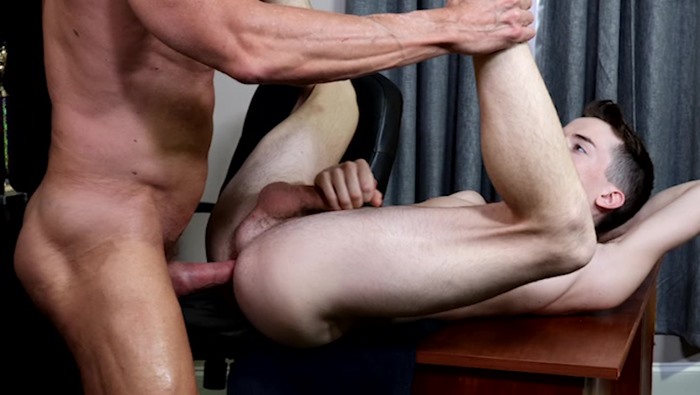 Cast: Dallas Steele, Aston Springs, Scott Riley, Jake Marshall, Nick Milani, Alex Meyer, Angel Ventura
Bonus Scenes: No
Extras: Multiple Chapters; Slideshow; Trailers for Big Wet Load in My Ass; Let's Stay in Bed; Craving Big Cock
Overview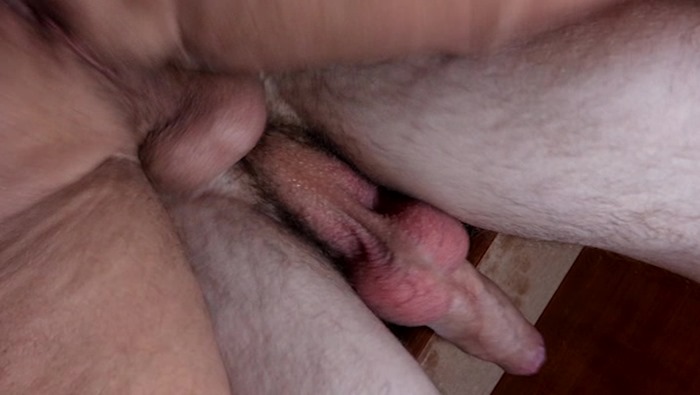 No one likes to go to the principal's office, but in the flick The Principal's Office, that's where some of the best sex happens. I recommend this flick. Alex Meyer fucks his hard-bodied principal, Dallas Steele, who happens to be Alex's stepdad, in the principal's office. Dallas drills his man-ass over the desk in standing doggy then blows his daddy load on Alex's cock. When Nick Milani finds out about the principal's secret, he barges into his office to get his. He promises to keep the principal's secret as he sucks his cock and takes a big load in his ass. Aston Springs and Angel Ventura are stepbrothers, but when Angel finds Aston's lube and gay male mags, he decides to teach him a thing or two about man love. Angel pounds his stepbrother's hole, making him cum twice before he sprays his wad all over him. Scott Riley comes out to his uncle, Jake Marshall, who really isn't his blood relative, telling him he's gay. Jake offers his daddy dick, fucking his throat and hairy ass to console Scott's troubled mind.
Scene 1: Scott Riley and Jake Marshall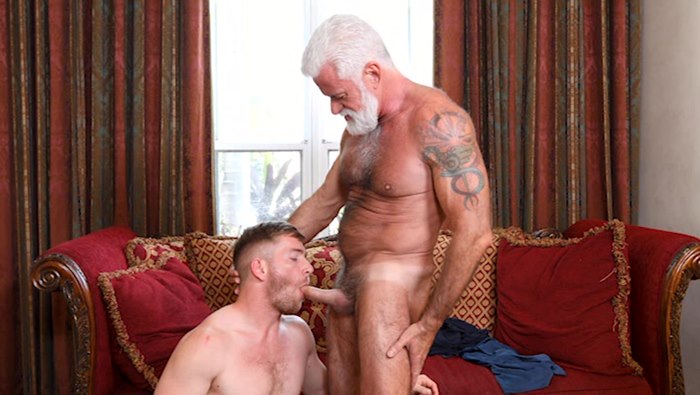 Scott shows up at his uncle Jake's house, who isn't a blood relative, with something on his mind. It's been bothering him, and he decides to open up to Jake. He reaches out to Jake online and says he needs to talk. Jake hasn't seen Scott since he was 12 years old, ever since Jake stopped speaking to Scott's mom. His mom doesn't agree with Jake's gay lifestyle, and she forbade him from ever seeing Scott again. That decision was hard on Scott and Jake because Jake was always there for Scott like a stand-in dad. "I'm pretty sure I'm gay, too," Scott says. Jake is surprised. He wasn't expecting this at all. Scott confirms and says he is attracted to men, especially older men. Jake decides to console Scott, telling him he can help him out with his dilemma, especially since he isn't really Scott's blood relative. He and Scott's mom were adopted. "Let's find out just how gay you are," Jake tells Scott.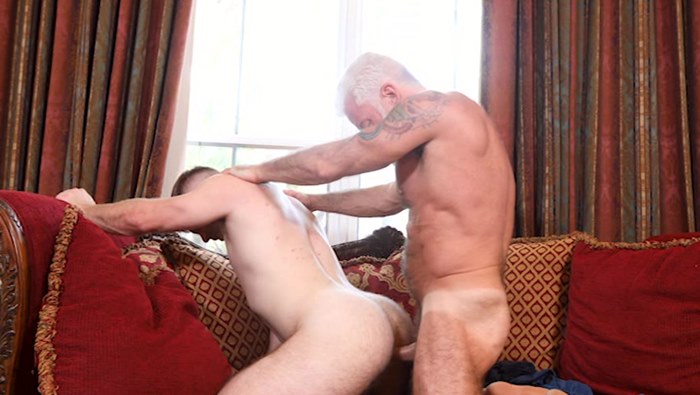 Scott pulls Jake's pants down and caresses his cock. "You like that," Jake asks. Scott likes it. They kiss then Scott puts Jake's cock in his mouth and sucks it. Jake thrusts his dick in and out of Scott's eager mouth, showing him how it feels to take a dick deep down his throat. Jake takes a turn on Scott's cock, too, sucking it and squeezing Scott's balls. Scott bends over on all fours on the couch and Jake spreads his hairy man ass open and rims it.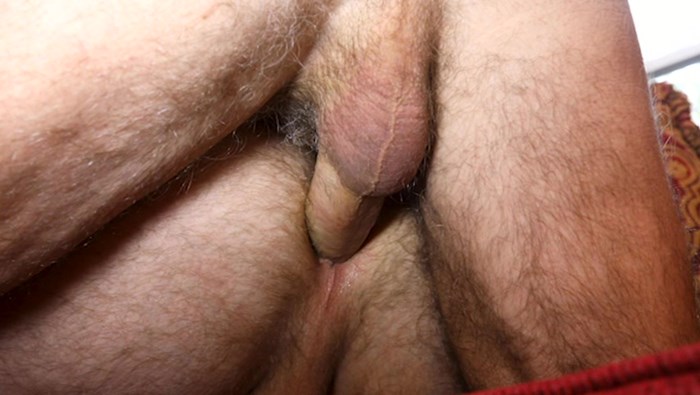 "Does that feel good," Jake asks. "Yes, sir," Scott moans. Jake penetrates Scott's tight ass slowly in doggy, drilling him deep and pleasing his manhole. It feels so good to Scott he decides to ride Jake's cock in cowboy. "Take your time," his uncle tells him. Scott bounces up and down on his dick. "That's so good," Jake moans. Jake fucks Scott in mish, making him cum. Jake licks up Scott's cum then strokes his cock until he blows his load on Scott.
Scene 2: Aston Springs and Angel Ventura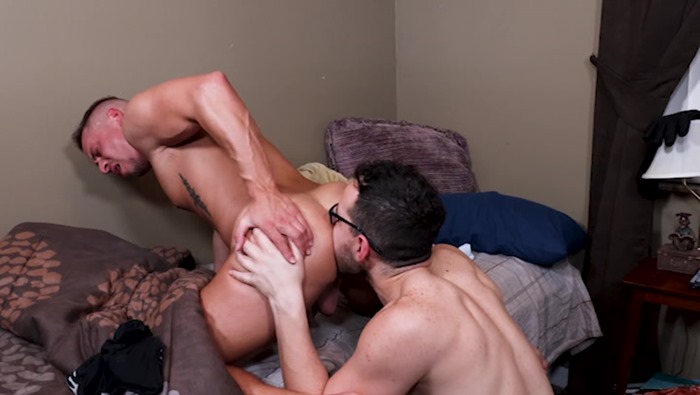 Aston and Angel's stepmom leaves a note with a list of chores for them to complete. Clean the kitchen, clean the pool, clean his bedroom, and more. "This is fucking bullshit," Aston tells his friend. Aston decides to hang out at the pool and not do any of those chores. His stepbrother Angel comes home and sees the list of chores. He calls his mom and thanks her for the cookies, eats a couple of them, and goes upstairs to clean Aston's room. He finds a bottle of lube and a gay porn mag in Aston's room. "We have more in common than what I thought," Angel remarks to himself. He sniffs Aston's underwear and starts stroking his cock. Aston walks in unexpectedly. "What the fuck are you doing in my room masturbating," Aston says. Angel explains he was cleaning the room and found the lube and the mag. Aston tells Angel he can teach him a thing or two since Angel has already gotten started on his cock. Angel responds saying he will be the one to teach Aston.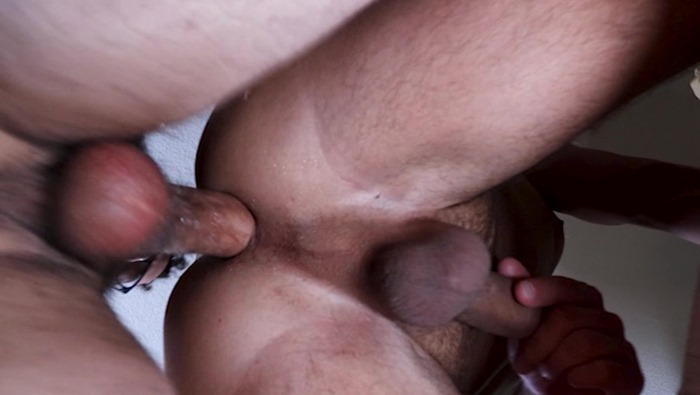 They kiss and make out then Astons sucks his stepbrother's hard cock. Angel puts Aston in mish on the bed and sucks his cock and balls until he cums. Angel sucks all the cum off Aston's stomach and swallows it then continues to suck his dick. Aston gets on all fours doggy style for Angel's tongue up his ass. "Fuck yeah, just like that," Aston moans. Angel rims Aston's hole then fucks it doggy style. Angel drills his stepbrother's hole in mish, making Aston cum again. Angel pulls out and sprays his wad all over Aston. "You can't tell anybody about this," Aston says. Angel promises he won't.
Scene 3: Alex Meyer and Dallas Steele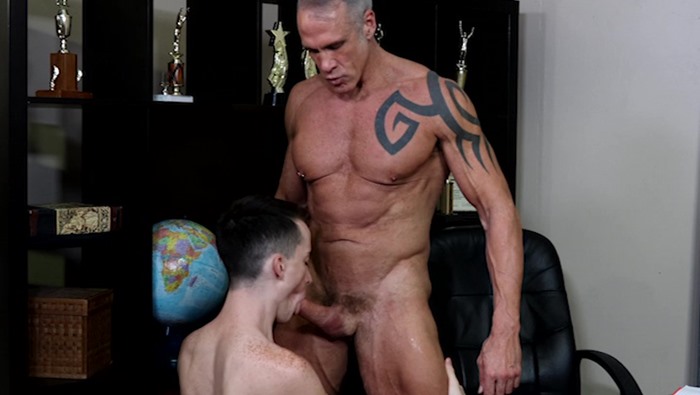 Alex and Nick talk in the locker room about the meeting they have with the principal, Dallas, who is Alex's stepdaddy. "Are you sure your stepdad isn't gay," Nick asks. "He married my mom," Alex answers. "That don't mean shit," Nick says. Later on, in the principal's office, Dallas tells Alex how much he and Alex's mom miss him now that he's away at college. While Alex responds, Dallas strokes his cock under the desk. Alex realizes something is going on and walks behind the desk to see. He massages Dallas's dick and makes out with him. Soon, Alex has Dallas's dick out and is sucking it. "No wonder mom wanted to marry you," Alex says. He bobs his mouth up and down on Dallas's hard cock, deep throating it and making him moan.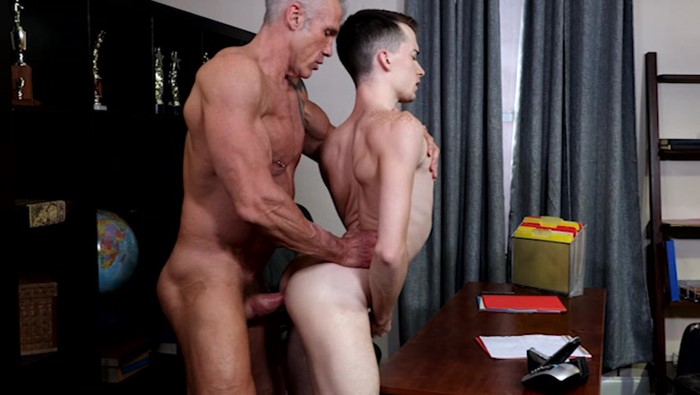 Alex feels like he's bonding with his stepdad now. He stands up and puts his cock in Dallas's mouth. Dallas strokes and sucks it and squeezes Alex's balls. "Eat that ass," Alex moans as Dallas positions him doggy style on his desk and rims his hole. Dallas fucks his stepson in standing doggy, stretching his manhole. He stretches Alex's hole even further in a round of mish on the desk that makes Alex pop. Alex begs for Dallas's big daddy load in his ass. Dallas pumps his ass harder and faster and fills it with cum. Alex gets dressed and leaves the principal's office. "Remember, mums the word," Dallas tells him.
Scene 4: Nick Milani and Dallas Steele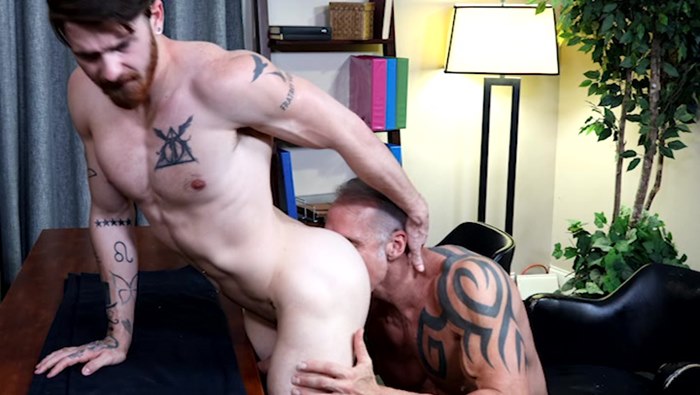 Later in the locker room, Nick and Alex talk about the principal. Nick walked in on them and can't believe he caught the principal fucking his stepson. Alex tells him Dallas's cock is huge and the sex was incredible. Nick wants to experience it and barges into the principal's office. Dallas is sitting there with his cock still hard. "I know exactly what you did and now I'm here to get mine," Nick tells him. Nick sits Dallas on the desk and sucks his hard cock. Dallas can't believe he's doing this again. "He didn't tell me it was this big," Nick marvels.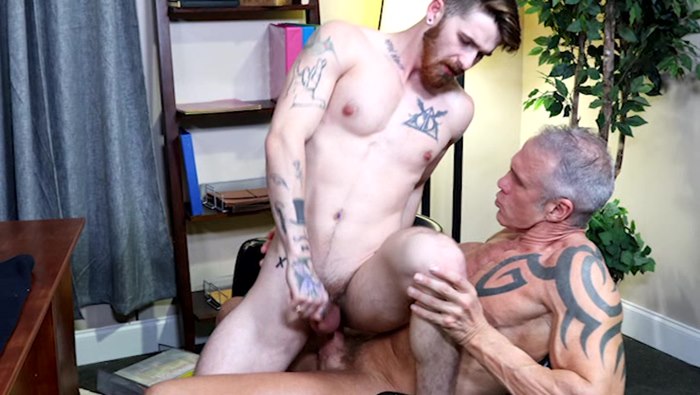 Dallas rims Nick's hairy manhole in standing doggy. "I want to be in that hole," Dallas tells him. Nick invites Dallas to spank his ass, turning him on even more. Nick sits on the principal's prick in reverse cowgirl and bounces up and down on it, riding it faster and faster. "I've been dreaming about your cock for years," Nick moans. Dallas positions Nick in standing doggy over the desk and drills his ass. "Fuck yeah," Nick moans. "That dick feels so good," Nick says. Dallas drills him in mish on the desk. Nick blows his load then drops to his knees for Dallas's spunk. Dallas pops in Nick's gaping mouth, leaving threads of cum draining from his beard.
Final Thoughts:
I recommend Gio Caruso's The Principal's Office, which stars Dallas Steele, Alex Meyer, Nick Milani, Aston Springs, Angel Ventura, Jake Marshall, and Scott Riley. Going to the principal's office usually means you're in big trouble, but for Alex Meyer and Nick Milani, going to Dallas's office means they're going to get his big dick. He fucks these two studious studs over his desk in standing doggy, finishing off with a big load on Alex and another in Nick's ass. Scott comes out to his uncle Jake, who really isn't his blood relative. Jake consoles him by stuffing his ass with his daddy dick and cumming all over him. Aston and Angel are stepbrothers who discover they are both gay. They tighten their relationship with a brotherly bang behind closed doors, keeping it all a secret from their unsuspecting parents.
https://xcritic.com/review/dallas-steele-the-principals-office/

Gay Porn Reviews | xCritic

John Boy

2022-03-27 17:37:39″