Feature Running Time:  3 hours 58 minutes
Date of Production: October 14, 2022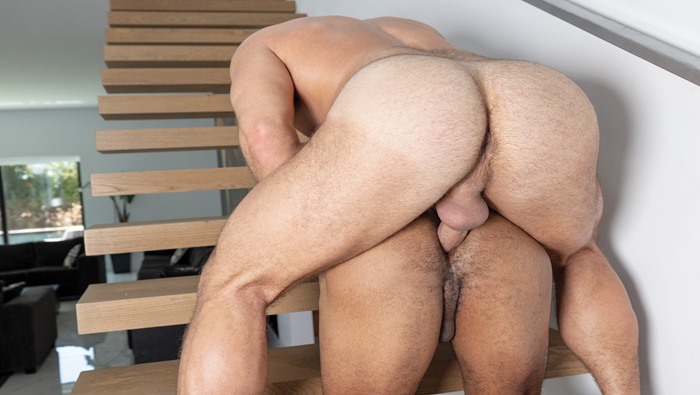 Genre: Bareback
Condoms: No
Audio/Video:  Shot in 4K Ultra HD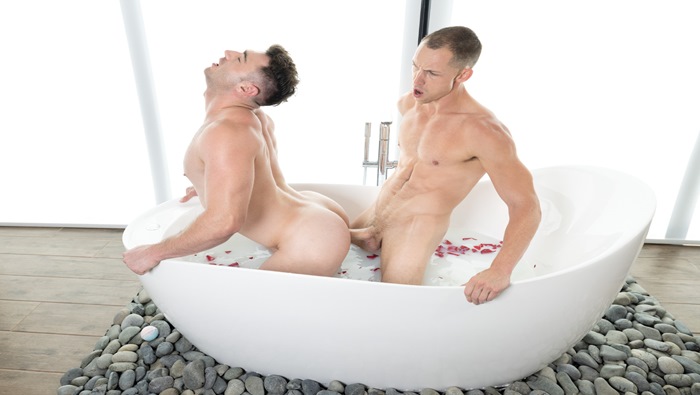 Director: Steve Cruz
Cast: Starring Falcon exclusive Beau Butler along with Michael Boston, Ethan Sinns, Derek Kage, Taylor Reign, Tony Genius
Bonus Scenes: No
Extras: Multiple Chapters; Slideshow; Cumshot Recap; Website Information
Overview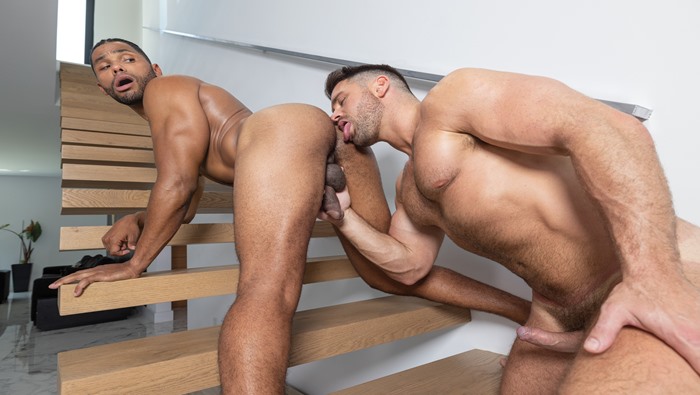 Give and Take shows us how much fun being versatile can be. In this flip fuck flick, six studs use their poles and holes in man-on-man sex on couches, stairwells, and showers in luxurious mansions. Award-winning director Steve Cruz turns the heat up in this four-hour film with slow-motion camera angles that put every man's cock and crevice in full view. I highly recommend this flick with its top-tier production. Falcon exclusive Beau Butler leads a sizzling hot cast in tongue-lashing, rimming, and barebacking down manholes. Joining Beau in the flip fucking pleasure are Michael Boston, Ethan Sinns, Derek Kage, Taylor Reign, and Tony Genius.
Scene 1: Michael Boston and Beau Butler
Beau and Michael have a lazy day planned, hanging out on the couch watching movies, and eating popcorn. But Beau can't keep his hands off his hard-bodied boyfriend and getting Michael's cock hard. These passionate lovers are the perfect match and explore each other's sweet spots, beginning with Beau's wet tongue licking Michael's tight ass. Beau wraps his lips around Michael's cock and squeezes his balls then flips him into a doggy-style fuck that steams the screen.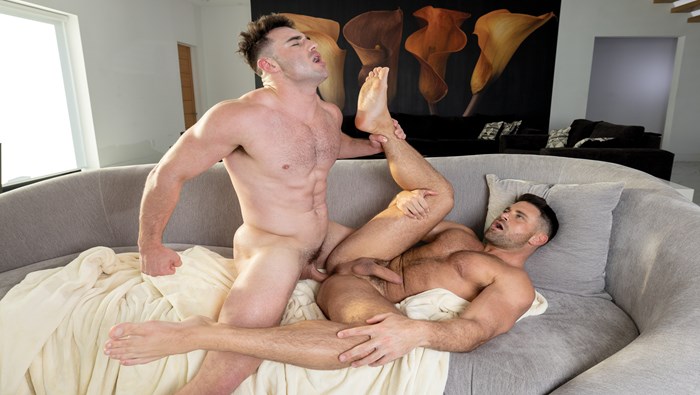 It's Beau's turn to get fucked in mish, and then Michael goes for a cowboy ride on Beau's prick. The camera zooms in close as Michael bounces on Beau's pole. Beau bangs Michael in mish until Michael's cock fires its load. Beau is soon to follow, blowing his wad all over Michael's balls.
Scene 2: Ethan Sinns and Derek Kage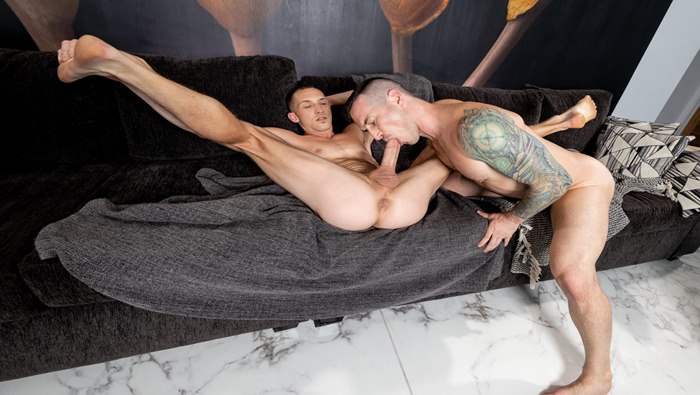 Ethan looks longingly at Derek who is sitting on the couch. He can't hold his attraction for the stud any longer, and he walks over and kisses Derek while reaching for his cock. These two engage ins some of the most passionate kissing in the flick, tonguing each other's mouths while stroking their cocks. Ethan's manhole is a tight turn-on as Derek spreads his ass cheeks open and reveals it to us. Ethan gags on Derek's dick, gorging on the taste of his foreskin and man meat. Soon, Derek flips roles and is the one sucking Ethan's cock, spitting and slurping on it when he deepthroats it and spreads Ethan's manhole open with his wet tongue.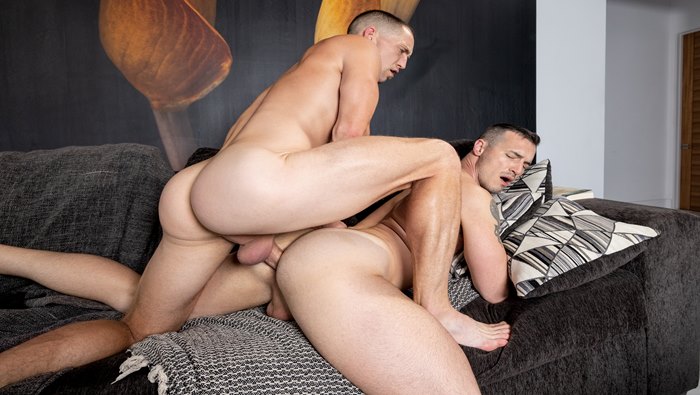 Ethan stays in doggy for a hard pounding from Derek who feeds Ethan's ass hole with a throbbing cock. The versatile Derek opens up for Ethan next, telling him "that hole is yours," as Ethan drills his ass in downward doggy. Ethan's ball-slapping downward doggy in Derek's hole is the hottest fuck of the flick. He owns Derek's man-ass in thrust after thrust. Ethan works Derek's dick, riding it cowboy style in a flip fuck that makes Derek cum all over Ethan's face. Once Derek licks Ethan's balls, Ethan pops all over Derek's face.
Scene 3: Taylor Reign and Tony Genius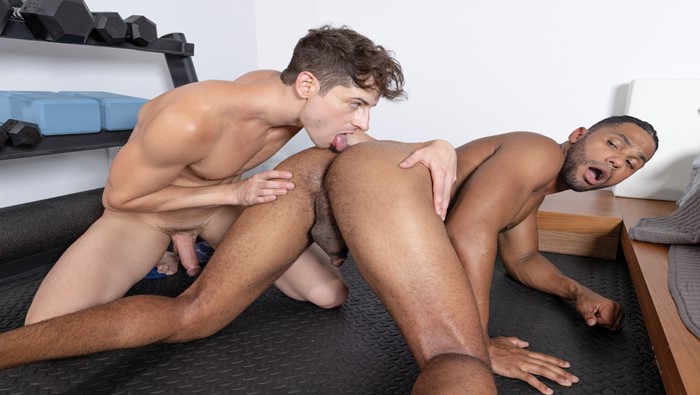 Tony enjoys a few laps in the pool while Taylor works out in the weight room. Once Tony steps out of the pool and dries himself off, he makes a beeline for Taylor, kissing him and squeezing his ass. Tony pulls Taylor's briefs off and sucks his dick in an insatiable oral feast that soon has Tony choking on Taylor's cock. Tony gets on all fours and shows Taylor his amazing ass. Taylor spreads Tony's ass cheeks open and tongues his hole. Taylor finger fucks Tony then drills his ass with a hard cock.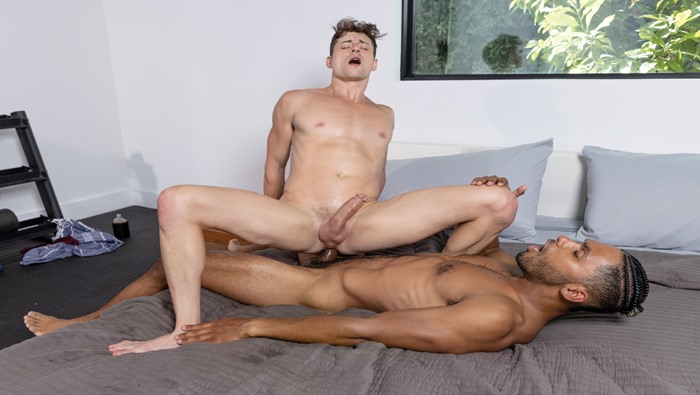 In a role reversal, Taylor sucks Tony's dick and then rides it cowboy-style. Tony pounds him back, slamming Taylor's man ass balls deep. Taylor wants more of Tony's tight ass, so he fucks it again, but this time in mish, making Tony pop all over himself in a deluge of cum. Taylor isn't far behind, pulling out and blasting his man juice on Tony's stomach.
Scene 4: Beau Butler and Tony Genius
Tony makes his way down the staircase in the buff to Beau's delight. He bends Tony over the stairs in doggy position and sucks his cock and balls from behind. Beau tongues Tony's hole and promises to open it up with his cock. Beau keeps his work as he pounds Tony's man-ass from behind, stuffing and stretching his hole on the stairs. The doggy-style close-ups of Beau's cock drilling Tony's ass are some of the hottest shots in the flick. Beau powers through Tony's hole in deep, hard thrusts.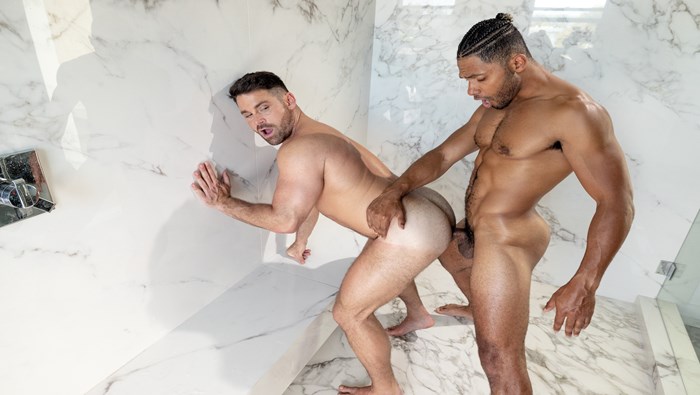 Tony takes control of the pleasure by sitting on Beau's dick and riding it cowboy style followed by reverse cowgirl. "Get that dick," Beau tells him. The sweaty pair take the heat to the shower for cock sucking and ass eating that leads to Tony fucking Beau's furry ass doggy style. Tony bangs Beau and then blows his load in Beau's mouth. Beau returns the favor with a blast of cum all over Tony's face.
Scene 5: Michael Boston and Ethan Sinns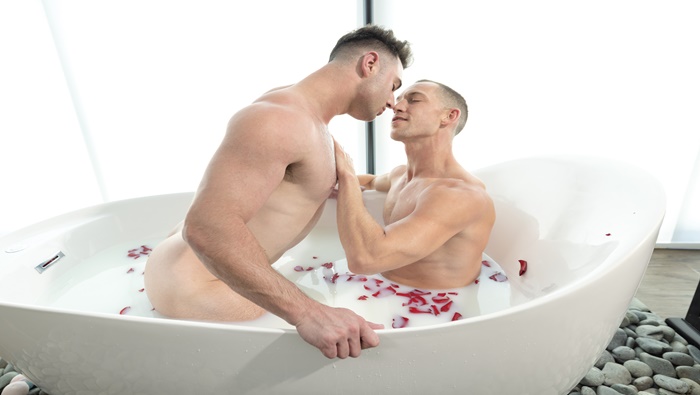 Rose petals float in a bubble bath as Michael and Ethan soak in the bubbles and drink glasses of champagne. They make out in the bubbles and then Michael gets on his knees to suck Ethan's pulsating prick. Ethan fucks Michael's throat and then tongue fucks Michael's round ass. Michael stays in doggy position in the tub as Ethan teases his manhole with his cock, rubbing it across Michael's hole.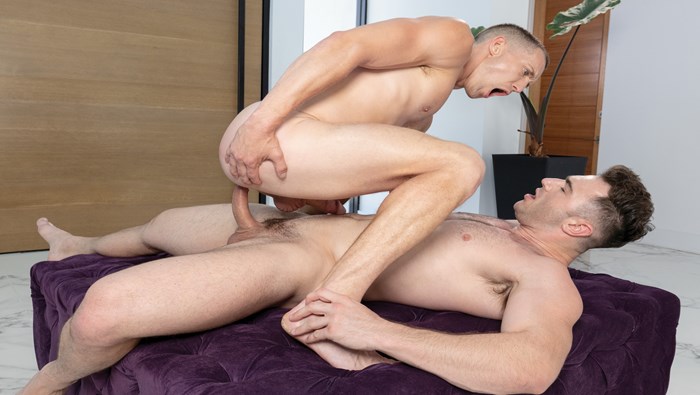 This hot couple leaves the tub and gets comfortable on a big ottoman where Ethan bounces on Michael's dick in an intense round of cowboy cock riding. Michael stuffs Ethan's hole in mish then feeds his cock to Ethan's hungry mouth. The guys flip fuck with Ethan banging Michael from behind until Ethan pulls out and shoots his load on Michael's ass. Ethan lies on his back for a round of mish with Michael's cock wedged in his ass. Michael pulls out and pops on Ethan's balls.
Final Thoughts: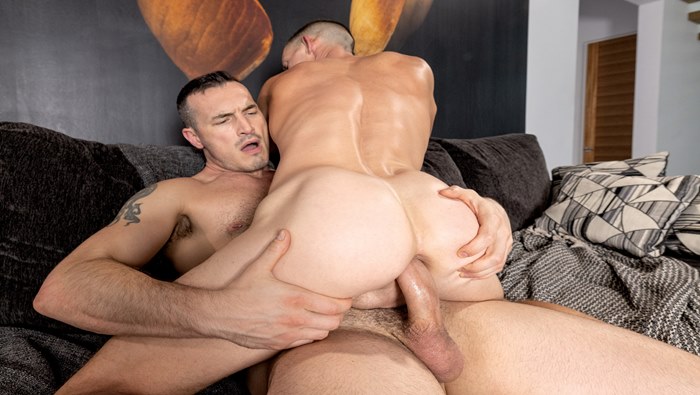 I highly recommend Steve Cruz's flip fuck flick Give and Take. The six versatile studs in this four-hour movie show how pleasurable it is to use your pole and hole in man-on-man dick duos. Falcon exclusive Beau Butler appears in two scenes, manhandling and getting manhandled by his buds Tony Genius and Michael Boston. Ethan Sinns and Derek Kage have the hottest flip fuck of the flick in a sizzling downward doggy romp that has Ethan's balls slapping Derek's tight ass. Taylor Reign and Tony Genius work each other's manholes out in versatile rounds of drilling that leaves both their holes stretched and coated in cum.
https://xcritic.com/review/give-and-take/

Gay Porn Reviews | xCritic

John Boy

2022-10-25 17:44:15″