Feature Running Time:  1 hour 28 minutes
Date of Production: 2021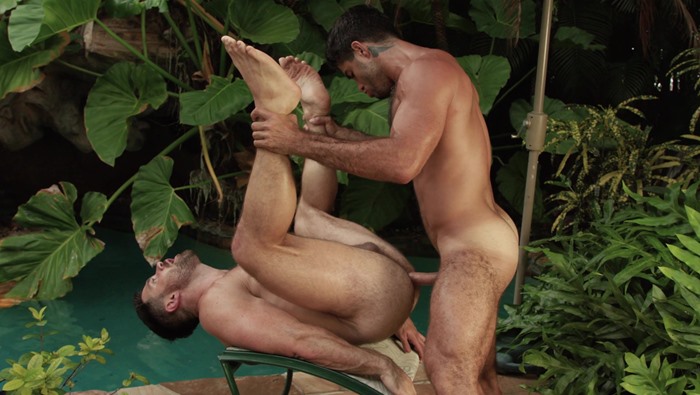 Genre: Bareback; Feature
Condoms: No
Audio/Video:  Shot in 4K Ultra HD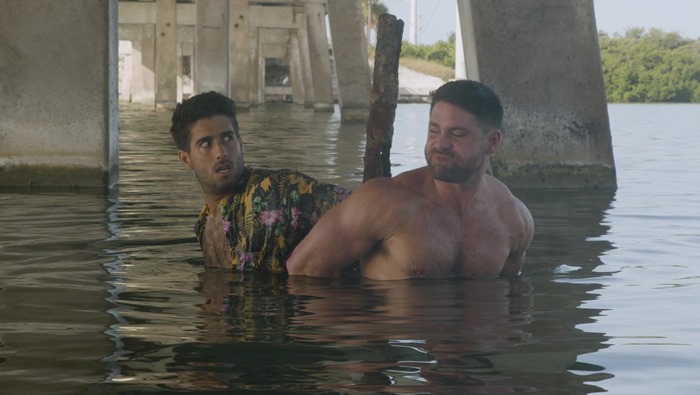 Writer/Director: Marc Macnamara
Cast: Starring Falcon/Naked Sword exclusives Beau Butler and Reign and featuring Diego Sans, Ricky Roman, Michael Boston and Damien Crosse
Bonus Scenes: No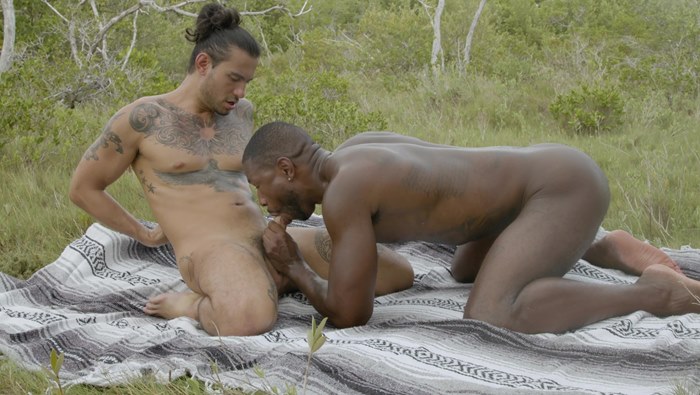 Extras: Multiple Chapters; Slideshow; Website Information
Overview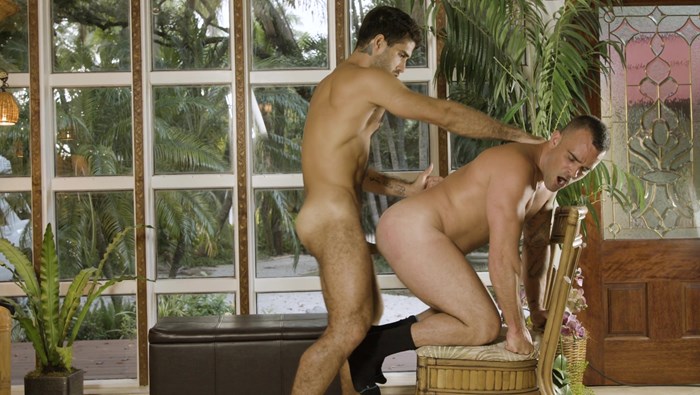 Everybody needs a get away to a tropical island with white sandy beaches and fun-filled gay resorts. That's just what couple Beau Butler and Diego Sans and their buddy Michael Boston have planned, but when they land on this secluded island paradise, their dream vacation unwinds into a twisted nightmare that has these hot boys running for their lives. With high-speed chases that lead to being held hostage, this is one get away these guys will never forget if they can get out alive. Starring Falcon/NakedSword exclusives Beau Butler and Reign and featuring Diego Sans, Ricky Roman, Michael Boston and Damien Crosses, Get Away is a flick I highly recommend. The sizzling sex pairings between these hard-bodied boys on a boat, in the woods, by the pool, and over a chair are super-hot. The storyline will get your adrenaline flowing and the jizz-filled sex scenes in the tropical heat keep you turned on from scene to scene. A surprise twist reveals who gets away in the end.  
Scene 1: Michael Boston and Reign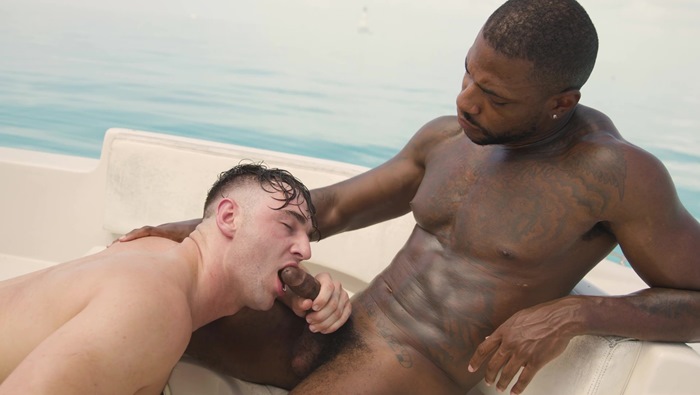 Beau, Diego and Michael land in paradise for their get away trip on a beautiful island. They've booked a house for their stay because a popular gay resort is full. But everything is not what it seems. They take off in a rental car to the house and almost run over island locals Reign and his hitchhiking companion Ricky. Michael likes what he sees in hot stud Reign and flirts with him in the street. Michael's charm lands him on an excursion on Reign's boat while Diego and Beau drive off to the house. Reign and Michael boat out to a good spot on the water near an old lighthouse. As Reign throws the anchor, he tells Michael of a local legend about a gold-plated conch shell at the bottom of the lighthouse. If you touch it, you'll have the best sex of your life. Before Reign can warn him, Michael jumps in to find the shell. He brings it back to the boat and hands it to Reign. "You're not supposed to take it with you," Reign tells him. "I'll throw it back once I know the legend is true," Michael says.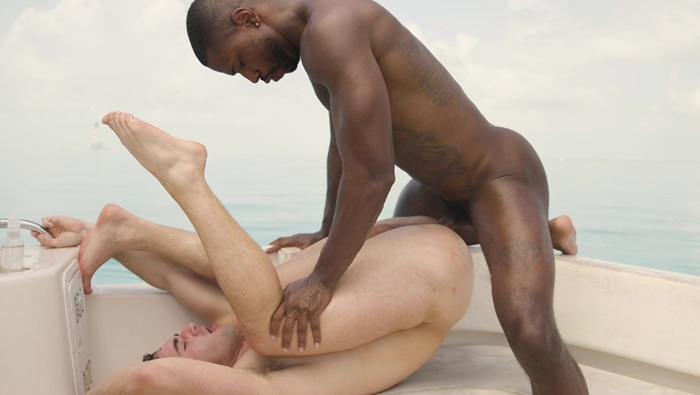 They kiss and strip out of their clothes. Michael drops to his knees and gobbles Reign's dick, gagging on it while he deep throats it. "Suck my dick, bitch," Reign demands. Michael does a naked handstand and moans in pleasure as Reign rims his manhole. He fucks Michael in mish. "Fuck that ass feels so fucking good." Reign drills Michael's hole balls deep. Michael sucks the taste of his ass off Reign's cock then sits on his face for 69 fun followed by cowboy and reverse cowboy. Michael is about to explode in cum.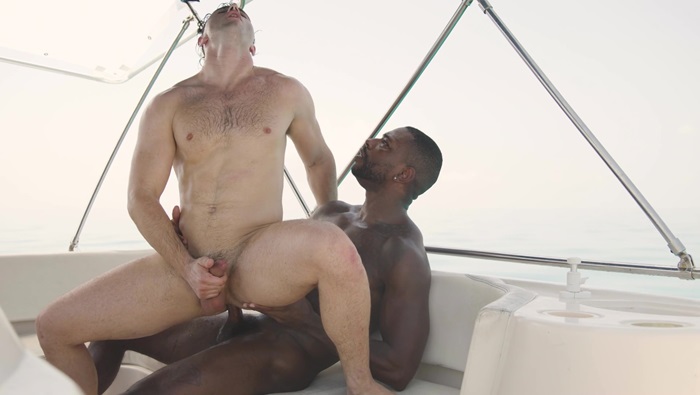 He rides Reign's dick in reverse cowboy then shoots his load all over Reign's thigh. Michael climbs off and sucks Reign's prick until he blows his load, which Michael sucks up. After having the best sex of his life, Michael dives back into the water to return the golden conch shell only to see Reign speed off in the boat, abandoning him in the middle of the ocean.
Scene 2: Diego Sans and Beau Butler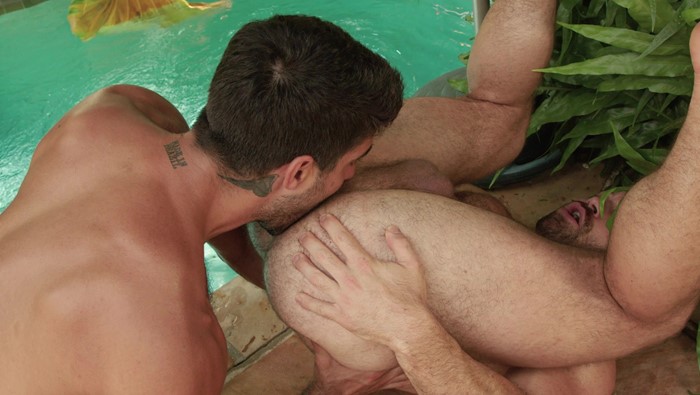 Diego and Beau soon realize they have been scammed when they arrive at the gay resort only to find an abandoned, crumbling and fenced-in hotel with a fully drained pool. That's not what the pictures looked like on the website. This place was supposed to be full of guys partying. Beau vows to post the truth about this place on social media as soon as they can find cell service on the island.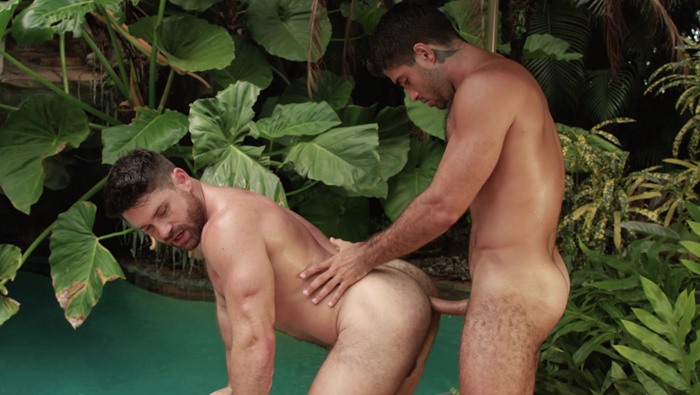 It's late evening and Diego and Beau are worried because Michael has not shown up at the house. They go walking in search of him but are almost run over by a van. They can't make out who's driving but they plot to find Michael and get off this island in the morning. By morning, Diego is beginning to hallucinate, seeing weird reflections of himself in the mirror. Beau takes him outside to get a load off and relax at the pool. It's time to let the stress and pressure all go. They massage each other's cocks in between kissing. Diego sits with one foot in the pool as Beau strokes and sucks his cock. "You like that fucking cock," Diego asks him. Beau spreads his hairy man ass open, inviting Diego's wet tongue inside. "I want that big uncut cock so bad," Beau begs. Diego gives Beau the cock he wants, banging his ass in standing doggy.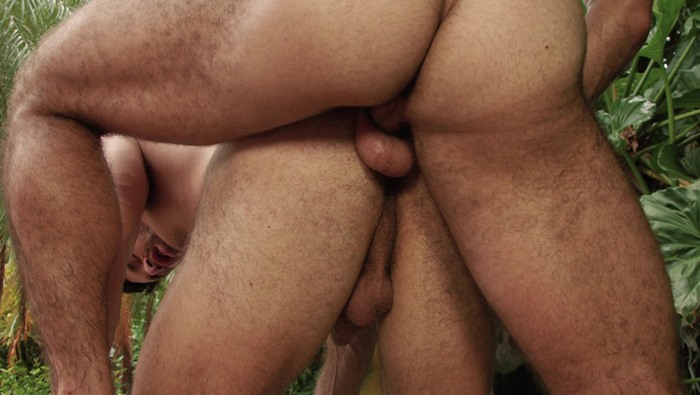 We get one of the hottest shots of the flick when Diego puts a leg up and stuffs Beau's hole with ball-banging thrusts. Beau rides cowboy style then gets pinned in mish for deep drilling. Beau yells out "fuck me" just as he pops streams of hot jizz out of his cock. Diego pulls out and shoots his load all over Beau's chest and face.
Scene 3: Ricky Roman and Reign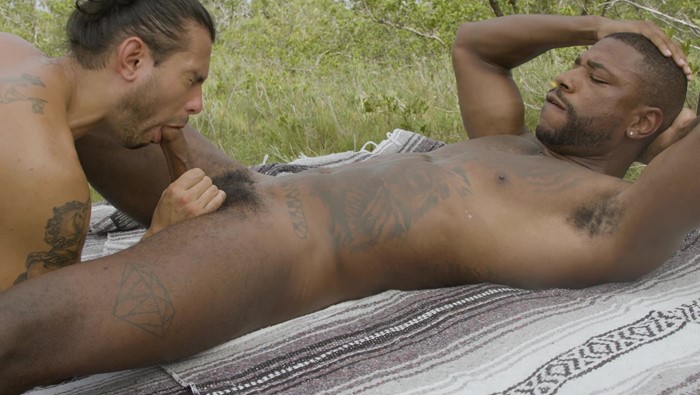 After a satisfying fuck, Beau and Diego go back inside the house. Moments later, Diego is startled at the front door when Reign and Ricky burst in and kidnap them both. They regain consciousness and find themselves tied to a stake in the ocean under an old bridge. Beau just knows they're going to die. In his exasperation and with a burst of energy, Beau breaks them both free of the ropes. They make it back to the house to find Reign and Ricky in the middle of ransacking it. Beau and Diego sneak to their car to make a run for it but are followed in a high-speed chase by Ricky and Reign, who is wielding a gun. There's nowhere left to run. Diego and Beau are cornered at an old, damaged bridge. Beau pushes Diego over the edge, telling him to get help. Beau surrenders with his hands up in the air and is taken hostage by Ricky and Reign back to the car. But everything is not as it seems when Ricky smirks and tells Beau, "You're doing so good." It seems Beau, Ricky and Reign are in on this whole twisted get away. The three guys drive off and see Michael, who was able to swim back to shore, walking down the street. Beau gets out of the car and disposes of Michael while Ricky and Reign drive off.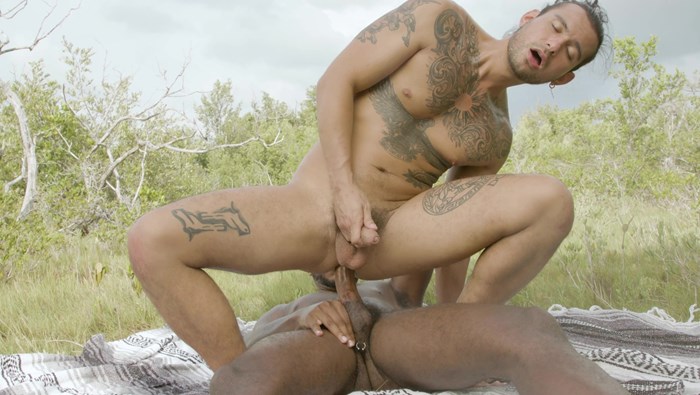 Ricky is jealous that Reign fucked Michael on the boat, and he wants his turn with his lover. They pull over and walk deep into the woods to fuck. Reign spits all over Ricky's dick, sucking it and licking Ricky's balls. Ricky has his way with Reign's prick, wrapping his lips around it, making it hard then deep throating it. "This feels so fucking good," Reign moans. "Give me that ass," Reign demands. He kisses Ricky's hole and fingers it, getting it ready for his cock. Reign fucks him doggy style then Ricky takes control, going for a reverse cowboy ride on Reign's cock. Reign spoon fucks Ricky until Ricky's cock pops, shooting cum all over himself. Ricky sucks Reign off, catching Reign's big load in his mouth.
Scene 4: Damien Crosse and Diego Sans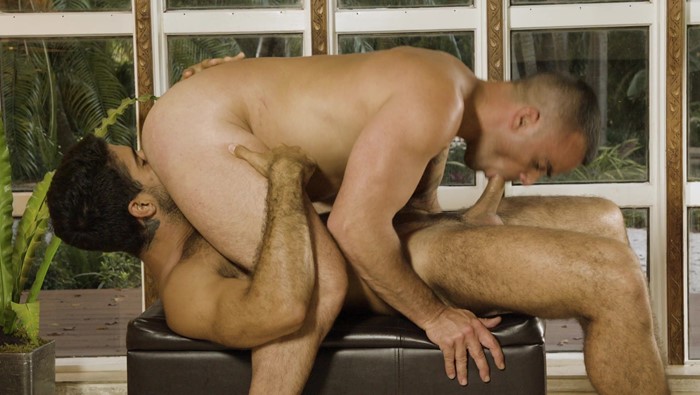 Diego swims safely to shore after making his harrowing escape. He finally has a cell phone signal. A text shows up from Boss with an address. Diego runs to find that location, sprinting through a graveyard, trying to find his way. There are signs littering headstones telling Diego, "You're dead to me." He makes it to the address and tries to make a call to the police but is interrupted by Damien who gives Diego a round of applause. He invites Diego to the table for a seafood dinner. "You thought you would get away with it," Damien says. "You cheat. Liar. You fucked your boyfriend's best friend," Damien adds. Damien explains that Beau hired him to make Diego pay for what he did. This whole weekend is a get away of revenge.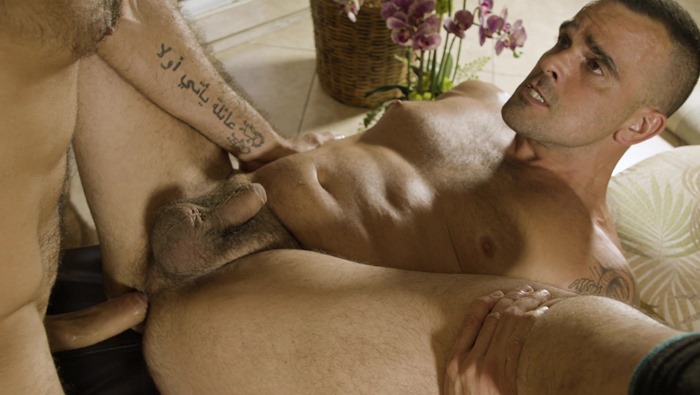 Diego tries to escape, smashing Damien over the head with a bottle. The two throw punches at each other and Diego pins Damien to the ground, demanding answers. The revenge plot is fully hatched but Damien says he can help Diego get a flight off the island. He can help him get away now that Beau has gotten his money's worth and scared the crap out of Diego. But before he lets Diego go, Damien squeezes Diego's cock and says "Let's see what this dick's about." He takes Diego inside and gives him the oral treatment, eating his meat like a starving cock sucker. Diego returns the favor by tonguing Damien's hole and fucking him doggy style over a chair. The guys move to 69 with Damien on top, gagging on Diego's hard cock. Damien turns over onto his back and holds his legs open in mish as Diego plows through his hairy hole. The greedy Damien begs to taste Diego's cum. Diego pulls out and blasts his spunk in Damien's mouth. Damien then blows his massive load. Within seconds of their cum-soaked finish, the sound of a helicopter is heard landing outside. "That's your get away," Damien says.
Final Thoughts: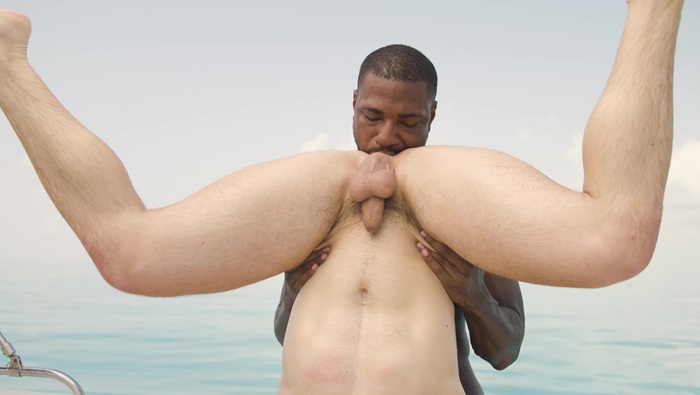 You've heard of revenge porn, but how far will a jilted lover go to make his partner pay for what he's done? That answer unfolds in Get Away, a mystery-filled flick full of hot boys and hot sex on a tropical island paradise. The action-packed, jizz-covered scenes star Falcon/NakedSword exclusives Reign and Beau Butler and feature Diego Sans, Ricky Roman, Michael Boston and Damien Crosse. This island get away is a movie I highly recommend. The storyline is filled with fiery man-on-man couplings that climax in threads of hot cum signaling satisfaction. Reign and Michael bang on a boat in the opening scene and Diego and Beau fuck at the pool in one of the hottest ball-banging scenes of the flick. A romp in the woods between Reign and Ricky helps Ricky mark his territory and a final showdown between Diego and Damien leads to a bold get away.
https://xcritic.com/review/beau-butler-get-away/

Gay Porn Reviews | xCritic

John Boy

2022-03-19 09:41:50″