Feature Running Time: 2 hours 26 minutes
Date of Production: 2022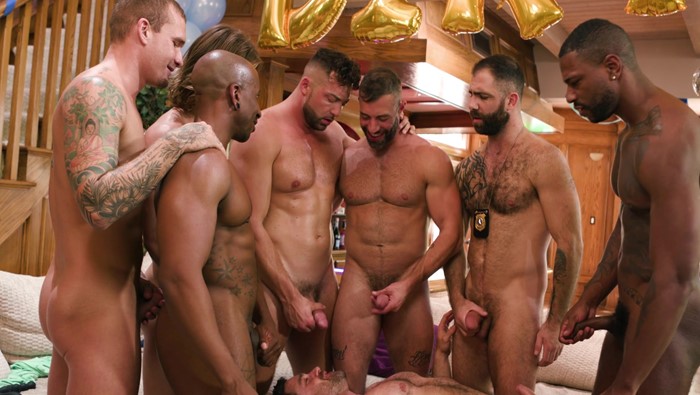 Genre: Bareback; Feature
Condoms: No
Audio/Video:  Shot in 4K Ultra HD
Director: Tony DiMarco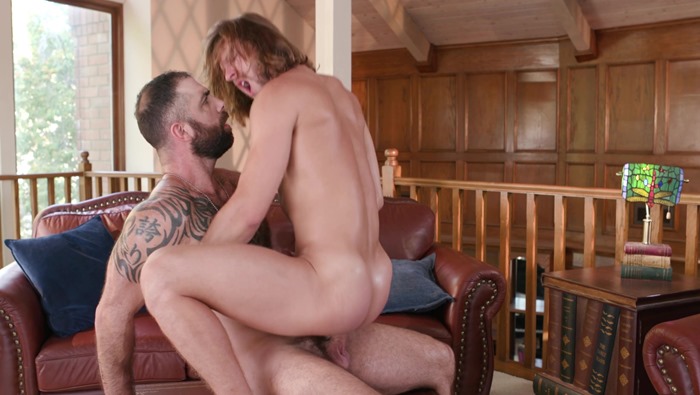 Written By: Ben Rush
Cast: Exclusives Beau Butler, Reign, Cole Connor, and Max Konnor, with Austin Avery, Lucca Mazzi, Isaac X, and Jake Nicola
Bonus Scenes: No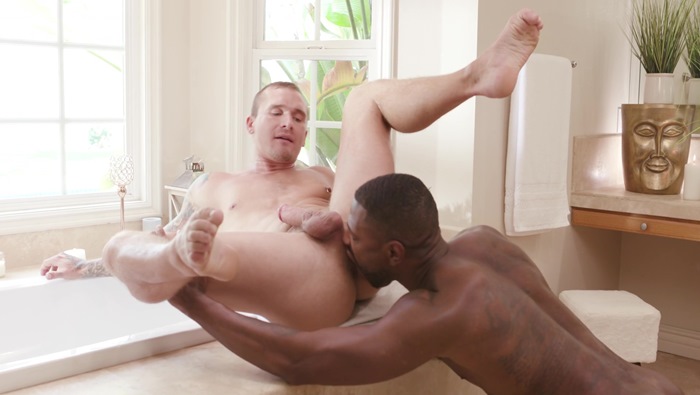 Extras: Multiple Chapters; Slideshow; Website Information
Overview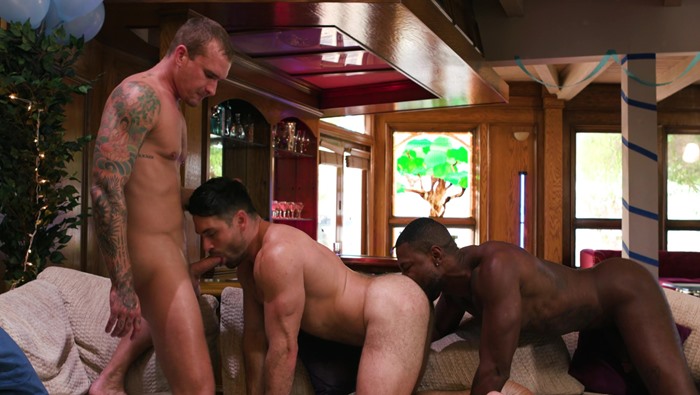 What's better than a 30th birthday bash? How about a 30th birthday bang with your big dicked best friends with benefits! That's what happens in Dirty 30 Bareback Birthday, and I highly recommend it. In the flick, Cole Connor arranges a surprise birthday party for his boyfriend, Beau Butler, at a private ranch house for the weekend. What ensues is a weekend bang celebrating Beau with throbbing cocks, greedy mouths and eager manholes. Reign, Cole Connor, Max Konnor, Austin Avery, Lucca Mazzi, Isaac X, and Jake Nicola heat up Beau's weekend with an opening oral orgy where no cock goes unsucked followed by pairs of 1-on-1 man to man sessions that leave throats and ass holes fucked and plugged with cum. The icing on the cake comes after Isaac and Reign double team Beau's hole and all the guys assemble to coat him in a celebration of cum.
Scene 1: Austin Avery and Jake Nicola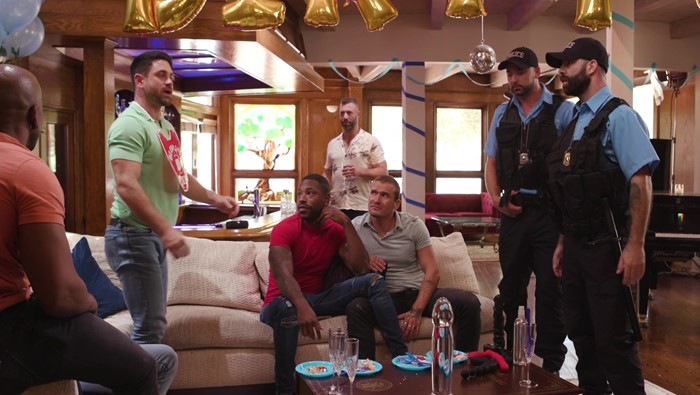 Cole will do anything for his boyfriend, Beau, especially for his birthday weekend. He rents a ranch house to celebrate Beau's 30th birthday. "Anything for you, babe," Cole tells Beau. He walks Beau into the ranch house, covering his eyes. "Surprise," everybody yells. Beau is surprised to see Reign, Max, Isaac, and Austin. They tell him it's time to open presents. The first one is a big glass dildo. Then another dildo, a penis pop, a blowjob bib and a butt plug. The guys raise a toast and bring out a special birthday cake.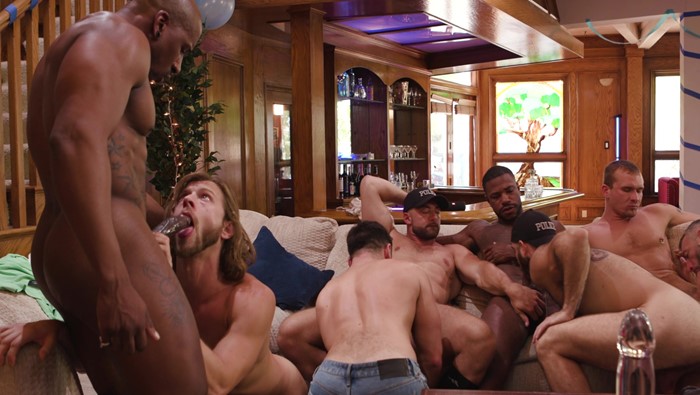 Beau is having the time of his life as he blows out the candles on the cake and drinks champagne. In the middle of all the excitement, two police officers, Jake and Lucca, knock on the door. They received a noise complaint from a neighbor and they're going to take Beau downtown. Just when Beau thinks he's being arrested, Cole turns on the music and Jake and Lucca start a strip show. Before long, all the boys have stripped out of their clothes and are sucking every cock in the room. Each reveler gets his turn sucking his buddy's hard dick. Beau gets his share of birthday dick, gagging on as much cock as he can grab hold of.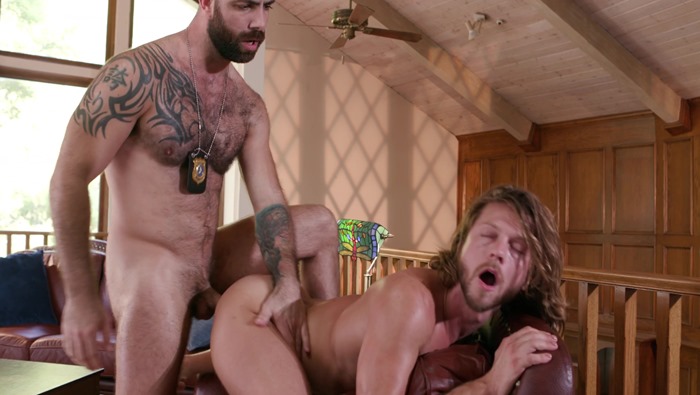 Austin leads Jake off to a quiet area of the house, saying, "There's a party in my ass hole. You coming,"? "Fuck yeah," Jake answers. Austin worships this police officer's cock, dropping to his knees and choking on it. "Go to work boy," Jake tells him. He spits in Austin's mouth then stuffs it with dick. Austin sucks Jake's balls then deep throats his cock. "Spread that ass and let me see that hole," Jake demands. Austin gets on all fours in the chair as Jake tongue fucks his tight manhole, spanking his ass cheeks while he rims him. "Give me that dick," Austin begs. Jake enters Austin, thrusting his cock deep inside, drilling him doggy style on the chair. Austin gets his hole stretched out in cowboy as he bounces up and down on the cop's cock. Jake manhandles Austin's hole in mish until Austin blows his load. Jake fucks and fills Austin's ass with cum then watches Austin squeeze it out.
Scene 2: Max Konnor and Cole Connor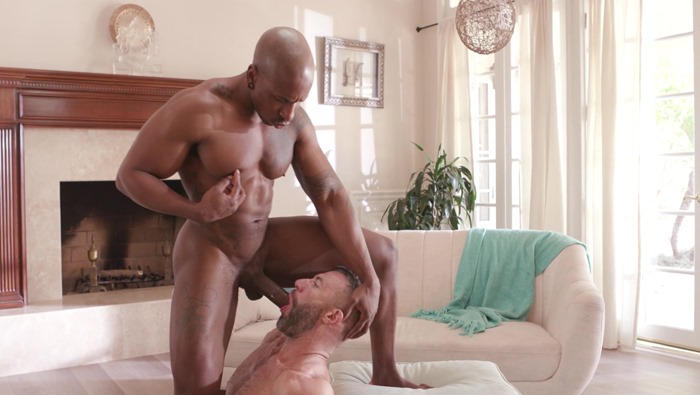 "Fuck yeah, suck that dick," Max tells Cole. These two have found a quiet corner of the house for some cocksucking. Max fucks Cole's throat. "You like dick in your throat," Max asks Cole. "Fuck yeah," he answers. Max beats Cole's face with his dick then fucks his mouth again. Cole wraps his lips around Max's balls and swallows them before deep throating his cock. "Stroke that dick," Max says. Cole gets skull fucked while lying on the couch. "Let me taste that ass," Max demands. Cole gets on all fours on the couch for a good rimming. Max spreads Cole's ass cheeks open and drives his tongue deep in his ass. "Oh fuck, yeah" Cole moans. "Fucking taste so good," Max says while tongue fucking Cole.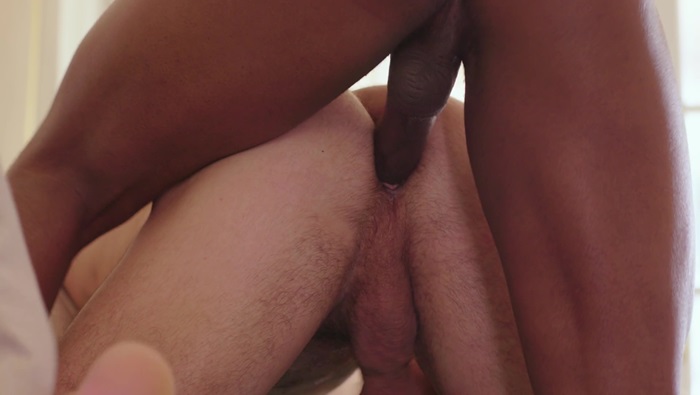 Cole stays on all fours for a deep doggy bang. "Take that ass," Cole tells Max, who pumps his ass hard and deep. Max pulls out and stuffs his cock down Cole's throat. It's not long before Cole is shooting his load when Max rams him in mish. Max busts his nut, pulling out and blasting his load all over Cole's cock.
Scene 3: Beau Butler and Lucca Mazzi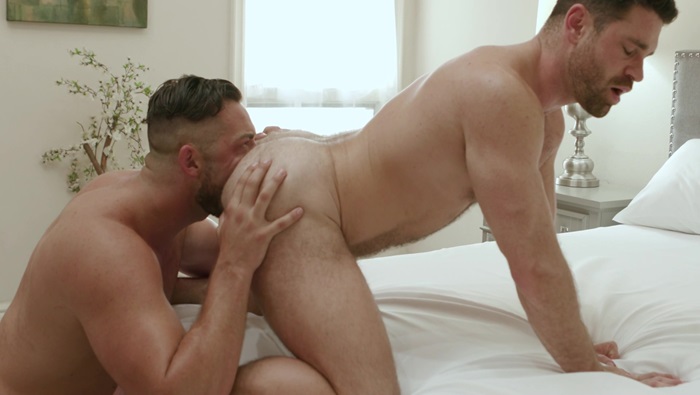 The birthday boy finds some alone time with Lucca. They go to one of the bedrooms where Beau drops to his knees and wraps his lips around Lucca's cock. "Take all that dick," Luca says. Beau sucks Lucca's cock and licks his balls then kneels doggy style on the bed for a tongue lashing in his ass from Lucca. Lucca spreads Beau's cheeks and eats his hole then gives the birthday boy a gift of cock up his ass doggy style.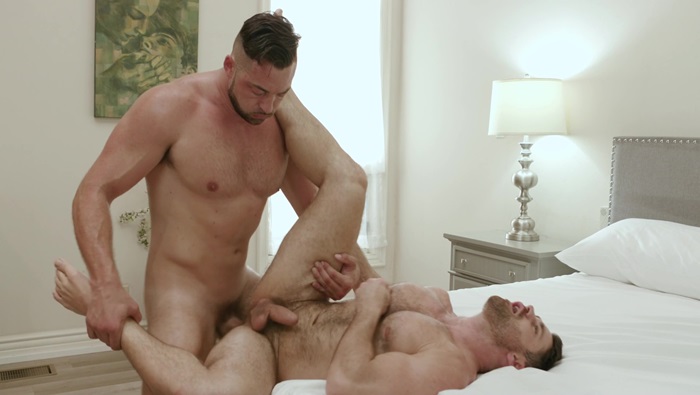 We get a hot view of Beau's ass getting pounded balls deep by Lucca's hard cock. Beau lies on his back in mish and Lucca uses his police pole to fuck Beau's hole. Luca replaces the pole with his own prick and pounds Beau's tight, hairy man-ass in mish. Beau takes control by riding Lucca's cock cowboy style until Lucca pops. Beau bounces up and down on Lucca's pipe then shoots his hot wad of cum all over Lucca's stomach.
Scene 4: Reign and Isaac X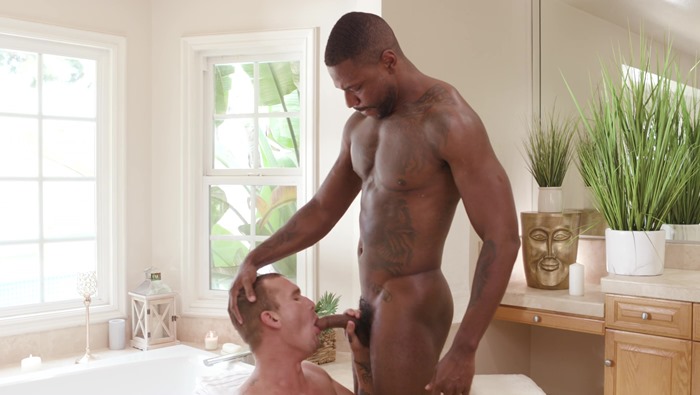 Reign and Isaac are party animals who can't keep their hands off each other. They hurry into the bathroom, kissing and caressing each other. "Suck me first," Reign tells Isaac. He drops to his knees and worships Reign's prick, slurping and sucking and stroking it in and out of his mouth. "Keep your mouth on there," Reign tells him when his cock slips out of Isaac's mouth. "Your dick is so fucking big," Isaac moans as Reign beats Isaac's face with cock. Reign spitballs Isaac then drills his throat.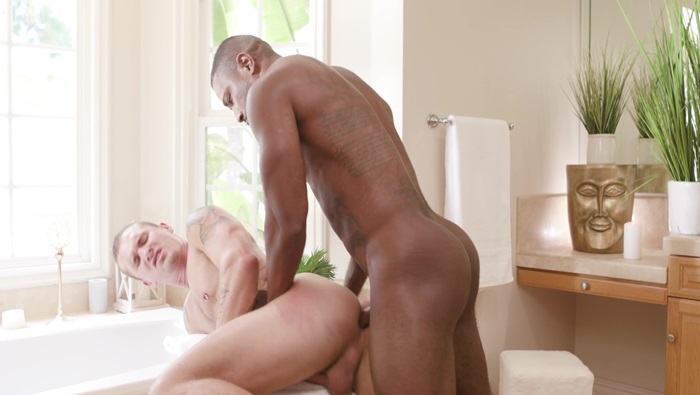 Isaac sits on the tub enjoying Reign's hot mouth on his cock. Reign strokes and sucks Isaac's dick then squeezes and licks his balls. "Suck that fucking dick," Isaac tells his friend with benefits. Reign is eager to rim Isaac's ass hole. He spreads his cheeks open, and tongue fucks him. "That's a nice hole," Reign tells him. "You want my dick in it," Reign asks. "Spit on my fucking hole," Isaac tells Reign. Reign fucks Isaac's ass doggy style over the edge of the tub. "Fuck me," Isaac screams in pleasure. Reign doesn't let up, fucking him hard and fast. "It's all fucking yours," Isaac moans, wanting Reign to own his ass. "Ride this fucking dick," Reign tells him. Isaac goes for a cowboy ride on Reign's cock, stretching his hole. Reign slaps him and takes his hole over the sink in mish. "Give me that fucking dick," Isaac begs. Reign pulls out and shoots ropes of cum directly in Isaac's greedy mouth. Isaac sucks and swallows then pops all over himself.
Scene 5: Reign, Max Konnor, Austin Avery, Jake Nicola, Beau Butler, Isaac X, Cole Connor, and Lucca Mazzi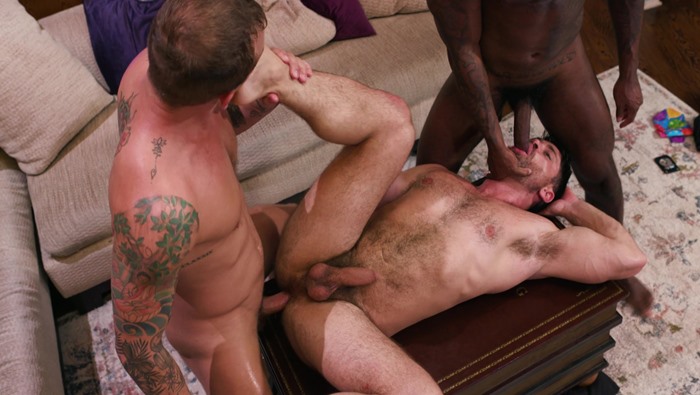 Beau goes back to the living room to finish the cake. Reign is the first to join him and adds his cock to Beau's birthday menu. Beau sucks Reign's dick then spreads icing all over it and eats it. Reign eats Beau's ass and tells him to spreads his cheeks and open his hole. Reign drives his tongue and thumb in Beau's ass, opening it up even further then he spreads icing on Beau's hole and licks it up.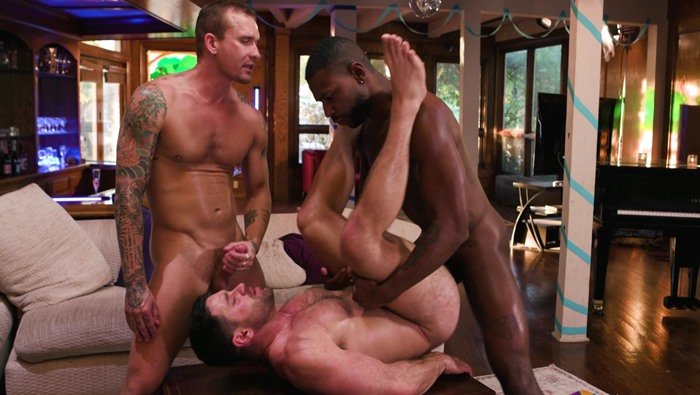 Isaac walks in, dragging his cock across the cake and stuffing it in Beau's mouth while Reign eats his hole. Beau is in a sandwich of pleasure with Isaac's cock in his mouth and Reign's tongue in his ass. Reign replaces his tongue with his cock, fucking Beau doggy style. "Please give me your cock," Beau screams out as Reign rams him. Beau and Isaac trade places with Isaac fucking Beau in mish while Reign fucks Beau's mouth. The guys spin Beau around like a top and Isaac penetrates Beau's ass next. "Baby, give me that cock," Beau says. Reign and Isaac spin Beau around again and again on the table, punishing his ass hole with their hard dicks. They blast him with cum from both ends with Isaac coating Beau's face with jizz and Reign filling Beau's ass with cum. "Push that cum out," Reign demands.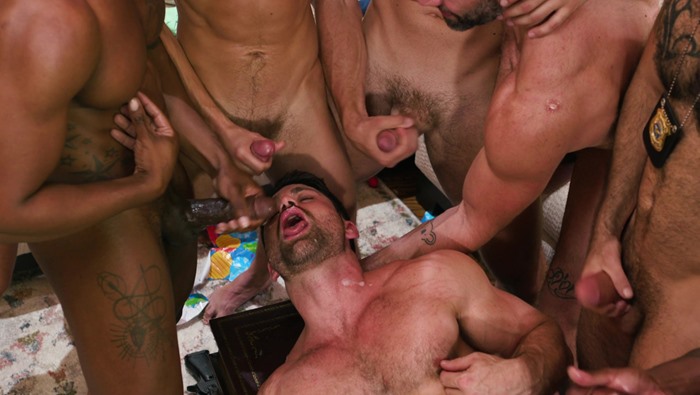 Cole, Lucca, Jake, Austin and Max show up, offering more icing on the cake. They stroke their dicks and blow their loads all over Beau, coating him in a celebration of cum for his 30th birthday.
Final Thoughts:
Beau Butler is the center of attention in a surprise birthday weekend that leaves his ass smeared with cake, fucked by cock, then plugged with cum. I highly recommend Dirty 30 Bareback Birthday. In this flick, Beau's boyfriend, Cole Connor, orchestrates a cock-filled party at a private ranch house with their best friends. Reign, Max Konnor, Austin Avery, Lucca Mazzi, Isaac X and Jake Nicola celebrate the birthday boy with cock-sucking hookups, an oral orgy, and hairy manhole openings that make this party a sweaty session of satisfaction. After an all-out oral assault, the boys separate into hot pairs for one-on-one sucking and fucking around the house. They come back together for a celebration of cum in honor of the birthday boy, blasting him with their hot loads.  
https://xcritic.com/review/dirty-30-bareback-brithday/

Gay Porn Reviews | xCritic

John Boy

2022-03-29 20:24:12″