BEVERLY HILLS, Calif. — When you are one of adult's biggest brands — in every measurable sense — you get to show off.
Last night, Pornhub commandeered one of the most iconic midcentury modern architectural jewels in the world, the Sheats-Goldstein House high aloft Beverly Hills and overlooking all of Los Angeles, and threw the kind of bash that signals to the world you are, and have been for a long while, the world's most popular tube site.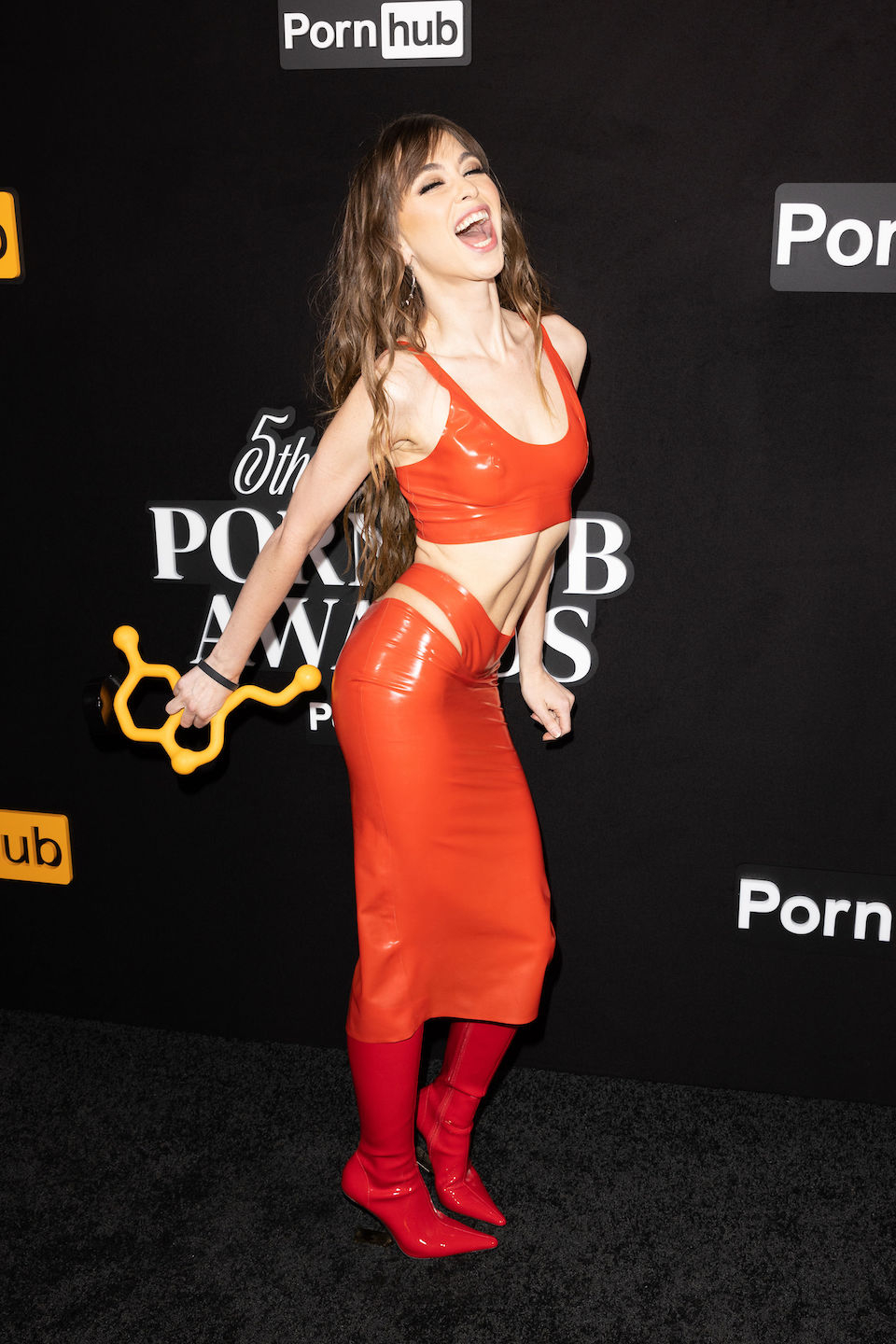 This year's edition of the Pornhub Awards, the fifth since the brand started celebrating the top performers and creators according to its numbers, had a non-traditional format: the winners were announced via a short video posted online yesterday at 8 a.m., which was followed at 10 p.m. by a lush celebration — decidedly not a typical "awards show" — which extended until late into the California summer evening.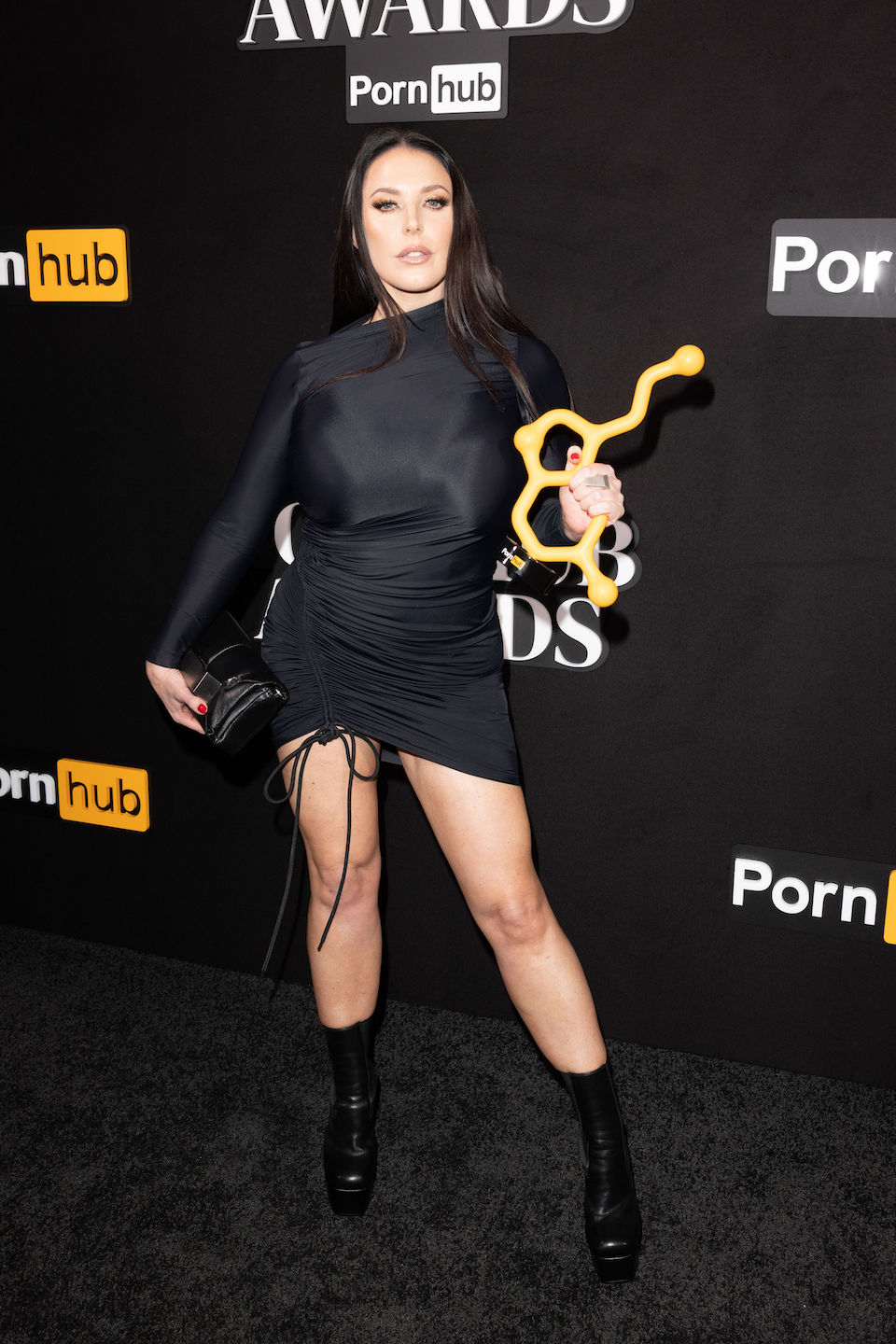 The party was envisioned as a celebration of "the biggest and best" personalities, channels and networks, and no expense was spared: guests were directed to a location somewhere in the hills north of the Sunset Strip, where a military-precision cadre of vans escorted by motorcycles drove them to the discreet, almost hidden entrance of the Sheats-Goldstein House, and were then taken in speedy golf carts to the entrance of the private party venue within the compound.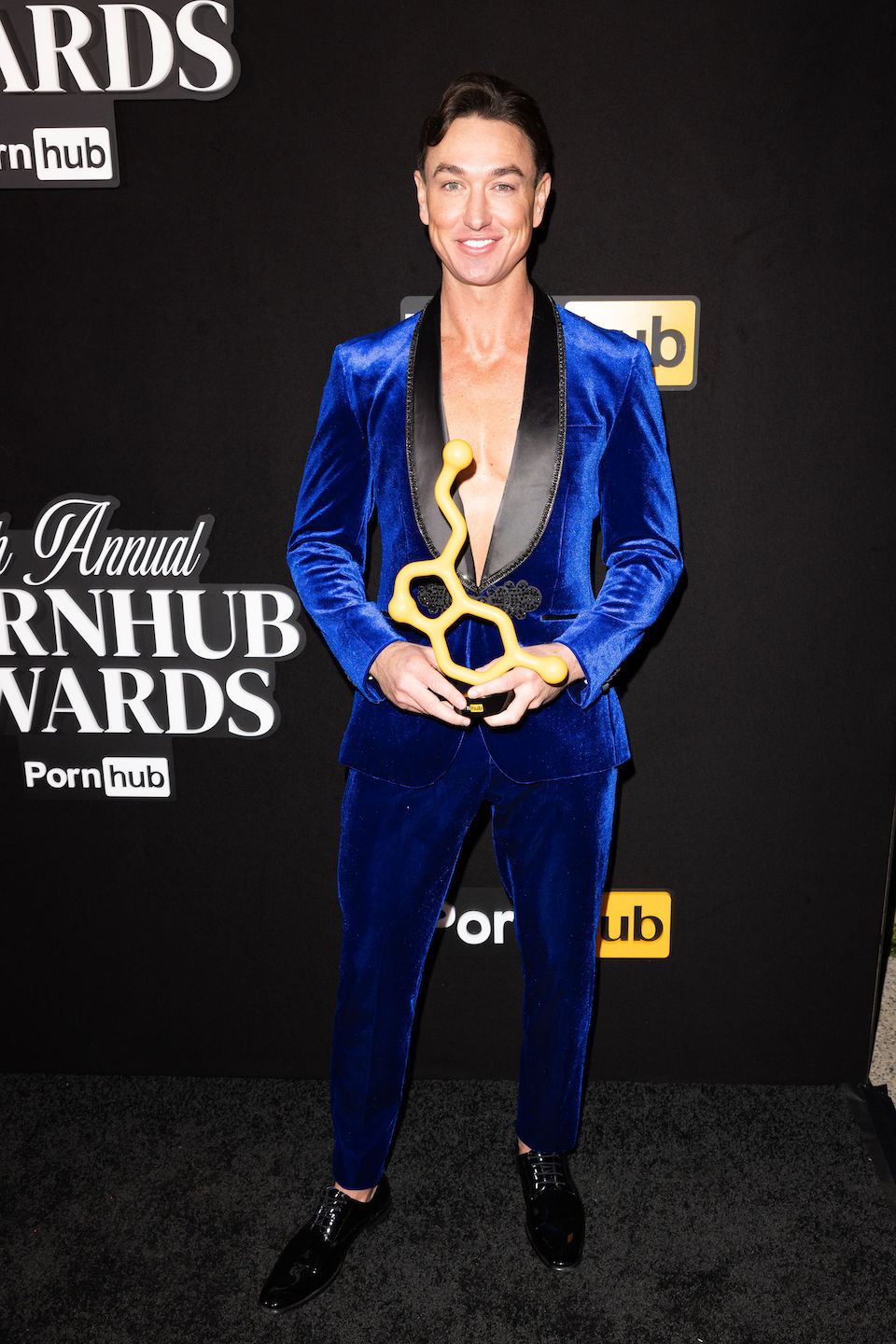 The venue is usually known as Club James, named after the home's unmistakable owner, colorful Los Angeles personality James Goldstein, who made an appearance at the party in his signature personal fashion.
But for this perfectly seasoned summer evening, the luxe New York event producers hired by Pornhub for the occasion, Barlow & Sons, turned Club James into "Club Brazzers," as the yellow neon sign announced to those entering the precinct.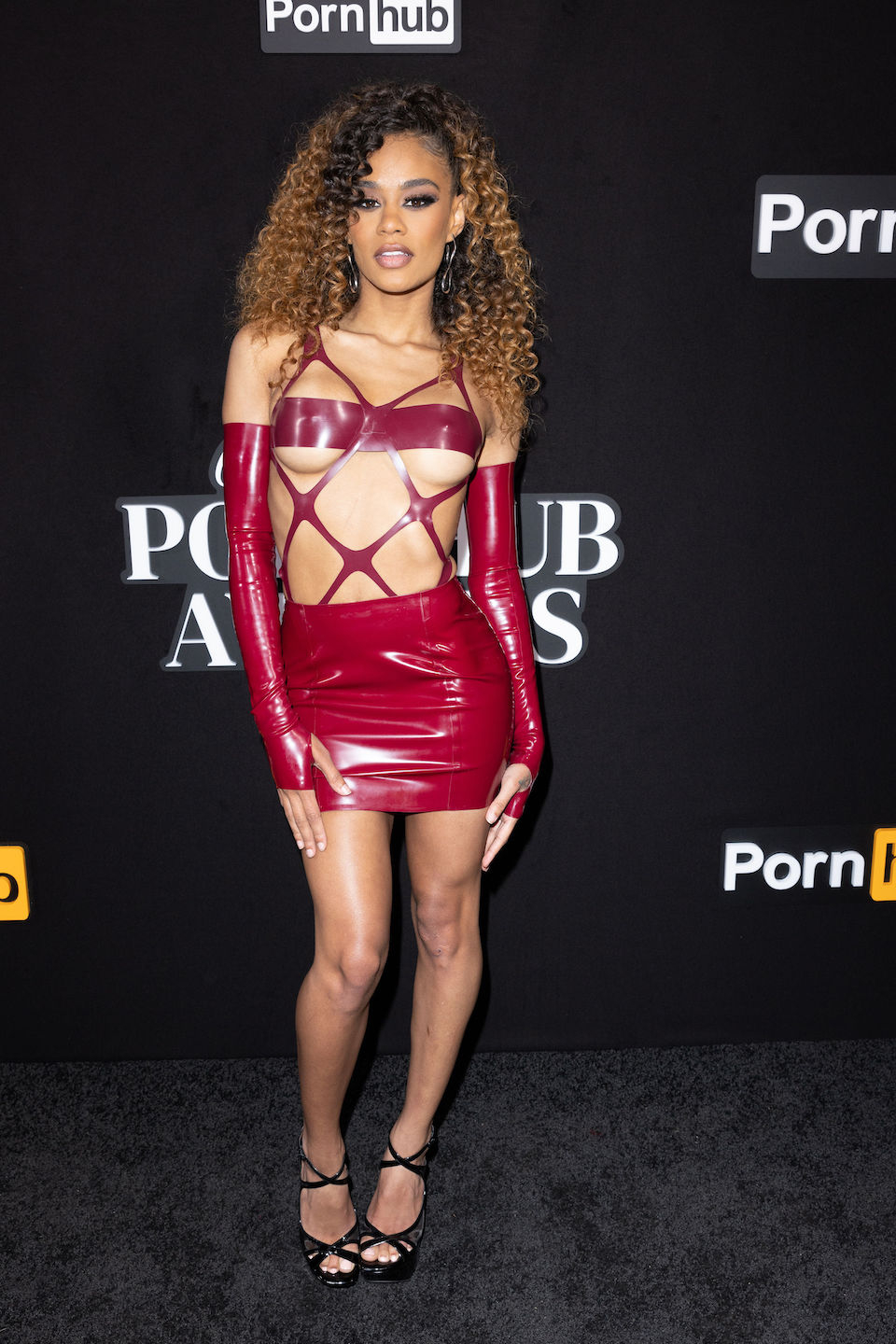 Two levels of the Sheats-Goldstein compound, the club area and the pool deck and bar below, overlooking a majestic view of the city, were thus turned into the setting for the most opulent Pornhub Awards event to date.
Attendees were dazzled by the dramatically lit pool below, where they could mingle as a community while enjoying a full bar, a selection of refreshments being offered by a small army of uniformed staff, and even cannabis edibles and smokeables.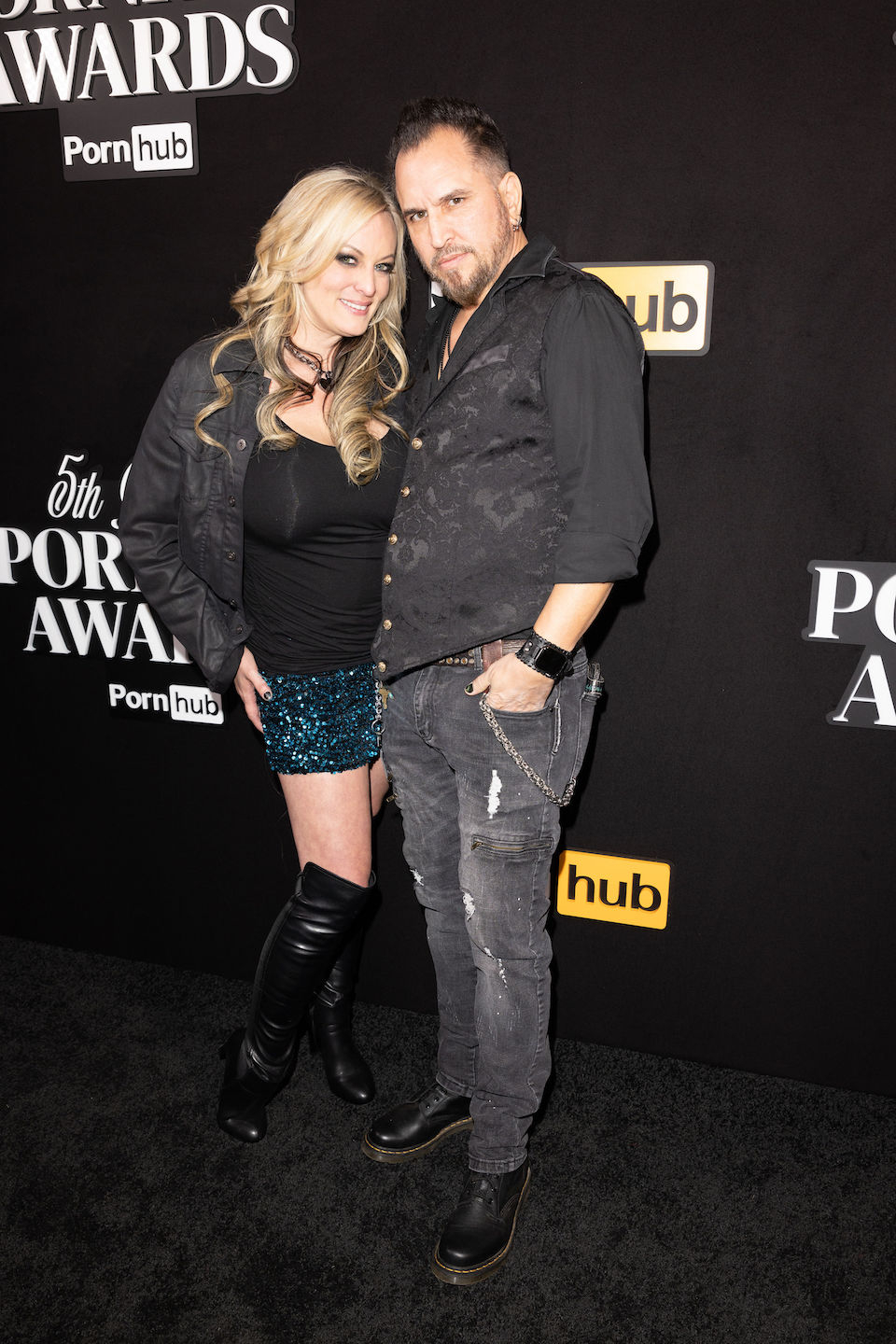 Upstairs, the dancefloor was soundtracked by a succession of DJs culminating in an appearance by Diplo, who prompted the top porn performers and creators in the world to fill the angular architecture of the venue with their dancing bodies. Next to Diplo, adult royalty such as Riley Reid could be seen swaying to the pulsating rhythm, as Angela White held court in a roped-off VIP area next to the booth and a who's-who of winners and nominees — including lifetime achievement awardee Stormy Daniels and husband Barrett Blade — danced the evening away.
Pornhub ambassadors like Kira Noir and Natassia Dreams — in bespoke outfits — mingled with colleagues and Pornhub Aria, as brand spokescharacter Mr. Banana provided merriment and TikTok and selfie ops.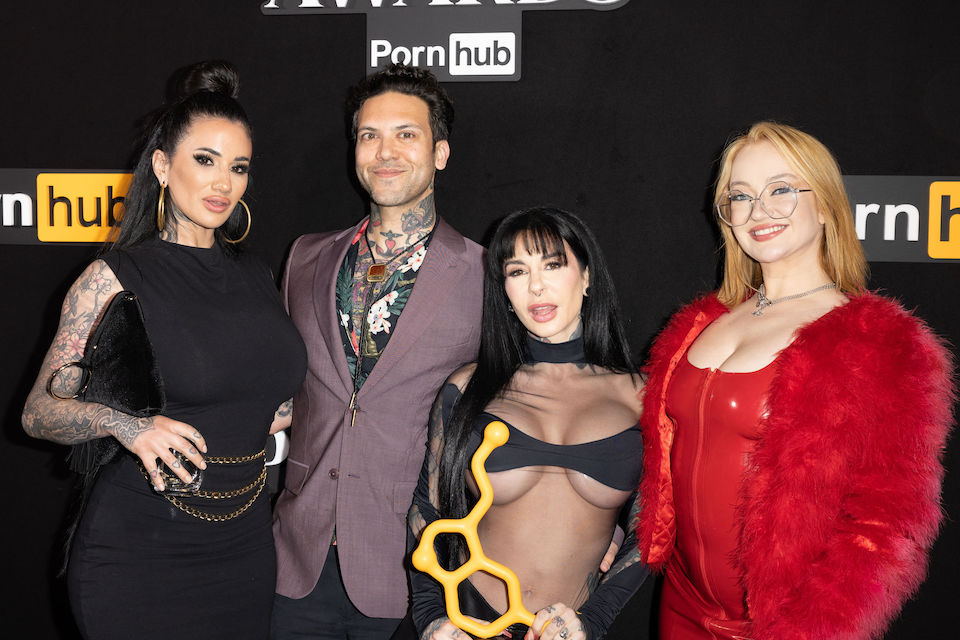 Fashion designer Luis De Javier — who dressed the brand ambassadors —  also provided outfits for noted attendees like 2023 XBIZ Performer of the Year Cherie DeVille, Kayley Gunner, Kazumi, Luna Star and Scarlit Scandal.
"I'm so honored to win Pornhub's 'Top MILF' award," DeVille told XBIZ. "Although, really, I should be thanking all my fans! They won me this award with every single left-handed Pornhub click they made all year. Remember, every time you blow your load for me, I become a better stepmom!"
Angela White enthused about the entire celebratory day, a 4/20 to remember. "What a great 24 hours!" she said. "The day started with the news that I had won three Pornhub awards and finished with this amazing party in the hills. I'm so grateful to all my incredible fans for voting for me and for continuing to seek out and enjoy my work. These wins are because of their love and support. Thank you to my fans, my Brazzers family, and to PornHub."
The evening allowed for a multi-decorated veteran like White to mingle with successful newcomers, like Sasha and Alessia, the Jelly Filled Girls, winners of the fan-voted "Favorite Couple" award.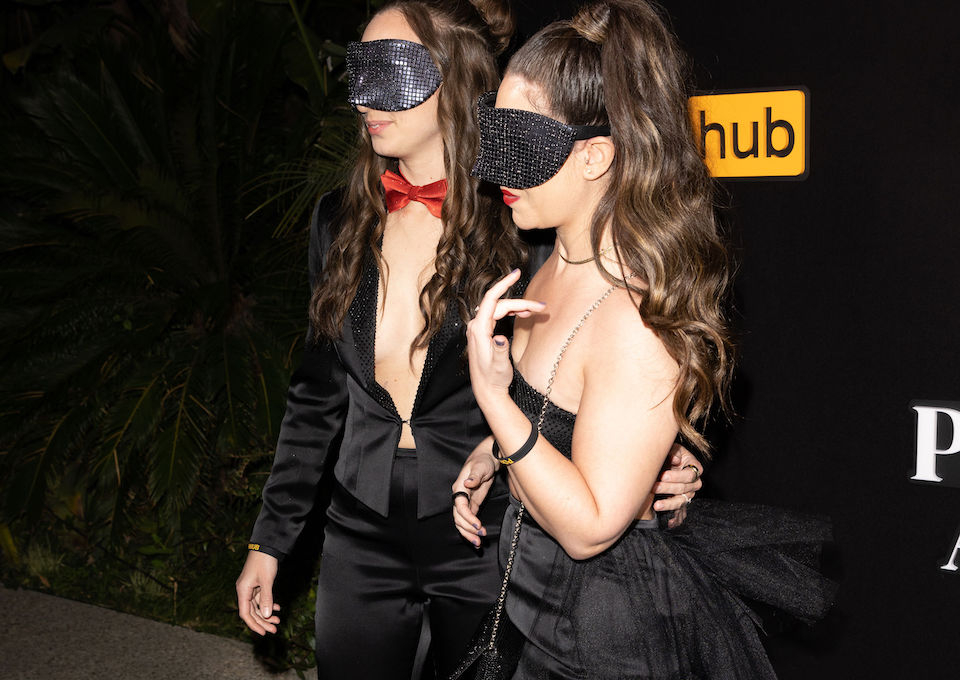 "It's our first time — this is all very beautiful," the masked clip artists told XBIZ. "We're very honored to be here, and it's so great to be surrounded by so many talented people. We are really excited to connect with people and get to know them. At 8 a.m., we were still in bed — we woke up and watched the video and when we found out we won, we cried. We needed to pause for a moment. We needed to process. And then we watched it 10 times in a row!
"It was right after we woke up, so we drank champagne before we drank water!" they revealed. "We are blown away by this party."
Other marquee names like Violet Myers, Asa Akira, Sky Bri, Ana Foxxx, Ricky Johnson, Seth Gamble, Jessie Andrews, the NELK Boys, "Vanderpump Rules"' Kristen Doute, actor/director Jordan Firstman and "Drag Race" Season 13 winner Symone could be seen circulating between the packed dance floor — where Diplo toasted special honoree Stormy Daniels — and the scenic pool deck.
Top BBW performer Gwen Adora called the setting "a very swanky-ass mansion" and marveled at the Hollywood-party atmosphere.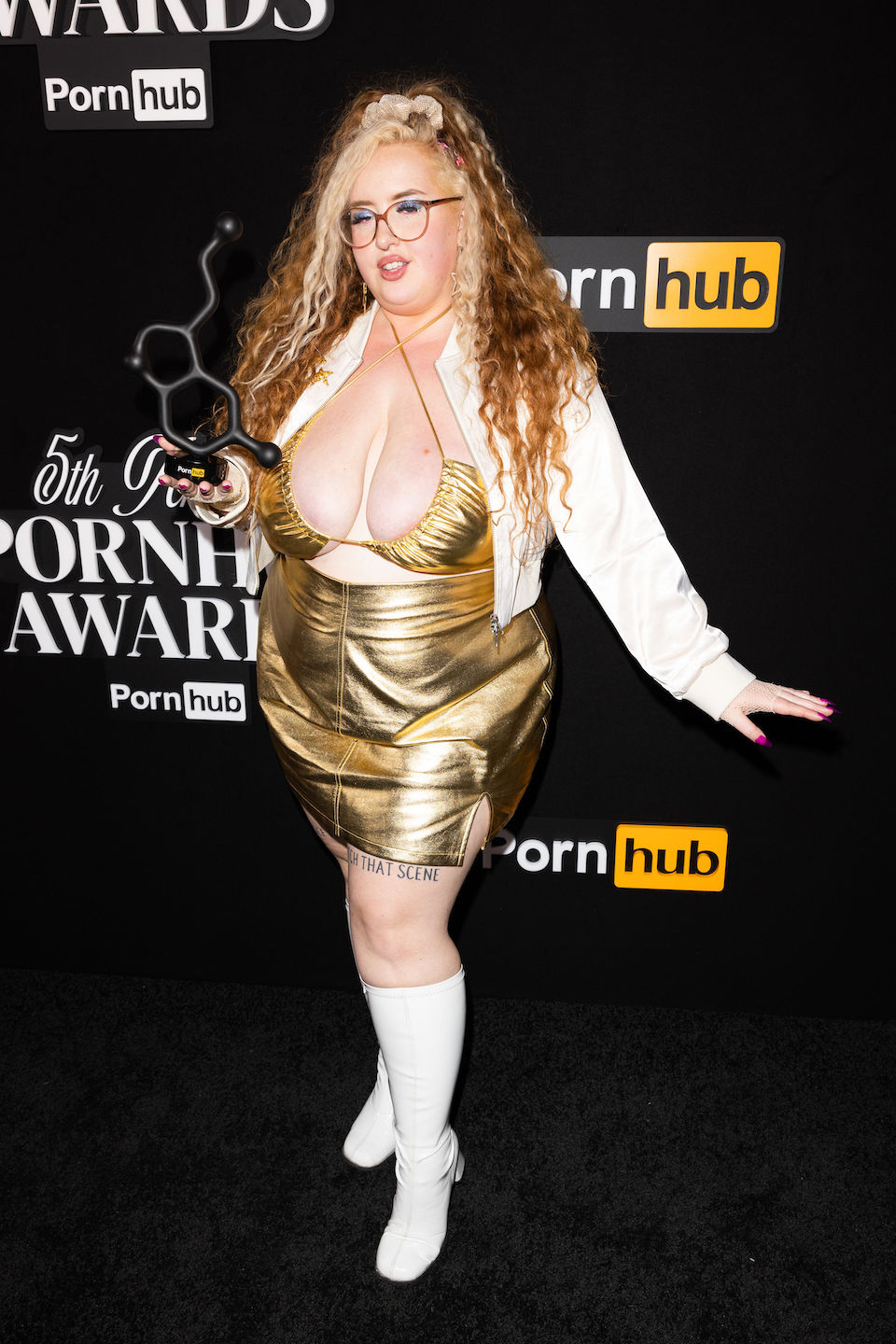 "This is iconic, exclusive," Adora told XBIZ. "It's vibes. It's an energy I've never seen before, and one that I welcome. There's a dancefloor where people are actually on! There's full bar service, top and bottom floors, an outdoor pool. I love it!"
Adora says she also was in bed when she learned about her win and her friends started texting their congratulations.
"They knew before me!" she said. "I had woken up early because I'm still on Canadian time, but I decided to take a morning nap before this big night out, and I started getting texts from Karla Lane and three other people saying, 'You won!' and I went 'Aaaaahhh, oh my God, crazy!'"
"Most Popular Trans Female Performer" winner Emma Rose told XBIZ that she also learned about her win when she started getting tagged on social medial. "I was like 'Did I win?'" she laughed, "and then everyone started going 'Congrats, congrats!' My PR agent called and said 'Congrats on your winning!' and I started screaming."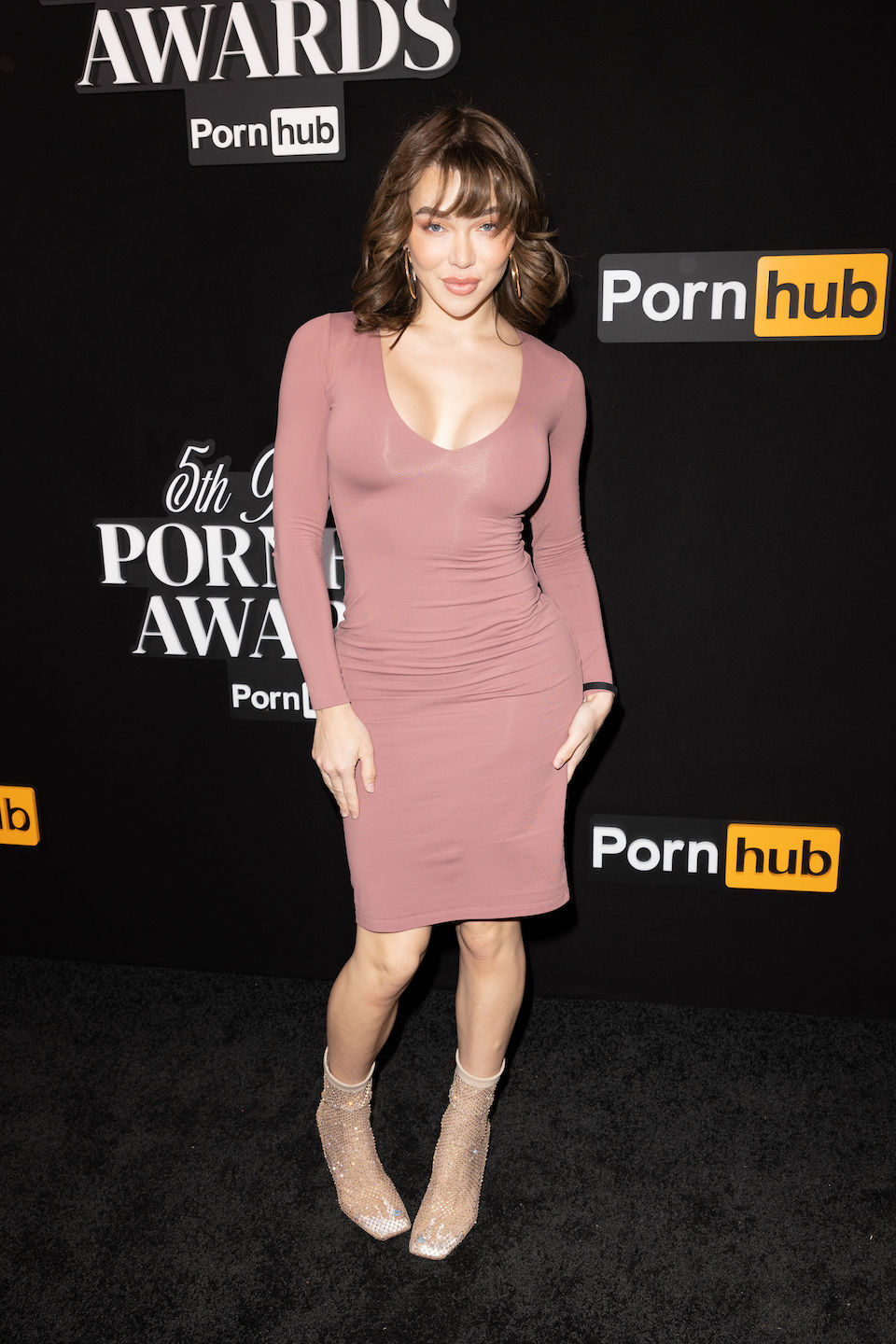 The award crowns a string of wins this year by Rose, including the XBIZ award. "It's crazy," she said. "I'm so happy."
Rose was also charmingly starstruck at the party. "Oh my god — I got to take a picture with Jonny Sins — that's really him upstairs with the shiny head!" she said. "I was so happy I got to meet him in person. I also met Riley Reid in person for the first time."
"This party is amazing — everyone is so sexy!" Kazumi added.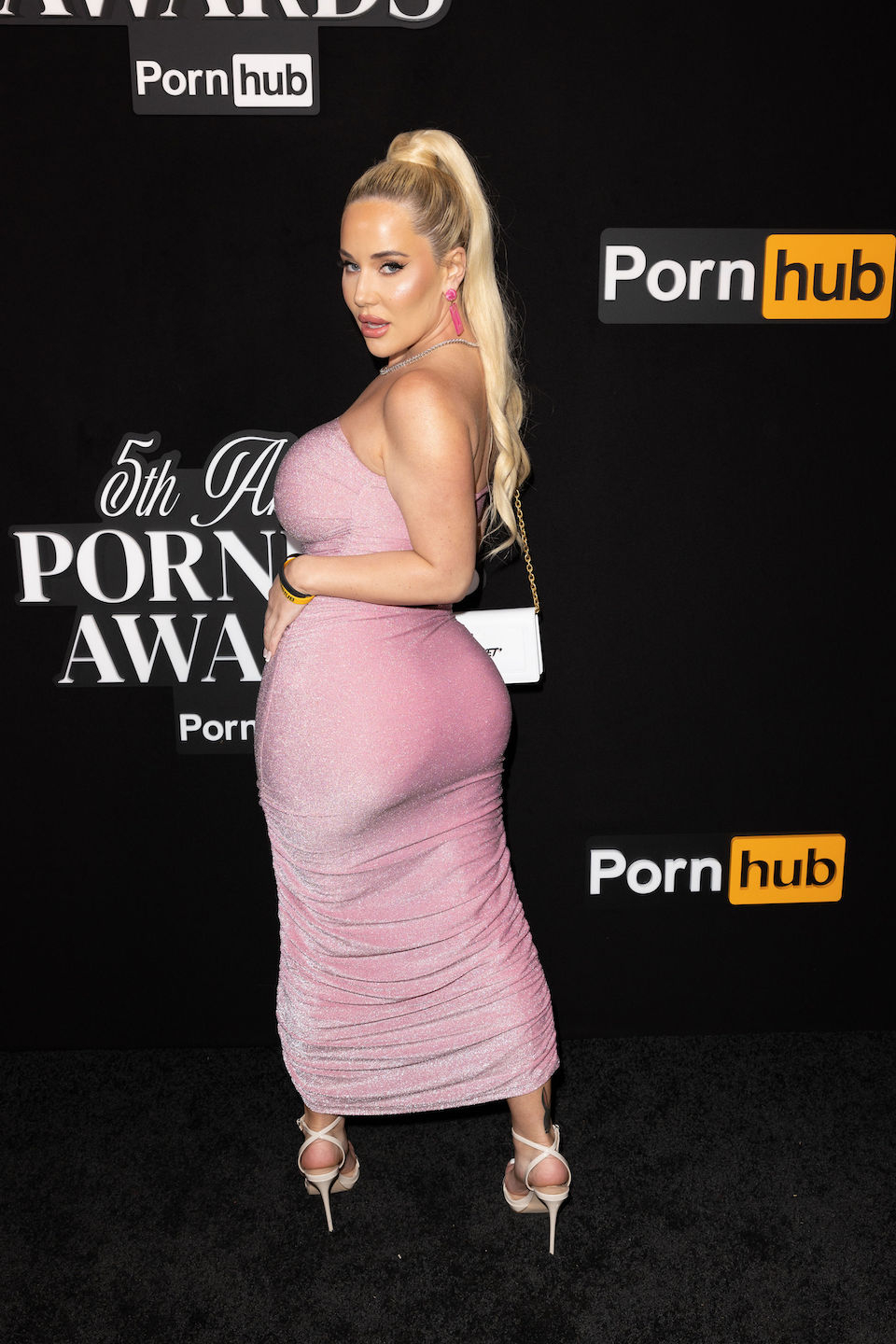 As the sumptuous evening was winding down, "Most Popular Female performer" Abella Danger summed up the occasion for XBIZ.
"This year's Pornhub awards party has been a very unique event," she said. "It's a time where we not only celebrate the winners, but where we celebrate everyone in the industry. It's very nice that instead of sitting as an audience, we get to celebrate everyone in a very comfortable and safe environment."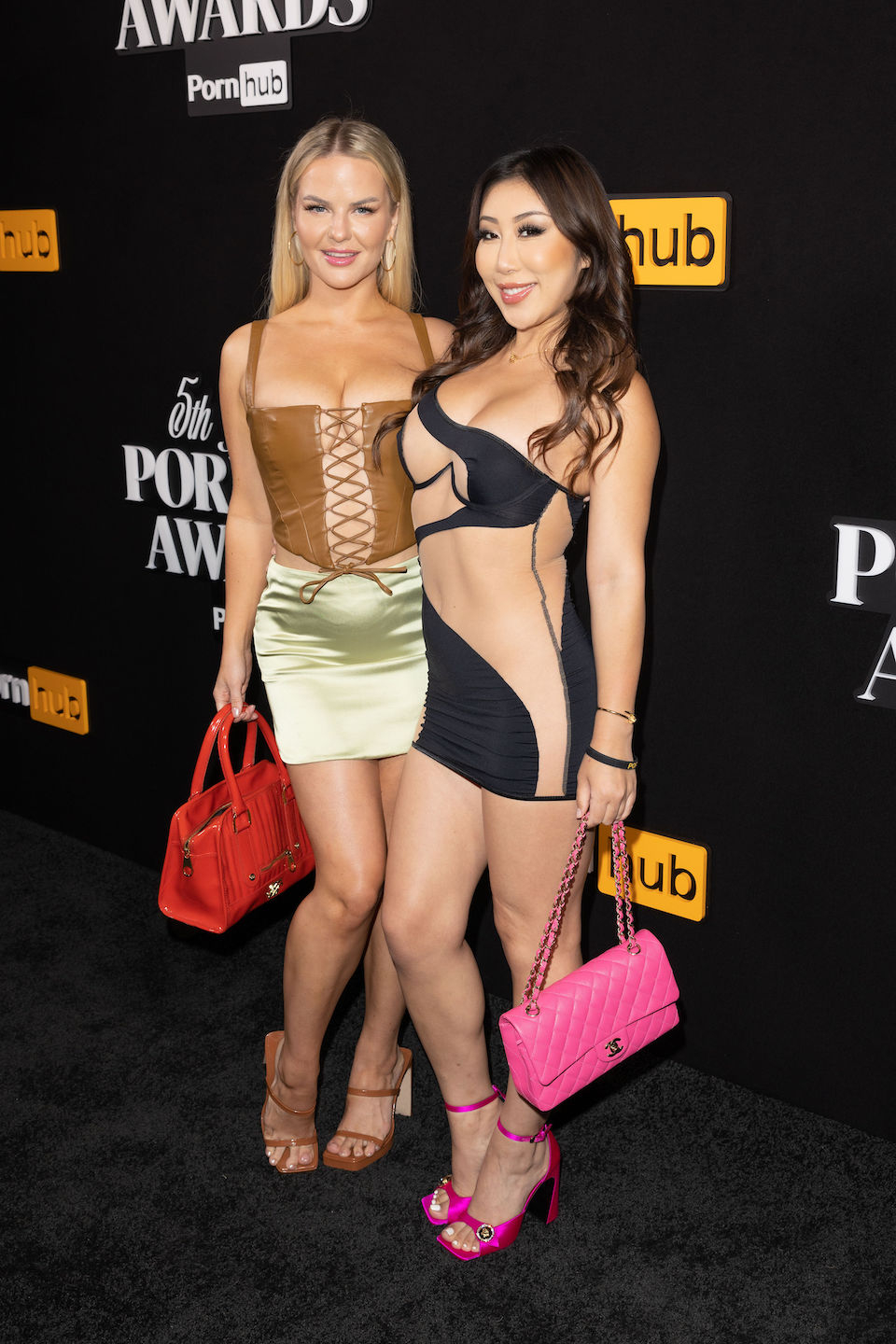 https://www.xbiz.com/news/273173/pornhub-awards-party-delivers-maximum-star-power-in-iconic-modernist-setting

XBIZ.com – Gay
2023-04-22 00:33:00