MIAMI — "Community over competition!" quipped presenter and winner Ricky Johnson onstage during the 2023 XBIZ Creator Awards, held Wednesday night at Miami Beach's stylish Faena Forum — and that motto epitomized both the event and the XBIZ Miami conference, which the ceremony capped off.
Presented by Chaturbate, the XBIZ Creator Awards honored the luminaries of the burgeoning creator space, which mushroomed during the social isolation of the pandemic to become a sizable chunk of the adult industry.
Hosted by one of the creator community's most notable success stories, the elite-level 0.01-percenter Amouranth, the event lived up to the motto with which Johnson rallied the crowd. In the Age of the Collab, now more than ever, this is a creator-driven industry where it pays to get along, make friends and be mutually supportive.
That same note was struck again and again by the evening's winners and presenters. Many of the latter, in fact, began their careers as what used to be called mainstream adult performers or porn stars, but the lines have completely blurred by 2023. Now veteran and marquee names such as Joanna Angel, Dani Daniels, Siri Dahl, Abella Danger, Alexis Fawx, Isiah Maxwell, Emma Rose and many others are proud to stand and be counted among the thriving creator throng.
To the cheers of fellow nominees, colleagues, back-end industry figures and virtually every mover and shaker who came down to XBIZ Miami 2023, the winners received their awards and emotionally thanked the fans, the platforms and the community at large for the team effort that it takes to elevate a career into the top echelons.
After walking the now traditional pink carpet to access the dome-crowned Faena Forum, the crowd settled into orchestra seats and tables to witness the Amouranth-hosted extravaganza organized by the trusty XBIZ team.
One notable sartorial motif was the many gowns that proudly revealed intricate tattoo work on many of the creators' arms. One couldn't help but notice that the XBIZ Creator Awards offered a safe place to display individuality and revel in the beautiful diversity of expression among this truly unique, special group of entertainers.
After everyone had the chance to walk the pink carpet, and several were interviewed by pink carpet host Gwen Adora — always a ray of positivity with her radiant smile — everyone took their seats to be welcomed by the announcer hailing the 2023 XBIZ Creator Awards, the industry's biggest night for creators.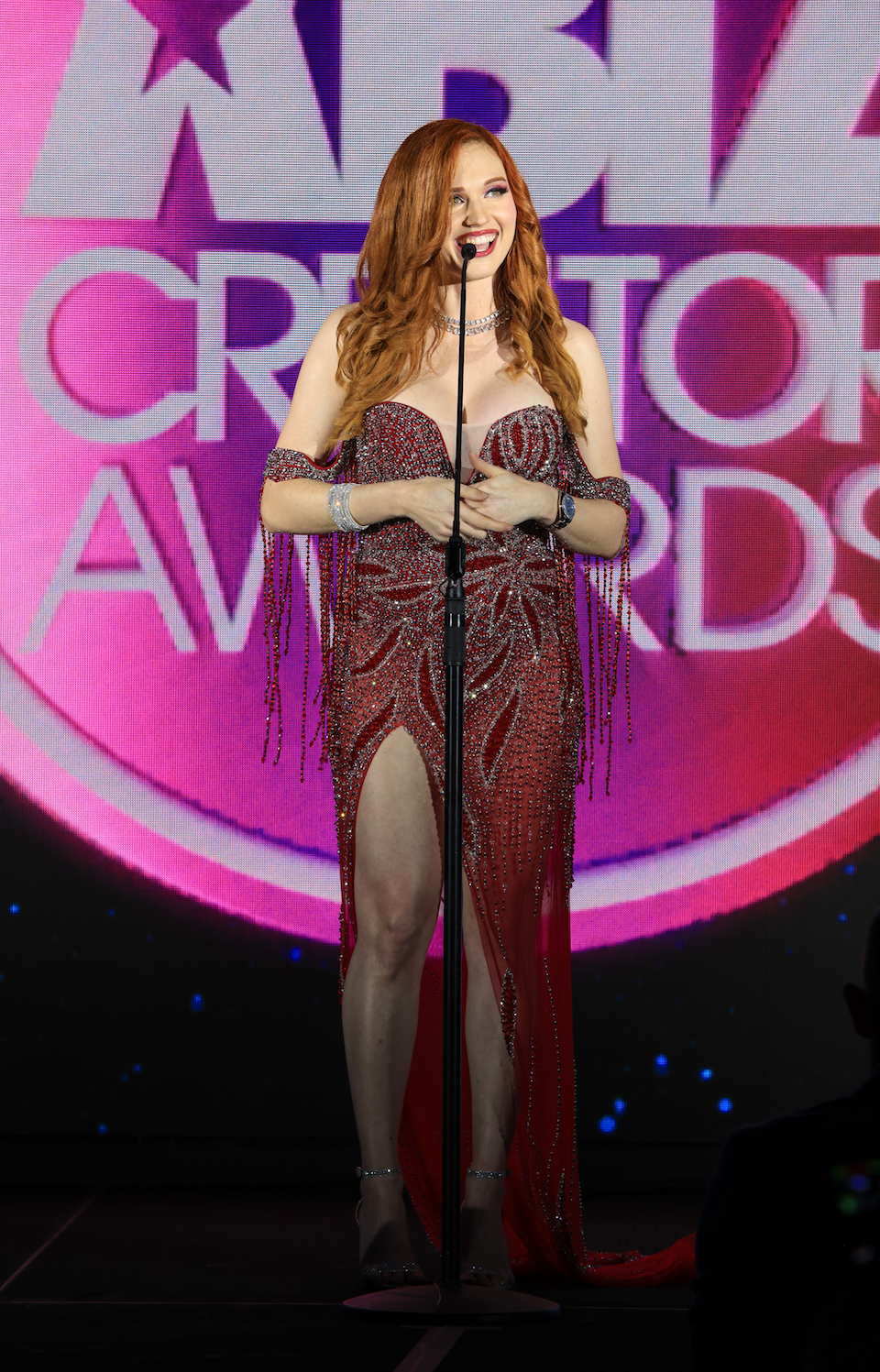 The announcer then introduced the legendary Twitch streamer and creator extraordinaire Amouranth, unmistakable with her red hair and showcased in a sparkling red gown with eye-catching decolletage and a daring up-to-there slit baring her entire leg.
"I'm blinded here, I'm looking like the fish from 'Shark Tale,'" Amouranth joked under the powerful lights, telling the crowd she was honored to serve as their host this year.
"You all look fantastic," she added. "Who's ready for an amazing night? First off, can I just say how spectacular it is to be part of a community that is so incredibly supportive and welcoming? Whether you're camming or shooting content, it really takes balls to turn that camera on for the first time and show your wild side to the world."
Amouranth then asked the audience to reveal, by a show of hands, who had been doing this for less than one year, then for more than a year, then for three years or more, and then for five years or more.
After different degrees of audience response, Amouranth then asked, "And for the OGs out there, who's done this for 10 years or more?"
The crowd erupted, first with the proud declaration of long-term sex work, and then with the recognition that this was a community with roots and elders and important knowledge to be shared. 
"Wow!" Amouranth beamed. "It looks like all those Twitter trolls telling us this isn't a real job were wrong. Look at us — we're traveling to conventions, we're networking. We're having the time of our lives right here in Miami. We're surrounded by some of the world's most talented creators and influencers, and we're dressed up like it's the Oscars, baby! We've got good vibes, good people and a great awards show starting right about now!"
The first presenters were Cubbi Thompson — her signature boobs rendered miraculously but barely Instagram-safe by two embroidered garlands topping a billowing blue skirt — and Mary Moody in a classic party dress festooned with tiny-flowers.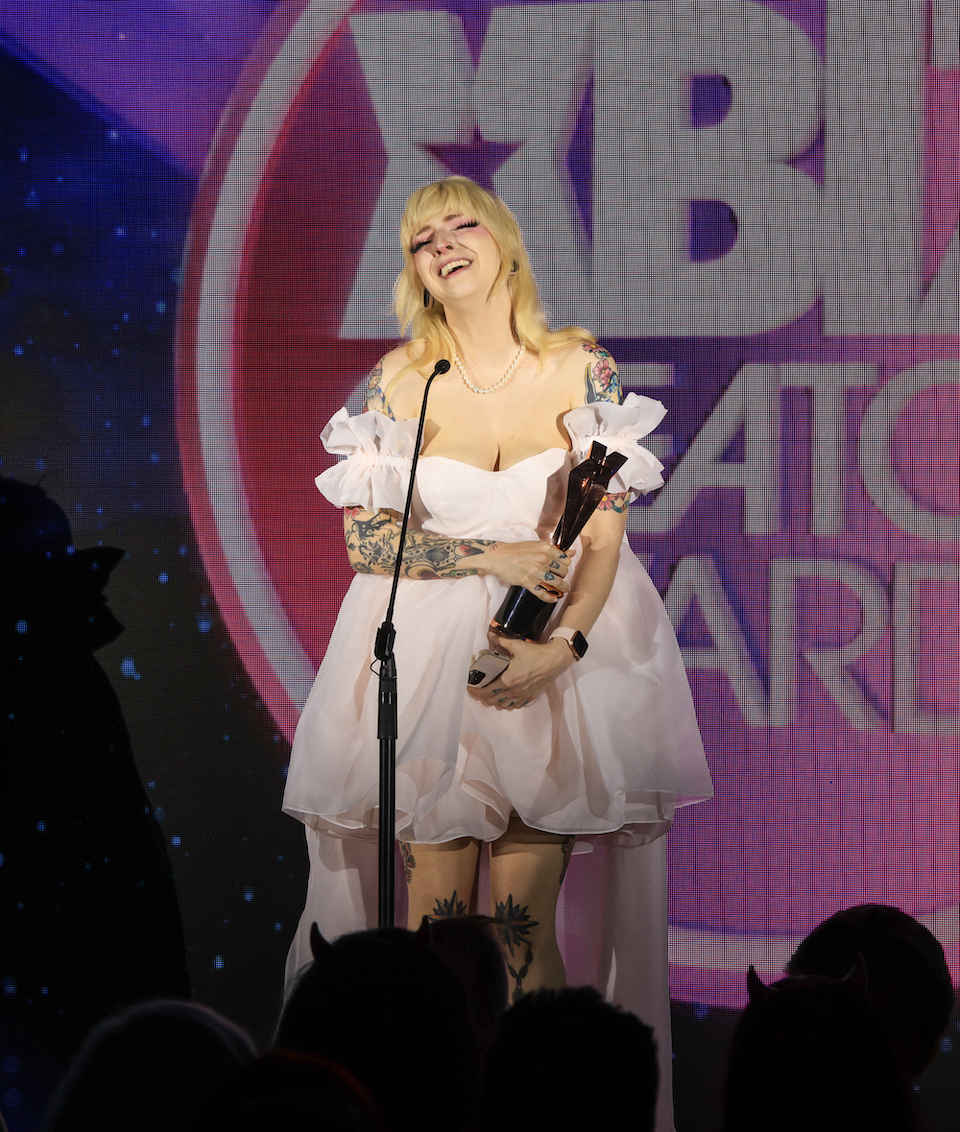 Thompson and Moody announced Kiley Corrupt as 2023 Best Cosplay Cam Model. Corrupt, in a white mini ensemble with wedding dress vibes and long white tail that offered the perfect framing for her distinctive body art, was overcome by emotion, with tears smudging her makeup and adding to the 1990s Courtney Love vibe of her look. Corrupt told the crowd how moved she was by the people cheering her win.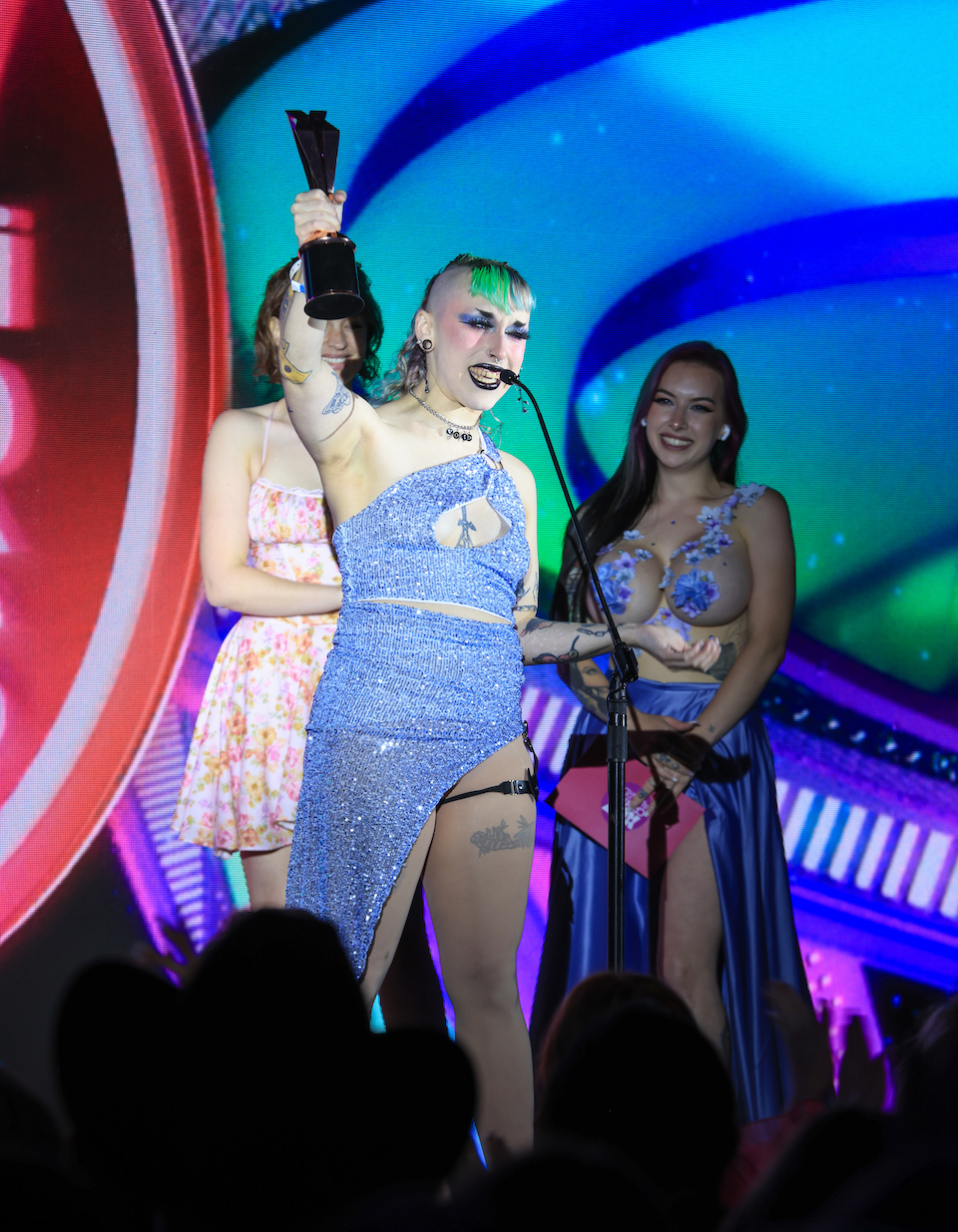 Thompson and Moody then presented the award for Best Cosplay Clip Artist to Kit Kendal, who took the stage in a revealing blue sequined number, striking makeup and a signature shaved-sides haircut with green bangs.
"I'd like to thank my parents for not believing in me," Kendal announced to one of the evening's biggest cheers, before adding "and everyone else who did."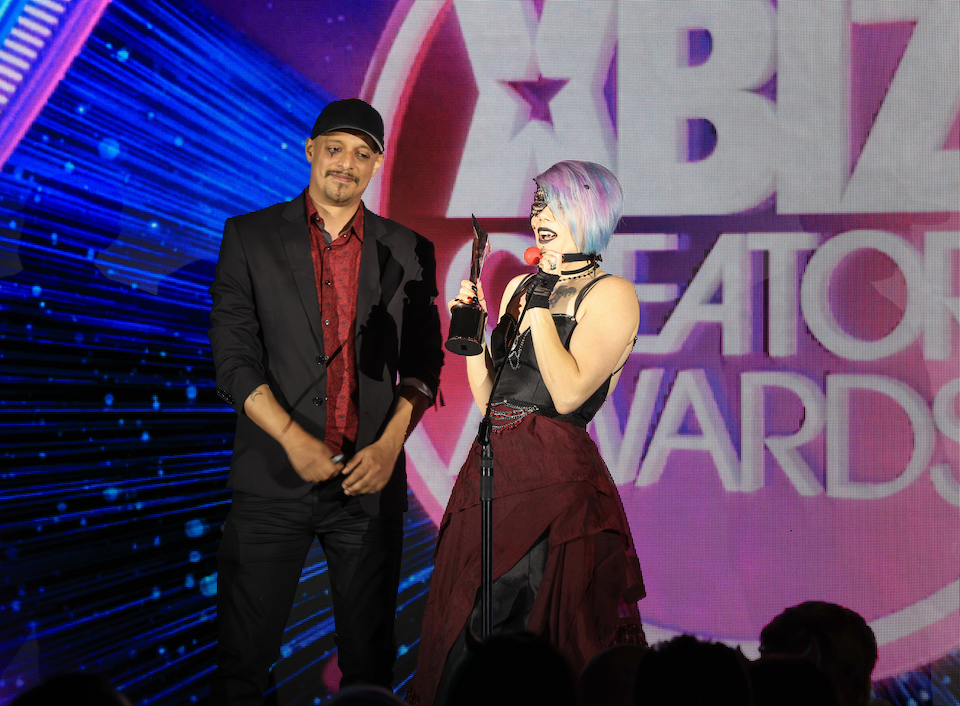 Cassie Curses, in a cleavagetastic gold gown, and Ashley Daniels in a glimmering red sequined gown, presented the trophy for Best Fetish Cam Model to self-described "witchy cyberpunk vampire" Fatal Goth, whose on-brand black gown sported a dark burgundy overskirt and black lace details, like a glove and a mask covering half of her face.
"I fucking love you guys," Fatal Goth, cheered by her partner onstage, told the crowd. "I love you!"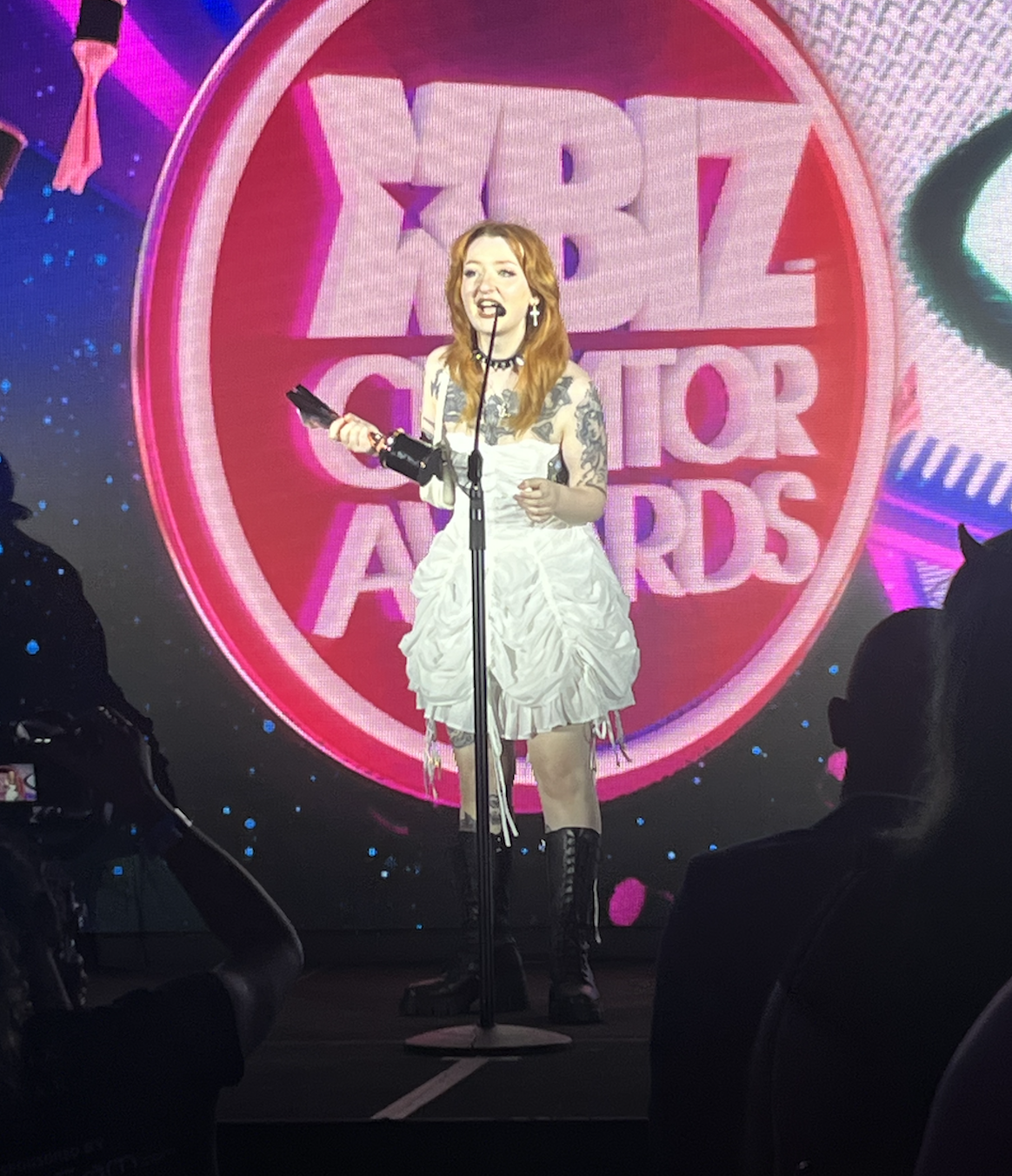 Curses and Daniels then announced the winner for Best Fetish Clip Artist: elfin redhead Starryfawn, who expressed her thanks wearing a white minidress with black lace-up boots.
Emma Rose, in a long white gown with a cape and orb purse, and Lana Wolf in a blue minidress with long diaphanous sleeves and a top just barely holding her boobs together, presented the award for Best BBW Cam Model to Dutch sensation Christina Castalia.
Castalia, her dark hair topped by a red bow and wearing a massive, multilayered white tulle skirt, took to the stage followed by a film crew shooting a documentary about her.
"I am so grateful for everyone who voted for me," she told the crowd, which responded with massive cheers.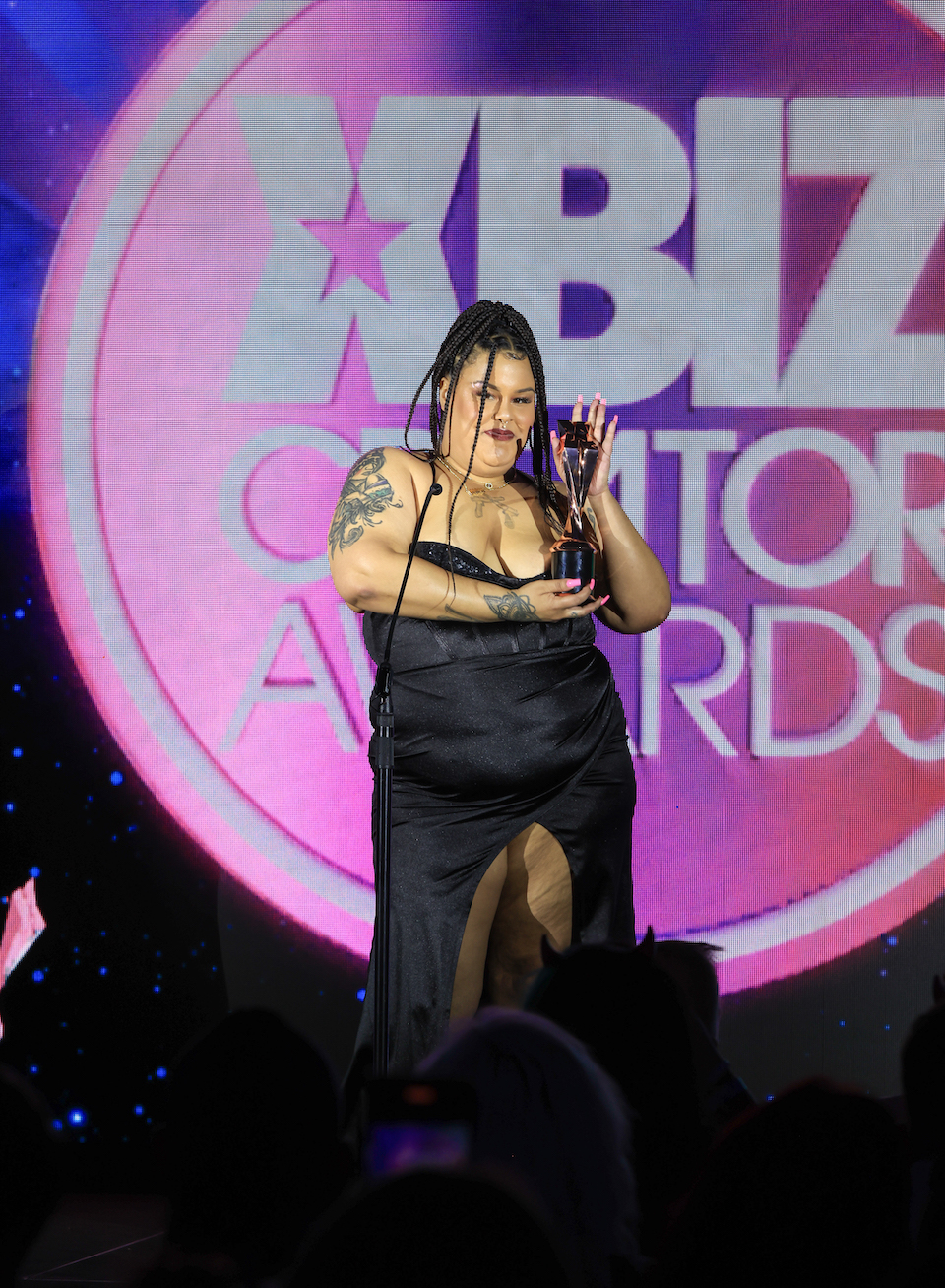 Rose and Wolf then announced Spookyfatbrat as Best BBW Clip Artist. In a stylish black dress with a daring front opening revealing her legs, Spookyfatbrat quieted the crowd before addressing them with "First I'm gonna say, fuck everyone who passes up on me. And I'm rooting for everyone Black!" That comment received another of the evening's biggest cheers.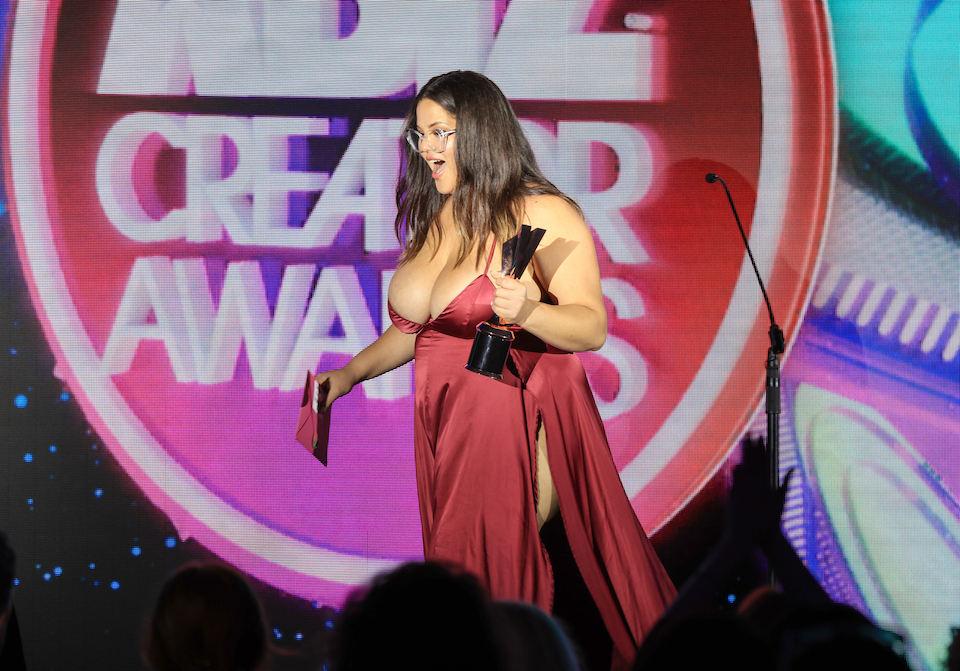 Rose and Wolf revealed that Dani Valentina was the winner for Best BBW Premium Social Media Star. In a dark red gown, a stunned, almost speechless Valentina expressed her thanks.
Mainstream performers and creators Scarlett Jones and Isiah Maxwell — Jones in a minute black dress with a swooping neckline barely covering her iconic boobs and Maxwell always impeccable in an elegant tan suit — presented the Best MILF Cam Model trophy to veteran industry performer and APAG union president Alana Evans.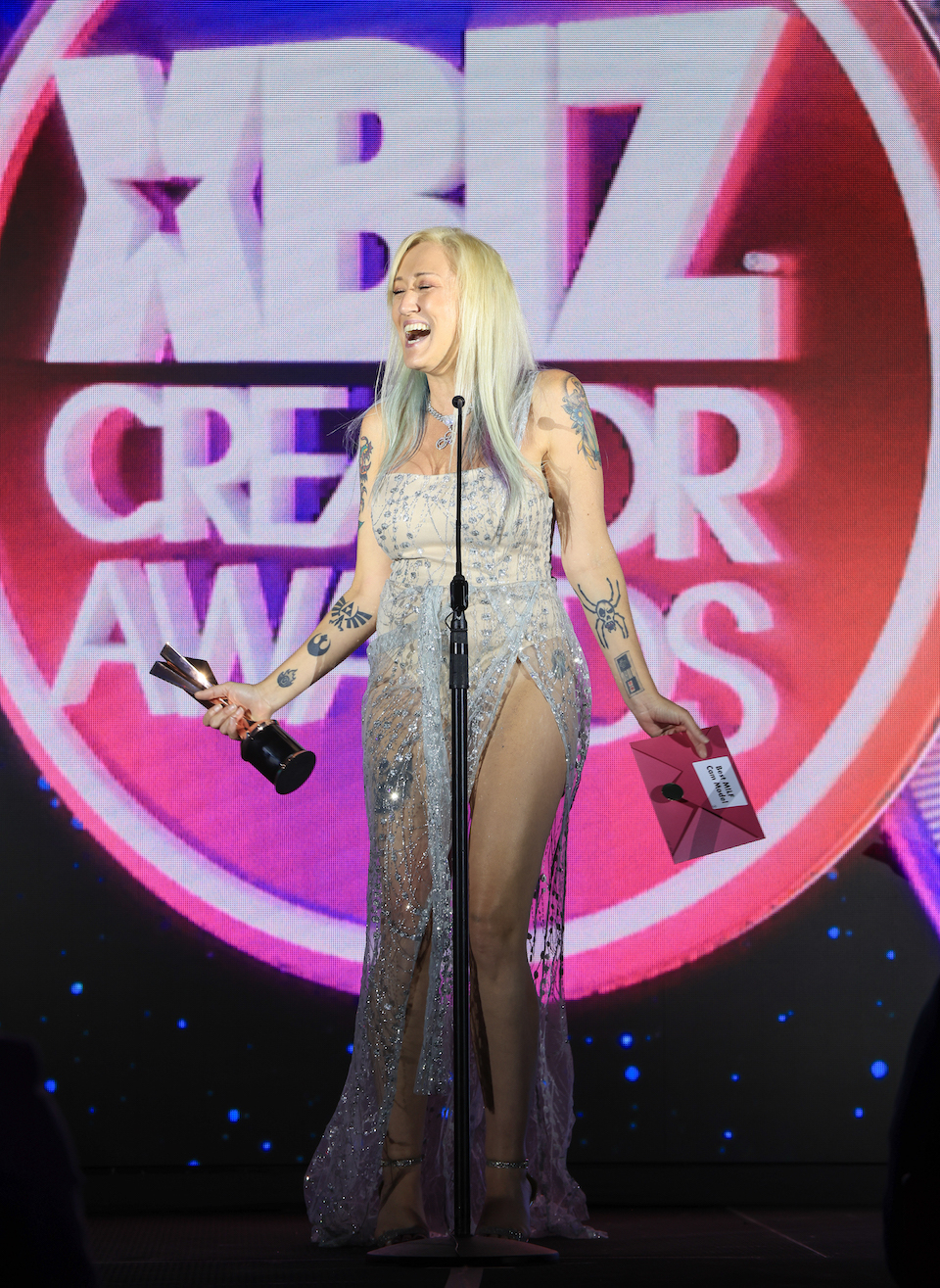 In a shiny silver gown with a slit up her leg that also beautifully displayed her tattoos, a radiant and happy Evans gave a speech that was a highlight of the event.
"What the fuck is happening?" she began in disbelief. "First I'm going to thank every one of you motherfuckers who supports APAG. Thank you. Because it is not easy to run a union in this industry! Thank you XBIZ — Moe, who I've had a big crush on forever, Gustavo, Alejandro — Elevated X, Cam4 for standing behind me, even though I'm a troublemaker. To my really hot date, you'd better make me your girlfriend. And to each one of you, you're my friends, we've got to support each other. And my last word: consent is fucking sexy!"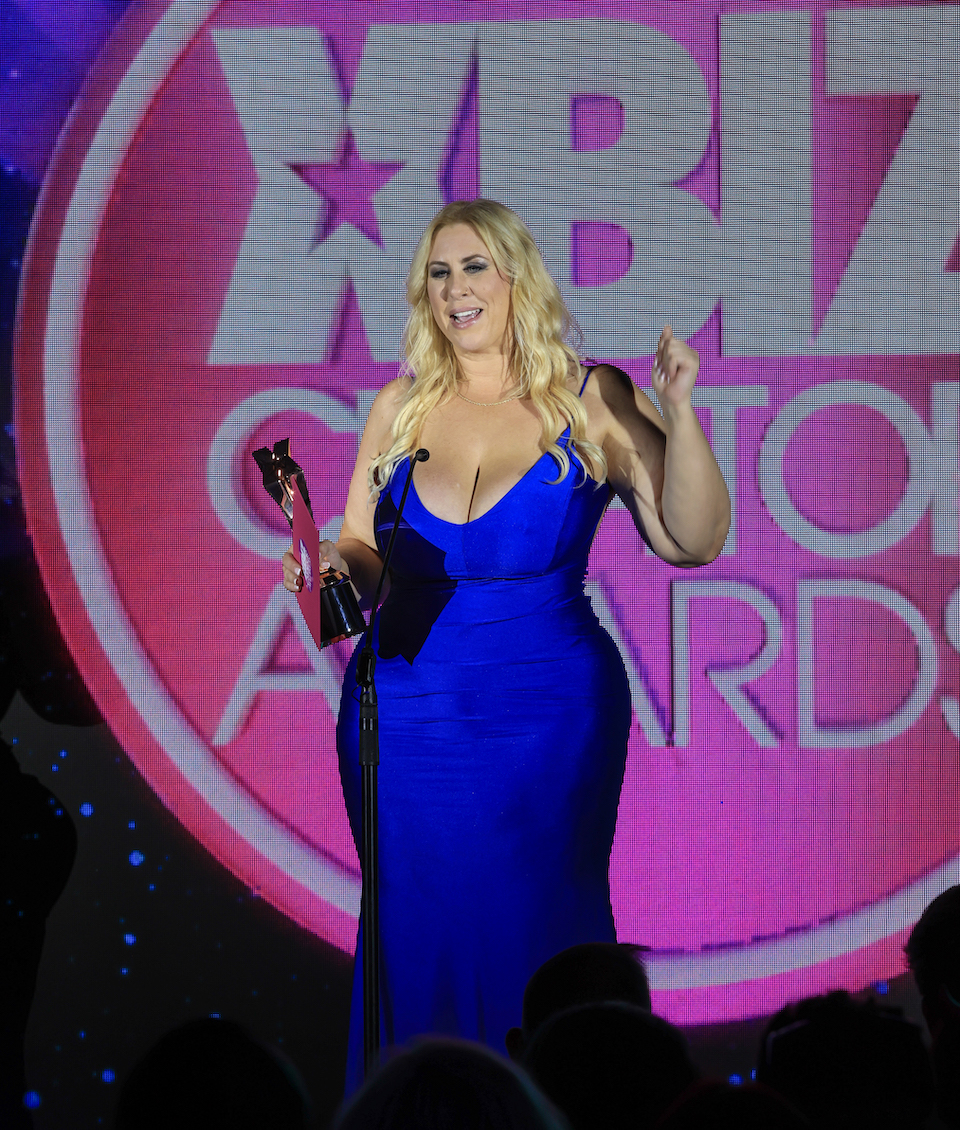 Jones and Maxwell then announced Lila Lovely as Best MILF Clip Artist. In a blue dress with decolletage that contrasted strikingly with her very blond tresses, Lovely was effusively thankful for the award and for the fan and community support over her years in the business.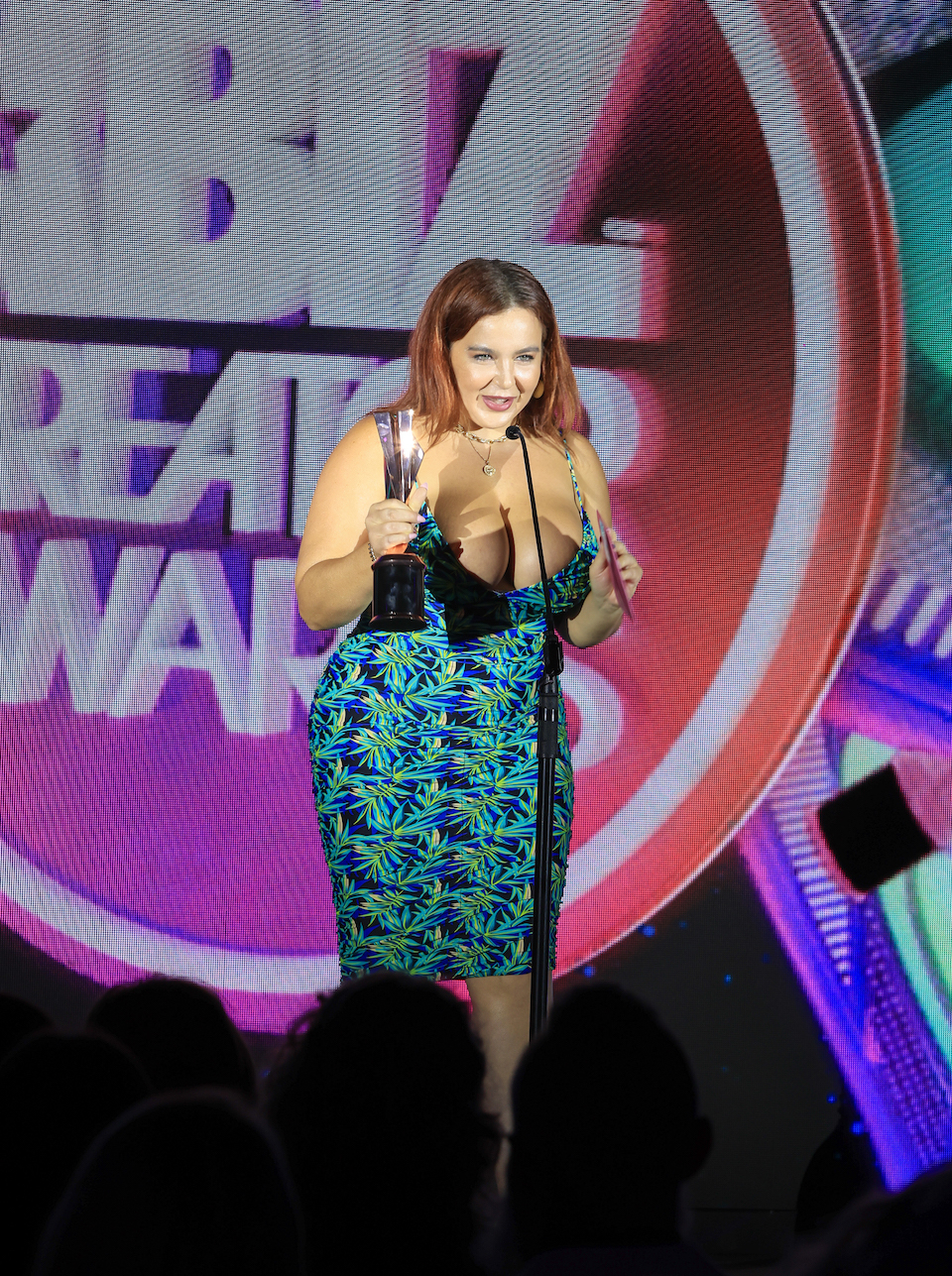 Another veteran performer was named Best MILF Premium Social Media Star: Natasha Nice, the winner who most followed the tropical theme of the Miami location with a cheerful red-and-blue minidress with — of course — more-than-epic cleavage.
"Oh my God, thank you so much, this means so much for me," Nice declared. "Thank you to all my fans, and to everyone who performed on my OnlyFans with me or on my Twitter. Thank you from the bottom of my heart."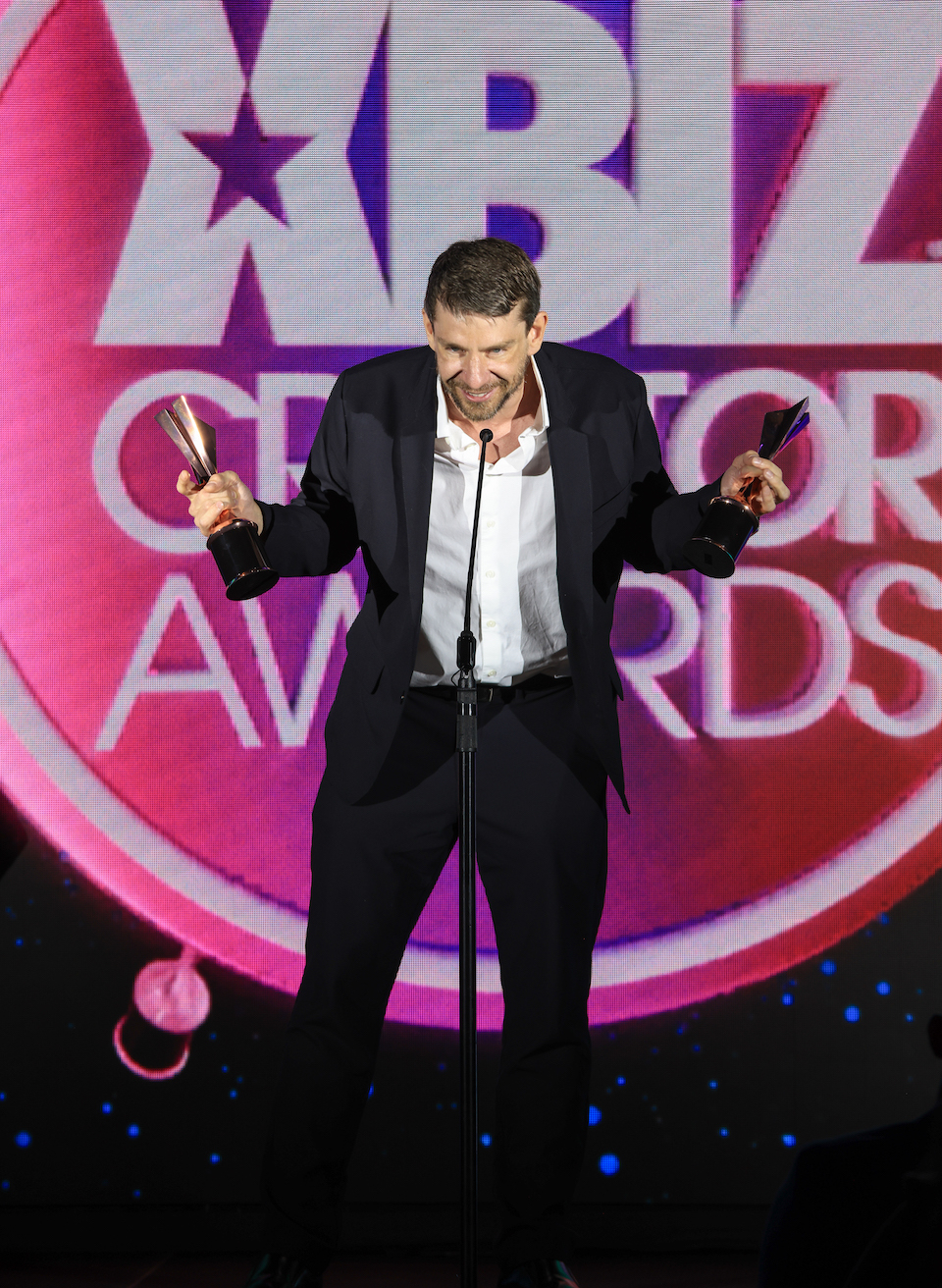 Reality TV personality and Unfiltrd CEO Stephanie Matto, and creator/performer Melissa Stratton, presented Best Cam Model Duo to Jack+Jill. Only Jack was present to receive the award and said he was "so bummed" that Jill couldn't be there as well. 
"Thank you XBIZ, thank you Chaturbate — and thank you to everyone I've fucked to get this award." Jack told the crowd.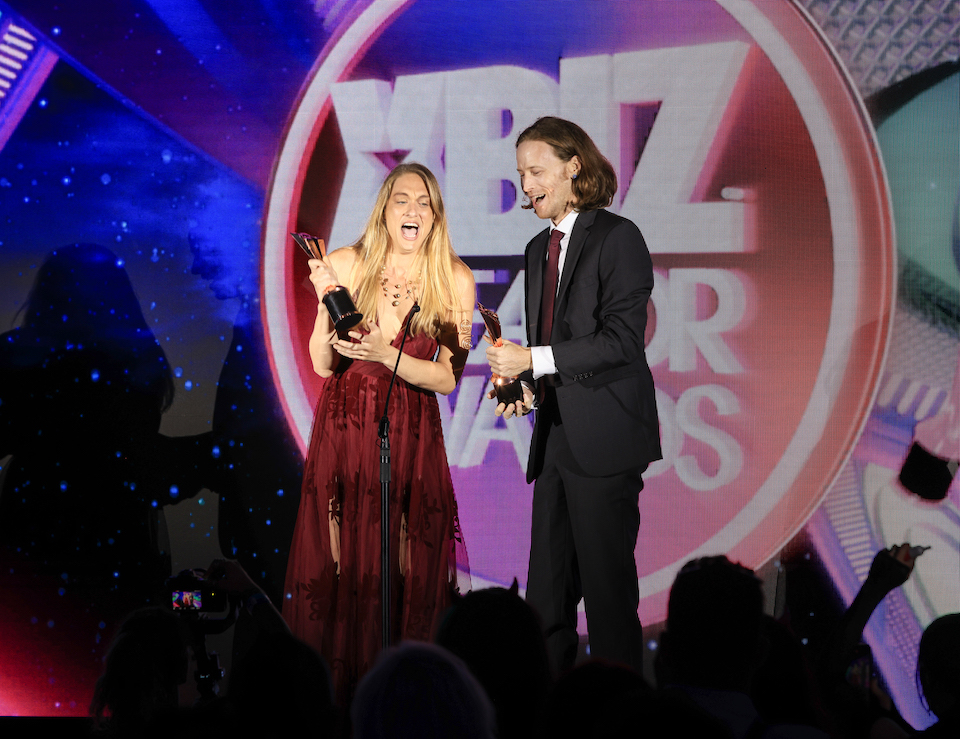 Matto and Stratton then announced the winners for Best Clip Artist Duo, which went to Sexy Hippies. The triumphant hippies dressed up for the event, she in a burgundy gown, he with a tie matching her dress and a very chic suit, though topped by his signature long hair.
"Thank you to everyone who ever voted for us, or watched our shit, or fucked us," the couple offered, before leaving the audience with some sage advice from Bill and Ted, and also Abraham Lincoln: "Be excellent to each other."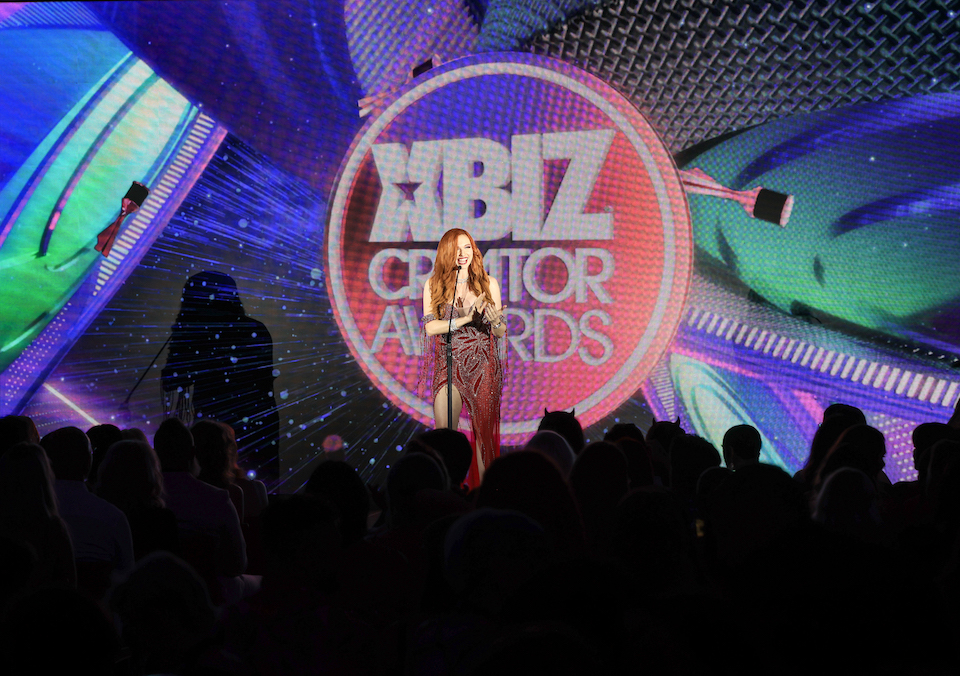 Amouranth returned to the stage to tell the audience that seeing them give each other so much love and support was awesome.
"I haven't felt this warm inside since I tried KY's Turn up the Heat," she quipped.
"It's truly amazing how people from all over the world have been brought together by our very diverse industry," Amouranth continued. "We have different cultures, penises, vaginas and passions — it's really a beautiful thing."
The host then asked the audience for another show of hands, revealing their status as sexy nerds, gamers — "That's right, it's a tough choice but at the end of the video, our fans always choose us over the PS5!" — cosplayers — "Yes, furries count!" — and kinkmasters.
"Quite a lot of you, I see," she added. "This room is filled with dick wizards tonight. Such knowledge and skill gained over the years, that's what this award show is all about. Giving credit where it's due!"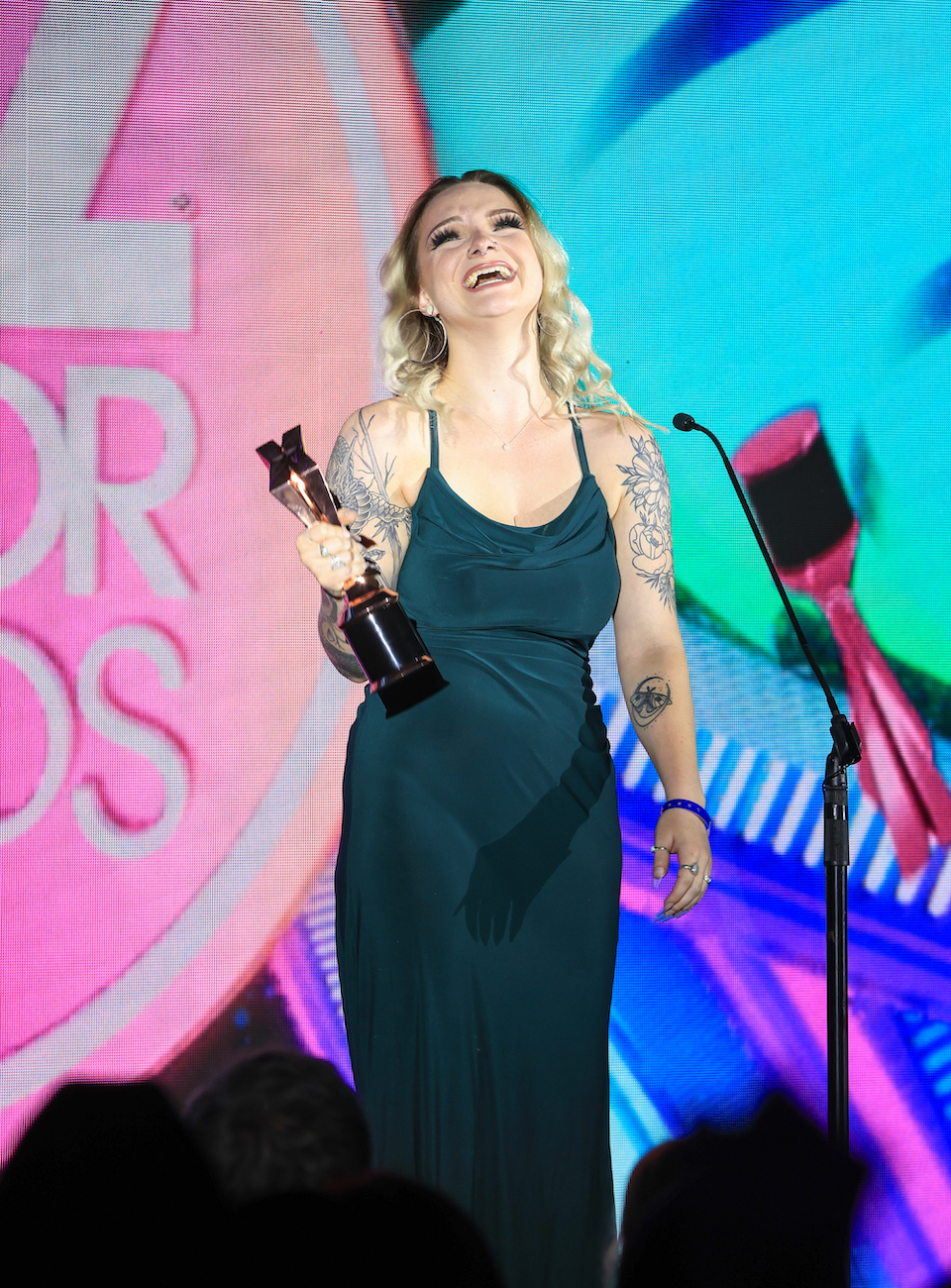 The second half of the evening started with presenters Reya Sunshine, in translucent black showing her tiny panties and pasties, and AstroDomina in leather skirt, boots and gloves, announcing Lili Jane as the winner for Rising Cam Star.
In a simple, elegant dark green gown perfectly framing her tattoos and angelic blond hair, Jane was overcome by tears and thanked Chaturbate.
"Thank you to all of my friends who supported me," she tearfully declared. "And to all the people that didn't, you know what? Fuck you!"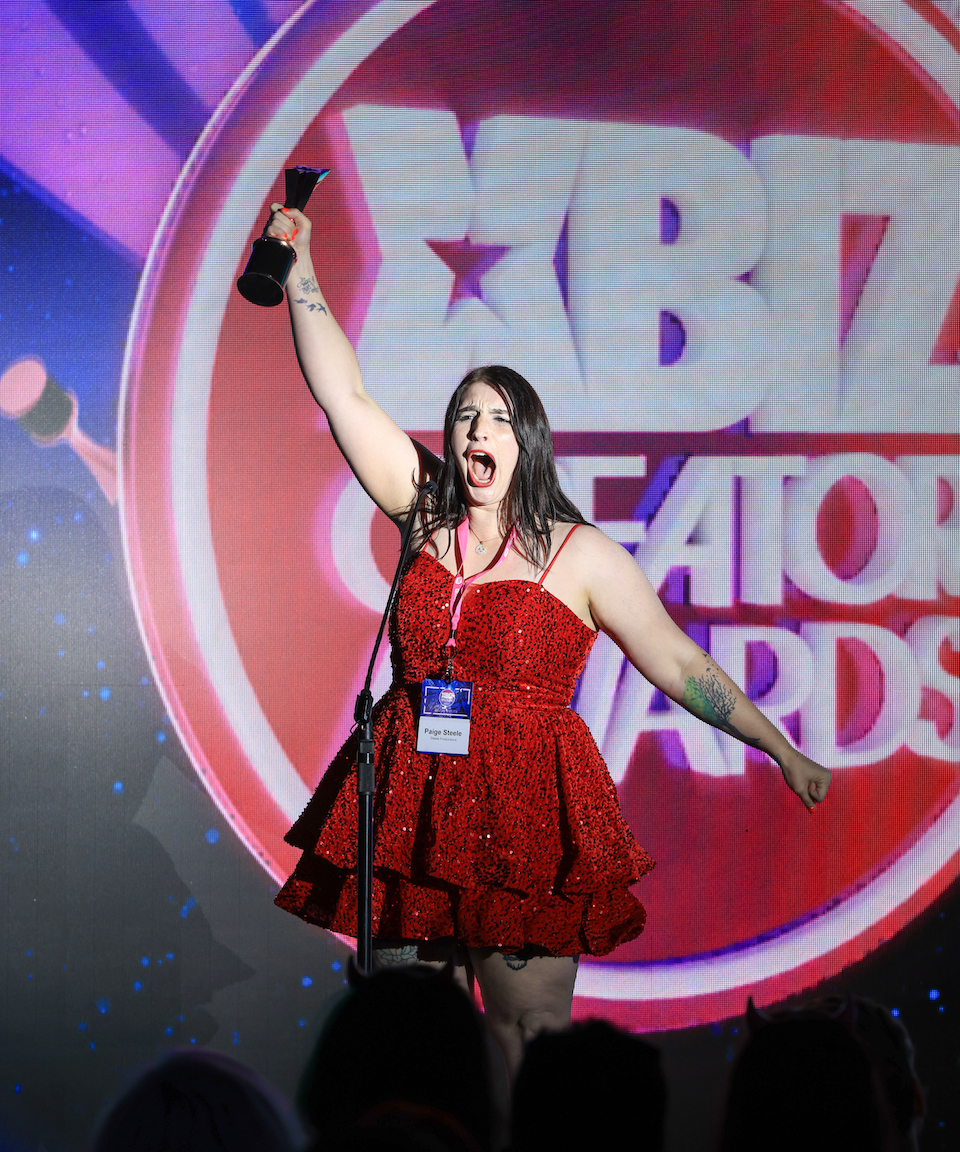 Sunshine and AstroDomina then revealed the 2023 Rising Clip Star: Paige Steele. Stunned by her win and wearing a shiny red minidress, Steele stared at the crowd without blinking and asked, "Is this real?" before letting loose a celebratory "Whoaaaaaaaaa!"
"I work so hard," Steele confided, "and I always wondered what it would be like to stand here and get one of these. And it's real!"
As she was leaving the stage, someone in the audience called out, "I love you Paaaaaaige!"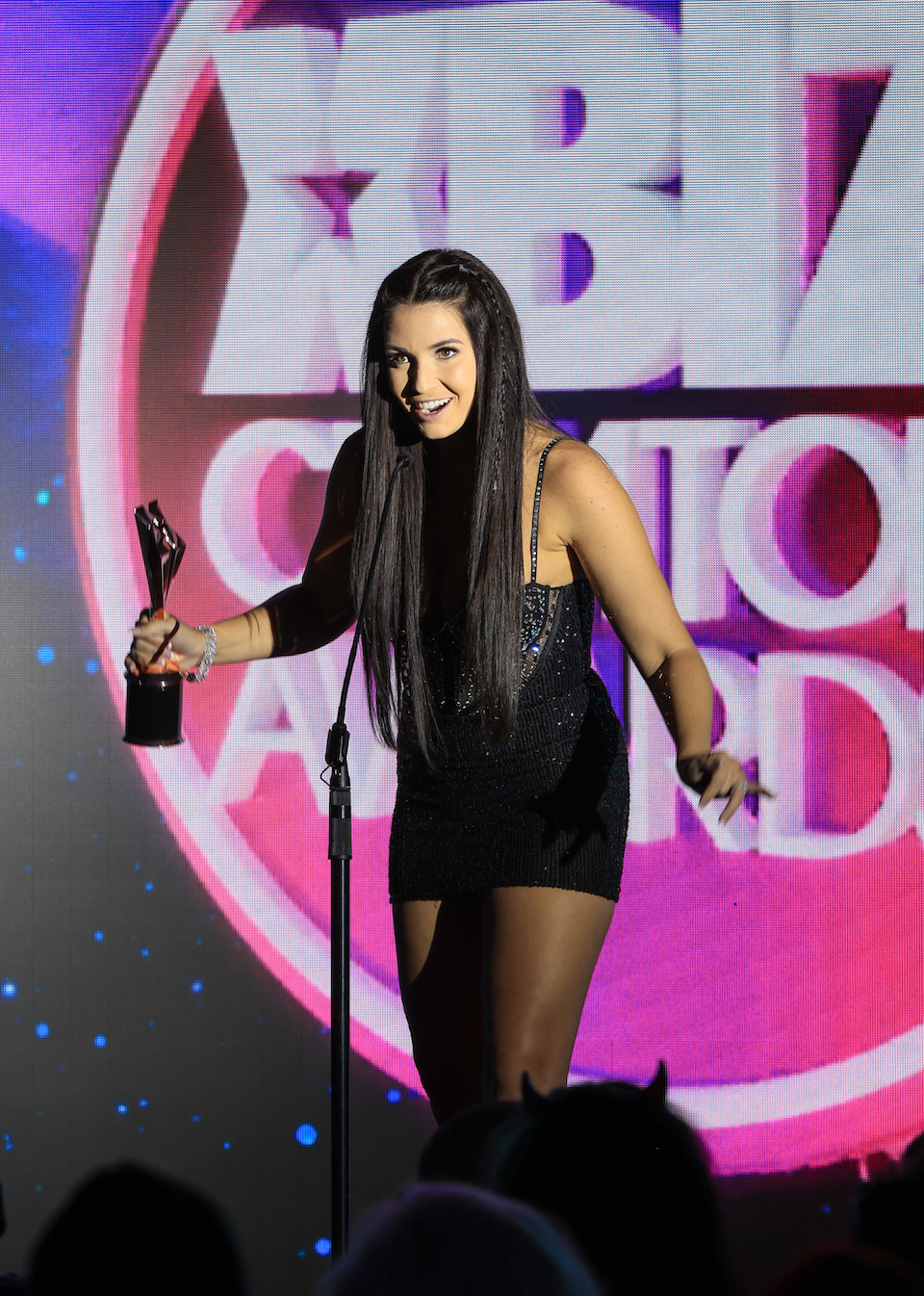 The Rising Premium Social Media Star award went to Luckless Holly. 
"I don't think anybody here knows me," she said quietly into the microphone. "And that's OK, because my fans pulled through — and I'm here!" The crowd cheered.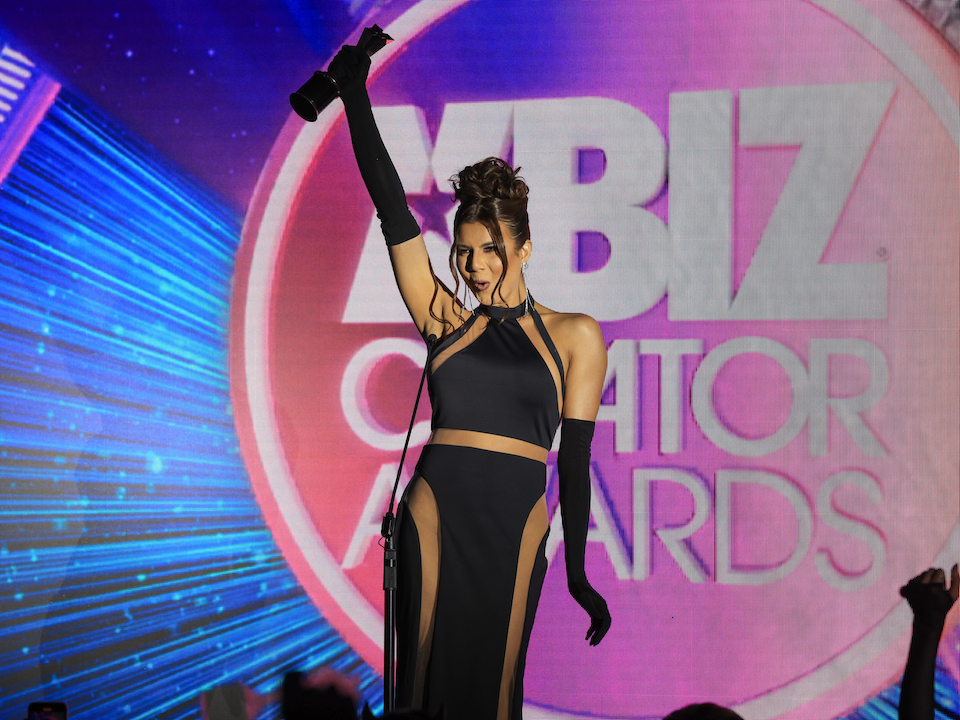 Veteran mainstream performer and creator Siri Dahl, in a striking pink velvet pantsuit, presented the award for Best Trans Premium Social Media Star to Venezuelan bombshell Steph Kolman. Statuesque in one of the evening's most glamtastic getups, a black-and-gold gown with distinctive architectural lines, Kolman said, "Thank you so much XBIZ, thank you all my fans, thank you so much, and all the Latines!"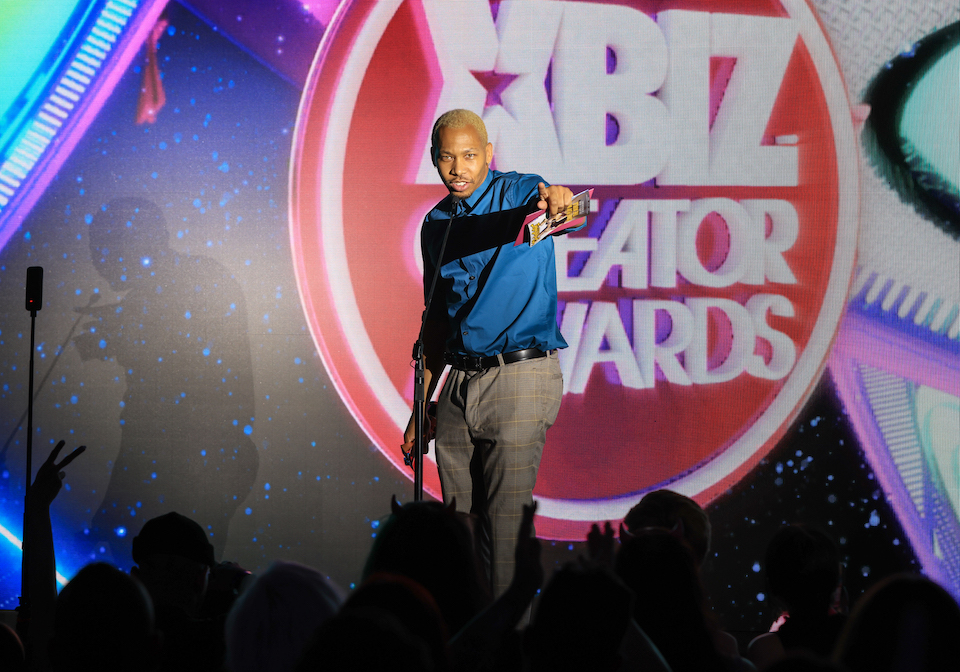 The next presenter was the iconic Ana Foxxx, dropping jaws in a stunning shocking-yellow bikini top and wrap dress. As soon as she opened the envelope to reveal the winner for Best Male Premium Social Media Star, Foxx served an impish smile and said, "And the winner is — and if you haven't fucked him, you should — it's Ricky Johnson!"
The ever-charming Johnson, pulling off a stylish jacketless and tieless look with a cobalt blue shirt and patterned grey pants, took the stage. 
"As you can tell, I didn't expect this," he said. "Shoutout to everybody, everybody here is amazing, we are all our own winners, we all have fans, let's get that bag, let's get that money. Shoutout to Brazzers, I love you guys. If you're trying to make a website shameless plug, reach out to Kenny at YPP. Also — shoutout to all my haters, suck my dick, let's go!"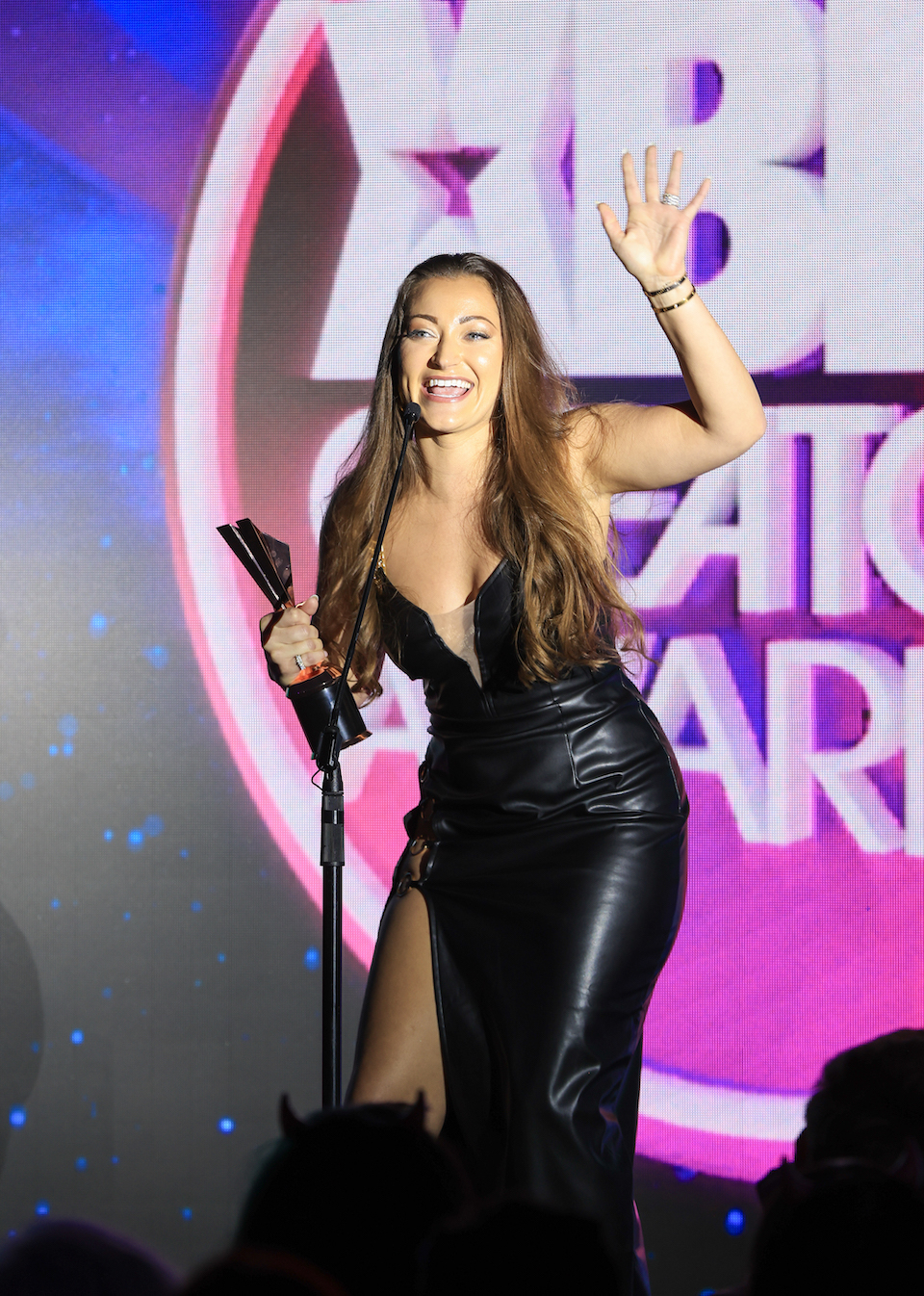 Another mainstream marquee name, Abella Danger, wearing a brown crushed velvet minidress, presented the Best Female Premium Social Media Star trophy to her fellow A-lister Dani Daniels, whose futuristic black leather dress sported a slit revealing much of her leg.
"I love this industry so much," Daniels said. "Thank you guys so, so, so much for having me here — I'm so shy! Shoutout to Lovgun, shoutout to everyone who voted for me and I love everybody. And my husband's awesome! I love you, Vic."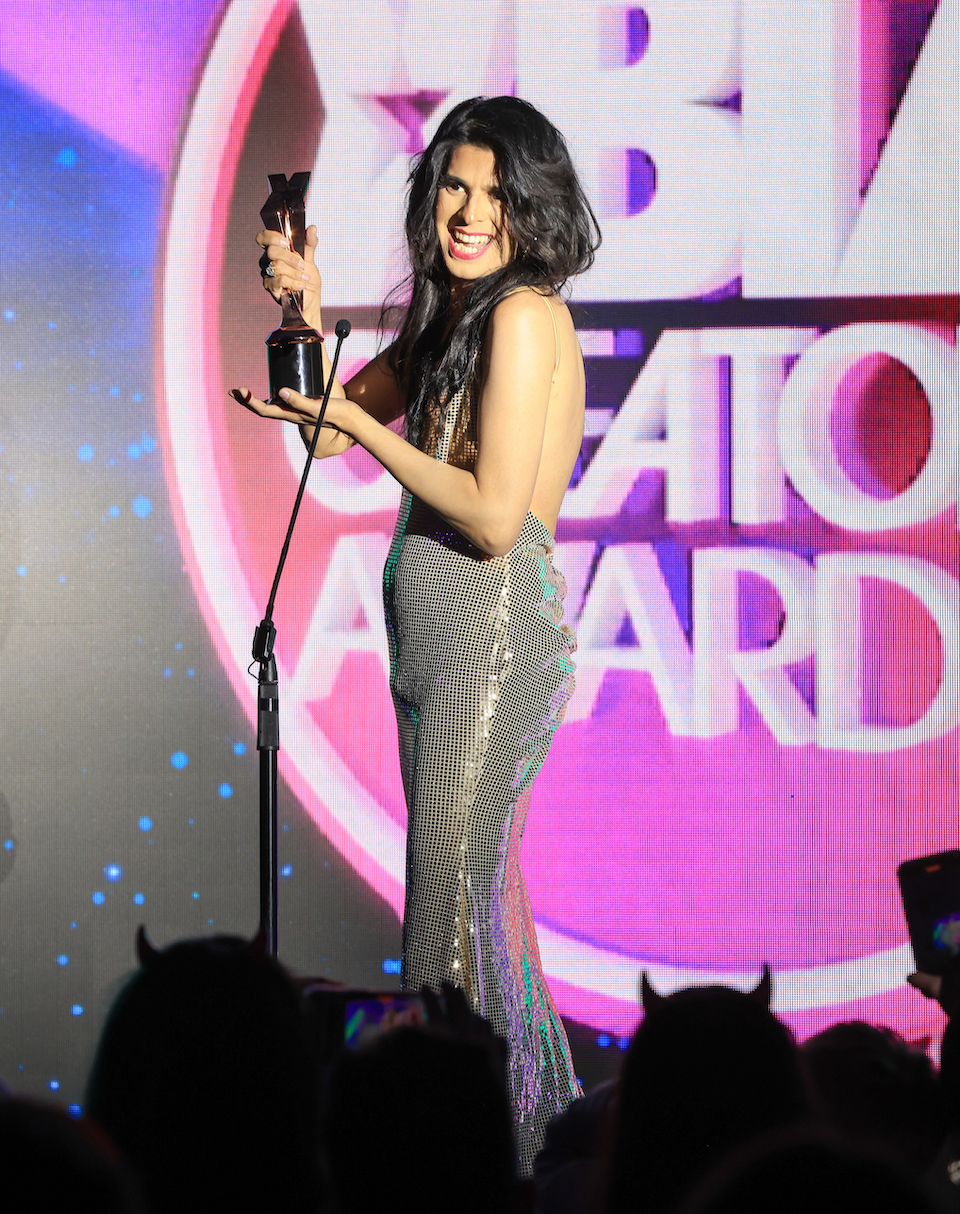 Casey Kisses, in a floral gown very suitable for Miami, presented Best Trans Clip Artist to Christina Monroe. Wearing a shiny silver skintight gown, Monroe was much overcome by emotion before thanking the fans and her first platform, Chaturbate.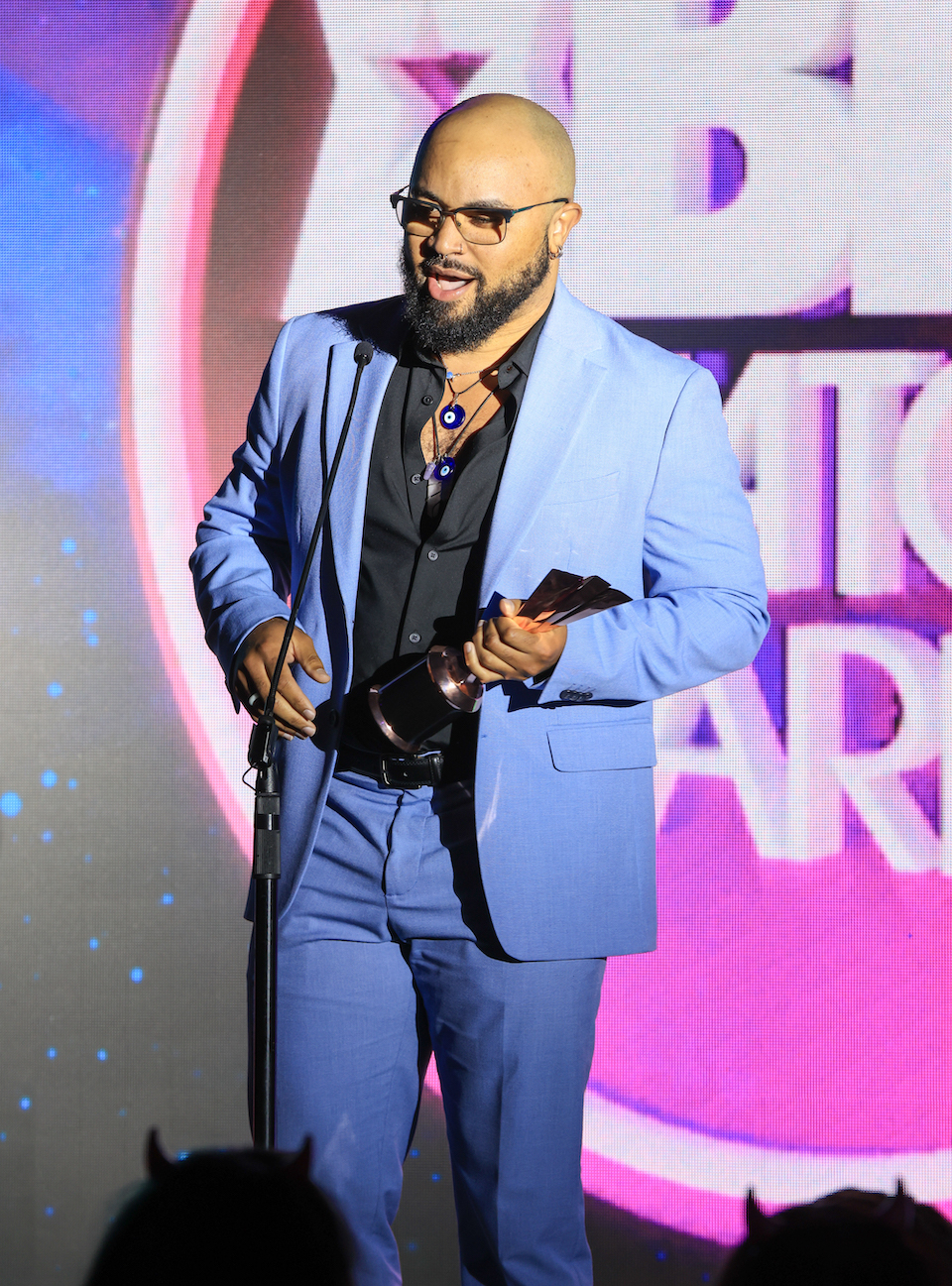 Quincy, in a shiny pink gown also baring a lot of leg — perhaps the other great sartorial motif of the evening — presented Best Male Clip Artist honors to Igor Night, who thanked the fans and also "you big girls for fucking with me. Shoutout to the big girls!"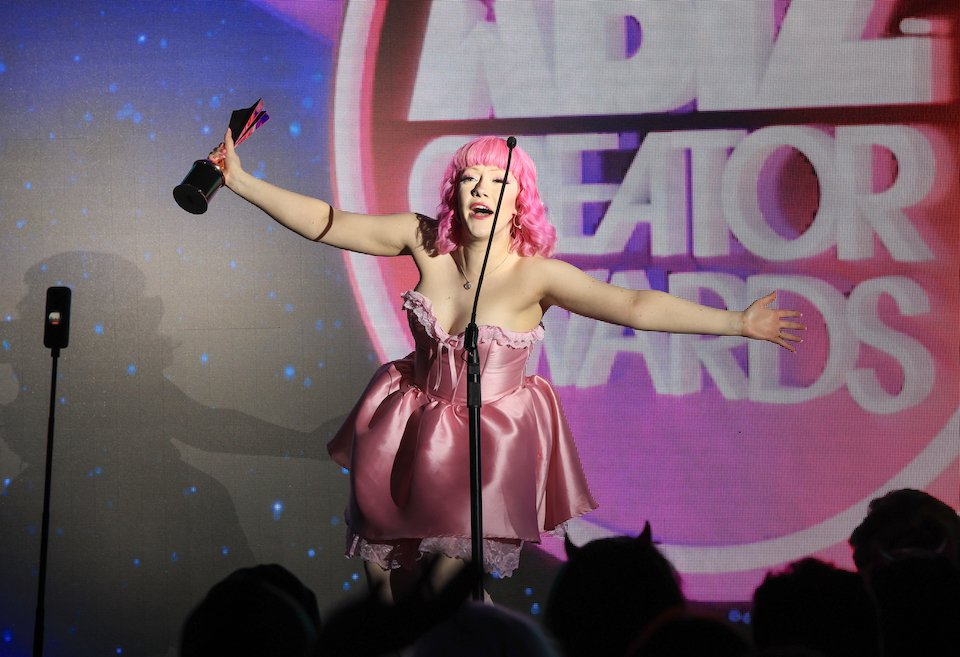 Ricky Johnson returned to the stage, this time as presenter, to bestow the title of Best Female Clip Artist upon to the unmistakable Evie Rees, naturally wearing her signature Gothic Lolita-infused cake-pink-and-white style.
"You're the most amazing people I've ever met in my life!" she beamed. "Thank you XBIZ — I'm gonna throw up!"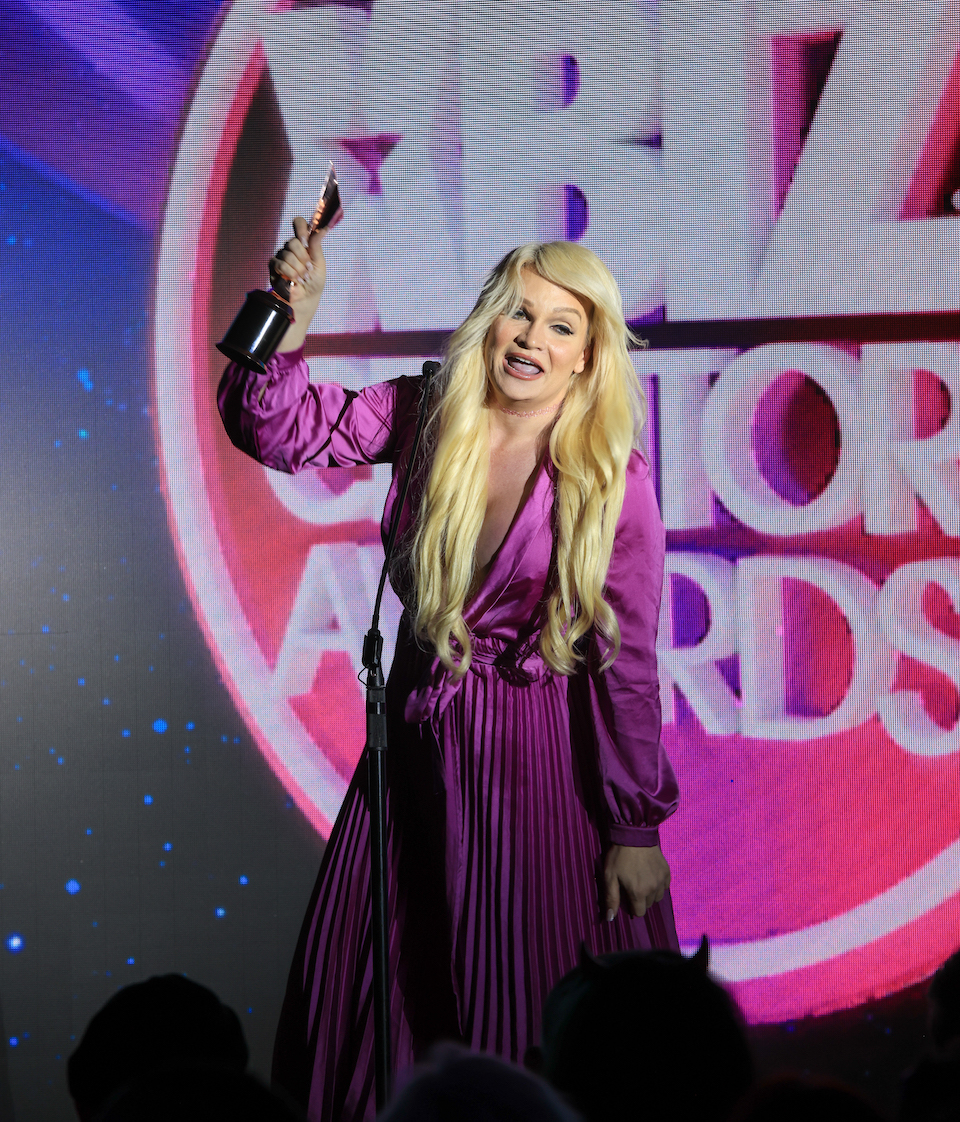 Sofia Rose — a veritable vision in bright green yellow, her iconic bosoms framed to perfection — presented the award for Best Trans Cam Model to Mrs. Kelly Pierce, who wore a pink gown with dramatic decolletage. 
"Thank you guys so much. I wasn't expecting this," Pierce confessed, before dedicating her win to "all of us old bitches who are past 40! Also, I'm the vice president of APAG union — make sure you guys join your APAG union, let's get performer rights going, fight discrimination. So much is going on right now with the anti-porn stuff. Let's get together and fight back!"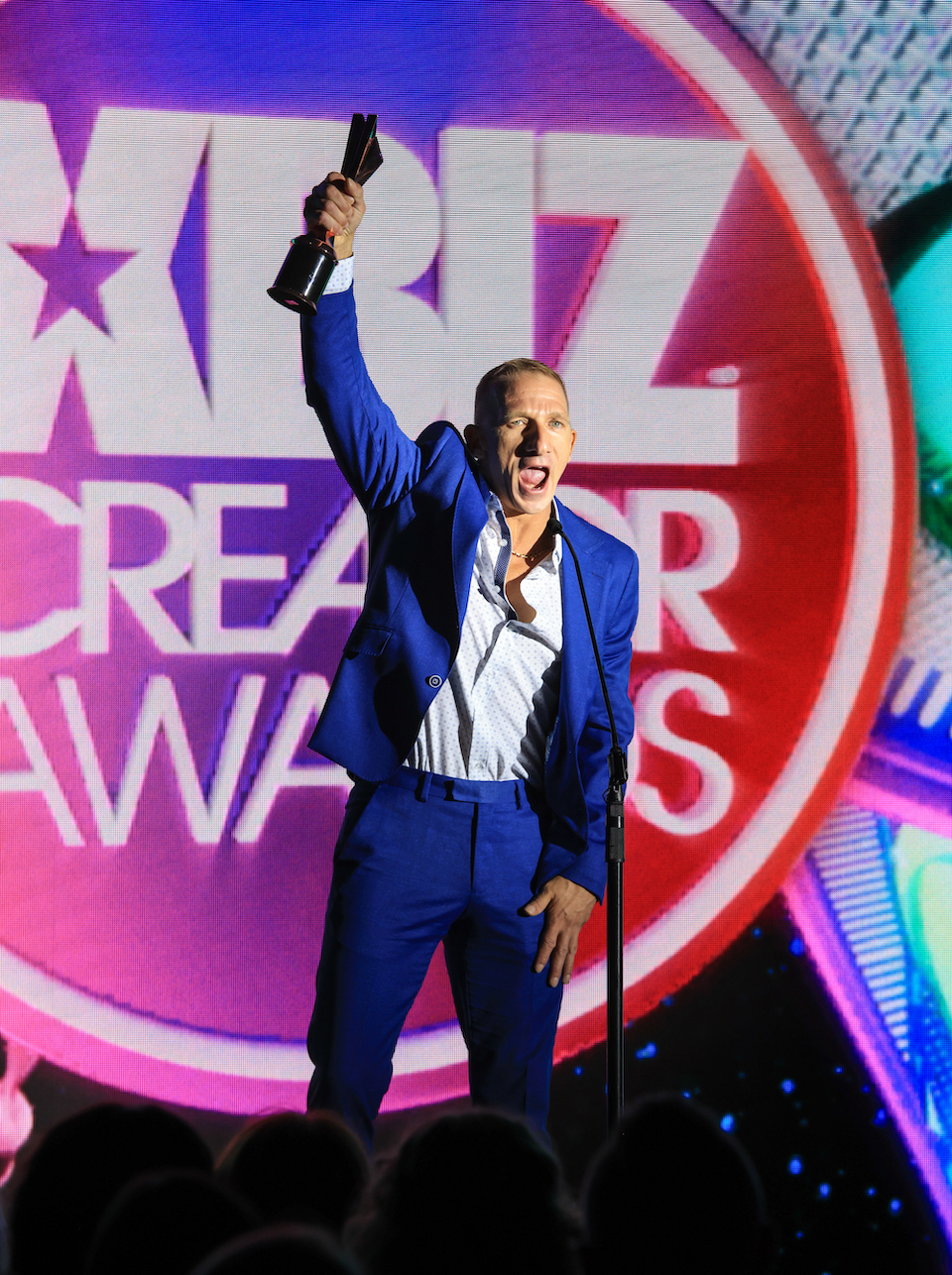 With the evening approaching its close, Alexis Fawx announced the winner for Best Male Cam Model. Winner Brody Biggs thanked Chaturbate, all of the nominees and "all the girls, because the guys wouldn't be here without the girls!"
Finally, alt-porn pioneer, veteran industry multitalent and innovative creator Joanna Angel — in her signature classic black, with flapper vibes as a stylish twist — announced the coveted Best Female Cam Model trophy, which went to Bailey Eilish.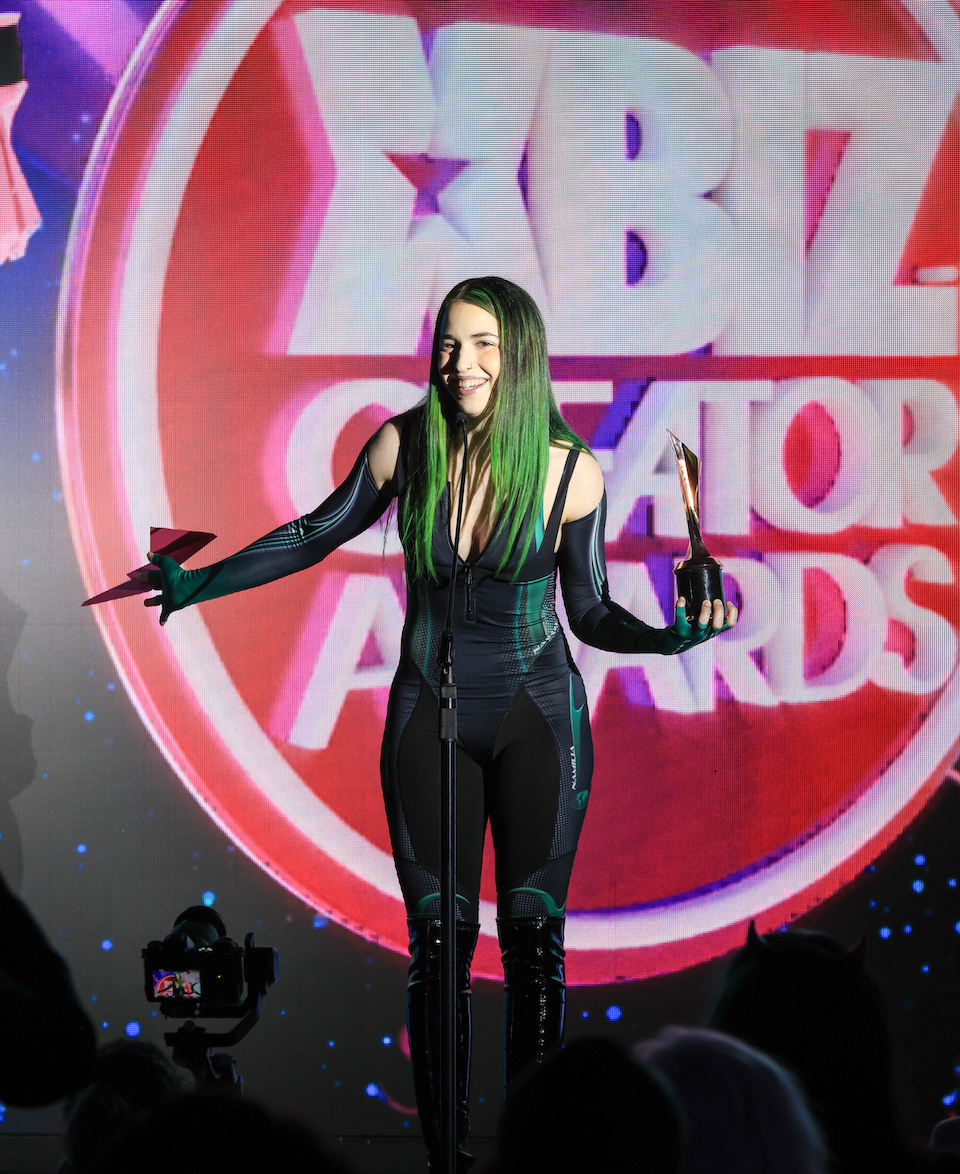 Eilish, sporting her distinctive green-and-black hair, with the effect doubled down by a very skintight green-and-black game character outfit reminiscent of "The Matrix" — gave the final acceptance speech of the night.
"Can everyone hear me?" she deadpanned. "I've never spoken into a microphone before. There's a first time for everything. I want to say, I'm so honored to be up here now. Thank you XBIZ, thank you Chaturbate, thank you to all my fans and supporters. And if you see me, come say 'hi.' I'm friendly and I want to make friends with more people!"
Amouranth returned to close out another triumphant night for the adult creator community.
"This has been one of the most memorable nights of my life," she gushed, "right up with getting my holes molded by Doc Johnson. Thank you again for welcoming me as your host. This was my first time doing one of these — wow, I haven't said that in nearly 10 years! Anyways, let's get ready to have some fun at the after-party. And for all you night owls — I hear there's an unofficial after-the-after-party pool party happening!"
She was right. The celebratory mood continued into the early hours of Thursday as co-workers, colleagues and friends in this crucial sector of adult took advantage of the delightful late-spring Miami weather to offer proof that productive and supportive community does indeed trump unhealthy competition.
https://www.xbiz.com/news/273791/community-over-competition-the-2023-xbiz-creator-awards-show-lights-up-miami

XBIZ.com – Gay
2023-05-19 13:39:00