Back in her drug-slinging days in Arizona, Maya Woulfe would fly well below law enforcement's radar.
Seriously, officer, look at that adorable face — she cannot possibly be ridin' dirty, can she?
Years later, a few years into a successful career as a porn performer, Woulfe marvels at her luck getting out of that life in one piece.
It's the fall of 2022 and we're far from Arizona, sitting at a discreet table by the window in a French bistro in the hip Eastside Los Angeles neighborhood of Los Feliz. The restaurant is so perfectly art-directed to look like a Parisian hangout that it doubles as Hollywood's version of "France" in several television shows and movies.
"I should have a criminal record and, surprisingly, I do not," Woulfe reminisces. "I'm very fortunate because I am a beautiful young white woman. I have a lot of privilege. There were definitely times when had I been someone of color, I would have gotten pulled over when I had a bunch of drugs in my car. But because I look so unassuming, people see me and they never look at me and think, 'Oh, that girl is selling drugs.'"
"Unassuming" is a word Woulfe likes to use to describe that version of herself, along with "shy" and "strange," all of which are most certainly aspects of her intriguing persona as a model. The more one gets to know her, however, layers upon layers start manifesting that complicate and contradict that first impression, giving way to the chameleonic transformations that have made her an in-demand actor for adult features.
Get Woulfe comfortable and talking, and unlikely but totally true stories start pouring out, casually and matter-of-factly, some straight out of "Breaking Bad."
"In Arizona, I always felt like I was having to look over my shoulder," Woulfe recalls. "I was always afraid someone was going to break into our apartment and take the drugs or the money. And I was always afraid that I was going to get pulled over, because I didn't have a license either. So I was driving without a license with a bunch of drugs.
"I didn't really have any other options," she adds, with zero self-pity. "It's funny because you can be privileged in one way and not another — you know, like, I'm privileged because I'm white, but I also grew up poor."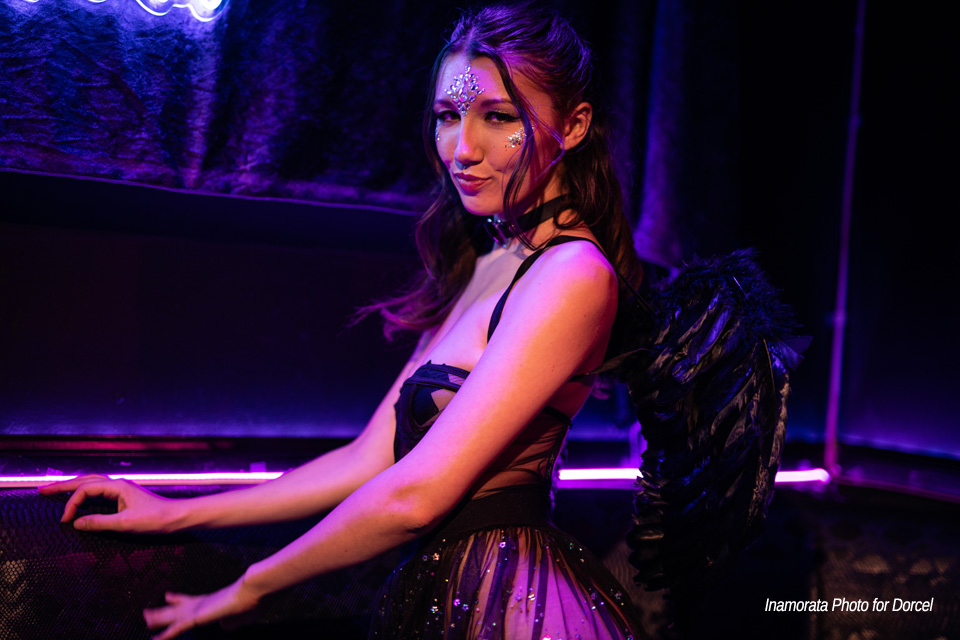 Woulfe grew up in Arizona in a place she calls "physically beautiful, but really trash." She felt the locals were "racist and super conservative, and I'm weird and gay. I didn't ever really feel like home until I moved to Los Angeles. Which is crazy, because you never hear people be like, 'Oh, Los Angeles is so homey,' but it kind of is. There's something for everyone here."
She admits she has "a lot of mixed feelings" about Arizona. "I remember when I was there, a 20-year-old drug addict, loser, throwing my life away. I go to certain places and I'm like, 'Oh, I remember when I did this fucked-up thing there.' And, 'Oh, I almost died there.' It's just a haunted place for me a little bit, although I can appreciate the physical beauty."
Seven years later, at the Los Feliz bistro, Woulfe can look back on those days with clarity. "I'm very, very familiar with my trauma and why I used drugs, and why I act and behave the way I did then and do now," she explains. "I've done a lot of self-reflection, self-work and healing. I was self-medicating in a way, and I was really abusing substances in any way to feel any form of escape, because I was so dissatisfied with my life — 'Just give me anything.' And then my ex-boyfriend, my roommate and I all ended up selling drugs, so it was always abundant and always around. There was never a shortage of things for me to put up my nose."
The "Breaking Bad" scenarios, unfortunately common in 21st-century working-class America, spin even more wildly.
"We all moved into a frat house," Woulfe laughs. "Neither of us were attending college. We ended up living there because my boyfriend's apartment got broken into and someone stole his drugs and money and shit. The frat guys were cool. They didn't really care. They bought drugs from us."
Aware that they were dodging metaphorical and actual bullets, Woulfe and her ex decided to get straight.
"When you fall in love with someone, you kind of just want to be like the best version of yourself for them," she says. "We realized that together we gave each other the motivation to do a lot and be better."
The couple moved to Los Angeles and "got sober together and like, fixed our shit together," she said. "We spent like six or seven months just like noses to the ground, just making as much money as we could."
That relationship, however, did not survive much longer. And it was around that time that Woulfe started getting more serious about another aspect of her life she had put on the back burner during her Bonnie and Clyde phase — sex work.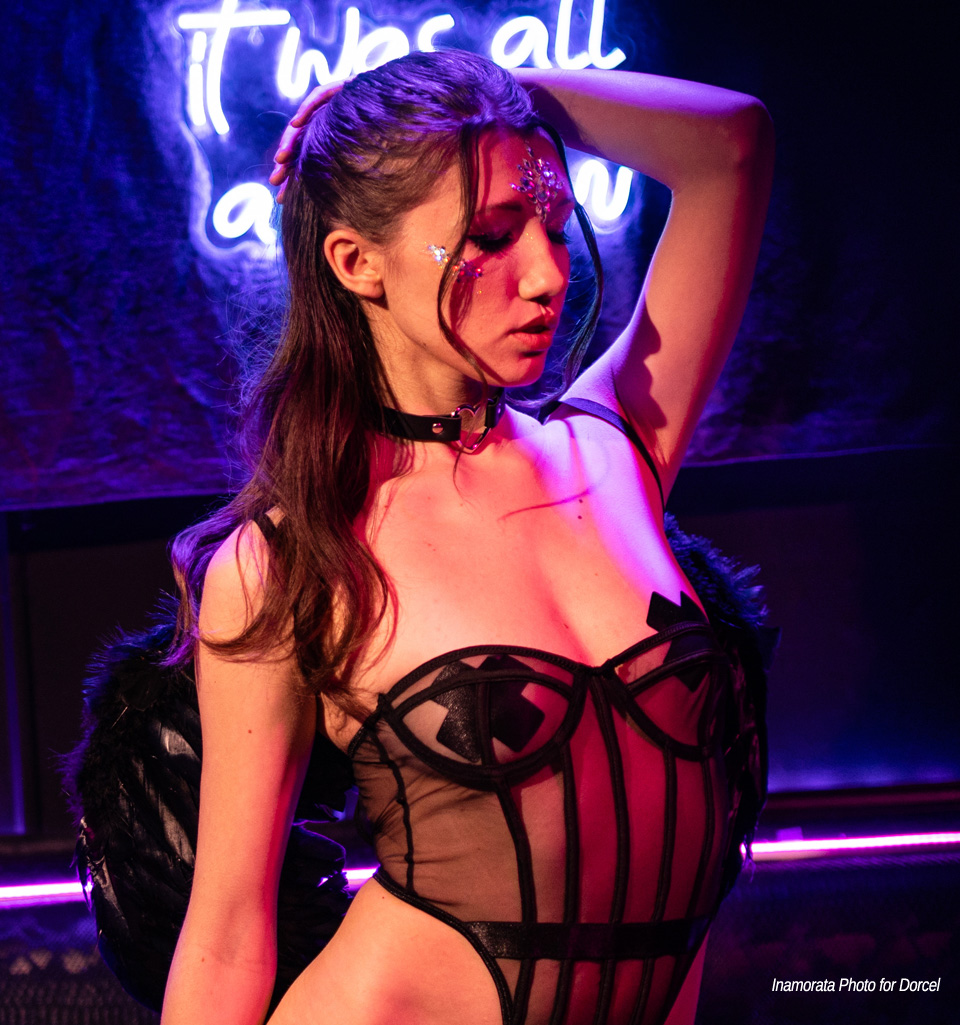 "I was doing sex work before I even got together with him," she explains. "I actually started as soon as I turned 18. But my early experience of sex work was not great. I was doing things for a lot less money than I should have, and putting myself in unsafe situations, because I was desperate and uneducated. I was 18 and I was like, 'I think I can make money off of being a hot young woman and having a vagina, and I'm gonna do that.'"
Fast-forward to her early 20s and the breakdown of her relationship and Woulfe was now ready to return to sex work, and to fully express her sexuality, queerness and kinks.
"My first kiss ever was a girl," she says. "I always knew I was gay. I denied it sometimes, because I grew up in a really religious family where they're like, 'If you're gay, you're going to hell.' But most of my first everythings were with a girl."
Learning sex work by trial and error involved some camming, and forays into stripping.
"My first dance ever, my first stage dance, I was tipped $1 — and it was a pity dollar!" she fake cries, laughing. "I had been taking pole dancing classes, and the lady who was teaching me taught us on static poles, which are the ones that don't spin around. But almost every club at this point has poles that spin around. And so I walked up to the pole and used all the amount of force I would have needed to swing around — and it started spinning by itself. I just ended up having to hold on to the bar to not fly off. It was so embarrassing!"
An avid dancer, Woulfe says that although she didn't figure out strip club culture until she got older, she would love to feature-dance.
There was also the time Woulfe briefly worked as a "doumi," one of the notorious party girls who are driven around to karaoke clubs in Los Angeles' Koreatown to entertain soju-soaked patrons. There's a multitude of tales behind those smart eyes and the enigmatic Mona Lisa smile.
"I'm a pretty private person," Woulfe warns. "I am trying to share more of myself now as I build my brand, though. I think the reason we in our industry have fans is because people like us, and they like our personalities. They want to get to know us — anyone can get fucked, but I think we get fans because they kind of like us, or what we present ourselves as. Because, it is also kind of a bit of a facade too," she smiles. "Maya is a character I created."
The Maya Woulfe persona was originally built via Instagram, while the now-sober Arizona transplant was working multiple coffee shop jobs and apprenticing at a well-established Los Angeles dungeon.
"I wanted to go by 'Maya' at the dungeon, but they said no. They said, 'We just had a Maya and our customers would get confused. So I named myself something stupid that I didn't like like. But my Instagram was run under Maya, and I kind of knew it was going to end up growing. I was building it up, and also filming some stuff with my then-partner."
Woulfe's modeling career started in earnest because the dungeon's website needed pictures. She asked her roommate to take a couple of pictures of her at the time, and as soon as the dommes in charge saw the results they immediately demanded more.
"I set up a shoot with a photographer I met at this BDSM club," she reminisces. "And then I shot with my roommate again. She's a photographer, and she took the most beautiful pictures in her natural-light studio. After that I was hooked. I asked myself, 'I want to do more of this — how do I find a way to get in front of the camera all the time? How do I make a living out of this?'"
The universe provided the answer in the form of several top adult agencies sliding into Woulfe's DMs.
"I was doing really good modeling shit," she says, factually, with no conceit. "I was doing fetish and boudoir modeling and they probably saw that I was good at that, and they thought that I was pretty."
Woulfe's Instagram numbers were pretty great too, helped by her street smarts and passionate hustle. "I used Tinder to grow my following," she admits. "When I first started, I paid for Tinder Premium, and I would hop around to different cities every day and the only thing that would be in my bio would be my IG name. So if they wanted to see anything else that's out there, they would go down the rabbit hole. I did that forever until they kicked me off! They probably thought I was whoring out in different cities and countries all the time."
The then-unknown Woulfe then self-engineered a mini bidding war for her porn debut, eventually using the leverage to hit up Mark Spiegler. Spiegler emailed back right away, and Woulfe met him in August 2020. She started shooting professionally in September, and they've worked together ever since.
Although she loves gonzo scenes and kink shoots, over the last two years Woulfe has become notable for having taken full advantage of acting opportunities offered to her by some of the most celebrated directors. Feature work, she confesses, is where her heart is.
"Features is where I want to pour all of my time into now — but truly I love gonzo. I love just getting to like, fuck. And there's no constraints to it. I feel like I joined the porn industry to have good sex. Because we have so much freedom in our gonzo scenes, they get really intense and raw."
Despite the industry's tendency to cast her in "naive teen" scenarios, sexual intensity is yet another layer in the Maya Woulfe persona, and one very close to the core.
"The beautiful thing about being able to make up your own character is that it can be a blend of reality and persona," she says. "You get to pick and choose whoever you want to be. I've been into kink and fetish stuff for a long time, well before I got into the porn industry. Even if they want me to play innocent, sometime I just want to say, 'Slap my fucking face, choke me.' That is part of my character, but it's also part of my own real personality."
There are things the Maya character says in social media that she herself wouldn't ever really say.
"I would say I turn the dial up on the innocent and unassuming side of myself, and because of that, people would never fucking guess that I've done a lot of crazy shit," she adds.
Beyond the real person and the Maya Woulfe persona, there are the acting parts that directors are now specifically writing for her. Woulfe is starring in two of this year's most high-profile studio releases, Ricky Greenwood's "Grinders" for Adult Time, and Casey Calvert's "Going Up" for Lust Cinema.
"I love to act, and I found out through the porn industry that I'm actually pretty good at it," Woulfe marvels. "I love getting to do more than just a one-day scene, just being able to get to know a character and pick on their mentality a little bit and do method acting, which I didn't even know what that was when I started doing it!"
Woulfe says she enjoys getting inside a character "on a semi-large scale. For 'Going Up,' Casey shot that in over 14 days. 'Grinders' took seven or eight days. It's fun to be able to stretch that muscle. I get excited about it. I feel grateful to have been able to do as many features as I have already, not only doing the features, but I've been given five big roles in two years. That's something that some people don't ever get to do in their entire career. I feel very fortunate."
Acting is but one facet of what Woulfe calls her art.
"I have a lot of different mediums I work in," she explains. "I write poetry and I make visual art. I am currently illustrating the first anthology of my poetry, 'Looking Glass.' And I like to dance. I'm starting to get into photography now. And I bought a sewing machine and started learning how to fabricate clothes.
"I'm able to do all these things," she acknowledges, "because of sex work. Sex work has such an appeal too because I'm able to make a significant amount of money, and it gives me the time to work on my artistic endeavors and whatever else piques my interest. I think that's why it works for me."
https://www.xbiz.com/news/270486/maya-woulfe-actress-artist-poet-and-wild-at-heart

XBIZ.com – Movies & Stars
2022-12-09 23:30:00