Feature Running Time:  1 hour 43 minutes
Date of Production: February 18, 2022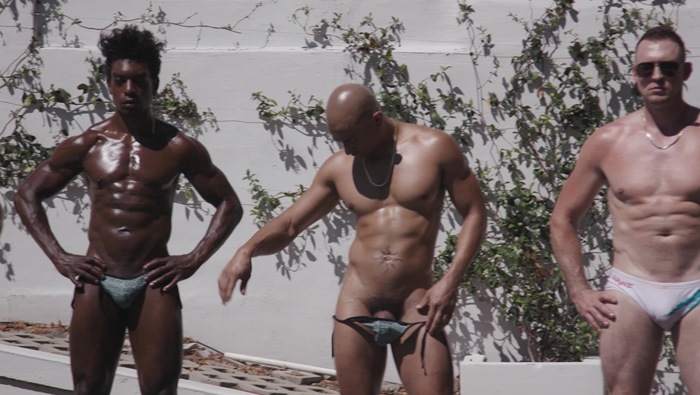 Genre: Gay; Bareback
Condoms: No
Audio/Video:  Shot in 4K Ultra HD
Director: Mike Quasar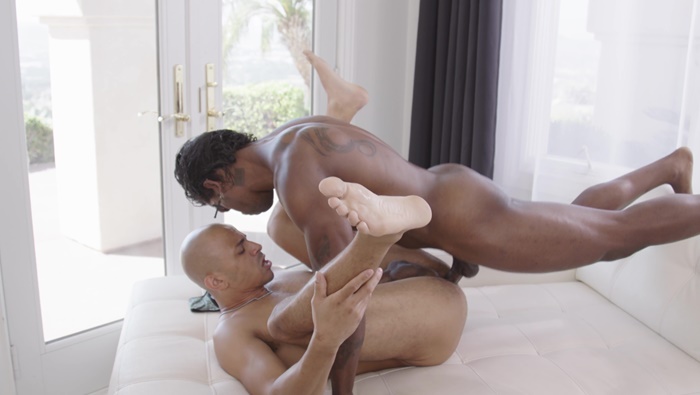 Cast: Featuring Noir Male contract star DeAngelo Jackson with Nick Fitt, Zario Travezz, Jordan Jameson, Pierce Paris
Bonus Scenes: No
Extras: Multiple Chapters; Slideshow; Cumshot Recap; Website Information

Overview
Director Mike Quasar mixes fashion and man sex in his hot flick XXX Fashion Show. I highly recommend this movie.  The sizzling collaboration features Noir Male contract star DeAngelo Jackson along with Nick Fitt, Pierce Paris, Zario Travezz, and Jordan Jameson modeling the latest swim and underwear pieces from African-American LGBTQ+ designers at Wayne Underwear, Deeps.World, and Karson+Ko Intimates. One-on-one interviews are mixed in with these hot-bodied models showing off the clothing and then stripping out of them for unforgettable fucking on the fashion runway.
Scene 1: DeAngelo Jackson and Nick Fitt
DeAngelo and Nick try on different underwear from the fashion designers. They help each other with the fittings and admire the way each other's ass looks in the jock straps. Nick also admires DeAngelo's dick. He stops the fitting to suck DeAngelo's cock, getting it hard. DeAngelo fucks his throat and gags him then spreads Nick's ass open and tongue fucks it then penetrates it with his cock in doggy position.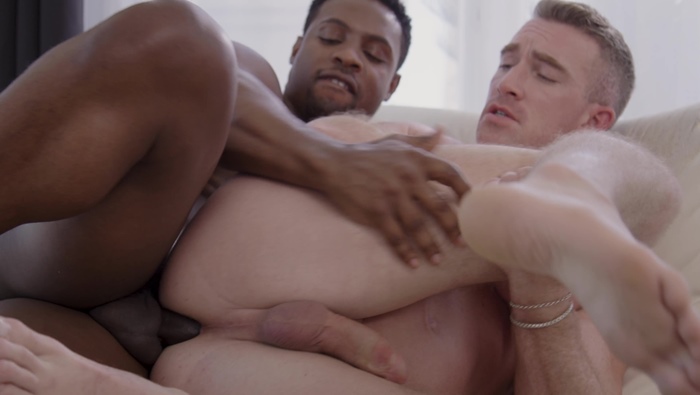 Nick takes a pounding then rides DeAngelo's pole in reverse cowboy. Nick's manhole gets plunged in a round spoon fucking then mish. The guys jerk their dicks and pop making for a satisfying fitting.
Scene 2: DeAngelo Jackson and Pierce Paris
All the guys put on a fashion show at the pool featuring the designs of Perry Wayne from Wayne Underwear brand. They strut their stuff around the pool in the pieces.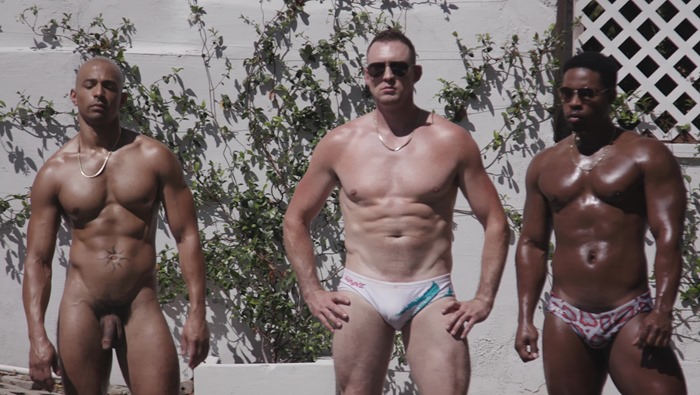 DeAngelo and Pierce have some time before the next show. They decided to have fun with the body paint, smearing it on each other's bodies. Soon they're making out and turning Zario on. He's watching them from across the room.
Pierce puts on a show sucking DeAngelo's dick. Zario jerks his cock while watching the pair. Pierce deep throats DeAngelo then begs to be fucked. Before DeAngelo sticks his cock in Pierce's tight ass, he rims his hole, giving him a wet tongue lashing doggy style. Zario's dick is hard as he strokes it faster and faster while watching the action.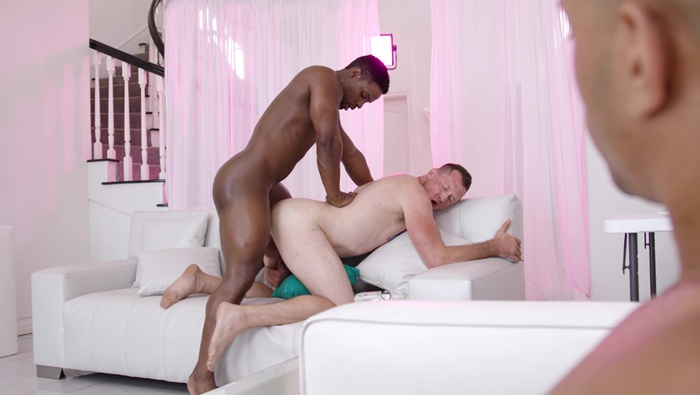 DeAngelo licks Pierce's ass hole then kisses his cock and balls before penetrating him doggy style. He stretches Pierce's tight man ass open from behind. "That's some good dick," Pierce moans. He sits on DeAngelo's cock and bounces up and down on it in reverse cowboy.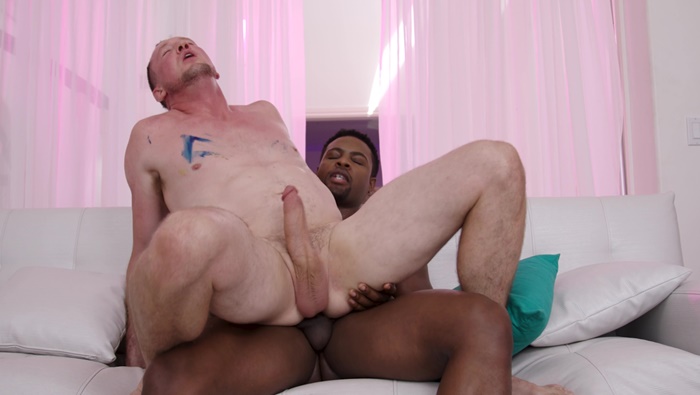 Pierce gets his hole slammed by DeAngelo's hard cock. Wanting more of DeAngelo's meat, Pierce lies on his back in mish, inviting DeAngelo deep in his hole. DeAngelo accepts the invitation and pumps Pierce's chute until Pierce pops. It's not long after then when Zario blows his load in intense pleasure, watching the boys fuck. "Damn, guys, that was fucking hot," Zario tells them.
Scene 3: Nick Fitt and Zario Travezz
It's showtime. The guys put on another outdoor fashion show this time featuring the looks from porn star Deep Dicc's brand Deeps.World. The guys walk down the stairs toward the pool one by one, posing for the camera in each look.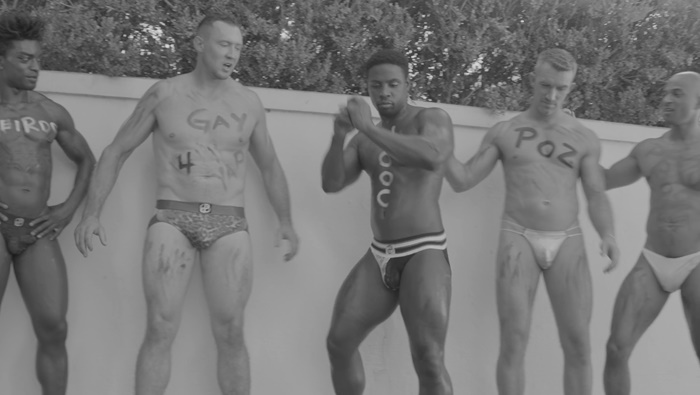 Later on, Nick and Zario spend time together, waiting for the next fashion show. They have a lot of time to kill and decide to make the most of it with a hot makeout session on the couch. Nick is hungry for Zario's dick. He puts it in his mouth and sucks it, bobbing his head up and down, swallowing Zario's shaft. Zario stands up to feed Nick all of his cock, fucking Nick's throat until he gags.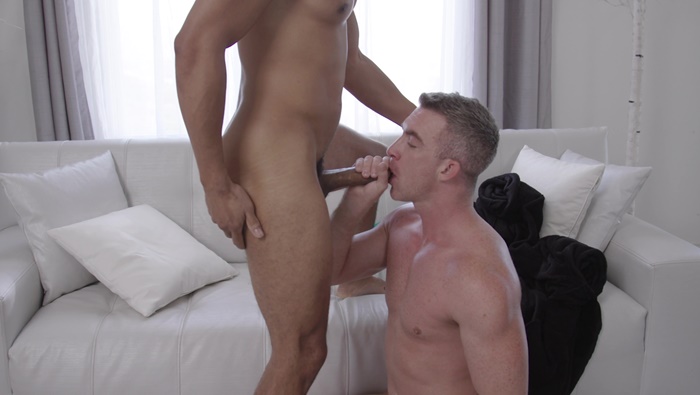 Nick gets on all fours on the couch and tells Zario to eat him out. Zario ravages Nick's manhole, spanking his ass and tongue fucking his hole. These two have fun fucking backstage before the show.  Zario is insatiable for eating Nick's ass hole in different positions.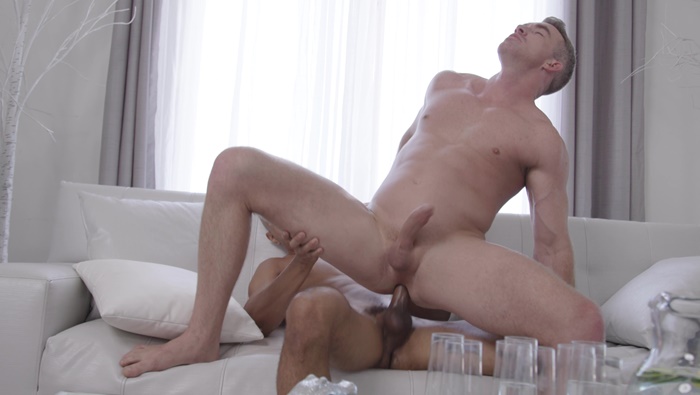 Zario pumps Nick's hole starting in mish then Nick takes control by going for a reverse cowboy ride on Zario's dick. "Fuck, that feels good," Zario moans as Nick rides his pole. "Ride that dick, baby." Nick goes for a cowboy ride next, slamming and grinding his hole on Zario's cock. Nick shoots his load all over Zario. "Cum on daddy's chest," Zario tells Nick. That's when Nick pops. He turns over into doggy position to take Zario's hot load. Zario bangs him doggy style and then fills him up with cum.
Scene 4: Jordan Jameson and Zario Travezz
It's time for another hot fashion show. The guys get sensual with their showcase of Brandon Carson's Karson+Ko Intimates. They pour milk over their hot, oily bodies clad in Brandon's looks.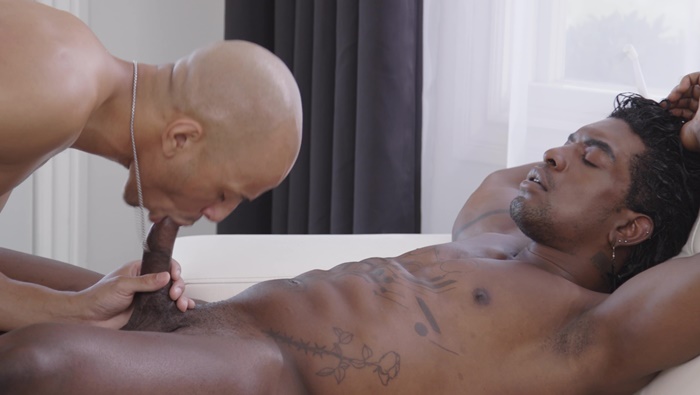 After the show, Zario and Jordan go back to the dressing room for a game of dress-up. They try on the different brands, admiring the way they look on each other. The attraction between these two takes over and they make out in their hot jock straps.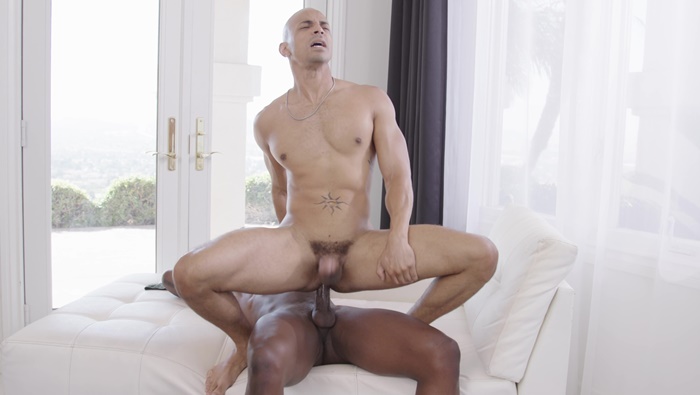 They take their passion to the couch where Jordan feeds on Zario's dick. He coats Zario's cock in spit as he strokes it in and out of his mouth. Zario gets a taste of Jordan's dick next, sucking him off on the couch. Jordan eats Zario's sweet ass doggy style while tugging on Zario's cock, leaving him moaning in pleasure. Jordan replaces his tongue with his cock, using it to drill Zario's manhole open from behind. "Oh, fuck," Zario moans as Jordan strokes him deep in the ass. Zario rides Jordan's pipe in reverse cowboy then spreads his legs open wide in mish for more pleasure pumping. The missionary fuck makes Zario cum. He blows his load on his stomach and then Jordan pops with Zario sitting on his face.
Final Thoughts:
Hot bodies collide with each other and some of the hottest men's swim and underwear designs on the market in director Mike Quasar's flick XXX Fashion Show. I highly recommend you watch this hot new take on fucking on the fashion runway. Production studio Noir Male showcases pieces from African-American LGBTQ+ designers at Wayne Underwear, Deeps.World, and Karson+Ko Intimates on the bodies of Noir Male contract star DeAngelo Jackson along with Nick Fitt, Pierce Paris, Zario Travezz, and Jordan Jameson. These horny models fuck the runway in this unforgettable bareback show.
https://xcritic.com/review/xxx-fashion-show/

Gay Porn Reviews | xCritic

John Boy

2022-09-16 13:42:49″