Feature Running Time:  1 hour and 27 minutes
Date of Production: August 12, 2022
Genre: Bareback; Fisting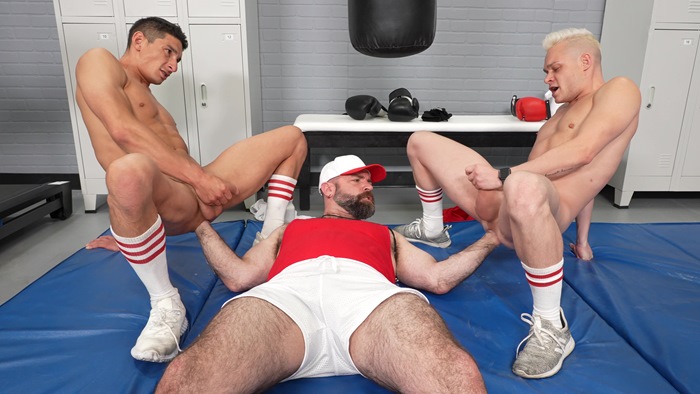 Condoms: No
Audio/Video:  Shot in 4K Ultra HD
Director: Tom Moore
Executive Producer: Tim Valenti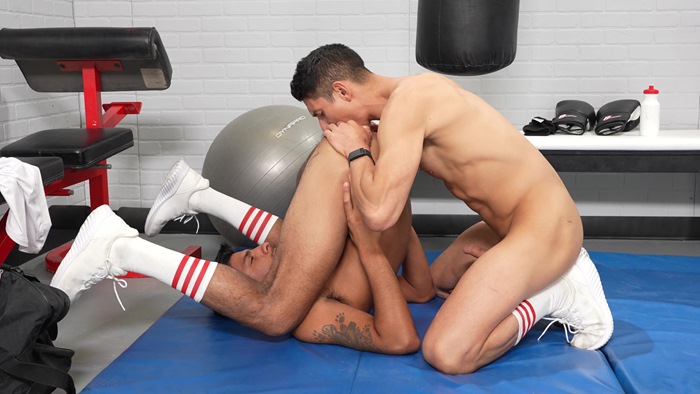 Photography: Tom Moore
Cast: Wolfie Braden Shaw, Jim Fit, Andrew Connor, and Apollo Fates
Bonus Scenes: No
Extras: Multiple Chapters; Slideshow; Cumshot Recap; Website Information
Overview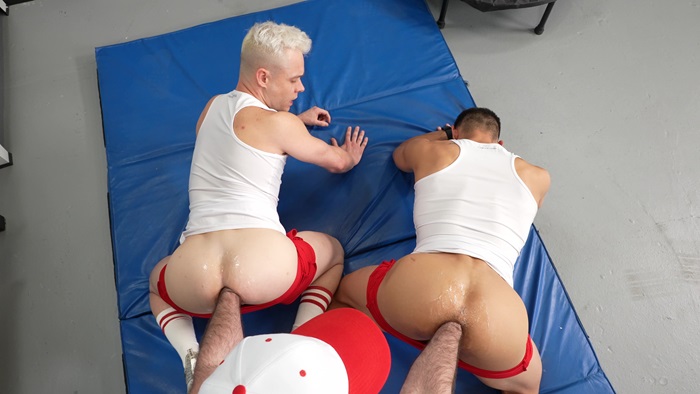 Club Inferno, the Falcon | NakedSword brand that features gay muscle men in extreme gay porn and hardcore fisting videos brings us a fisting flick by fetish director Tom Moore. Called Workout That Hole, the flick follows a boxing theme where hot studs throw jabs at punching bags where they train for the next tournament. Coach Wolfie Braden Shaw is training two hot bods, Jim Fit and Andrew Connor. The boys thrust and jab at the punching bag while Wolfie coaches them through every punch. Before the tournament, Wolfie decides their training needs to go hardcore. He gets his recruits to bend over doggy style on the mat for dual fisting. Andrew and Jim are eager to show the coach who can take his fist the deepest. They push out their holes, revealing their pink rosebuds before fucking Wolfie in a doggy spit roast and then fisting him until he cums. Jim and Apollo Fates get so turned on by working out that they make out on the mat. Soon, Jim is tongue fucking Apollo's hairy manhole, and they both fist and fuck each other to a creamy finish. I recommend this flick.
Scene 1: Wolfie Braden Shaw, Jim Fit, and Andrew Connor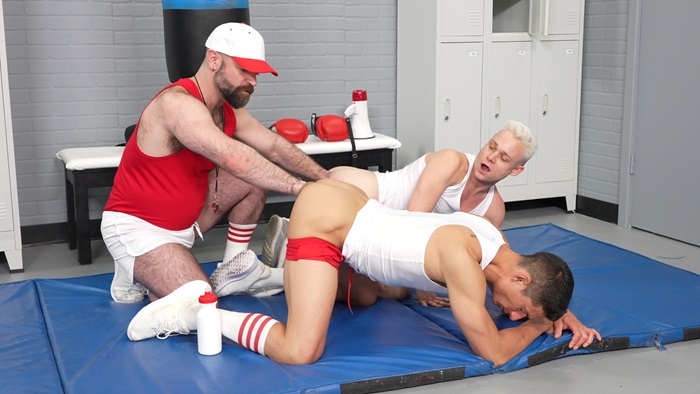 Jim and Andrew are getting ready for their big boxing match. Hairy stud Wolfie is training them hard in the gym. He holds the punching bag while Andrew takes jabs at it. Jim works out on the trampoline and watches Andrew throw his punches. Now, it's Jim's turn to take jabs. "Is that how your mother hits," Wolfie asks him. Jim swings harder and faster at the bag. They work up a sweat punching the bag and soon take jabs at each other. Wolfie breaks up the fight and tells them it's time to see which one of them is the better man.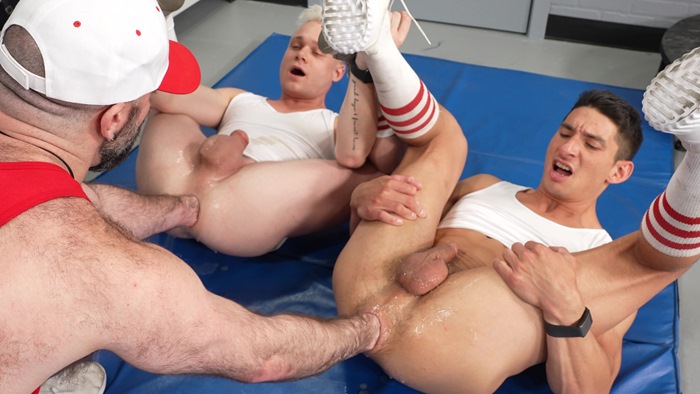 He gets them both in doggy position on the mat and massages their holes with thick lube. Nick and Andrew are eager to show their coach how much they can take. Wolfie drives his fist deep in both boys' asses, setting off moans of pleasure. "Thanks for the hand, coach," Andrew says. Wolfie plunges deep in their asses, thrusting in and out of their open holes. The boys turn over onto their backs and push their holes out, showing Wolfie their pink rosebuds. Wolfie sets up a competition to see who can cum first. "Ride 'em boys," he says, directing Jim and Andrew to sit on his fists and ride until they both cum. The cowboy fisting makes Jim and Andrew cum all over Wolfie, ending the best training session yet.
Scene 2: Wolfie Braden Shaw, Jim Fit, and Andrew Connor
Jim and Andrew want to see whether coach Wolfie can handle his own coaching. It's time they stuff their fists up Wolfie's hairy ass. Wolfie never asks his trainees to do anything he wouldn't do. He's up for it and ready to show his boys what he's got. To get coach warmed up, the boys kiss him passionately and then fuck his throat with their hard cocks. "Suck that dick, coach," Andrew says. Jim chokes coach Wolfie with deep thrusts of his cock down Wolfie's throat. Andrew follows suit with a round of throat training that leaves Wolfie gagging and spitting up all over himself.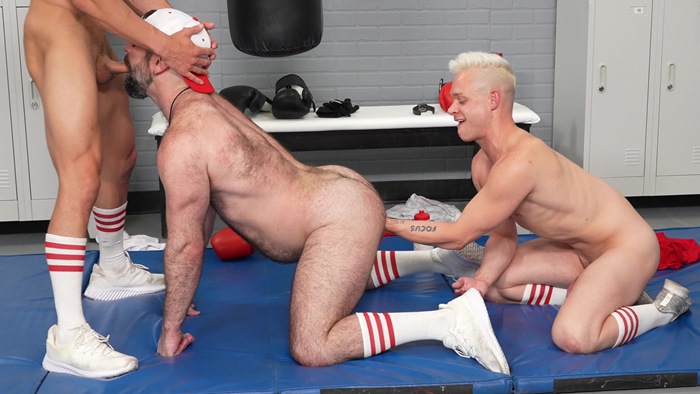 "What do you say we stretch his hole out like he stretched ours," Jim tells Andrew. Coach Wolfie gets on all fours on the mat and takes a bareback banging from Jim. Andrew skull fucks Wolfie, making for a doggy spit roast for the coach. Jim and Andrew train Wolfie's hairy man-ass doggy style. "Fucking drill his hole, just like he drills us," Jim orders Andrew. Now that they've opened his manhole, the guys stretch it even further with their fists. They punish their coach's hairy ass hole with their lubed fists. Jim fucks Wolfie in mish, making Wolfie cum. The coach shows his trainees he can teach just as much as he can learn.
Scene 3: Apollo Fates and Jim Fit
The next day, Jim works out at the gym on his own. He throws jabs at the punching bag, getting himself ready for his boxing match. Apollo walks in and offers to help Jim with his workout. He convinces Jim to take off his shirt for the rest of his workout. They won't get in trouble for being out of uniform because coach Wolfie isn't around. After swinging a few times at the bag, Jim gets Apollo to take his shirt off, too. The guys can't take their eyes off each other, choosing to end their workout for more fun on the mat. Apollo swallows Jim's cock, deep-throating it and coating it with spit. Jim grips Apollo's head and fucks his throat.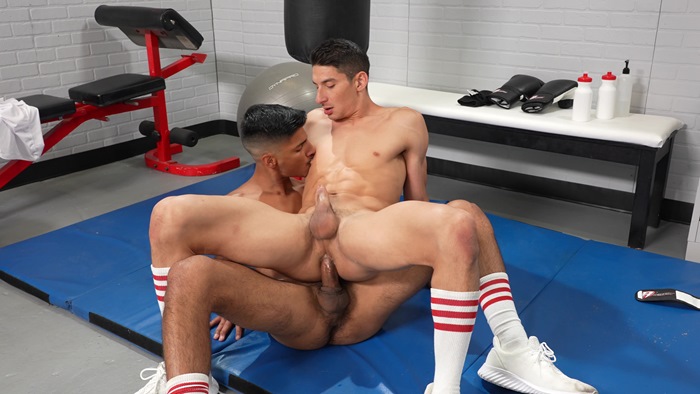 The greedy Apollo is hungry for Jim's manhole. Jim gets into doggy on the mat and moans in pleasure as Apollo's wet tongue laps his hole. "Your ass tastes good," Apollo says. He buries his face between Jim's cheeks. "Eat that ass," Jim says. After rimming Jim's hole, Apollo tells Jim to suck his cock. Jim obliges deep-throating Apollo and then getting in doggy position for Apollo's cock. "Fuck my hole," Jim moans as Apollo pounds him. "Stretch it out," Jim says as Apollo thrusts balls-deep in Jim's ass. Jim rides Apollo's pole in reverse cowboy then gets in doggy for fisting. Apollo stretches Jim's ass wide open with his fist. Jim gets in mish for more deep fisting and soon cums on himself from Apollo's deep thrusts.
Scene 4: Apollo Fates and Jim Fit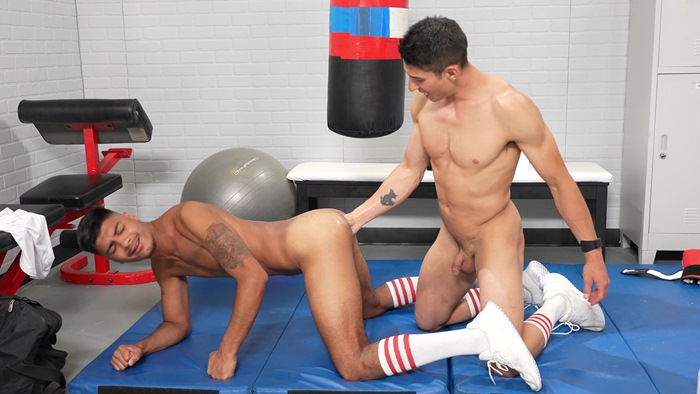 After their showers, Apollo and Jim make out on the mat. They kiss and stroke each other's cocks. Jim sucks Apollo's dick and then puts Apollo in a pile driver to rim his hairy ass. Jim fucks Apollo's pooper, pinning him on the mat. "Dude, that's my hole," Jim tells Apollo while thrusting deep inside him. They switch to mish, which makes Apollo moan his loudest. Nick decides to open Apollo's man ass even further, fisting him doggy style. Jim trains Apollo's ass hole, even more, getting Apollo to ride his fist cowboy style. Jim fists Apollo in mish, making Apollo cum on himself. "Great training session," Jim says.
Final Thoughts:
In Workout That Hole, hot bods Jim Fit and Andrew Connor need intense training got an upcoming boxing tournament. Lucky for them, hairy coach Wolfie Braden Shaw teaches them the ropes with a punching bag. With the competition getting closer, coach Wolfie decides it's time to train Jim and Andrew's holes just as hard. I recommend this fisting flick from fetish director Tom Moore for Club Inferno, the Falcon | NakedSword brand that features gay musclemen in extreme gay porn and hardcore fisting videos. The boxing theme carries through all the scenes. Apollo Fates gets so turned on by Jim's workout, he rims Jim's ass hole in a greedy ass-eating session. Jim and Apollo fist and fuck each other on the mat, stretching their holes to gaping capacity. The two finish their hot workout with a creamy cum finish.
https://xcritic.com/review/workout-that-hole/

Gay Porn Reviews | xCritic

John Boy

2022-11-30 04:50:48″