Feature Running Time:  2 hours 12 minutes
Date of Production: 2022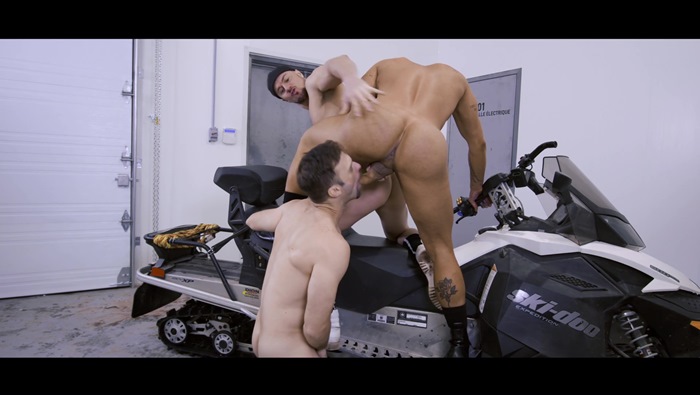 Genre: Bareback; Feature
Condoms: No
Audio/Video:  Shot in 4K Ultra HD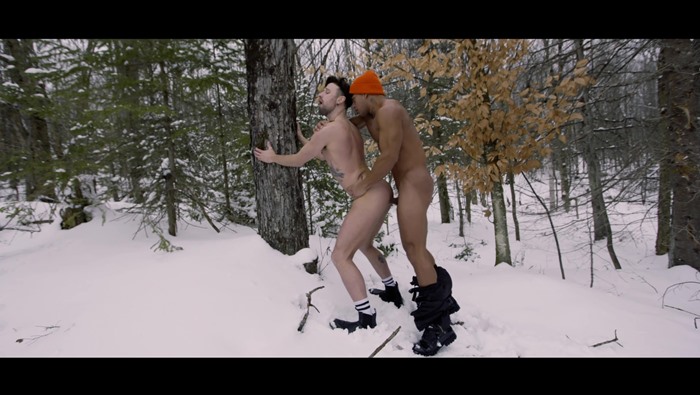 Director: Raph North and Iza Elle
Cast: Featured Skyy Knox, Tayler Tash, Tony D'Angelo, Gabriel Clark, Benjamin Blue, Drew Dixon, and newcomer Kenzo Alvarez
Bonus Scenes: No
Extras: Multiple Chapters; Slideshow; Website Information
Overview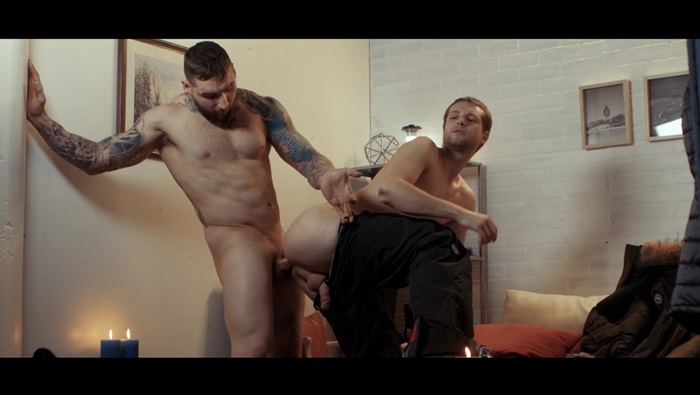 The cold snowy mountains can't contain the burning heat the seven hunks in Winter Skyy Riders have for each other. Set against ski slopes with breathtaking views, this flick is as visually stunning as it is stimulating, and I highly recommend it. Fan fave Skyy Knox's insatiable mouth and ass get fucked and stuffed by cock studs Kenzo Alvarez, Tayler Tash, and Gabriel Clark. Tony D'Angelo, Benjamin Blue, and Drew Dixon round out the cast. The opening scene is an outdoor stunner as Drew's ass is fucked into submission by muscle god Kenzo with snow falling all around them. Kenzo's massive load signals the end of round one as he penetrates Drew's hole again in a second round. Skyy and Kenzo steam up the room in a wet and wild hot tub coupling, and, later, Skyy conquers Tayler and Gabriel's cocks in a greedy round-robin threesome on a snowmobile. These winter wonders prove there's nothing hotter than man-on-man fucking and cumming in the snow.
Scene 1: Drew Dixon and Kenzo Alvarez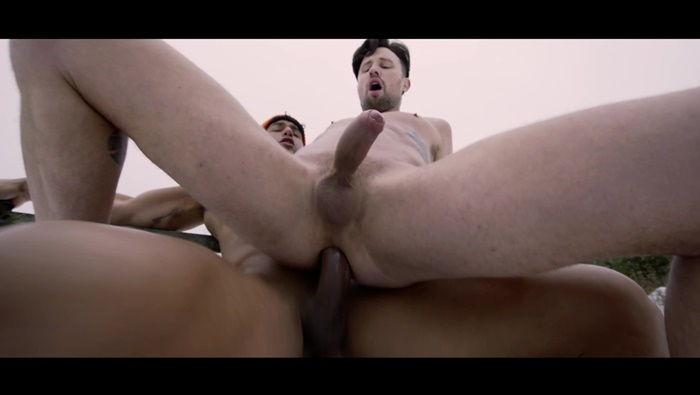 Kenzo's hike through the snow-covered forest has left him feeling cold. Lucky for him, Drew's hot mouth and hole are available and they're just what Kenzo's hard cock needs. Drew drops to his knees in the snow and chokes on Kenzo's dick. He leaves spools of drool draining down Kenzo's shaft when he gags on it. Drew's oral conquest of Kenzo's man meat continues. Kenzo beats Drew's face with his cock then stuffs it down Drew's throat, choking him with a face fuck. "I wanna fuck your ass," Kenzo tells him.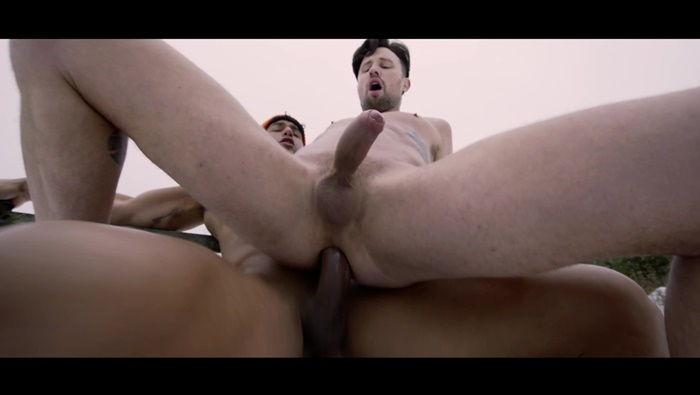 With the snow falling around them, Drew bounces up and down on Kenzo's prick in reverse cowboy. "Fuck that's so good," Drew moans. "Ride my cock," Kenzo demands. Drew leads Kenzo over to a tree and leans over in standing doggy. "Pound that ass," he tells Kenzo, who drills his hole from behind. "Oh, fuck" Drew moans. "Fuck my hole." These outdoor exhibitionists use a park bench for support for another steamy round.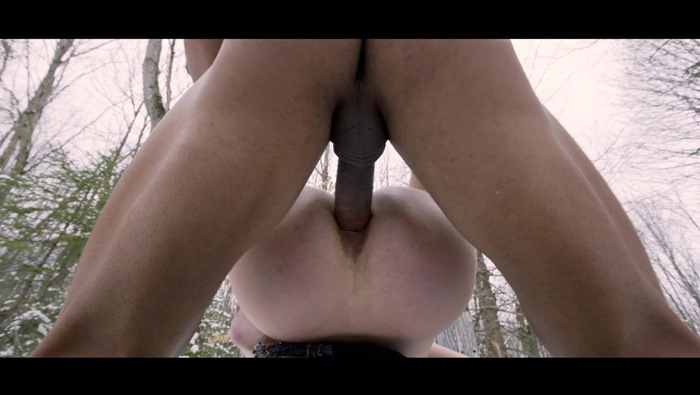 Kenzo positions Drew in an arch for some of the hardest fucking of the flick. Drew's manhole is stretched and satisfied. He blows his load while Kenzo pounds him deep, and Kenzo pulls out and shoots a thick wad of cum on Drew's balls then he fucks Drew's hole some more. With both guys fully warmed up, Kenzo pulls out and finishes his hike.
Scene 2: Benjamin Blue and Tony D'Angelo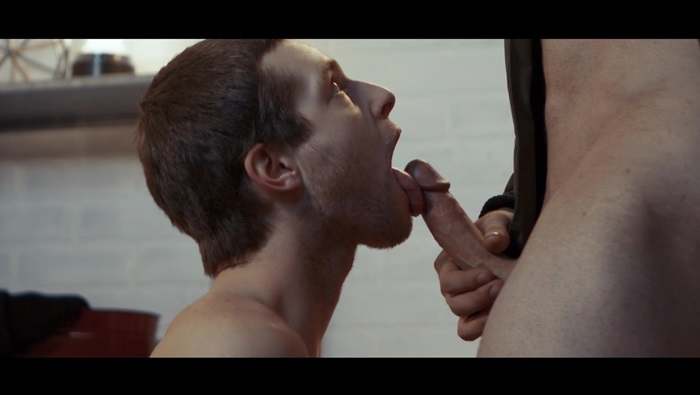 It's time to hit the slopes! Benjamin is taking snowboarding lessons from Tony and learns that he needs to work on is his stance. They talk in front of a fireplace where Tony gets behind Benjamin and positions his body to show him the right stance. Their warm bodies rub together leading Benjamin to drop to his knees and suck his bearded teacher's cock. Benjamin runs his hands across Tony's rock-hard abs while deep throating his cock, and he gets a lesson in skull fucking when Tony's cock bangs his tonsils. Now, it's time for a lesson in cock up the ass. "Are you ready for this," Tony asks Benjamin.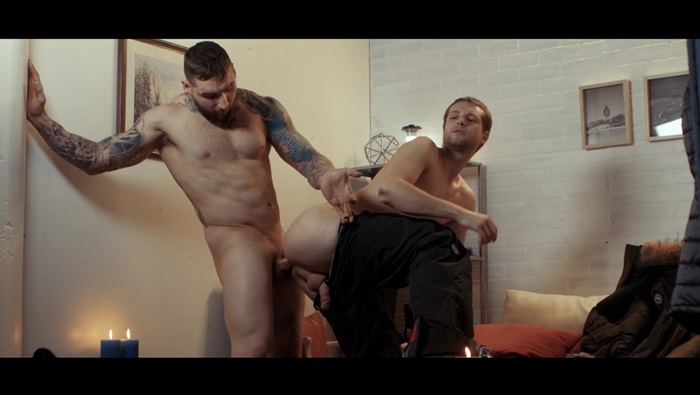 Tony opens Benjamin's ass in standing doggy, thrusting slowly at first to stretch his tight hole. Tony works his way deeper and deeper in Benjamin's manhole. "It's so fucking tight," Tony moans. Reverse cowboy opens Benjamin up even more followed by mish on the couch. Benjamin shows he's a good student of cock, cumming all over himself while Tony drills him. Tony pulls out and blasts Benjamin's balls with cum. They cuddle with a blanket after this intense lesson.
Scene 3: Skyy Knox and Kenzo Alvarez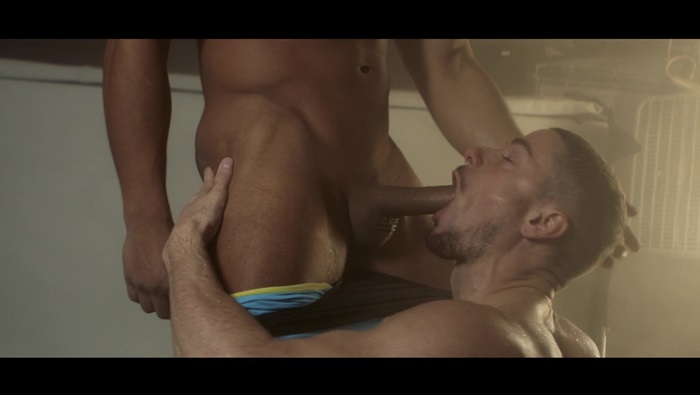 Boyfriends Skyy and Kenzo enjoy a night under the stars next to a roaring fire. The sexual attraction between these two heats up and they get in a hot tub to make out, caressing each other's wet washboard abs. Skyy pulls down Kenzo's shorts and feasts on his cock. Kenzo's meat is the main course on Skyy's menu and there will be no leftovers. Skyy deep throats Kenzo's shaft and spits all over it, swallowing it until he chokes. Kenzo manhandles Skyy's ass doggy style, splashing hot water everywhere as he pounds Skyy's tight hole.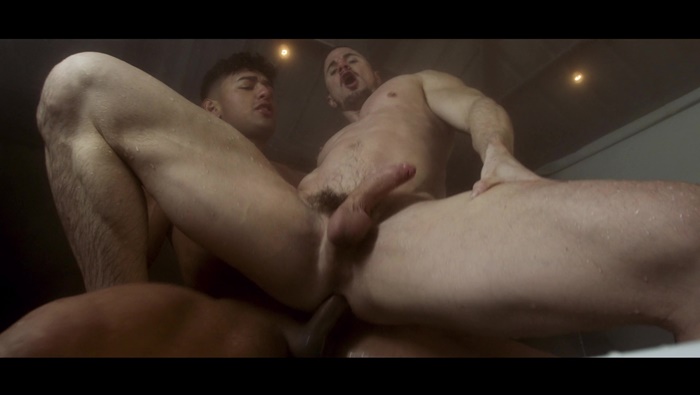 "Fuck me," Skyy says. Kenzo pumps Skyy harder and harder then orders him to sit on his cock in reverse cowboy. Skyy rides Kenzo's pleasure pole then lies in mish on the edge of the hot tub. Kenzo deep thrusts make Skyy cum. Kenzo strokes Skyy's cum-covered cock and keeps fucking his hole. Kenzo pulls out and feeds his boyfriend a hot load of cum.
Scene 4: Tony D'Angelo and Tayler Tash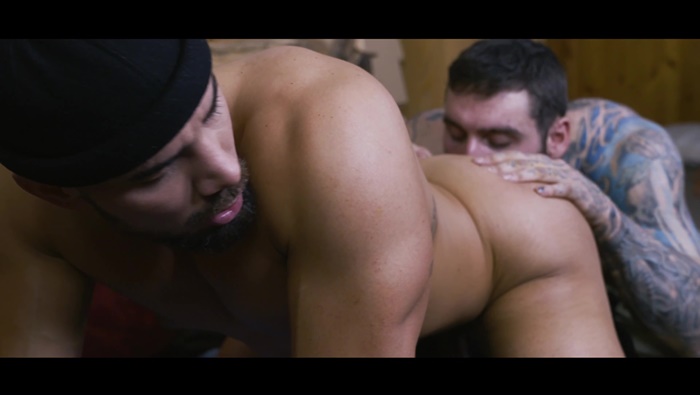 Back at the lodge, Tony and Tayler decide to hang out in front of the fire instead of going out on the ice. Tony massages Tayler, wrapping his arms around him to keep him warm. The pair are soon locked in an embrace, kissing each other. Tayler pulls Tony's pants down, gets on all fours and sucks his muscular boyfriend's cock. "Your ass is amazing," Tony tells him while spanking his cheeks. Tony fingers Tayler's tight ass and tastes it. "Mhm, you taste good," Tony tells him. "I'm gonna have some fun with you." Tayler's bubble ass is ready for Tony's tongue. Tony rims that tight hole, spitting on it and tonguing it then he spreads Tayler's ass open, spanking his cheeks and burying his face in between. "That tastes so good," Tony says.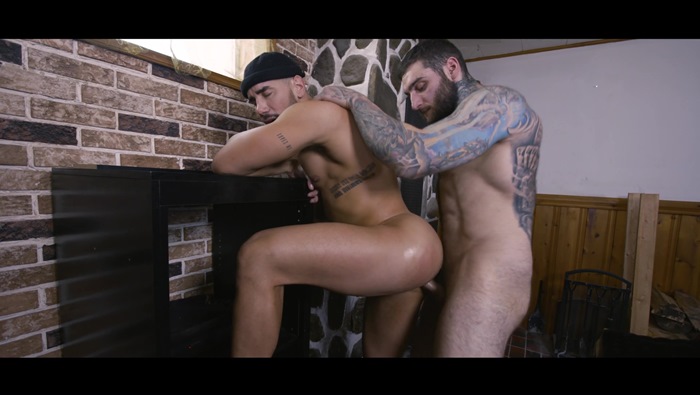 Tayler stays in doggy position as Tony penetrates his hole. "Fuck yeah," Tayler moans. "Don't' stop," Tayler tells him. Tony rams his ass so hard and good, he almost cums. Tayler surrenders his ass to Tony's throbbing cock. "Fuck that ass, baby," Tony says as they fuck in standing doggy. Tayler lies next to a stack of fire logs and lies in mish for more drilling. Tayler owns Tony's hole, stuffing and stretching it with each deep stroke. Tony pulls out and showers Tayler's ass cheeks with ropes of hot cum. He puts his cock back in Tayler's hole and fucks him until Tayler pops.
Scene 5: Skyy Knox, Gabriel Clark and Tayler Tash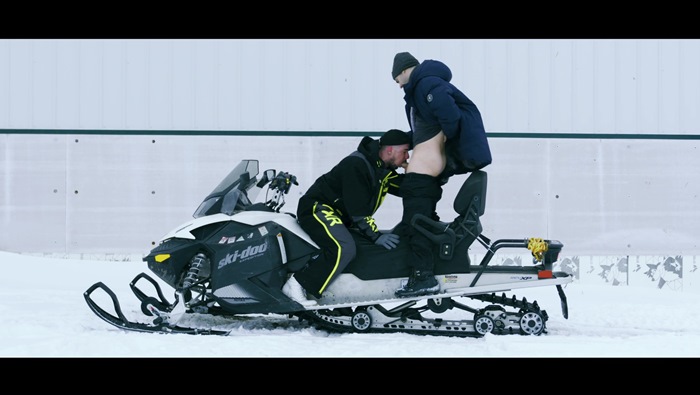 Skyy and Gabriel have fun jetting around on a snowmobile. The horny pair park behind a building for a little cock in the snow. The body heat these two generate is enough to keep them warm in the cold outdoors. Before long, Skyy is straddling the snowmobile and getting face fucked by Gabriel's hard cock. These two are having so much fun, they forget they're having public sex. Tayler, the security guard, watches the action on his security camera. It turns him on, and he strokes his cock as he watches. Tayler decides to get a closer look at the public infraction, walking up and startling the horny duo. "Guys, what are you doing," he asks. He invites them inside and joins the cock sucking fun.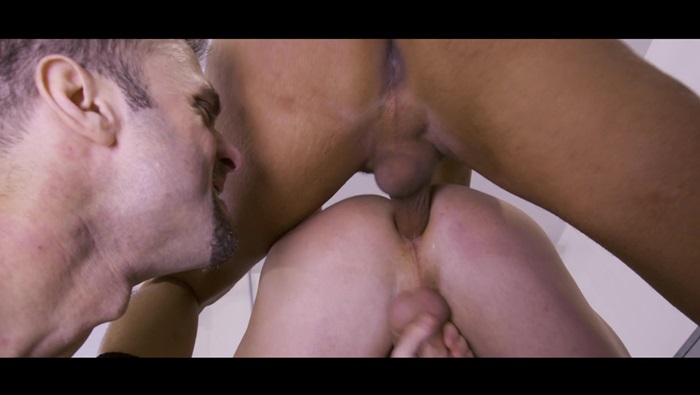 Skyy gets his fill of both cocks, gobbling and gagging on Tayler and Gabriel's shafts. Skyy is sandwiched in a two-man blowbang as Gabriel and Tayler fuck his throat, then he gets in doggy on the snowmobile and accepts Tayler's cock in his ass. Gabriel sucks Skyy and Tayler's balls then opens his mouth for ass-to-mouth cock sucking on Tayler's dick right out of Skyy's tight ass. Gabriel takes his turn routing Skyy's ass in standing doggy.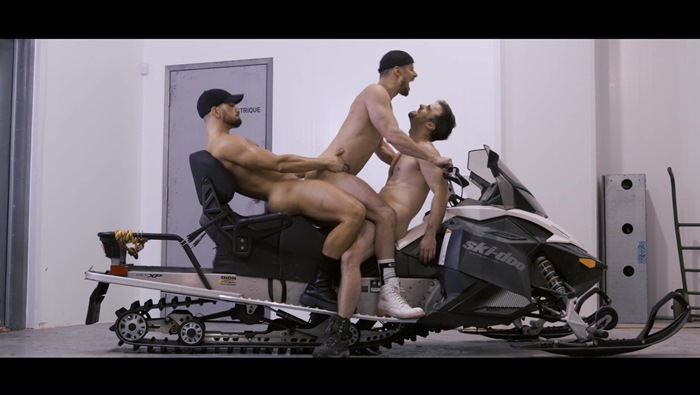 Skyy gets sandwiched again, this time with Tayler's cock in his mouth and Gabriel's cock in his ass doggy style. Skyy switches back and forth between Tayler and Gabriel's pricks in a hot round of cowboy round robins. A final mish session in Skyy's ass leads to Gabriel's big pop shot on the snowmobile. He leaves a pool of cum on the seat then he helps Skyy shoot his load. Tayler finishes up by stroking and cumming in Skyy's gaping mouth.
Final Thoughts:
Falcon/NakedSword's latest release brings the directing duo Raph North and Iza Elle together in Winter Skyy Riders, a hot bareback flick set against a snow-covered backdrop in the mountains. I highly recommend this movie which opens with Drew Dixon worshipping Kenzo Alvarez's hard cock outdoors. Kenzo pummels Drew's tight man ass in an intense public fucking session in the snow you won't ever forget. Skyy Knox, Tayler Tash, Tony D'Angelo, Gabriel Clark, and Benjamin Blue round out the seven-man cast. When it's cold outside, Skyy takes his boyfriend Kenzo to the hot tub where they bang in ball-busting action that sends hot water and cum splashing all over their bodies. The final scene is a threesome between Skyy, Tayler and Gabriel that begins outdoors on top of a snowmobile. Skyy's hole becomes a bullseye for cock as Tayler and Gabriel drill him balls deep, leaving threads of cum coating the snowmobile. Winter Skyy Riders shows that the snow-covered slopes are no match for these hot fuckers who bring the heat with them wherever they go.
https://xcritic.com/review/skyy-knox-winter-skyy-riders/

Gay Porn Reviews | xCritic

John Boy

2022-03-20 13:14:09″