Feature Running Time:  1 hour 10 minutes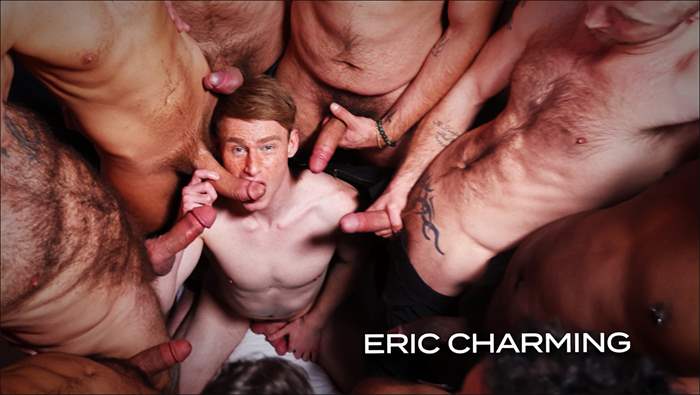 Date of Production: April 12, 2022
Genre: Bareback; Gangbang; Blow Bang;
Condoms: No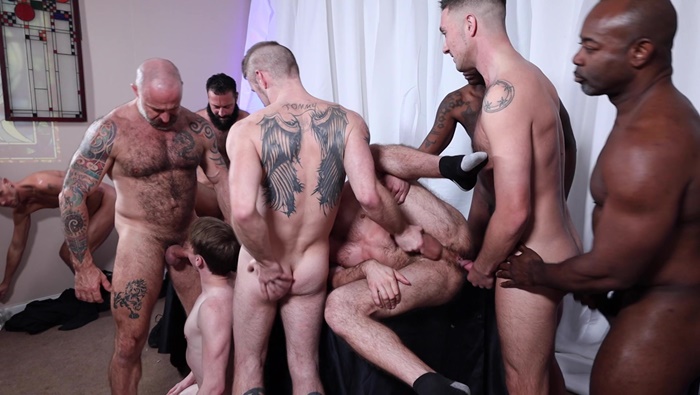 Audio/Video:  Shot in 4K Ultra HD
Director: Chi Chi LaRue
Cast: Eric Charming, Jack Lawrence, Aaron Trainer, Musclebear Montreal, Troy Hardt, Justin Eros, Troy Velez, Alex Tikas, Damian Taylor, Chad Taylor, James Fox
Bonus Scenes: No
Extras: Multiple Chapters; Slideshow; Website Information
Overview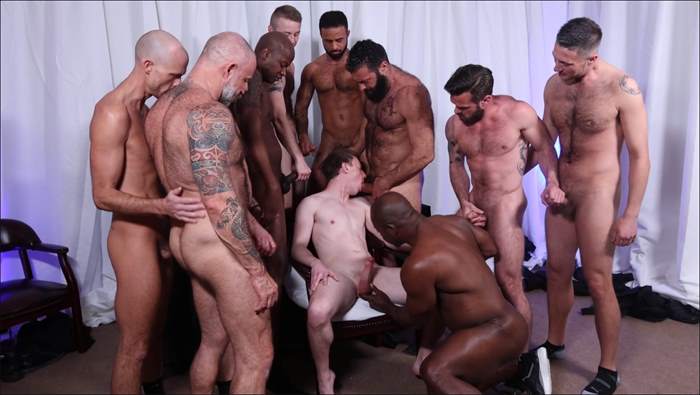 Chi Chi LaRue directs a most unholy flick in Eric Charming's 10 Priest Blowbang. It features the eager Eric gobbling 10 priests' pricks. In a backroom ritual welcoming Eric to the cloth after graduating from seminary school, Eric must feast on his fellow priests' cocks and swallow their seed. I recommend this blow bang bonanza that has Eric kneeling on prayer pillows for each dick. This flick features rounds and rounds of blow bangs and gangbangs as Eric's ritual devolves into a free-for-all backroom of man-on-man pleasure. With 10 loads of semen down his throat, Eric has a bond with the priests that can never be broken.
Scene 1:
Eric's blow bang fantasy opens with the sound of organ music chiming in the background. On the way to the priest's hall, Alex assures Eric that he has nothing to worry about today. Today is a celebration. Eric just graduated seminary and some of the priests remember him from when he was just an altar boy. They're all here today to congratulate Eric. Alex and Eric arrive at the hall, and Alex introduces him to the priests. Eric looks around the room not realizing that these 10 priests are about to unload their seed in his unholy mouth.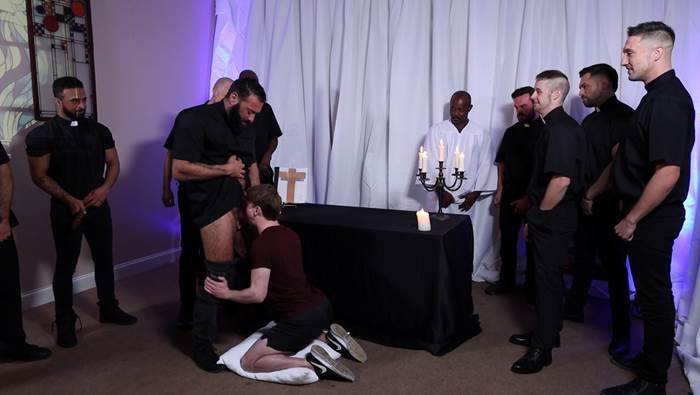 The priests each walk up to the former altar boy one by one to congratulate him. They shake his hand, pat him on the shoulder, and look deep into Eric's eyes while encouraging him. Damian tells him not to be nervous at all. Father Musclebear welcomes Eric to the cloth, calling him sexy. Father Trainer squeezes Eric's chin while welcoming him.
Welcome to the Cloth
"For the new clergymen, we have a special ritual that everyone participates in," Alex tells Eric. This ritual brings the guys closer together, and today, it's Eric's turn. Alex asks Father Chad to bring the praying pillow for Eric, who kneels on it as Alex guides Eric's mouth to his hard cock. "That's it," Alex tells Eric while he thrusts his cock down Eric's throat. "You got it," Alex says to a gagging Eric. The other priests watch Eric suck Alex's cock and they start to take their cocks out of their pants, too.
Blow Bang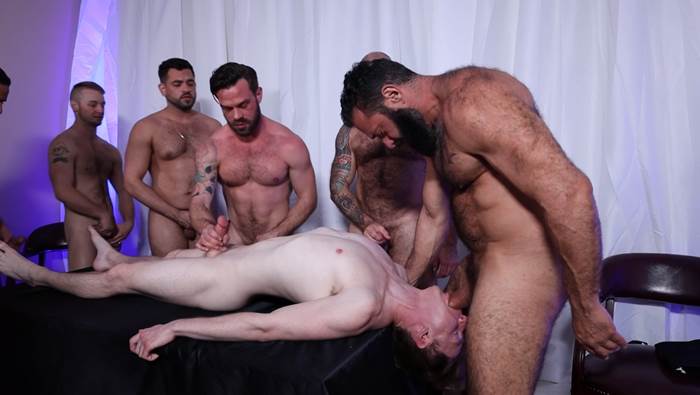 "You want some more," Father Lawrence asks Eric while skull-fucking his face. Musclebear chokes Eric with his dick while the other priests stroke their pricks. Eric gets a taste of James' dick next and then he sucks Justin and Aaron's. The other priests make out with each other and stroke each other's cocks while they wait for Eric's hot mouth. Aaron spanks Eric's tongue with his dick and then welcomes Troy Velez over to the trough. Eric is sandwiched in a blow bang, sucking back and forth between Troy and Aaron's cocks.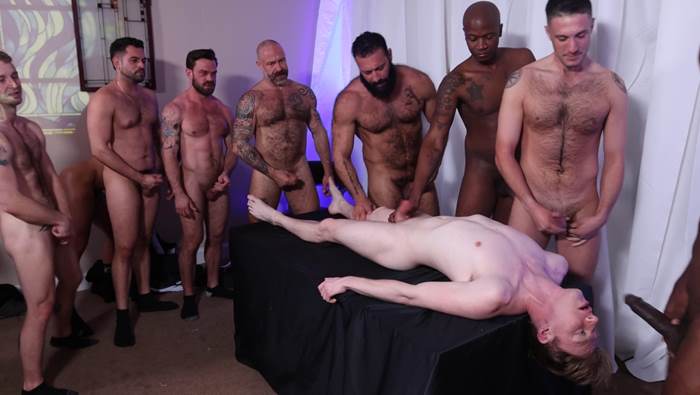 Troy Hardt is up next, filling Eric's mouth with his cock. Eric has sucked each priest's dick at least once and the guys all line up on either side of the kneeling Eric for more. There's nonstop oral action as the guys waiting for Eric's mouth also suck their neighboring priest's dick. No cock is left dry. The new seminary graduate has a greedy mouth, and the guys are eager to satisfy his thirst. Erick can barely catch his breath before another dick is stuffed down his throat.
Rim Job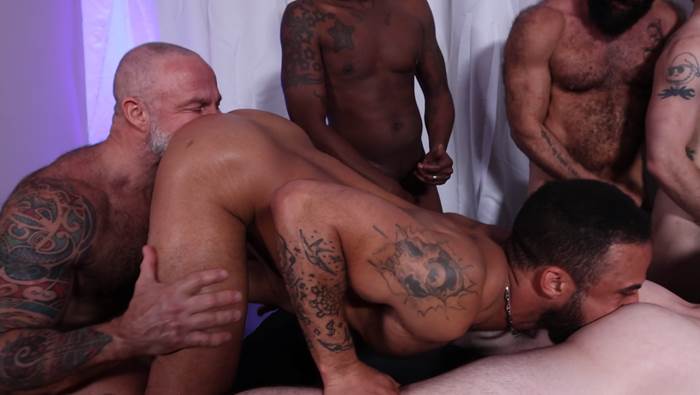 Eric is the center of the cock attention in this get-to-know-you celebration. He is just as eager to please these priests' dicks as when the first one went down his throat. The priests move Eric from kneeling on the praying pillow to lying on his back on the table with his head hanging over the edge. The gang walks up to his mouth one by one and fuck his throat. This time around, each guy blesses Eric's dick by sucking it first before facing fucking him. Eric gets pleased from both ends as the guys deep-throat his dick and fuck his mouth.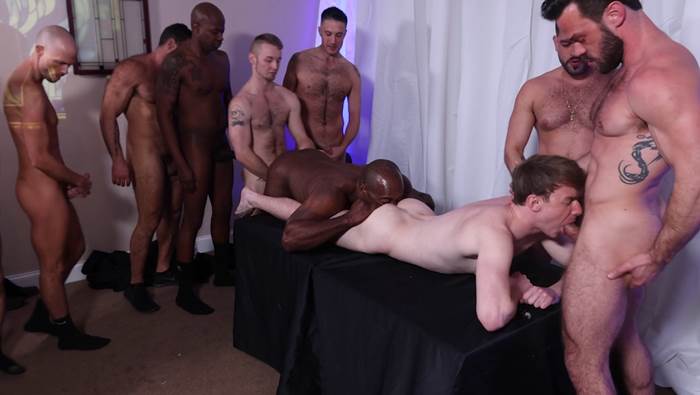 This sexual ritual to join the team is one Eric enjoys and he gobbles and gags on each dick as it's presented to him. The next step in the ritual is to turn Eric over onto his stomach on the table and spread his ass cheeks open and eat his ass while he sucks dick. The priests open Eric's pooper and tongue it while he gags on cock. "You're one of us now," the priests tell Eric.
Free-for-All Gangbang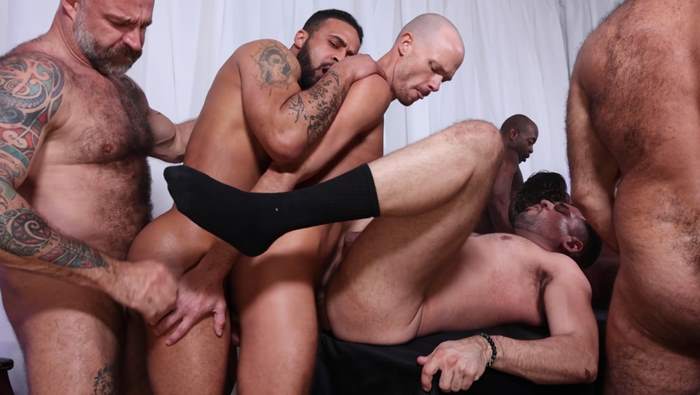 Eric's blow bang ritual heats up when it turns into a free-for-all gangbang with multiple guys getting fucked on the table next to Eric while he uses his mouth to please each hard cock. The gangbang is full of close-up shots of hairy manholes getting plunged by big dicks on the table.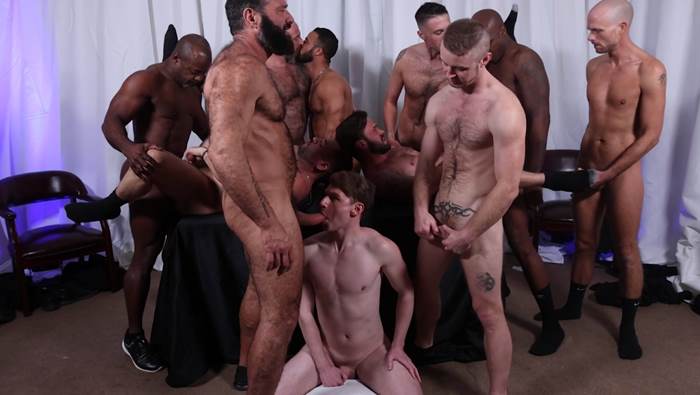 Grunts and groans of pleasure drown the sound in the room as more and more priests get pumped. Eric kneels on the prayer pillow again and is flanked by cocks that gag his throat. Eric moves to a chair where the guys all surround him in cock, feeding his throat and sucking him off.
Seeding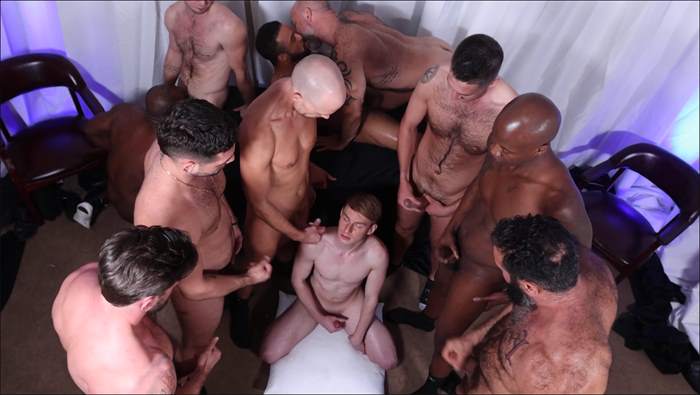 The last part of Eric's ritual is to offload every drop of holy seed down his throat. Eric's mouth is plastered with blasts of hot cum from his fellow priests. They shoot their seed for Eric's consumption and watch him swallow.
Final Thoughts:
I recommend Chi Chi LaRue's flick Eric Charming's 10 Priest Blow Bang. Eric is an eager and willing cum guzzler in this unholy blow bang that soon turns into a free-for-all gangbang where no manhole is off-limits. Each priest skull fucks Eric's throat while he kneels on a prayer pillow. After rounds of rimming, Eric is the center of attention when each priest's prick pops in his mouth, shooting 10 loads of seed down his throat. Once Eric swallows, he has built an unbreakable bond with his fellow priests.
https://xcritic.com/review/eric-charmings-10-priest-blow-bang/

Gay Porn Reviews | xCritic

John Boy

2022-10-09 12:40:13″