HOLLYWOOD, Calif. — Massive lines snaked along Sunset Boulevard and around the historic Hollywood Palladium, stretching to the palm-dotted horizon. Eager fans waited to enter the resplendently decorated exhibition space to chat and pose with their favorite adult performers, try out new content delivery technologies, catch screenings of the latest offerings from the biggest studios and immerse themselves in X3, the world's largest creator expo, which kicked off Friday, Jan. 13.
Iconic stars Dani Daniels, Maitland Ward, Angela White, Alexis Fawx, Scarlit Scandal and Kazumi assembled to ceremonially cut the scarlet X3 Expo ribbon. 
In a classy-yet-edgy ensemble of black dress, fishnets and studded rock star boots, Daniels seized the jumbo scissors, smiled mischievously and asked, "Is it in?" prompting Kazumi to offer an orgasmic cry confirming that it was, in fact, "in." Events director Moe Helmy then counted down and Daniels sliced through the ribbon with glee, ushering in the grand opening. 
The venue quickly hit capacity as the crowd streamed inside. With colorful banners aloft in a massive display of visual grandeur, mega-cam site Chaturbate dominated as the centerpiece exhibit, its streaming-ready counters manned by famed models and newcomers alike. COO Shirley Lara took a moment to cast her appraising eyes about the fast-filling aisles of the Palladium, nodding approvingly. 
"The house is packed," she said admiringly. "This is an amazing location and we couldn't be happier with our sponsorship. It's the truth."
Nearby, petite Chaturbate broadcaster Rose Carter whirled about in a revealing bikini before her adoring fans as they watched from the ring light-enhanced lens capturing her live. "I'm looking forward to meeting everyone and making new friends!" she beamed. "The X3 convention has been amazing so far!"
Dirty Drizzy, displaying his muscled physique with affable charm, offered, "I'm excited to see all the influencers that you never get to see in person, and meet new talent. I'm definitely a fan of the venue and the location."
After the ribbon cutting, Dani Daniels set up her own booth, where the serial entrepreneur had samples of her various merch and goods for fans to enjoy. "Everything's been a great experience," she said. "I've been fortunate to have a line of people here all day buying my Doom's Whiskey, barrel-aged coffee and aphrodisiac bars."
Later in the evening, she would partake in one of a series of X3 Icons interviews, with Keiran Lee taking charge as host. Lee welcomed the legendary Daniels to the stage, describing her as "the lady that brought back the bush."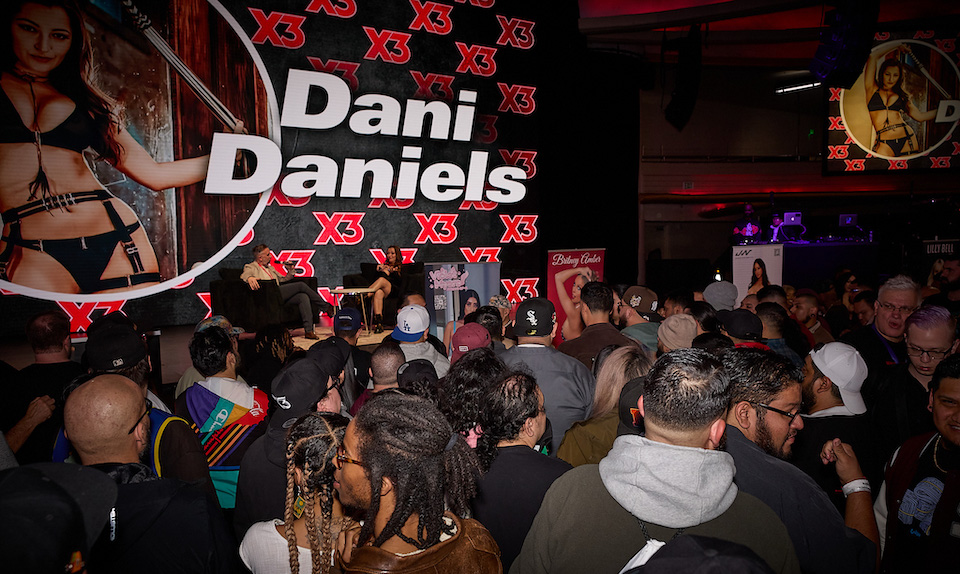 The award-winning star, who won XBIZ Female Performer of the Year in 2016, shared milestone highlights of her prolific career. She talked about sticking to her guns and not letting anyone pressure her into performing sex acts on camera that she didn't personally enjoy, and testified to her love for creating branded products and independent content now that she no longer shoots for studios.
The green-and-black BranditScan booth offered creators the chance to learn more about the company's suite of brand protection services. Top influencers slated to sign at the booth included Ana Foxxx, AstroDomina and Sofia Rose.
"We were hoping to connect with our community and also share what we do with new creators," BranditScan's Client Relations Rep Jessica Hookimaw told XBIZ. "Our aim was to educate, because piracy is not a very well-known topic among them."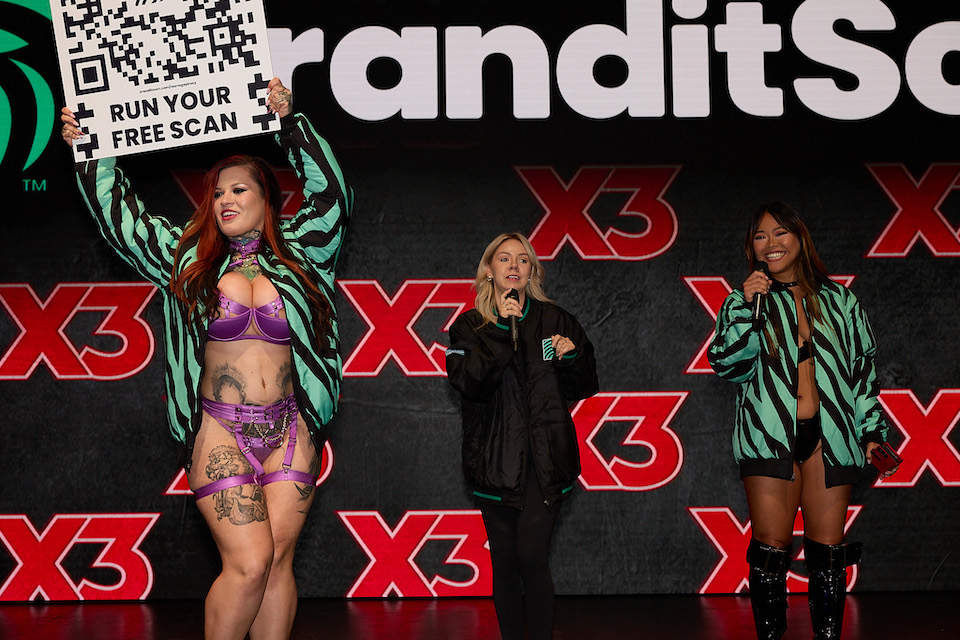 BranditScan organized a cash giveaway on the main stage, where ambassador Sabien DeMonia held a QR code that attendees could scan to get a promotional BranditScan test of their content to check for online piracy. Two lucky winners received $500 from the company.
"Our goal was to get as many people as possible to try our services with a free scan, and hopefully discover more about piracy," Hookimaw explained. "I can say that participation was way more than we thought, and it was a very successful experience."
Fellow Client Relations Rep Dale Wilson told XBIZ that although the company didn't know what to expect in terms of traffic, they received plenty of visitors at the booth. 
"We spoke to a lot of potential end users, the content creators themselves, throughout the event," Wilson said. "The point was to connect with our end users and everyone we wanted to bring on to try BranditScan and help them fight piracy. It surprised me how many content creators didn't have an idea as to how piracy affects then, so it was a good opportunity to educate them and to show them how it affects them and how it affects their fans."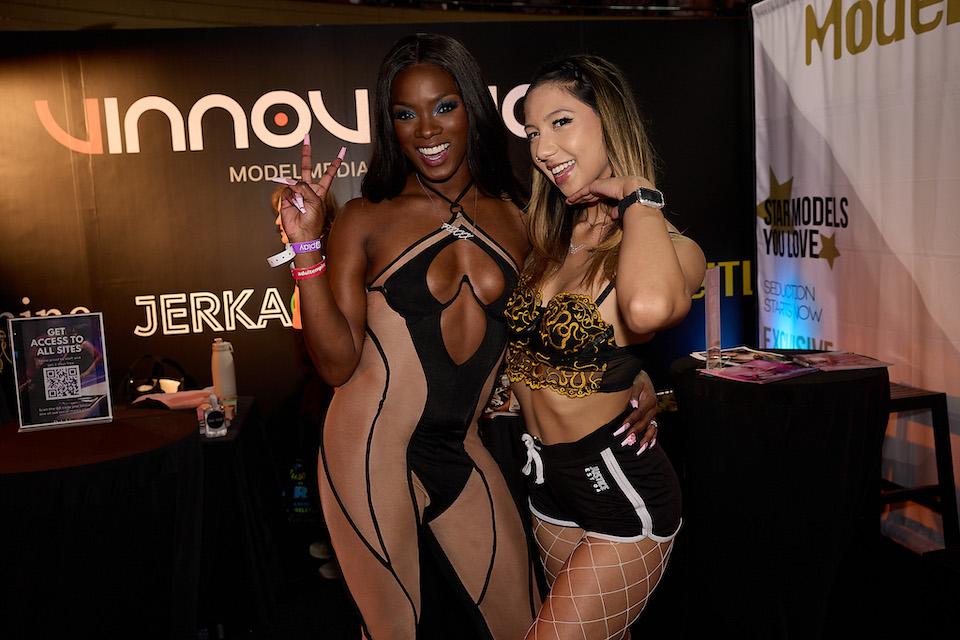 Ana Foxxx, meanwhile, was signing autographs and posing for pictures with fans at the darkly decorated Model Media booth. Surrounded by merch from the studio's Delphine, Jerkaoke and POV Adventures imprints, Foxxx enthused about working for the young company.
"I hump people for Model Media!" she exclaimed. "And they give me awesome scripts. It's really cool to work with a new company and to see them grow and change."
She also couldn't contain her excitement about the talent on display at the expo.
"Glitter and ass, that's all I came for," she shouted. "I know boobies are great, but a nice ass is all I want to see!"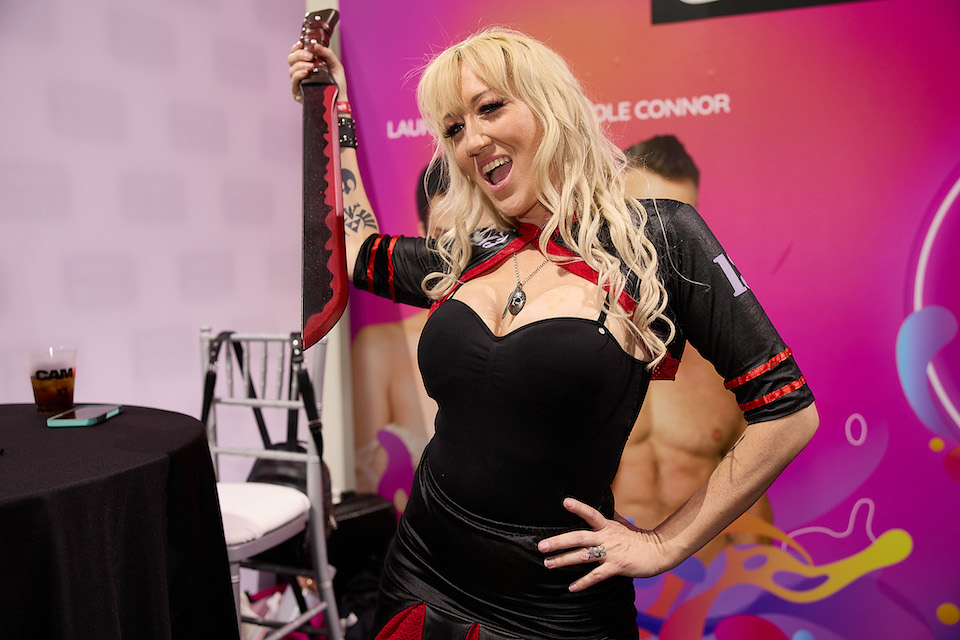 Encircled in a very large pink-and-white exhibit brimming with the warmth of home yet laced with high-tech sizzle, Elevated X ambassadors Jessica Ryan and Alana Evans shared their positive experiences building and managing official sites through the brand. Fans and fellow performers alike eagerly learned about the virtues of the service, which has grown rapidly, helping drive a boom in one-stop shop, self-owned indie paysites.
"Elevated X has been an amazing platform to join with," said Ryan, tossing back her red mane. "Founder AJ Hall and I are very much cut from the same cloth and ever since I've partnered up with him to do my website, it's been like working with family."
Blonde firebrand and Adult Performance Artists Guild leader Evans agreed. "Elevated X has been absolutely amazing in giving us the opportunity to run our own websites ourselves and I am so excited for the future. Having all of my incredible content in one place that I control is so awesome and AJ is so great to work for, as a veteran from the industry back in the early 2000s. X3 has been great so far! We are having so much fun and the fans are fantastic."
As for Hall, proudly overseeing his gleaming exhibit, he enthused, "This is the best show of the year! It's so laid back you can actually talk to people and have a good time simultaneously without the chaos of other shows. The vibe and music are awesome and I can't wait to do more of these shows as it grows."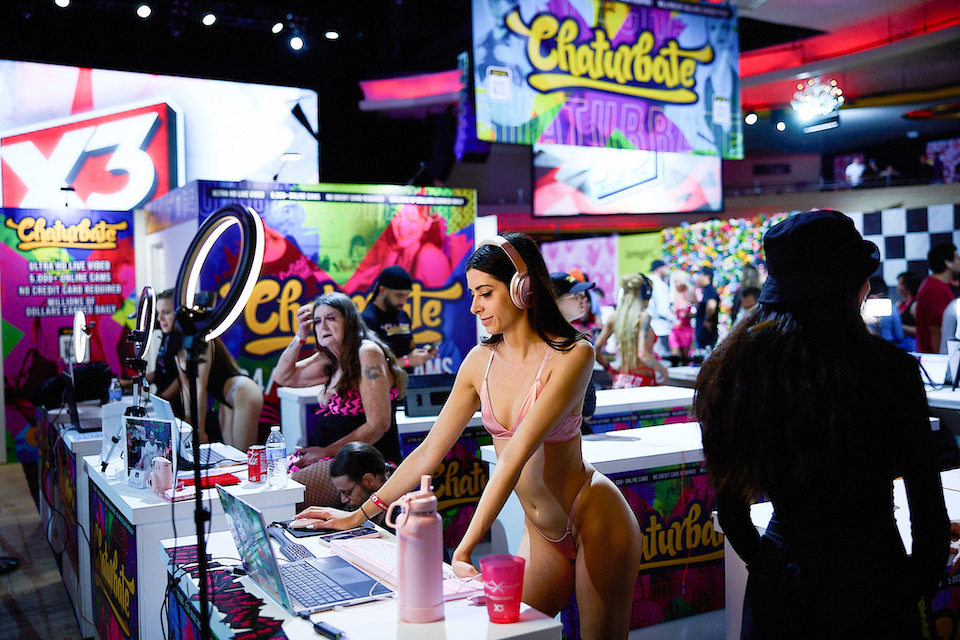 Over at the SexLikeReal booth, fans leaned back in chairs while attendants fitted them with VR rigs so they could experience the latest in virtual reality adult content. Performer Nathan Bronson was among those leading visitors through the experience.
"We're showing everyone the virtual reality headsets, and giving everyone the opportunity to see what it's like," he said, marveling at the mass of bodies around him. "It's a way bigger turnout than last year — more booths, a lot more people. I'm very excited!"
The YourPaysitePartner booth featured logos and talent from all of the company's successful partner sites, including AltErotic, Nympho, Swallowed, Gotfilled, PurgatoryX and VRHush. But the centerpiece was a faithful recreation of Ricky's Room's titular bedroom, with red and black satin sheets, hosted by performer-director-webmaster Ricky Johnson himself and featuring Jenna Foxx, Gia Derza, Kira Noir, Mona Azar, Ana Foxxx, Maddy May and many others.
"X3 is super fun! We have 13 girls signing and all the girls are having a good time," Johnson told XBIZ. "It's a vibe, it's really a community. I want everyone to interact, and I want everyone to have a good time. We got a bed here, we got a couch here, I brought some games — but we didn't even need the games: people were having a blast just hanging out here, being so entertained, taking pictures."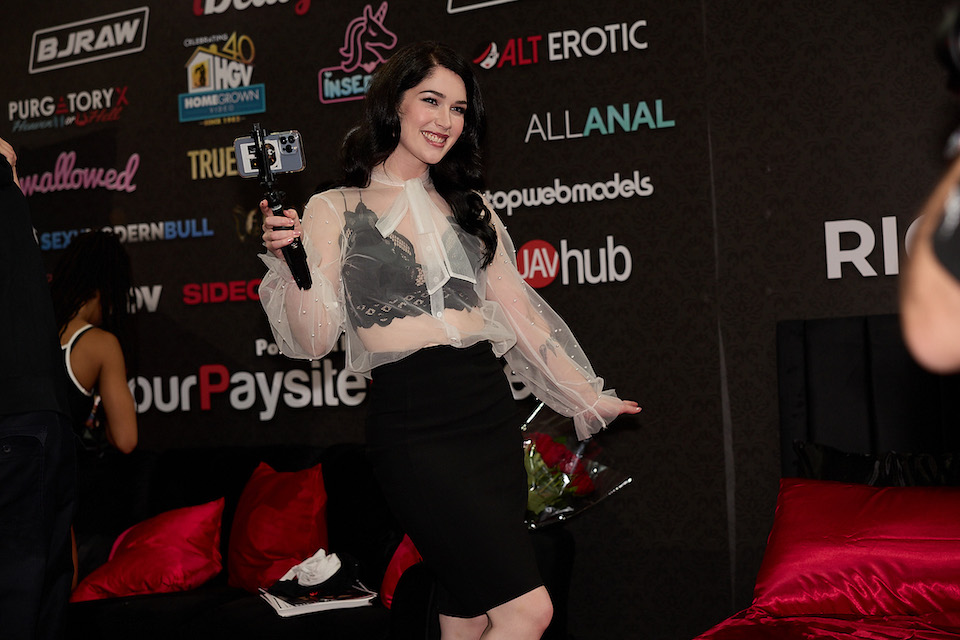 YourPaySitePartner's Kenny B. enthused about the "absolutely fantastic" recreation of Ricky's Room anchoring all the other partner sites. "The girls love it, because they're actually able to get the fans on the bed to take a great picture with them. We wanted this to be fan-centric, so the girls can meet their fans and vice versa, and actually be able to get close to them and not just sign across the table."
Debuting this year with an X3 Expo booth, Kenny B. said he had "heard so many good things about the 2022 edition" and "just knew this was a show not to be missed this year."
Once again, as in 2022, the Brazzers booth was a focal point for fans, talent and industry players, teeming with attendees vying for contact with the studio's most recognizable stars. And, yes, one of the most notable sights on the show floor was, again, the throngs of fans hoping for a chance to exchange a moment with one-of-a-kind talent Angela White. Encircling the booth and snaking around other booths, the line waiting to kiss the hand of porn royalty prompted many inquiries of "What's that?" leading to a knowing smile and the answer, "That's the Angela line."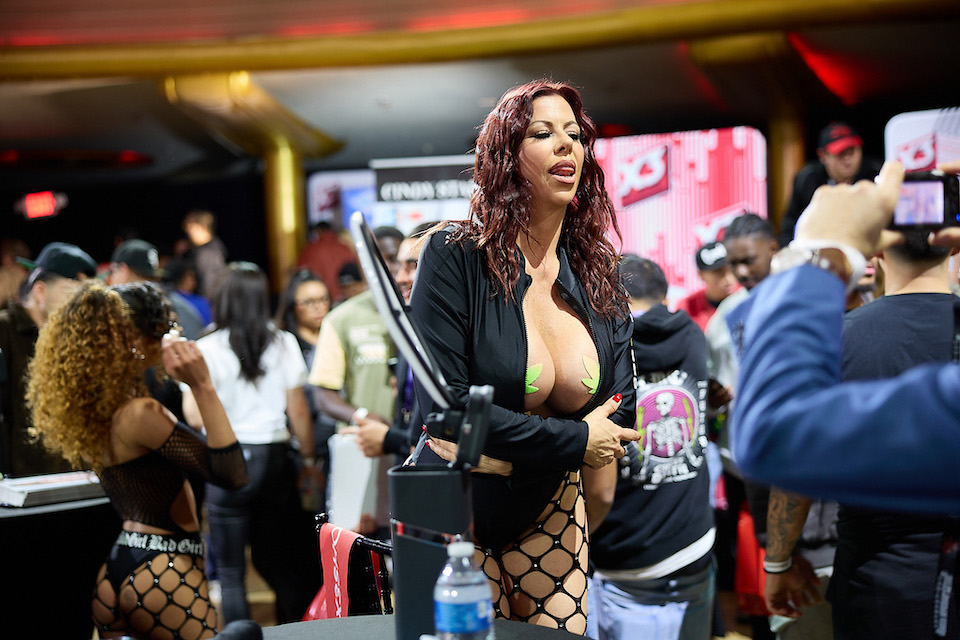 Tables and couches occupied by other Brazzers talent such as Kendra Sunderland, Keiran Lee, Jordi ENP, Kylie Rocket, Alexis Fawx, Johnny Sins, Demi Sutra, Kayley Gunner, Joanna Angel, Scarlit Scandal and many others helped make the now-traditional Brazzers booth the veritable epicenter of the Palladium show floor. 
Commanding the Loyalfans presence at X3 — which spanned from the model lounge oasis hidden away from the crowd, where models could recharge, to a balcony overlook armed by makeup and hair artists pampering talent high above the Palladium floor — executive Dariusz grinned broadly. 
"I think X3 is going great, because there are so many independent models with their own booths and I can say 'hello' without infringing on any companies they might represent, sharing the benefits of joining Loyalfans with them," he said. "The models have also shared that the private lounge we're offering, as well as the free hair, makeup and touch-ups, is appreciated; I have three hair and makeup professionals working here.
"I hope even more talent joins Loyalfans," he continued, "because we're not hiding the fact or ashamed that we are an adult workers platform and we have 24/7 support along with access to the owners of the company. We know that adult workers will find a much better set of tools on our site and more quickly achieve things for their hard work."
NMG, IsMyGirl and Hotline teamed up this year with an eye-catching booth entirely comprised of backdrops designed for maximum Instagram stickiness, allowing content creators and fans to create on-site content, which also promoted the brands.
"We wanted to provide a safe place for the models to do a bunch of SFW social content," explained NMG's Megan Stokes. "The goal was to make it incredibly easy for them, by providing backdrops and even photographers — plus coffee and candy! It was very successful in promoting NMG, IsMyGirl and Hotline. We combined forces to provide something much bigger, and we most definitely pulled it off."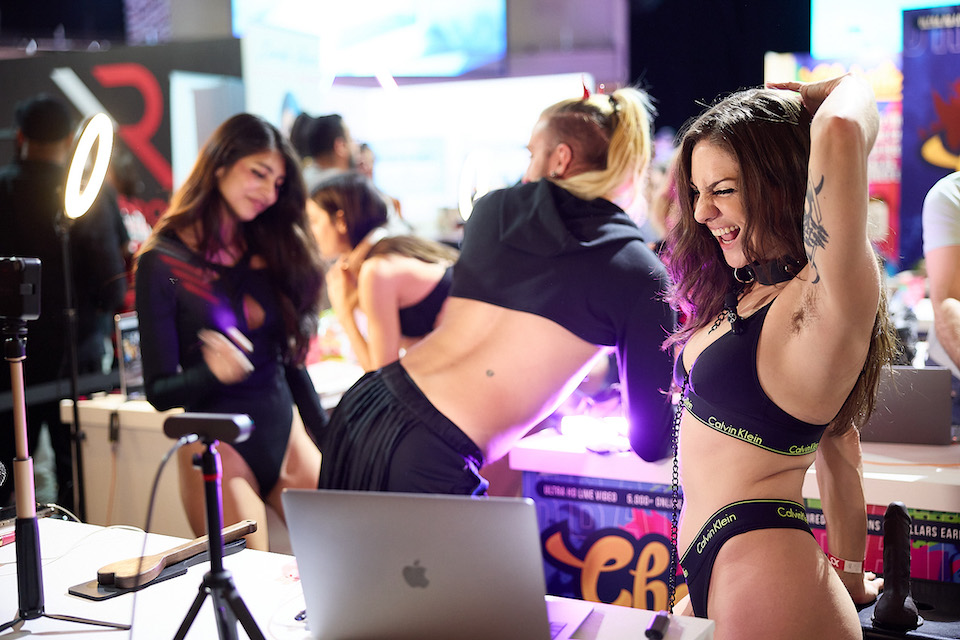 On the grand stage, in a finely upholstered living room setting, sat legendary Brazzers performer Keiran Lee, who called up Kazumi to be interviewed as part of the X3 Icons series, enabling the milling crowds to enjoy getting to know favorite creators. The fast-rising sensation, who went from indie great to Vixen contract girl, laughed and bantered contentedly with Lee, describing her brand as "multifaceted" and revealing her insatiable sex drive, her adoration of promiscuity and spontaneous encounters, and her goals for the future.
"I'm shy, surprisingly," Kazumi said, coquettishly but sincerely.
Lee balked. "You. Shy?"
"I am!" she insisted, before admitting that she doesn't let hesitation slow her down anymore, instead going after what she wants. 
Lee remarked that he had never seen someone rise so fast in the industry, and asked about her secrets to success.
"I came from a very secure and good place growing up, but the source of my success is hosting meets," Kazumi explained. "Meets create a sense of community, and it's not about how hot I am, it's about creating discussion and engagement."
"Also you're very sexual," Lee offered.
She concurred, noting that she began throwing sex parties when she was 19. "I was famous as a gangbang girl. I would go to these hotels and fuck tons of men. Men really turn me on! I love their dicks, watching them cum and I love making them horny."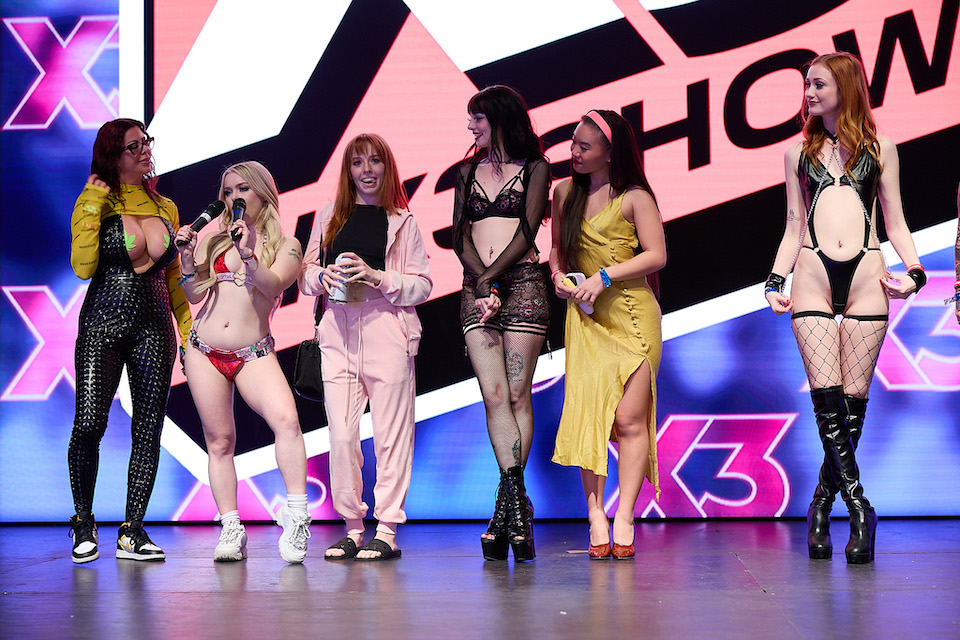 A paper cyclone of token credits spun through the air at the Stripchat booth, which had a glass tank in which creators could grab flying fan-blown sheets for a chance at sign-up credits. The company's head of business development, Andra Chirnogeanu, was on hand, sharing, "This has been an incredible event for our performers, I'm very grateful for them joining us and getting to meet the fans and industry."
This was the first year that X3 Expo offered the industry's top agencies branded signing booths for their talent, and Motley Models' Dave Rock waxed ecstatic about the opportunity.
"We walked in today and I was a little confused by all the action around the well-attended X3 Expo floor, until I saw the organizers had provided a beautiful backdrop with Motley's logo," Rock told XBIZ. "The classic black-and-red Motley logo, prominently featured — a ready-made step-and-repeat for the agency talent, right across from the super-popular Brazzers area. I couldn't be more proud and thankful to X3 Expo and how they're treating the Motley brand."
Rock added that the attending Motley models — Charly Summer, Lily Larimar, Kylie Rocket, Haley Spades, Jewelz Blue, Sarah Taylor, Bella Blu, Kayley Gunner and many others — were thrilled by the opportunity and the foot traffic, which in many cases helped them to sell out their merch.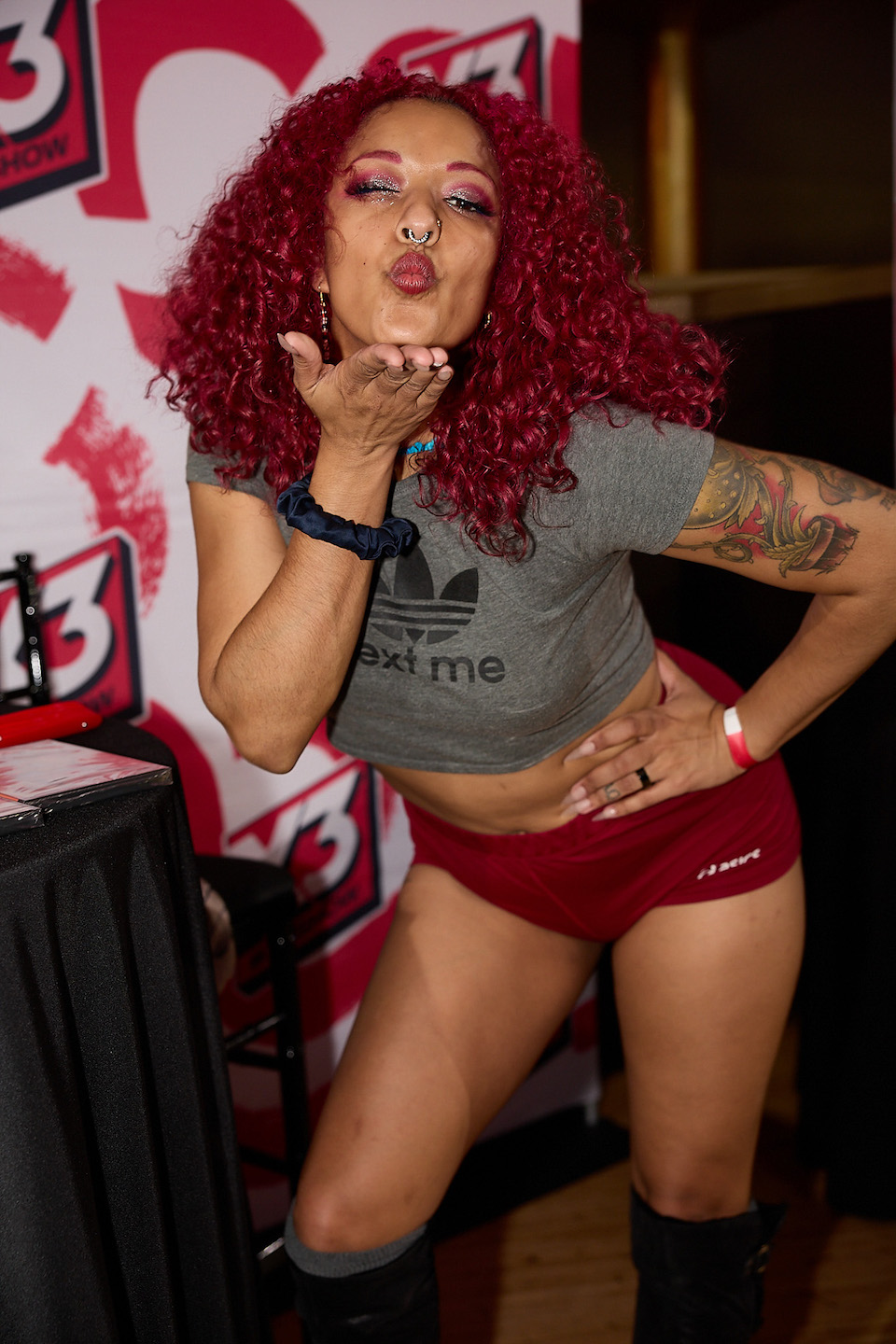 Also hanging out at the popular Motley Models booth was hotshot Aiden Ashley, in studded fingerless gloves, shiny thigh-high boots and a skirt, alongside Kenzie Taylor, in ripped black pants beneath a midriff-exposing, tie-dyed azure shirt, which accentuated her cleavage with cross-stitching.
Ashley chimed in, "It's wonderful so far at X3. I'm looking forward to meeting all the fans and hanging out." 
"It's awesome," Taylor agreed. "Due to prior engagements I wasn't able to make it to last year's convention, so I'm so excited to be here this weekend, meet new fans and see ones I've met before. I'm always grateful for every opportunity I get to see my fans in person."
In that moment, making her way over from the nearby Brazzers booth to the Motley Models area, Scarlit Scandal walked up. Decked out in dark lingerie, fishnets and a "Bad Girl" emblazoned bottom, exclaimed, "This is my first X3 expo and I'm having the best time ever! I couldn't have asked for a better first X3!" 
Across the floor, at the ATMLA booth, a rep told XBIZ, "After last year's huge inaugural X3 Expo, it was a an easy decision this year to participate with an ATMLA booth for our talent. This was the correct decision, something emphasized by a tremendous fan showing.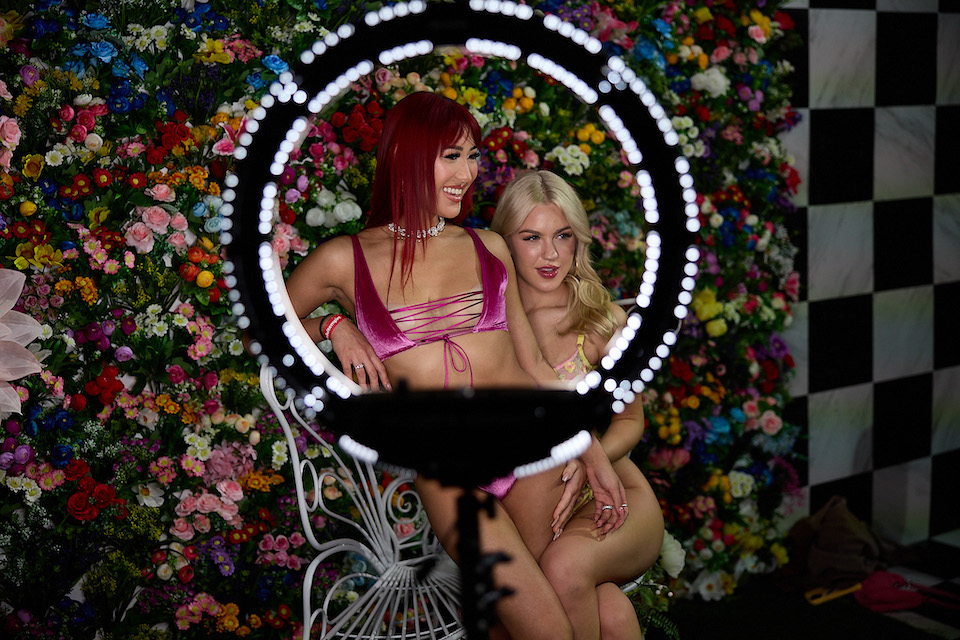 "The Palladium venue was rocking all night long," the rep continued, noting signing appearances by the likes of Scarlet Skies, Alison Rey, Liv Revamped, Amari Anne, Leda Lotharia, Eliza Eves, Harley Haze, Kendra Cole, Natasha Nice and many others. 
One of the X3 Expo Icons herself, the inimitable Alexis Fawx, hosted one of the onstage highlights of Day One: a lively panel of "Breakout Creators" featuring some of the hottest up-and-coming talent in the industry.
XBIZ 2023 "Best New Performer" nominees Scarlet Skies, Haley Spades and Slimthick Vick were joined by promising newcomers Maddie Collins, Kitty Cam, Demi Morgan and Kimmy Kimm for a vivacious back-and-forth with MILF icon Fawx, always the all-around entertainer.
The seven stood proud on the Palladium stage — host to Frank Sinatra's earliest Los Angeles performances and pretty much every single legendary musical act ever since — and passed the test with flying colors, as Fawx grilled them on why they had chosen to become adult entertainers, their hobbies and personas, and even their sexual predilections.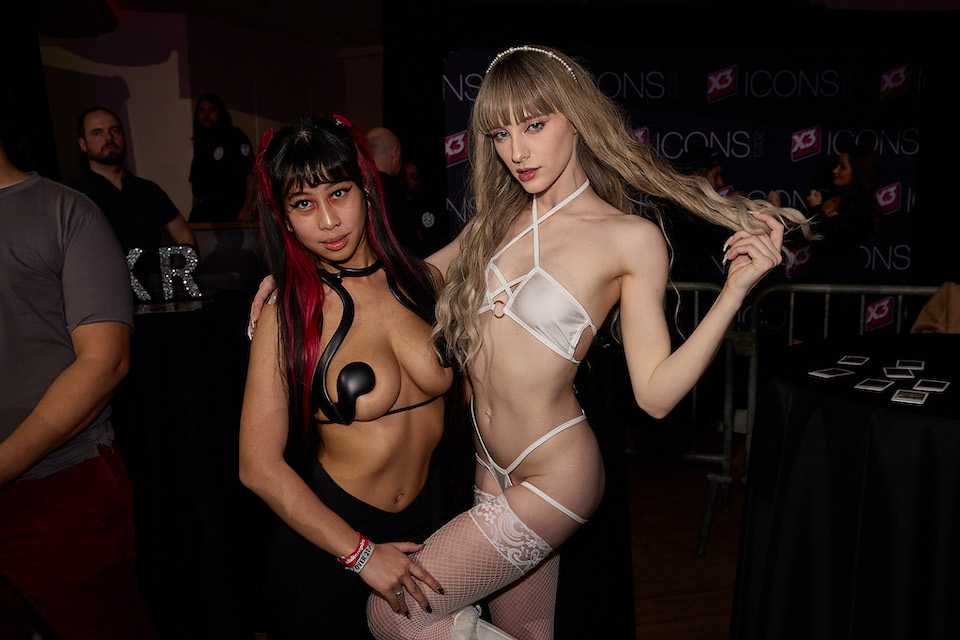 Fawx was impressed by the poise of her up-and-coming colleagues, and added that she "absolutely loved" her first day at X3 Expo. "I'm having the most amazing time meeting my fans," she said. The X3 Icon was at times surrounded by hunky young male fans — some shirtless — who raved about her MILF prowess.
"Personally, what stood out for me about this weekend," she added, "was cutting the red ribbon with my fellow Icons, and having a billboard in Los Angeles with my face on it for X3. That was such a dope honor."
The slate of X3 Expo screenings, which gave fans a chance to watch some of the most awarded features along with Q&As by the filmmakers, kicked off with Wicked Pictures' "Deranged," directed by multi-hyphenate powerhouse Seth Gamble.
After a brief introduction, the enraptured crowd watched Gamble's ambitious psychological thriller, co-starring his wife Kenzie Taylor and adult acting powerhouse Tommy Pistol. Taylor and fellow cast members Maddy May and Codey Steele also watched the projection, on dual screens, which emphasized the chiaroscuro photography filled with ominous close-ups.
After the screening, Gamble addressed the audience. "At the end of the day, we take real pride in what we do, and to do things we're passionate about," he said. "We're trying to step forward and give people something closer to a moviemaking experience. I have a writing background, and I want to try to bring to adult the same elements that shows like 'Euphoria' are doing for mainstream."
Pistol agreed, pointing out that "a lot of hard work goes into something like 'Deranged,' every time," and revealed how his character of Joseph was crafted, and how extreme his transformation into such a twisted soul related to other roles he had played.
Finally, Taylor told the audience, "Tommy Pistol is the shit! I had always wanted to work with him. In my opinion, my husband and him are the best actors in our business and both of us got to be the lead in this film. It was my first time getting to do a psychological thriller, and each sex scene goes towards a different niche."
Taylor added that she was proud of the creative team's accomplishments in bringing Gamble's elaborate scenario to life.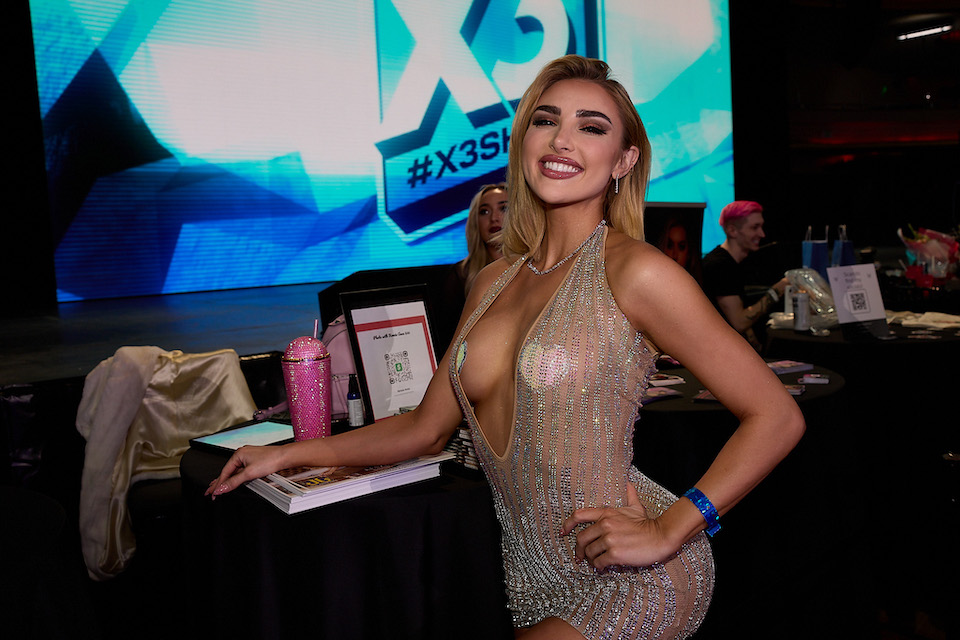 Immediately following the "Deranged" screening, multi-XBIZ-Award-winning director Ricky Greenwood introduced his new, Y2K-set skater drama, "Grinders," starring Lucky Fate, Maya Woulfe, Nathan Bronson, Tommy Pistol, Charlotte Sins, Vanna Bardot, Lilly Bell and Robby Echo.
After the screening, Greenwood, Fate, Woulfe, Sins, Bell, Pistol and screenwriter Shawn Alff answered questions from the audience. Sins and Woulfe joked about the freezing-cold pool scene in what was supposed to be "heated" water.
Meanwhile Pistol, who in the film was made up to appear as Fate's bald, paunchy biker dad, laughed about having to perform in a sex scene while the prosthetic makeup on his head literally melted.
The area in front of the stage — below the DJ who wowed the crowd by pumping an all-killer, no-filler sequence of hits from the 1970s to the present — boasted a star-studded lineup of decorated industry talent.
Reigning XBIZ Best New Performer Kenzie Anne, in a characteristically glam tight-fitting gold number, welcomed many fans excitedly making her IRL acquaintance. "First day of X3 Expo was so successful!" she enthused. "I laid out my Playboy, Penthouse and Hustler covers, and sold a ton of my newest jacket and hoodie drop." For Kenzie Anne, the highlights were "meeting a lot new fans and taking a ton of photos with them."
"For Sunday, I am going to bring some Polaroids and I'm so looking forward to seeing some new faces," she added.
A few tables over, Buxom Aussie bombshell Savannah Bond declared herself "super excited to be at X3 Expo" and talked about how much fun she had meeting fans from LA. "They were all so, so sweet and made me feel so loved!" Besides DVDs and signed photos, Bond also offered her new 2023 calendar, featuring year-round sexy images for the discerning fan's perusal. "I really look forward to doing this again next year," she added.
Rising talent Charly Summer concurred. "The first day of X3 Expo was great," she told XBIZ. "I love meeting my fans in person, and selling autographed Polaroids because it's so fun taking them! I even had one fan come all the way from the U.K. to see me, which is wild!"
Blonde stunner Lilly Bell joined the consensus in being extremely impressed by the record turnout on Saturday. "Conventions are my jam," she confessed, "so getting to chill and connect with new fans and also my dedicated ones is the whole reason why I came. Without them we wouldn't be able to have dope events like this, so for that I'm super grateful." Bell's diverse array of merch included prints, Polaroids, DVDs, stickers, the opportunity to pose in a candid with her and even her very own blow-up sex doll. "I can't wait to see everyone again tomorrow—and then, of course, for the XBIZ Awards show."
Petite rollercoaster Kiara Cole — in a shocking pink gymnastic one-piece that left little to the imagination — said she had "an amazing time signing at X3 Expo. It was great to see models and fans from all around the world come together to have fun and support sex workers." Cole wanted to make sure she could express her gratitude to the fans who support her by coming to events like X3 to say hi and buy her prints, Polaroids and DVDs.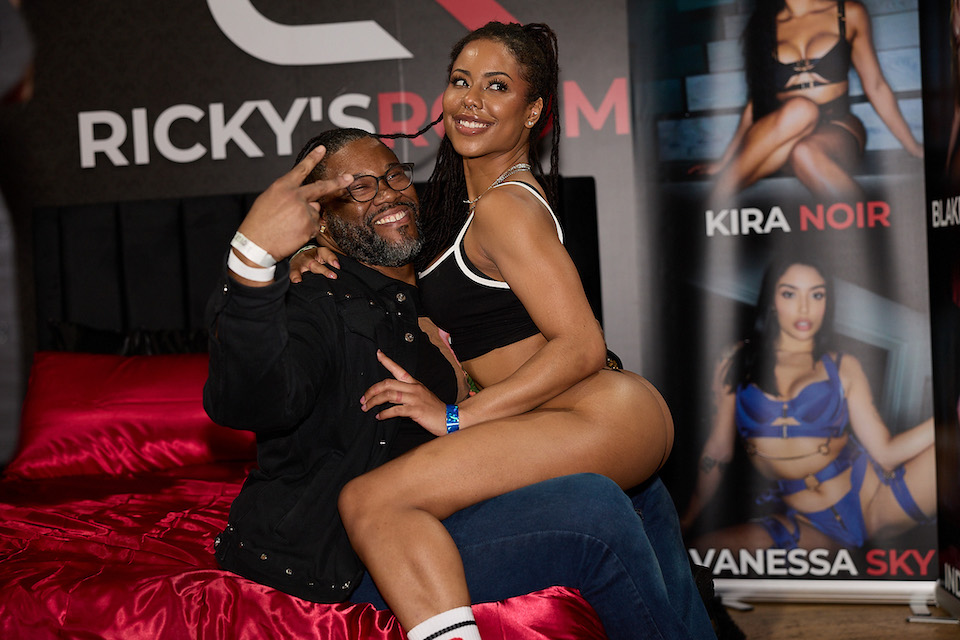 Veteran top Japanese-American performer Marica Hase — in a red-and-white ensemble with Japanese writing — said she truly appreciated how the organizers "took such good care of us by setting up a model lounge and other perks for attending talent." Hase said that she is still bringing DVDs for her many loyal old-school fans, although she laughed that her newer fans "much prefer downloads!"
Over at the Spiegler Models booth, the stunning Maya Woulfe — wearing futuristic eye makeup — agreed with her colleagues about the palpable excitement at X3 Expo, and added that one of her personal highlights was attending the screening of her co-starring feature, Ricky Greenwood's "Grinders," and being a part of the Q&A.
Liv Revamped touted her booth placement, saying, "Maybe my opinion is a little biased, but I love the fact that I'm right next to the bar! I also love the fact that these events are kind of like porn family reunions. I love that I get to run into all my friends and everyone I get to work with."
Vanna Bardot echoed that sentiment, noting that getting to see all her friends and her fans was her favorite part of the weekend.
Popular Twitch personality and adult creator Evelyn Claire was IRL-streaming throughout the show at the vibrant YourPaysitePartner booth.
"I've been streaming IRL on Twitch," she said, "and it's been really dangerous walking around while doing so, because there's lots of sexy ladies that are distracting me from watching where I'm going! But it's been worth it, because it's fun."
One such distraction was prolific tatted performer Maddy May, who bounded up and smiled brightly. "I love the energy here," she said. "I love the community feeling. It feels like a family where we're not separated into little compartments. Everyone has been kind and respectful. It's been so nice to meet all the fans in LA." She then took a big bite out of the pizza slice she had been munching on.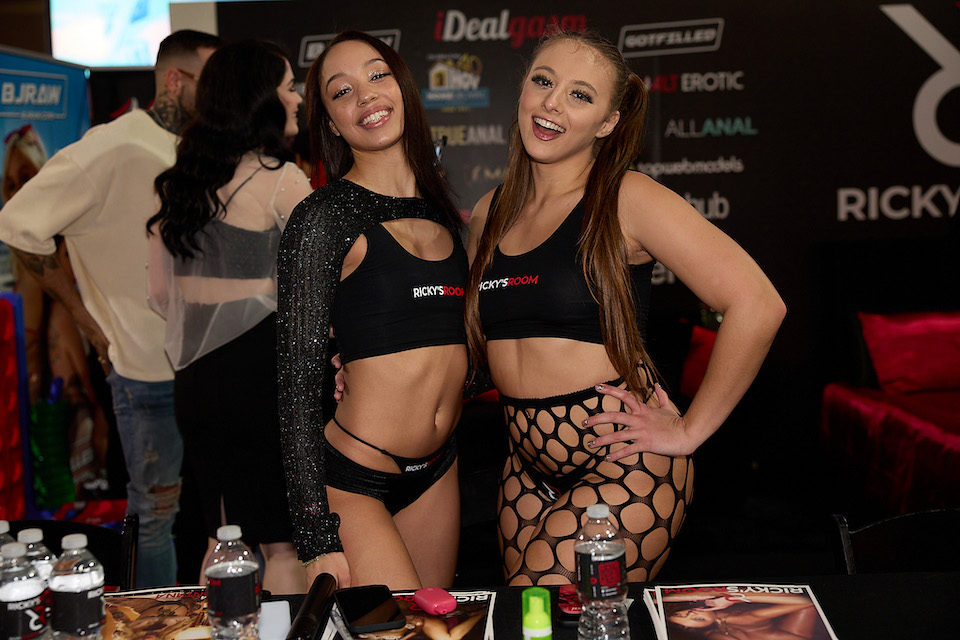 Back at the Brazzers booth, with its seemingly endless stream of fans eager to meet contract stars, acclaimed performers and XBIZ Awards co-hosts Small Hands and Joanna Angel were chatting it up with fans and taking group selfies. Hands glanced about and said, "This is going pretty damn good. It's my first time being back in Hollywood since being in New York and I'm ready to party." 
Beneath the grand stage, marquee stars and models held court at their tables, with lines of fans forming to meet favorite talent. One such model was ePlay streamer Quincy, who was live on Twitch, where she also has a massive following. Munching on a bit of Popeyes that her nearby friend and colleague Rose Isstar had graciously obtained, she said, "X3 has been awesome so far! I'm currently streaming at my booth with all my viewers watching me eat Popeyes. So I've got food and all these beautiful people to look at. It's really amazing vibes."
Taking a break at the model lounge, and suiting up for a stint at the neon-lit Sex Like Real virtual reality booth, was cyberpunk-ready Skye Blue. "I am looking forward to meeting all the fans of SexLikeReal," she said, calling company honcho Telly "amazing" and "one my favorite people to work with." She added, "The whole team is fantastic and they're one of my favorites."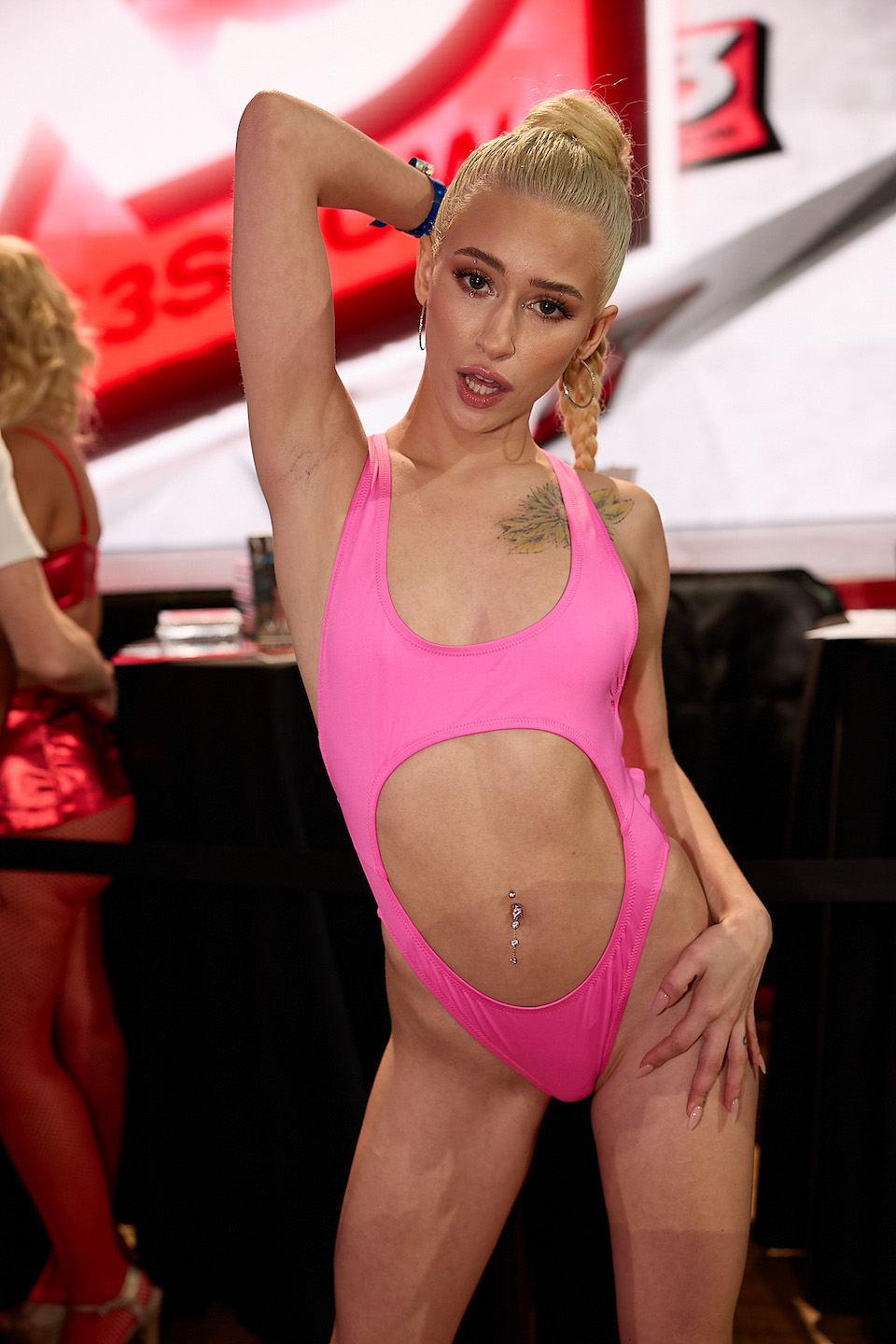 Cindy Starfall continued on the theme of the event feeling like a reunion for performers.
"I haven't seen all the girls, all my friends, in a long time," she said. "I love the music and the atmosphere. It's very intimate."
Concluding the evening, CAM4's Laura Desiree brought a coterie of the company's brand ambassadors onstage, introducing Alana Evans, Kelly Pierce, Skyy Knox, Cole Connor and Jeff Uncutt before exclaiming, "I'm not gonna keep you guys from the party anymore!"
It was a fitting conclusion to Day One of the X3 Expo. The packed, enthusiastic crowd had melded seamlessly with the joyous contingent of industry stars and reps to bring off the first part of the weekend without a hitch — with Day Two promising more of the same.
https://www.xbiz.com/news/271207/x3-expo-kicks-off-with-record-crowds

XBIZ.com – Gay
2023-01-15 01:33:23