LOS ANGELES — In the cheerfully illuminated ballroom of the Kimpton Everly Hotel in Hollywood, a who's who of the adult industry's greatest power players gathered, hailing from a diverse array of paysites, content platforms and payment processors. Even a dozen or so creators joined the once exec-exclusive cadre for newly introduced business categories recognizing their entrepreneurial prowess.
The time was nigh for the XBIZ Honors, a fusion of the traditional Exec Awards and several of the more company-specific web tech XBIZ Awards categories not allotted stage time at the Palladium this Sunday. Here, before a dashingly dressed audience of their peers, brand representatives could receive the proper acclaim for their hard-won achievements, with grateful speeches aplenty.
For nearly an hour, execs and creators hobnobbed, took photos on the red carpet, sipped drinks flowing freely from the bar and readied themselves at dinner tables where a delectable feast of steaks, fish, Brussels sprouts, chocolate cake and more filled happy bellies to the brim.
After a brief welcoming, events director Moe Helmy summoned the co-hosts to the stage. 
Gunner, an Exec Award winner famed for his Cams.com leadership, strode forth, filling out his velvety dark blue jacket with a hulking muscled frame. "Welcome everybody," he boomed in his renowned bass voice.
Fleshlight biz dev veteran James, whose decade-plus in the industry spans many facets from camming to fan platforms, was equally resplendent in a richly purple form-fitting gown. "How's everybody doing tonight?" she asked. After the crowd clapped in approval, she spread her hands and said, "Welcome to the 2023 XBIZ Honors awards. Everybody looks amazing tonight. Very sexy and posh, as does my co-host, Gunner."
Adopting a serious expression, Gunner declared, "We want to thank XBIZ for doing such a wonderful job of selecting hosts. I don't know if there's an award for that, but there should be."
Amid chortles in the audience, James said, "Absolutely."
Gunner then continued, "Everybody, I want to welcome you to adult's biggest night for executives and creators. It's a really special night, because all the nominees for all the various categories are certainly deserving of their nominations."
Nodding, James chimed in: "And we have some very special sponsors as well. So please give a special thanks to diamond sponsor Chaturbate and platinum sponsor JustFor.fans."
Applause rang out.
"Without them," noted Gunner, "we wouldn't be able to fill all these tables."
"And have free wine," James added.
"I also want to say that I've been in this industry a damn long time by now … for decades," Gunner reflected.
"What year was it you started?" asked James.
"1945," Gunner deadpanned, eliciting laughter. "But no, in all seriousness, I've come to know so many of you as good business associates, even good friends. I've spent many nights drinking with you, attending special occasions. Some of you have even invited me into your homes and promptly regretted that decision." Good-natured chuckling rippled in the crowd.
"But the fact of the matter is, this is a huge dysfunctional F-ing family," Gunner stated to several guffaws. He then called the first presenter, Mitch Farber of Netbilling to the stage.
Farber, rocking a professional look with a blue jacket, came out and thanked the XBIZ crew for putting on a great show, which he opined "seems to get better and better each year."
He then read the nominees for VOD Company of the Year. Throughout the night, awards in each category were preceded by a reading of all the nominees, ensuring many a clap and cheer for deserving folks whether or not they wound up winning.
The first girthy-and-golden "X"-capped trophy of the evening went to AEBN, with co-founder Jay Strowd accepting in a sharp blazer and shirt colorful enough to rival even Brad Mitchell of Mojohost.
"Thank you everybody at AEBN, you've all done such a wonderful job," Jay said. "Thank you XBIZ for everything you do for the community, it does wonders for our morale. And the employees. Thank you all."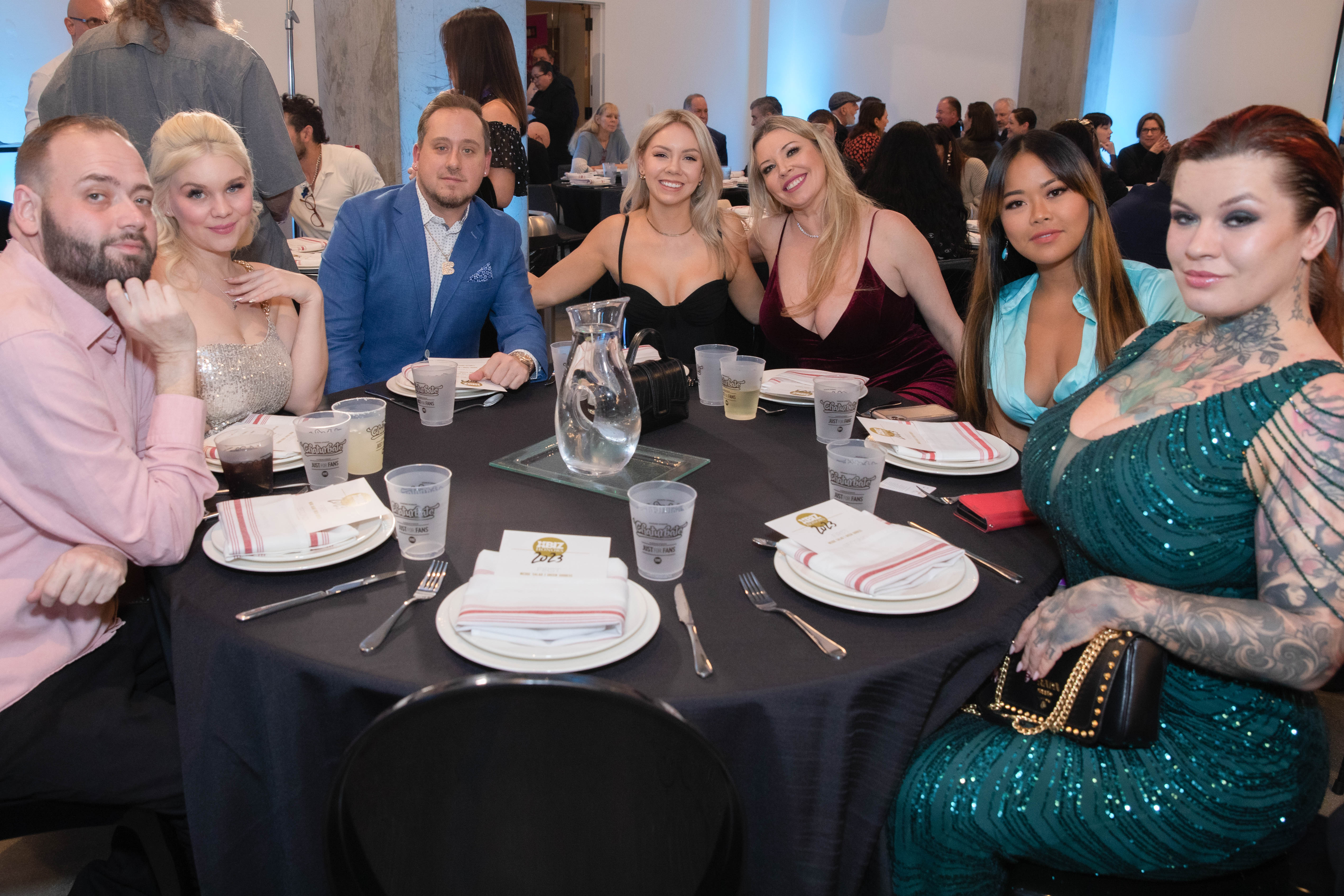 Farber then presented the award for Dating Company of the Year to AdultFriendFinder. A pleasantly surprised Gunner headed to the stage and remarked, "Wow, it's really heavy. I didn't expect to win. Thank you very much on behalf of the whole team at AdultFriendFinder, a very hard-working group of people. Thanks again, appreciate it."
Covering the hosting duties while Gunner attended to his glistening prize, James next introduced Vanessa Eve of Streamate to present the award for Account Exec of the Year.
The ever-dazzling and fashionable Eve sashayed onstage in a light azure dress with white feathers fluttering from her shoulders like heavenly wings, and after reading the nominees, announced Wendy Nelson of Netbilling as the victor.
Cutting down the aisle in blue jeans and a dark purple top, Nelson said, "Okay, I was absolutely not expecting this. So thank you XBIZ, so much. Thank you, I really appreciate it. And to Mitch, everyone at the team, I appreciate it very much."
Gunner then returned to announce, "Here to present Marketing Exec of the Year, please welcome Andra… Chirno… I'm not even going to try. And she's here wearing a sexy David Bowie-esque outfit."
Andra Chirnogeanu, whose tricky last name is a crowd favorite to struggle with at the annual event, hefted two trophies suggestively. "Two thick things in each hand," she said, glancing admiringly at them before grinning wolfishly. "This reminds me of last night!" The audience took a second to process the innuendo then began chuckling. "That was a sex joke. Hi. How's everyone, how are you enjoying your steak? Nobody knows who David Bowie is, or is it just me? Anyways, this outfit is totally Prince."
Waiting for the crowd to settle down, she proceeded. "The nominees for Marketing Exec of the Year — which I won in 2018! — are … well, I'm not going to read last names since people tend to butcher mine."
As it turned out, the winner was revealed to be Jessica H. from BranditScan, whose name proved simple to pronounce.
In a classy black dress, she gripped the trophy excitedly and said, "I dedicate this to my BranditScan team, I love you guys so much. To Gino, thank you for every opportunity you've given me." Founder Gino Scir
etta raised a glass, the diamond-shiny BranditScan logo he wears as a pendant catching the light in that moment.
"To everyone in this room who's welcomed me with open arms," Jessica continued, "you've shown me I never want to work in any other industry but this one. Thank you so much."
James then summoned Liz Rekevics from Streamate to present the award for Creator Platform of the Year. Decked out in a black pantsuit, exec Rekevics listed the nominees before revealing that Loyalfans would take the crown this year.
The stylishly bespectacled Dariusz came up to accept in evening-gray dress pants and a light shirt cinched with dark tie. "It's very nice to see everyone after the COVID years. I think we're finally back-back now, yeah? Let's hope we don't get an epidemic shutdown ever again. It's nice to see everyone and it pays to be… Loyal!" he exulted, lifting the trophy high.
Upon her return, Rekevics inquired, "Did you miss me?" before sharing the nominees for Payment Service of the Year — Merchant Services. The winner: MobiusPay.
Jonathan Corona, iridescent in a glittering suit, escorted MobiusPay founder and CEO Mia Hyun onto the stage, as she spryly took his hand and leapt up in her shimmer-dotted dress.
"She's going to give the thank-you speech," Corona said, before handing off the mic.
Hyun lifted the trophy up and down like a hand weight and said, "I've been doing Pilates for a year, can you tell? Thank you guys, it's been a long time coming."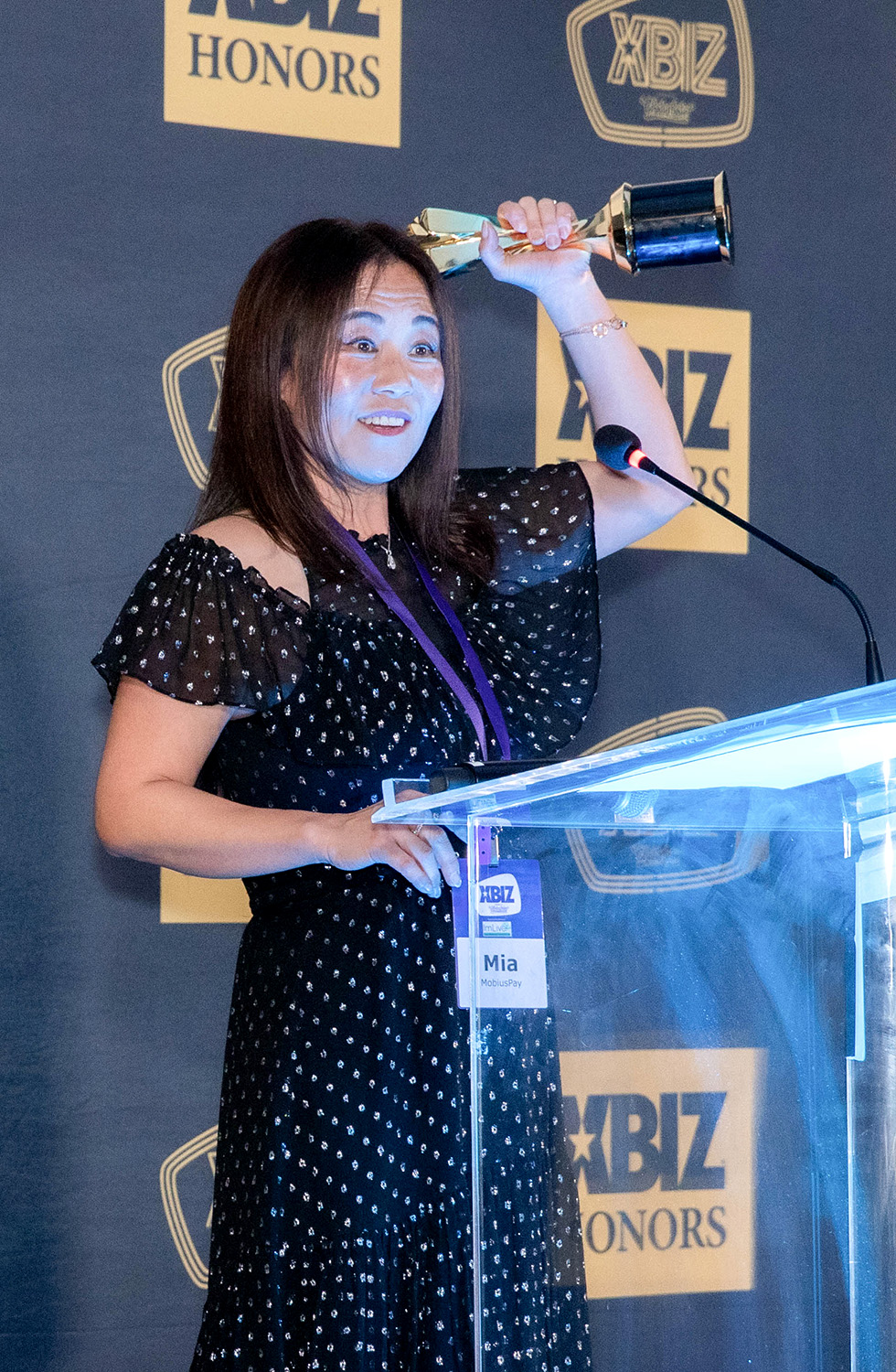 Gunner then took the mic to inform the audience that the presenter for Brand Ambassador of the Year would be one of last year's hosts, Austin Fiascone.
"It's a fucking miracle they let me back on the stage after last year!" Fiascone confessed, in a nod to the faux controversy over his roast-heavy skit last year with co-host Leya Tanit of Pineapple Support. "Seriously. But I'm here to present Brand Ambassador of the Year."
Then, demonstrating that the spirit of the roast was alive and well, Fiascone explained, "These are the people that collect all the business cards, go home saying, 'I've got so much business,' and then never follow up."
Following some appreciative laughter, Fiascone then read out the nominees, before Chris Rodger from Payze was declared the winner.
Stepping up in a suit jacket and dress shirt, Rodger speculated, "I guess it's because I'm getting old that they decided to give this to me. I love being a part of the XBIZ community, though; I'm an ambassador and I just love everybody over there on XBIZ.net. I really appreciate this, thank you."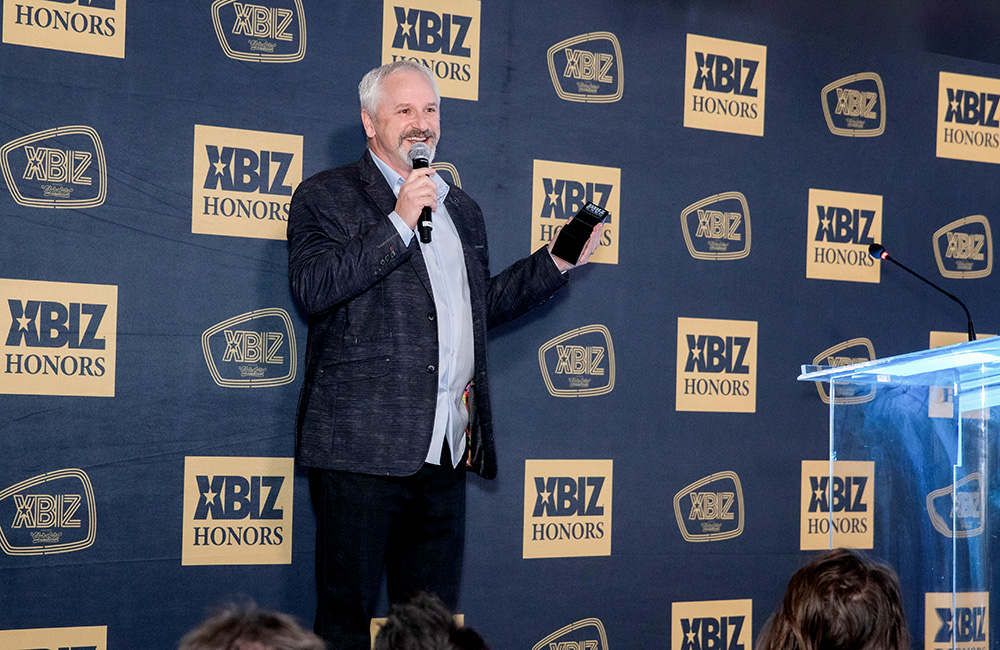 James then brought Mitch Platt of Vendo to the stage to present the Progressive Leadership Award. A smartly dressed Platt donned reading glasses, listed the nominees, and revealed AJ Hall of Elevated X as the winner.
Ascending the steps in a dark dress shirt and jeans, Hall proudly beamed, "Thank you … This, believe it or not, is my fifth XBIZ Award, but this is the first time I have ever been present to accept the award. It's a big deal! Thank you to the Helmy brothers for putting together the best industry event."
Hall then leaned back a bit and scanned the crowd.
"Most of the people in this room, I've worked with over the years. The joke is I'm like the Kevin Bacon of the industry, with six degrees of separation from everybody. Thank you to my employees, clients and business partners. We're trying to do a lot. We're trying to do good things. I appreciate you."
Hall then descended the stairs, only to return moments later. "It's deja vu," he said with a grin. "I'm here again to present two awards."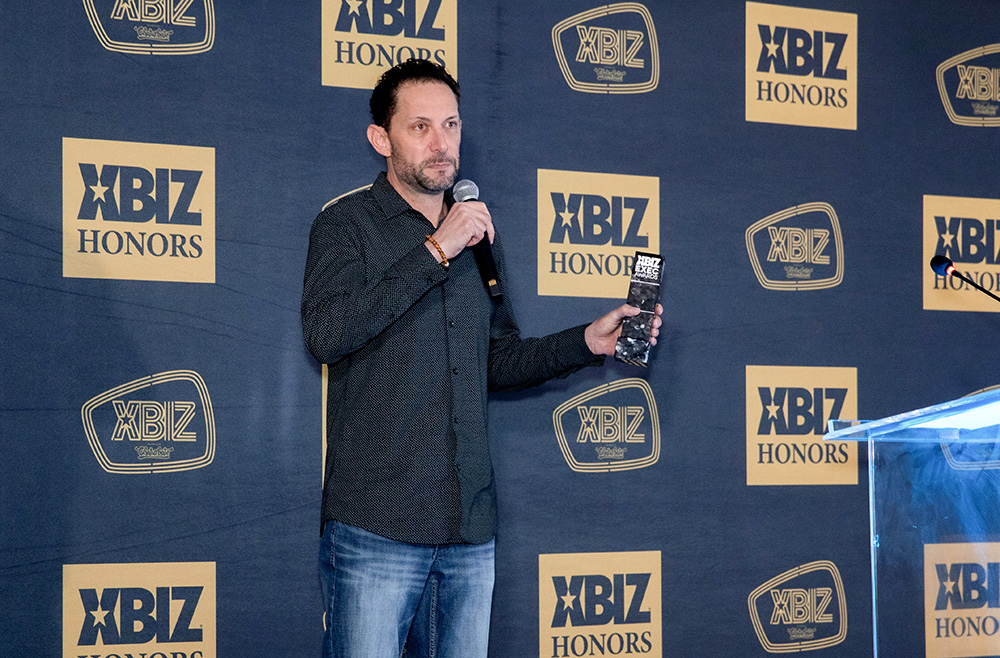 Traffic Services Company of the Year was up first, with JuicyAds triumphant. Head honcho Juicy Jay, in a gray dress shirt and black slacks, gratefully accepted the trophy and said, "Well, thank you. Is it just me or are all of you getting better looking after three years of not seeing you?" An audience member shouted, "You are!" to which Jay responded, "Aw thanks, way to make my social anxiety go through the roof.
"It's always an honor, though, thank you," he professed. "It's nice to work with you for advertising, and now that I own Broker.xxx, I can work with the rest of you who don't need advertising too. Thank you and keep it juicy."
Hall came back to read the noms for Payment Services of the Year — IPSP, before announcing the winner: Segpay.
CEO Cathy Beardsley, in a dark silky dress seemingly aglow with patterns of luminous orbs, said, "Thank you, XBIZ. I love you. Thanks to all of our clients that are here and most importantly my team; I'd be lost without them. Thank you."
Gunner then tidied the podium, which had become piled with envelopes, begging forgiveness for his OCD cleaning tendencies before welcoming "Brad 'Big Daddy' Mitchell" as the next presenter.
Radiant in a golden coat and flashy shirt tucked into black pants, Mitchell announced the nominees for Business Development Exec of the Year.
The winner? Yuval Kijel from Streamate. Christophe Peyras accepted on his behalf, first joking, "Thank you guys, I'm so happy, oh wait this isn't for me? Sorry, thank you, 'blah blah blah,' whatever he would have said."
Gunner brought up the next presenter, Steven Grooby, to announce Community Figure of the Year. "What were they thinking, putting me in front of all you wonderful people with a microphone?" Grooby mused. "But no, I promise to be good. Community figures are the people you see at all the shows, representing the best of us."
Alison Boden, who heads the Free Speech Coalition, was declared winner. Garbed in a sparkly cream shirt and shade-hued pants, she said, "It was kind of my goal never to win an award, but I'm actually quite humbled. It's one of the most difficult but best years of my life running the FSC, defending our rights. Thank you to everyone and thanks XBIZ."
The next presenter was Dominic Ford, who announced the 2023 Web Services Company of the Year: Your Paysite Partner. This brought company honcho Kenny B. forward in a dapper combo of dark blue jeans, dress shirt and blazer.
"I'm thankful for my team," he said. "I couldn't do it without them and all of my amazing content partners. Thanks XBIZ and thank you all."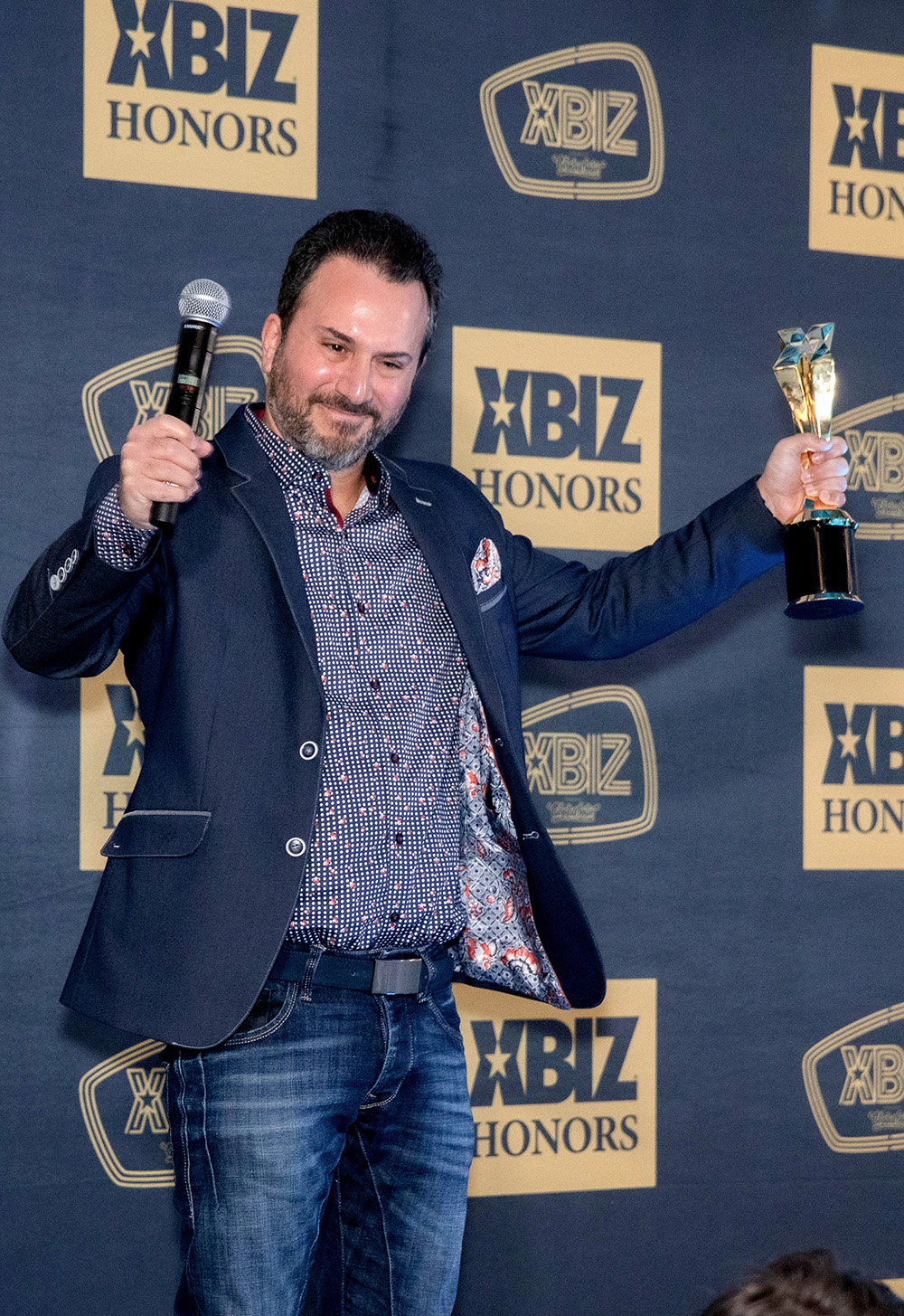 A commercial break then provided a brief respite, as a Chaturbate ad featured top streamers from the platform putting on creative, often humorous shows.
James took charge again, calling Megan Stokes of NMG Management up to present the Senior Leadership Award.
"I'm just really hoping I don't fall this time," Stokes confided, recalling a past klutzy encounter. After reading out the nominees, she said, "And the winner is… come here, Cunt Coalition! Come here, Liz!"
Laughing at this inside joke about a fictional organization to which she, Stokes and several professional colleagues belong, Liz Rekevics ascended the stage once more. "Okay, that wasn't expected. It's an honor. Thank you XBIZ, thank you everyone," she said.
Gunner then asked last year's Chief Exec of the Year, Clement P. of Bang and ePlay fame, to pass the torch. Clement did so, crowning Brad Mitchell as this year's winner after reading out the other illustrious nominees.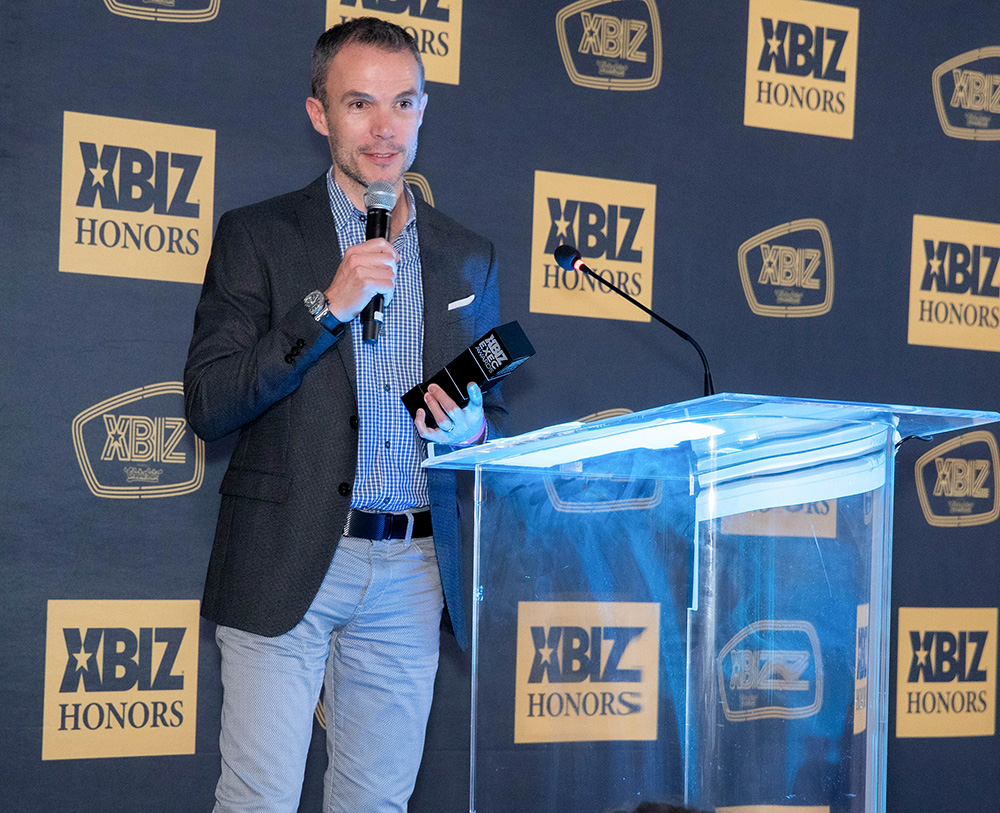 "That is a hell of a list of great people," Mitchell said, taking the podium. "I'm thrilled and honored to win this award this evening. Maybe I'm not feeling like it's so deserved. I'm just thankful to have the best customers in the world. Each and every day we're working very hard and if it wasn't for them, none of this would be possible, so thank you all so much for your business and your friendship. Thank you, and that's good mojo."
James then introduced the next presenter, attorney Corey Silverstein, as "everyone's favorite New Jersey lawyer," to which Silverstein replied emphatically, "I'm not from New Jersey. I don't even fucking like New Jersey. I think I was only in New Jersey once to catch a connection to somewhere I actually wanted to be. I'm actually from Detroit, the Motor City." 
Having appropriately mock-chastised XBIZ Honors co-host James, Silverstein proceeded to carry out his responsibilities. "Now, I didn't win tonight, but I do get to present, so as far as I'm concerned, I'm winning. I'm here to present the Gay Cam Site of the Year."
The win went to Chaturbate, with shot-caller Shirley Lara stepping up in tan pants and an elegantly patterned shirt. "You know, we're so proud to be an inclusive community. We welcome men, women, couples … everyone in between. We welcome everyone. Thank you."
Silverstein returned to present Premium Cam Site of the Year. After reading the list of domains, he asked if it was really necessary to list each nominee with a ".com," to which Moe Helmy shouted from the back, "We're making you work!"
The winner was revealed to be Streamate, sending Liz Rekevics back to the stage yet again, only this time flanked by Vanessa Eve and model recruiter Sammy, sporting a chic light brown sweater dress, as well as Christophe Peyras, who took the mic and said, "I don't have anything clever to say, but when I look around the room, I see people I consider family and friends. A lot of people may want to see us as competition, but a lot of those sites deserve exactly the same award. Thank you to all our marketers, affiliates and performers. Thank you to XBIZ." Rekevics piped up with a simple "Thank you!" as Eve and Sammy beamed.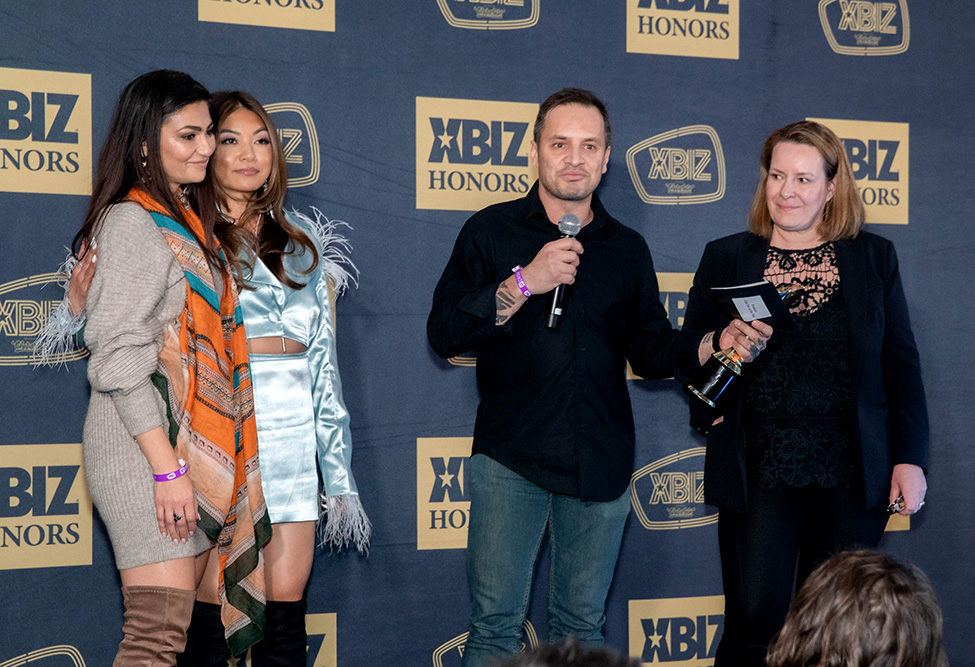 Gunner then introduced the first of two new categories: Creator Ambassador of the Year. "Welcome to the stage Leya Tanit of Pineapple Support to present the nominees," he said.
Tanit made her way up the stairs in a glittering, form-fitting dress. "Thank you for letting me announce the nominees for the first content creator category at the Exec Awards, because I think this is so important. Sex work is work and the content creators have come so fucking far."
The winner of the inaugural award was alt-tatted performer Sabien Demonia, who gleamed in a sparkling gown as she basked in the applause.
"Well," she began, "I have been nominated for XBIZ so many times, I don't even know how many times. I've never won any actual awards as a creator so I guess I'm supposed to be an executive now! Thanks to Kink.com, my one and only, and obviously Hotline; thank you for crypto. I will not talk anymore now, because you know I won't shut up the rest of the night."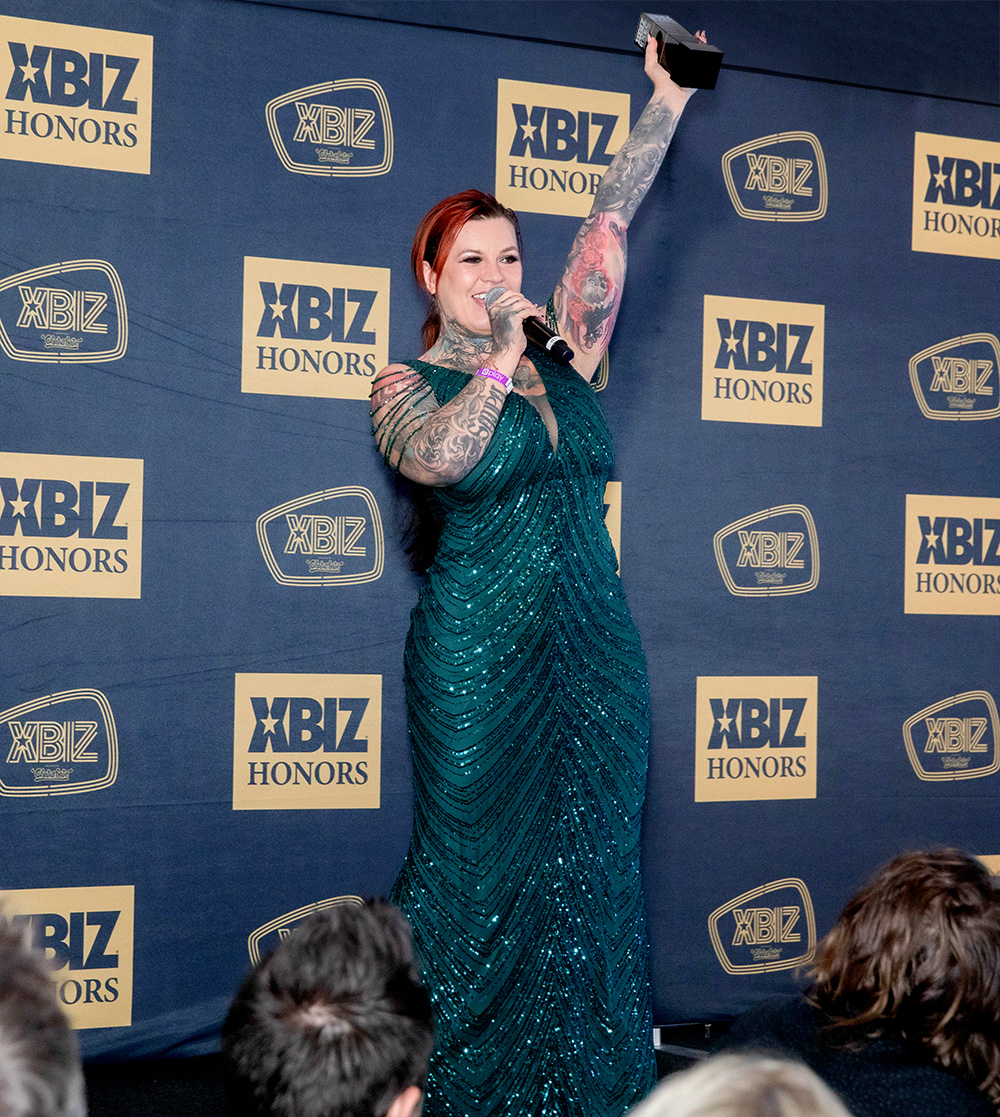 James then revealed the second new category: Creator Businessperson of the Year, presented by Shirley Lara.
"When XBIZ asked me to present an award, I blindly said sure, and it wasn't until today that I found out the category. Now, I'm actually really honored by this category, because I believe content creators and broadcasters are the most intelligent, creative and innovative people. I really truly believe that in my heart, because I have experience on the back end where I see the stats. I log into the homepage and go, 'Wow, I'm impressed by their chatrooms, lighting and camera equipment, this is no joke.' So thank you XBIZ for allowing me to present this award."
Sarah Passions of Zuzana Designs took the crown, wearing a black strappy dress.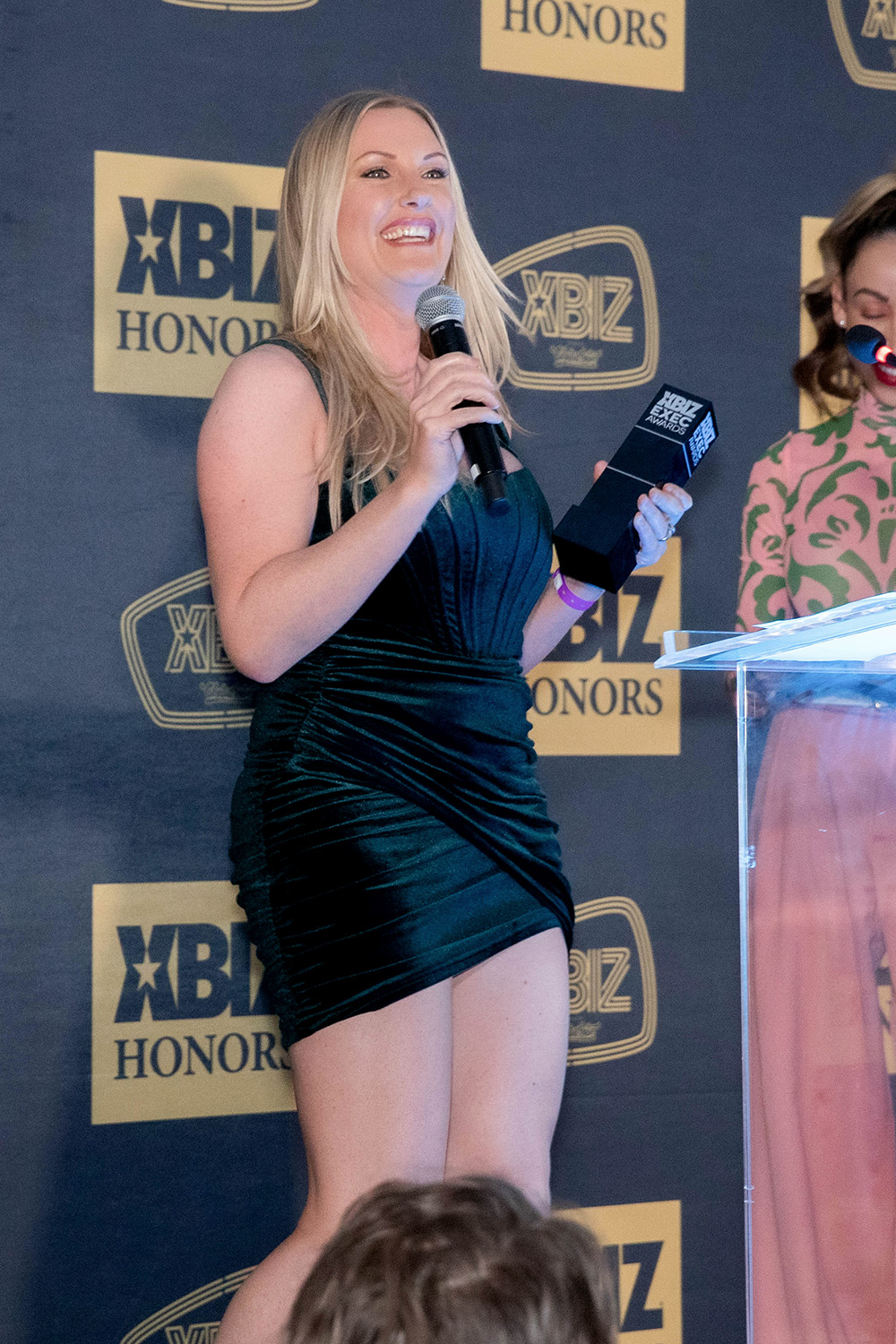 "Are you guys sure about this?" she inquired rhetorically, yet with genuine humility as well. "I've had such the honor to work with so many site owners, platform owners, creators and models over the past 18-plus years making websites and I can't imagine doing anything else with my life. I appreciate you for the opportunity to do that. Thank you XBIZ and if anyone needs a website, holler at me."
Gunner introduced Matt Mund of MobiusPay, to present for Creator Platform Site. In a sable suit bearing his company logo emblazoned on the back of the jacket, he read the nominees before unveiling JustFor.fans as the winner.
Dominic Ford returned to the stage, this time as a champion. "Wow, thank you guys so much," he said. "I have an amazing team that makes Just for Fans what it is. We are 100% staffed by sex workers. Everybody in our customer service team is a model on the website."
Adopting a somber tone, he continued, "I wake up with anxiety every day with laws being passed against us and Twitter being crazy. There's all these awful things, but my only solace is there are people smarter than me who are in this room who are thinking about these problems and there are people like Moe and Alec who are getting us all together in a room to solve this, so I appreciate you all very much. Thank you and goodnight."
Mund then read the nominees for VOD Site of the Year, with Adult Empire claiming the prize. Colin Allerton, his crew in tow, stepped up and said, "Thank you XBIZ for putting on such a great evening. Thank you everyone at Adult Empire, everyone that we work with, like MobiusPay over here. Thank you and I appreciate it."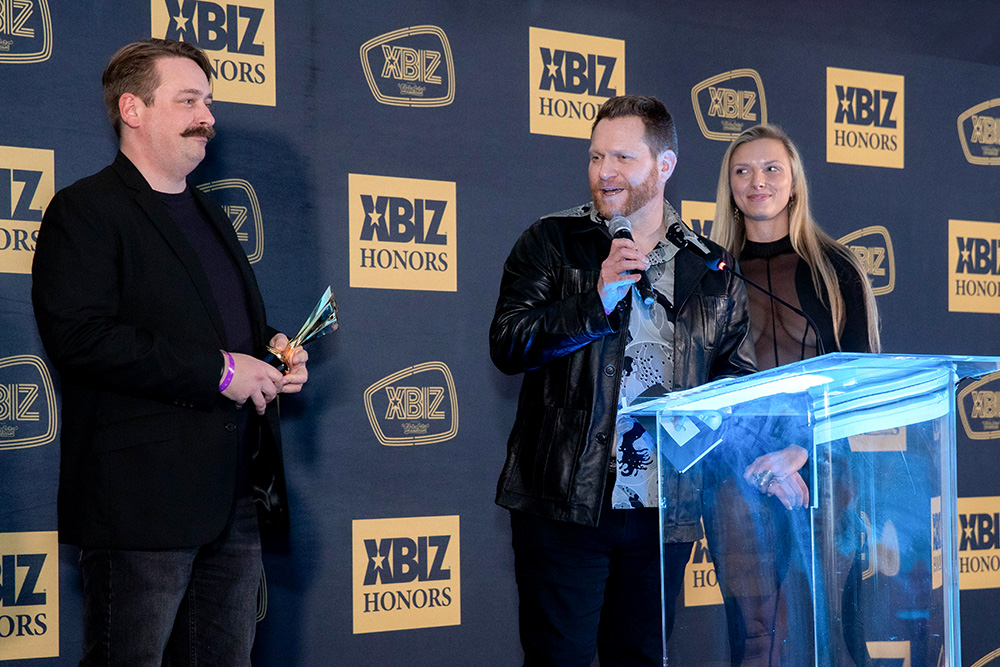 James called Boden to the stage to present Businessperson of the Year.
"XBIZ, I'm not gonna say it was my advice," Boden began, "but I will say I think it was a good move to go from a gendered businessperson for this category to a non-gendered one. And now, for the nominees, they are Kenny B., Cathy-motherfuckin'-Beardsley…" Laughter broke out, and she proceeded to list the rest of the names, culminating with Clement P. being revealed as the winner.
Keeping it short and sweet, he said, "Thank you all, you're all amazing. I'm happy to win this award."
WIA Woman of the Year was next, presented by XBIZ associate publisher Sara Ramirez, who was incandescent in a sparkling gown.
"Hi, I'm pleased to present the award for Woman of the Year," she said. This category honors the outstanding contributions of women in our industry." After reading the list of nominees, she exhorted, "Please join me in congratulating a woman who has consistently shown passion and resilience in all that she does: Cathy Beardsley!"
Accepting the honor graciously, Beardsley said, "Hi everyone, thank you so much, it was such an honor being nominated alongside all of these amazing ladies. It's an honor being a part of this amazing industry I've been in for over 20 years. You've all become my family and friends."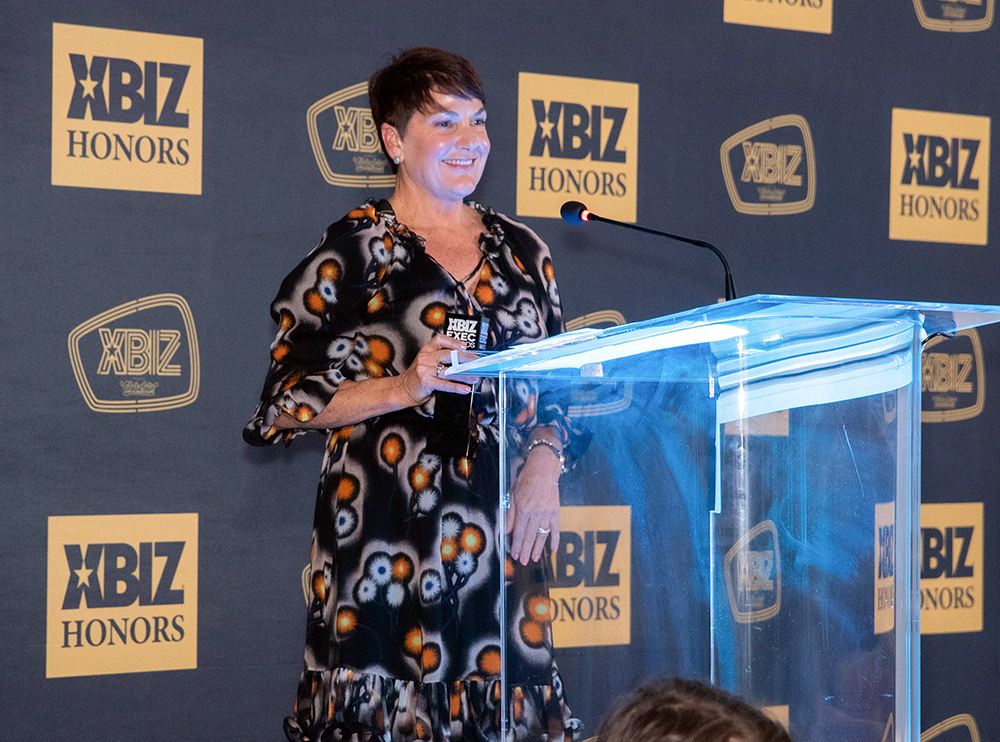 The Trans Site of the Year and Erotic Site of the Year awards were presented by Kenny B., who awarded the first trophy to a man he announced as "my good friend Steven Grooby, for Grooby Girls." 
Taking the stage, the dapper Grooby said, "Thank you very much. The fact we actually have a trans category award for this is something to be celebrated. Trans people in this industry are still being discriminated against. There's laws in this country that discriminate against trans people. For all these companies nominated alongside me, many have been working as long as I have. Grooby Girls team, thank you. Alec, thank you."
Kenny then announced the Erotic Site of the Year: Lust Cinema. Erika Lust and her U.S-based director/performer Casey Calvert came to the stage, with Lust in a warm red dress and Calvert sporting a leather jacket and sleek pants ensemble.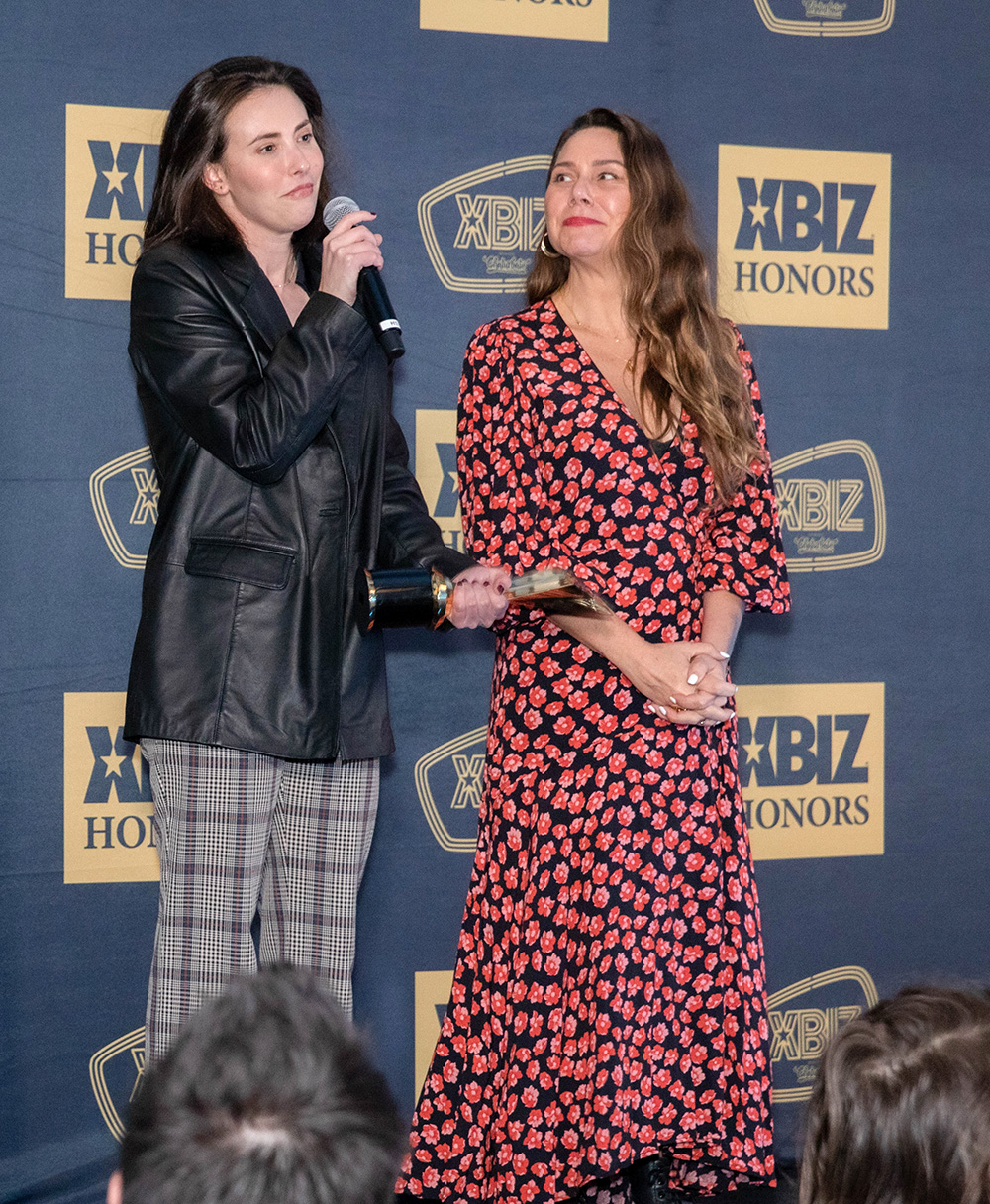 "It's always very great to win," Lust said. "We want to say thank you. Thank you XBIZ, thank you everybody who's working with us in Lust Cinema. It's a great honor. We look forward to a wonderful future."
Calvert added, "Thank you XBIZ, thank you Erika, thank you Pablo, thank you everyone at the office back in Spain. Thank you to every performer who shot with us, thank you. This is really cool."
Gunner ascended to the podium to start wrapping things up. 
"Okay, I know it's past bedtime for a few of you, but this is the last award of the night, The Legacy Award," he explained. "I'd like to welcome to the stage, fresh off his tour with the band NSYNC, Mr. Mark Bauman."
Taking the jest in stride, the snazzily dressed Bauman said, "I got to present the last award of the night because I'm the most entertaining when I'm drunk." Then, after giving the audience a few clues about the winner, like how the man in question is known for his love of cigars — prompting one audience member to call out, "Steven Grooby" as a guess — and how the winner once doggedly insisted that a rained-out golfing excursion proceed as planned, playing the entirety of it in the torrential downpour, Bauman revealed Mitch Farber of Netbilling as the honored recipient.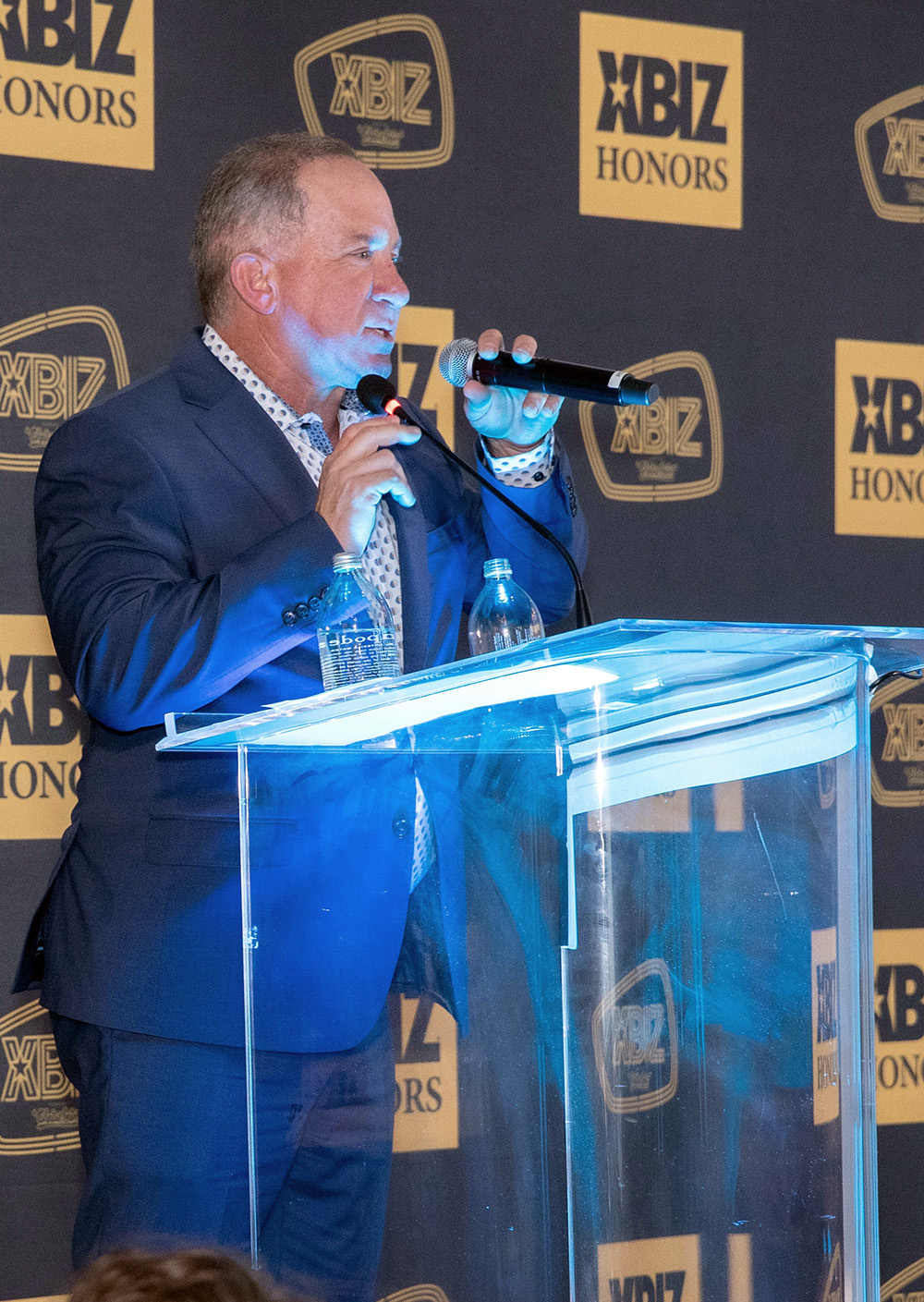 Farber beamed as he basked in the applause. "Thanks, Mark. You summed it all up, bro. Thank you, everybody. We are 25 years in this industry now, since 1998, when we started Netbilling, and I know so many of you here by now. I appreciate this award. I guess when you stop dying your hair," he said, motioning to his gray-hued and neatly coiffed hair, previously brunette in appearance, "they start giving out Legacy Awards." Chuckles broke out. "So here we are. Thank you so much to XBIZ, Mark and everybody." Applause ensued.
Gunner returned to the stage, saying, "Well, in case you didn't get enough to drink yet, thanks to Mojohost and Broker.xxx, there's going to be a wrap party right above us at the bar. Now, before we go, I'd like to thank the people who make all of this possible. Please give it up for XBIZ!" He pointed to the table in the corner where the XBIZ team was sitting, and the crowd gave a standing ovation.
Then, the suited-up power players made their way to the hotel bar topside, where many a glass was raised and back clapped in celebratory glee, as the second full day of the XBIZ LA trade show came to a close.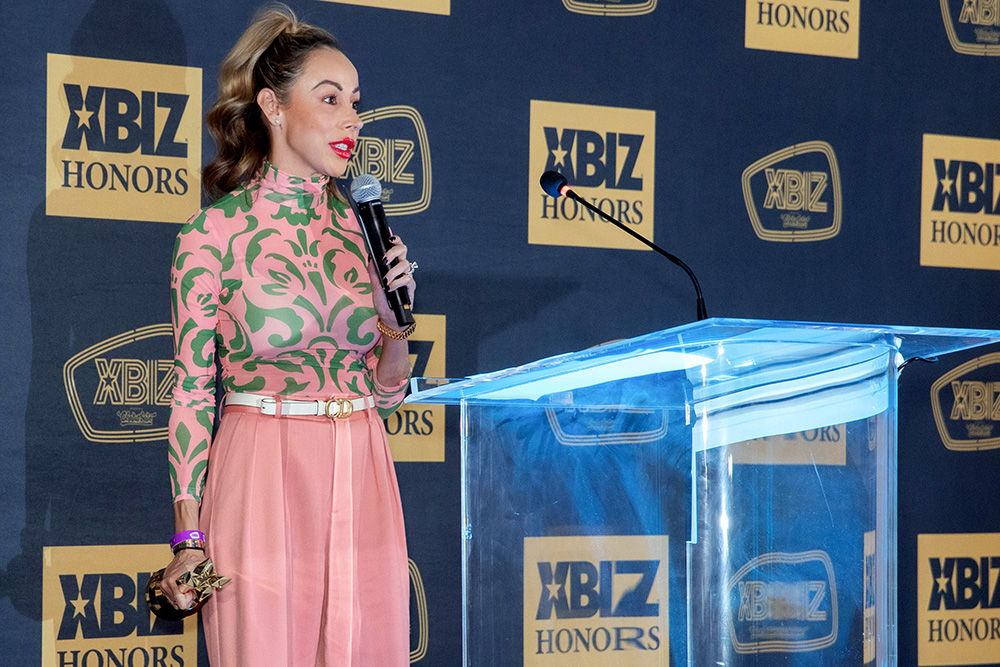 https://www.xbiz.com/news/271200/execs-creators-crowned-at-xbiz-honors-2023

XBIZ.com – Gay
2023-01-13 18:50:44